Message from the Executive Director
Last year recorded tremendous gains in green building at home, throughout Canada and across the globe. What role did the Alberta Chapter - CaGBC play in this exciting advancement of ideas and outcomes in 2014?
We walked the talk.
Our committed and energetic members thirsted for training so they could make their projects more sustainable. Our Chapter Board helped spread the word through their networks, urging more conversation, more new approaches and better results. Our stakeholders listened and probed.
And the Alberta Chapter supported and enhanced this energy. The Alberta Chapter's commitment to a transformed built environment is the key behind much of the province's success. Through education, outreach and advocacy, the Chapter has expanded the boundaries of the sustainability of our built form. 
Alberta Chapter 2014 highlights:
83 LEED projects were certified - a 6.5% increase over 2013.
For the first time ever, Alberta certified more than 1 million square metres in a calendar year ( 1,216,909 m2 to be exact).
85 new projects - nearly 1.4 million m2, or the equivalent of about 873 NHL- sized ice surfaces - were registered with LEED.
Alberta now claims 281 certified projects, approximately 5.2 million m2 or 18% of the total certified projects in Canada.
On the education front, the Alberta Chapter offered green building professionals key events including the Alberta Sustainable Building Symposium (ASBS) and Green Homes Summit, formal education including CaGBC LEED workshops and informal education events such as our lunch and learn and breakfast learning opportunities. 
Our 2014 education highlights include:
offering more than 27 education programs that:

trained over 618 green building professionals and students and gave them more than 3,000 hours of green building knowledge, and
attracted more than 200 attendees to the 17th annual ASBS, offering attending LEED professionals up to eight credential maintenance hours, and 

reaching 156 full-time students with over 5,600 hours of green building education through the Build Green with LEED education program.
Outreach and advocacy also kept us busy. By working with organizations and industry partners, we expand our boundaries of influence.
The Alberta Chapter participates on committees such as the City of Calgary's Industrial, Commercial and Institutional (ICI) Working Group, which has focused efforts on ICI waste diversion. We've also fulfilled the role as a stakeholder in visioning projects like the City of Edmonton's Energy Transition Strategy that addresses the role buildings have in our cities and how we can reduce the greenhouse gases and energy use intensity of our capital city through commitment to a long-term vision and its implementation.
The Chapter also continues to partner with post-secondary institutions including SAIT Polytechnic. I represent the Chapter on SAIT's Green Building Technologies (GBT) Advisory Committee.
I also have to give a special "hats off" to SAIT's Green Building Technology Research Centre. It brings SAIT Polytechnic and GBT researchers together with industry partners to identify and develop environmentally friendly products, programs, systems and services that will fundamentally change the way we build, educate and develop skilled labour.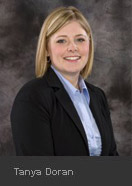 In addition, the Chapter works with policy makers to ensure we continue to improve our built environment using the lens of sustainability as a guide.
Alberta will continue to attract new workers and their families in 2015 and beyond – and they won't be bringing schools or roads or hospitals with them.  As our provincial population continues to grow, the Alberta Chapter will continue to advocate for resilience in our built form so Albertans, regardless of where they live, work or learn, will enjoy the benefits of green buildings.
Tanya Doran
Executive Director
Chapter execs speak to C&D waste diversion
Nancy Burton and Adam Stoker make some excellent points about the value of diverting construction and demolition (C&D) waste from landfills. They know what they're talking about, with senior careers focusing on sustainability and years of service on the Alberta Chapter - Canada Green Building Council Board.
In a March 2015 article by Joseph Caouette in Alberta Construction Magazine, Diversionary Tactics, Nancy and Adam speak to the many facets of the issue of landfilling C&D waste - from education within the construction industry to time and convenience.
The benefits, however, are tangible and significant. C&D waste diversion can earn up to 2 of 110 points on the LEED certification checklist. More importantly, diverting C&D waste is good for the environment and, ultimately, the pocketbooks of the contractor and building owner.
Nancy is Associate, Team Lead Sustainability at Stantec and is past Chair of the Alberta Chapter - CaGBC. Adam is Sustainability Consultant for the University of Calgary and current Chair of the Alberta Chapter - CaGBC.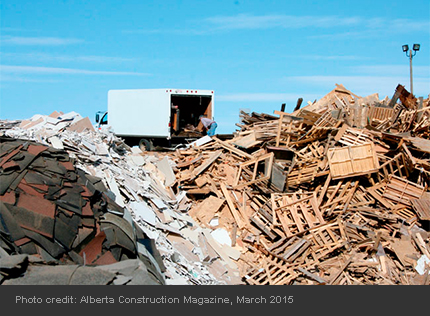 The green spotlight shines on Alberta post-secondaries
The University of Alberta (U of A) Extension and NAIT will join SAIT Polytechnic in offering Canada Green Building Council courses this fall.


U of A Extension will offer EXERM 4298 Understanding LEED for Building Works as an elective starting this fall.  This course provides an overview of key LEED elements for project certification and professional accreditation.

NAIT has added LEED 600 - LEED Green Building Strategies and Green Associate Exam Prep to its roster of available elective courses for part-time and evening students.

These two post-secondary institutions join SAIT Polytechnic in offering CaGBC courses. SAIT first introduced the LEED core concepts and strategies as part of the continuing education curriculum, then made the course a requisite within the Architectural Technologies diploma program. SAIT Polytechnic's green building technologies applied research is also pivotal in advancing Alberta's sustainable building industry.
Education facilities LEED certifications
"Not only are Alberta's post-secondary institutions making it easier for sustainable building advocates to get their training, but the buildings offering education to students from kindergarten to adulthood are getting greener," said Tanya Doran, Executive Director of the Alberta Chapter, CaGBC. "Studies have shown children are better able to learn, and everyone within a green school reaps the benefits of a healthier environment."
Consider the number of schools receiving LEED certification in 2014 and 2015.
2014:
A. Blair McPherson School, Edmonton - LEED Gold


Dr. Donald Massey School, Edmonton - LEED Silver
Elizabeth Finch School, Edmonton - LEED Gold
Esther Starkman School, Edmonton - LEED Silver
Florence Hallock School, Edmonton - LEED Silver
Good Shepherd Elementary School, Airdrie - LEED Silver
Herons Crossing School, Airdrie - LEED Silver
Johnny Bright School, Edmonton - LEED Gold
Monsignor Fee Otterson Catholic Elementary/Junior High School, Edmonton - LEED Silver
Mount Royal University Science and Technology Wing expansion, Calgary - LEED Silver
Our Lady of Wisdom School - LEED Gold
Saddle Ridge School - LEED Silver
Sister Annata Brockman Catholic Elementary/Junior High, Edmonton - LEED Silver
St. Anthony's School, Drumheller - LEED Silver
University of Calgary - Taylor Family Digital Library - LEED Gold
2015:
Athabasca University Academic and Research Centre - LEED Gold
Bow Valley College, North Campus, Calgary - LEED Certified
Bow Valley College, South Campus, Calgary - LEED Silver
MacEwan University - University Service Centre - LEED Silver
Roderick Mah Centre for Continuous Learning Addition - LEED Gold
Samuel W. Shaw School, Calgary - LEED Silver
Four of these educational facilities received their LEED certification the same week in March 2015!
Green School Summit - Call for Presenters
Get out your green pen - and start preparing your abstract to be a featured presenter at the Alberta Green School Summit in Calgary.
If you, your school or organization have developed solutions that highlight how green solutions can be woven into the fabric - the infrastructure, culture and curriculum of Alberta schools, then the Green School Summit organizing committee wants to hear from you!
The Summit, to be held at the Career & Technology Centre, Lord Shaughhessy High School in Calgary, offers an energetic, forward-looking agenda that will highlight current best practices and give participants a chance to explore new ideas.

The day-long event offers a variety of sessions to attract teachers, administrators, facility managers, finance officers, architects, curriculum developers, not-for-profit executives and others interested in moving forward the green agenda for the buildings where we learn.
Check out the Green School Summit Call for Presenters for details on how to submit your abstract to present. Note: deadline for submission of abstracts is Monday, July 6.
Greenest school on earth - at our Green School Summit!
Dunbarton High School in Pickering, Ontario, which has won the Greenest School on Earth award from the Global Coalition for Green Schools, will be one of the featured presentations at the Alberta Green School Summit on September 25.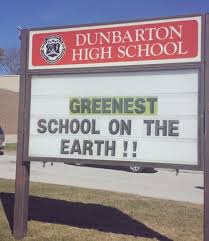 The Greenest School on Earth annual competition highlights a K-12 school that exemplifies how sustainability can be integrally woven into the infrastructure, culture and curriculum of a school. The Center for Green School, based in Washington, D.C., defines a green school as one that achieves zero environmental impact (including energy, water, waste and carbon), a positive impact on occupant health and performance and 100% environmentally literate graduates.
The Greenest School on Earth designation includes a $1,000 award to be used by the selected school for a sustainability initiative.
"Dunbarton High School is an excellent example of a school that engages its students at every turn, placing them in the driver's seat and empowering them to improve their environment, inside and out," said Rachel Gutter, director of the Center for Green Schools. "We are pleased to recognize Dunbarton's efforts to improve their community, enhance the biodiversity of the region and elevate young minds to a higher order of thinking about sustainable practices."
Dunbarton High School, built in the 1960s, has undergone a significant retrofit over the past five years, installing new energy-efficient windows, insulation and lower wattage lighting. The school offers a Specialist High Skills Major in Environment and engages students through coursework and extracurricular activities related to the school's natural surroundings.
The high school features an outdoor classroom for 40, a 500-square-metre pollinator garden and a rooftop solar water heater. Students at the school are provided with stainless steel water bottles upon matriculation and are involved in projects such as organic waste removal and the Atlantic salmon restoration program. The school plans to use the $1,000 award to develop a school garden and construct 10 additional bee condominiums, to be shared with the local community.
ASBS 2015 hits the mark with delegates
Delegates attending the 2015 Alberta Sustainable Building Symposium in Edmonton on May 5 gave the day-long event an enthusiastic thumbs-up.

The following comments are selected from the online evaluations completed by delegates.
What did you like about this year's Symposium?
The luncheon panel discussion -- wonderful!
Both keynote speakers - they were both great!
Networking
Breakout presentations. They were relevant, specific, geared to the neighbourhood level, interesting and the right length.
The variety of breakout topics
The opportunity to connect with like-minded professionals
The networking event the evening  before the Symposium
And what could be even better?
More interactive breakout sessions
More detail on each specific LEED system and how best to apply them
More new technology discussions
More case studies that highlight innovation
More opportunity for workshop-style discussion
More sessions directed to the contractor rather than to the architect, engineer or owner
What session topics would you like considered for ASBS 2016?
LEED v4 + building code discussion
Real-world results of green buildings after occupancy
Sessions directed to the contractor
New green district development projects
Living Building Challenge
The opportunity for LEED-ND in Alberta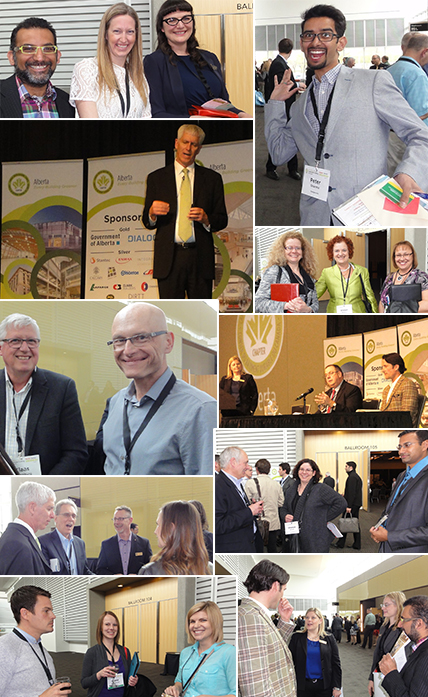 Edmonton pool goes solar
Edmonton's Queen Elizabeth Outdoor Pool is sporting 200 new solar panels on its roof as the City of Edmonton moves forward with the solar PV pilot project at the facility.
According to the City of Edmonton website, the panels will convert sunlight into usable electricity and will significantly help to reduce greenhouse gas (GHG) emissions and decrease energy consumption at the pool.
A separate set of solar panels is using the sun's energy to heat the water used at the pool.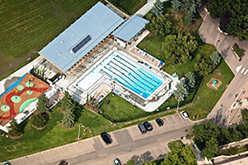 The panels, according to the website, will generate about 50,000 kilowatt-hours of electricity annually, roughly 40% of the electricity used by the pool over a 12-month period. This is expected to avoid about 34 tonnes of GHG emissions annually - roughly equivalent to saving the electrical power used by seven homes annually.
The pilot project aligns with the Community Energy Transition Strategy, which City Council recently endorsed. As part of that strategy, the City has set a target of 10% of Edmonton's total electricity consumption be generated locally through alternate methods, such as solar, by 2035.

The results of the pilot will be closely monitored throughout the year by the City Office of Energy Management. The results from the Queen Elizabeth pool project will be evaluated to determine how to push forward on this technology for other City buildings such as fire stations, public libraries and recreation facilities.

The City has partnered with ENMAX Commercial Services Inc., the City's electricity supplier, to design the pilot and to develop the processes to monitor and evaluate the project so the City can apply the learnings on future solar power projects. In addition, the pilot will benefit from financial assistance provided by the Climate Change and Emissions Management Corporation (CCEMC) as part of the ENMAX Solar program.

In addition to the power-generating solar panels, the City has studies underway to evaluate the use of combined heat and power generation systems that rely on natural gas to generate electricity right at City buildings. As well, the City has been installing more efficient LED street lights. All of these efforts help the City reduce energy consumption and greenhouse gas emissions.
Vancouver facility receives sustainability award
The University of British Columbia's Centre for Interactive Research on Sustainability (CIRS) has won the Royal Architectural Institute of Canada (RAIC) 2015 Green Building Award.
The Vancouver research institute, designed to be one of the most sustainable buildings in North America, was completed in 2011.
The award, given by RAIC and the Canada Green Building Council, recognizes outstanding achievement in buildings that are environmentally responsible and promote the health and well-being of users.
"With a strong focus on natural light and ventilation, the CIRS integrates a full range of sustainable design strategies," said the three-member jury. "CIRS uses both passive and innovative approaches to sustainability to create architecture that is also a tool for research. It offers many strategies that are transferable to other building types."
The award was presented at the RAIC Festival of Architecture in Calgary from June 3-6.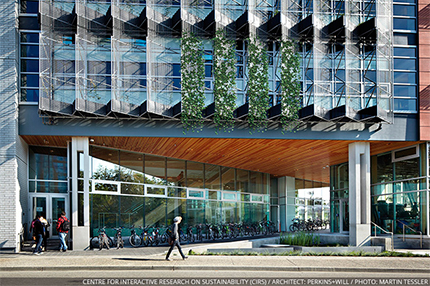 "The significance of this year's green building award is clear," said RAIC President Sam Oboh, FRAIC. "The future of designing sustainable built environments is as much about the ways in which we think, work and interact as it is about lowering that energy consumption of our workplace. The design of CIRS not only assists the research occurring inside the building, but its presence on the UBC campus adds to an international dialogue on the integration of cutting-edge sustainable practices."
The LEED Platinum-certified building houses 200 people from private, public and non-government organization sectors who work together to advance innovation and implementation of in sustainable technology and building practices.
The 5,675-square-metre structure is one of the few buildings worldwide that is considered regenerative. It achieves net-positive energy, net-zero water and net-zero carbon in construction and operations.
Pursuing the Living Building Challenge, the built environment's most rigorous performance standard, the CIRS harvests sunlight, captures waste heat from a nearby building, and exchanges heating and cooling with the ground. It returns 600-megawatt-hours of surplus energy back to campus while removing 170 tonnes of greenhouse gas emissions annually.
Green gadgets: where can we get one?!
Wouldn't it be way cool to be able to plug our phones into the nearest tree when they need recharging?
Scientists at VTT Technical Research Centre of Finland Ltd have developed a prototype of a tree that harvests solar energy from its surroundings - whether indoors or outdoors - stores it and turns it into electricity to power small devices such as mobile phones, humidifiers, thermometers and LED light bulbs.
The technology can also be used to harvest kinetic energy from the environment.
LEED certifications
NOTE: To view CaGBC LEED certification profiles, click here and enter the name of the project in the field provided.
New Construction & Major Renovation
In 2010, Berry Architecture + Associates purchased a dilapidated two-storey bowling alley in downtown Red Deer with the express purpose of converting it into a new home for the firm. Now the office is ready to hang a lustrous new LEED Gold plaque on the wall.
The goal was to re-vitalize the 1950s structure as an environmentally sustainable office building while maintaining the original footprint and site.
After the purchase, Berry Architecture was approached by the accounting firm of Downey Roth Hrywkiw Fidek (DRHF) who wished to purchase the main floor office space. DRHF were equally enthusiastic about this goal and quickly became wholehearted partners in the process of designing and constructing an environmentally sustainable, LEED-targeted building.
The project was originally targeting LEED Silver so it has been very rewarding to pursue and receive LEED Gold certification.  The Berry Architecture/DRHF building is the first privately owned building to receive Gold certification in Red Deer.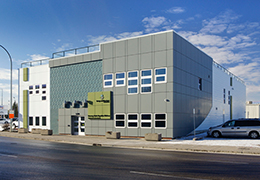 Major achievements for the project include the sustainable site as the footprint was maintained and the existing building shell was preserved.

Energy performance was also an important element as the performance of the electrical and mechanical systems was optimized by utilizing an integrated system of energy-efficient technology tied into the BMS.

Water conservation was achieved with a grey water system supplied by rainwater and snow run-off, high-efficiency boilers, solar collectors for domestic hot water and low-flow fixtures.

Indoor environmental quality was maximized with low-emitting materials, controllable lighting, controllable thermal comfort and daylighting.

The most innovative and unique feature of the building is the green roof, which includes a fully functional stream, indigenous plantings, vegetable gardens and habitats for a variety of pollinators. The green roof also provides an outdoor workspace for staff and a large entertaining space for clients and staff of both firms.

Gaining natural lighting was a critical element in the renovation process, especially for the design studio setting of an architectural office. The bowling alley was a dark, cavern-like environment with very few windows. Thus the roof was raised to provide natural lighting via a two-tier clerestory window system which creates a light-filled central core for the upper storey. Main floor windows were enlarged to create a light-filled boardroom and open workspace in the DRHF space.

The overall design was based on a series of layers laid out both horizontally and vertically. Playing on the grid layout of the existing building and of the downtown core itself, we re-created the grid element in the layout and use of layering in the building's interior. We preserved the patterned 1950s concrete block and brick on the front façade to respect the building's history and incorporated it into the new façade.

The resultant space is not only energy efficient and environmentally responsible, it is also a functional, comfortable, and beautiful place to work.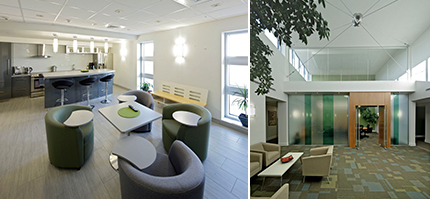 Other certifications
Athabasca University Academic and Research Centre - LEED Gold
Kennedale Waste Operations East Facility, Edmonton - LEED Gold
PCL Building 5, Edmonton - LEED Gold
Penguin Plunge Complex - LEED Gold
Roderick Mah Centre for Continuous Learning Addition - LEED Gold
Bow Valley College, South Campus, Calgary - LEED Silver
Samuel W. Shaw School, Calgary - LEED Silver
Grande Prairie RCMP Detachment - LEED Certified
TD Bank - McKenzie Towne, Calgary - LEED Certified.
Commercial Interiors
Kasian Calgary Office - LEED Silver
Municipal Building, 9th Floor, Calgary - LEED Silver
EllisDon Calgary Office - LEED Certified
Existing Buildings: Operations and Maintenance
Gulf Canada Square, Calgary - LEED Gold
Core and Shell
McKenzie Towne Park - Site I, Calgary - LEED Silver
Headline highlights!
Following is a selection of recent media articles that feature a variety of topics of interest to Alberta's sustainable building community.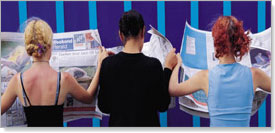 Desirable dozen: eco-solar home tour showcases energy efficiency (Edmonton Journal, May 30) - When it comes to energy-efficient homes, Edmonton is generating a powerful punch. You'll find more net-zero energy homes - homes that make as much energy over the year as they consume - in Edmonton than in any other part of Canada.

Edmonton net-zero home first to be certified in Canada (Edmonton Journal, May 30) - A house in the McKernan neighbourhood has become the first in Canada to earn a net-zero certification from Natural Resources Canada, one more step toward making the new technology mainstream.

Build it green and they will come (The Globe and Mail, May 27) - As the world's population is approaching nine billion people, with more than half living in cities, measures for increasing environmental sustainability gain critical importance for our quality of life, says Toby A. A. Heaps, CEO of Corporate Knights. And green buildings are part of the solution.

Green roofs and living walls (vueweekly.com, May 28 - June 3) - Grass instead of shingles, ferns instead of drywall: green roofs and living walls have begun making appearances all around Edmonton, a movement that will continue to grow (literally) as people realize the many attendant benefits of each. But can they tie into another major crusade and become part of our city's urban agriculture landscape by planting them with edible crops instead of just ornamental plants?

Emerald Awards: chronicling an energy revolution in Alberta (Edmonton Journal, May 8) - There's a green energy revolution happening in this country, and a lot of it is taking place in Alberta.

Edmonton's city council approves citizen-supported Energy Transition Strategy in the face of changing climate (vueweekly.com, May 7 - 13) - Edmonton's city council made history on April 29, voting unanimously in favour of a citizen-supported Energy Transition Strategy that aims to cut greenhouse gas emissions, diversify the energy economy and transition towards becoming a world-class low-carbon city.

Home-grown business greens Calgary events (Calgary Herald, May 1) - Leor Rotchild is rethinking refuse. Ever since the president and co-founder of Do It Green (DIG) made his first foray into sustainable event management at the Calgary Folk Music Festival, he and his company have been turning the simple act of throwing something away into an opportunity for education and engagement.

The green scene: Making sense of the sustainable building certification programs on the market (Alberta Construction Magazine, Spring 2015) - Sustainable buildings usually have three main goals in mind: reduce environmental impact; ensure long-term economic viability; and contribute to the health and social well-being of everyone who interacts with the building. Certification programs like LEED, Green Globes and Living Building Challenge all embrace these goals.
Sponsors