Message from the Executive Director
Since the last edition of Perspectives, the Government of Alberta has responded to the prevailing winds and published the Alberta Climate Leadership Plan.  The plan includes strategies to:
improve air quality by phasing out all pollution caused by coal-fired power plants, benefiting both the health of Albertans and the environment,
move the province towards an economy-wide carbon pricing system based on emissions performance standards, and
transition to performance-based standards and a legislated limit to oil sands emissions.
The Canada Green Building Council (CaGBC) supports the inclusion of the focus supporting energy efficiency and energy-resilient communities.
With as much of 50% of greenhouse gas (GHG) emissions in Alberta coming from cities, the CaGBC knows energy efficiency in both new and existing buildings is an important way for all Albertans to contribute to reduced GHG emissions. Energy efficiency is also the lowest cost energy resource.
The thriving green building industry in Alberta is on call to support the new targets while improving the quality of homes and workplaces. The plan indicates energy efficiency programs may be rolled out in early 2016 to help energy users adopt these energy-efficient, cost-effective measures.  And the Alberta Chapter and our green building professionals are ready to help.
The plan goes beyond home and workplace energy efficiency, acknowledging the importance of the design of cities and neighbourhoods.
According to the Alberta Climate Leadership Plan, "Creating mixed-use urban neighbourhoods, with choices for public transit and active mobility, is a key strategy in reducing emissions in the long term and a critical focus for empowering the role for Alberta's municipal governments. Alberta's municipal governments have a key role in climate leadership, and many municipalities already have detailed plans to reduce emissions and improve community energy use."
The CaGBC will continue its strong partnership with municipalities, supporting municipal policy development through tools such as the updated Municipal Policy Toolkit, available in early 2016.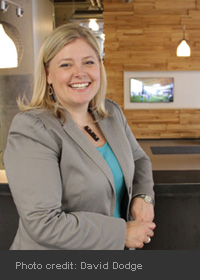 I look forward continuing to discuss how Alberta will mitigate the effects of climate change as it relates to our homes, schools and workplaces.  The year 2016 will be exciting as we continue to educate and advocate for the implementation of the climate change plan. I encourage each of you to join the Alberta Chapter at the our many education opportunities, including the Green Homes Summit, Alberta Sustainable Building Symposium and Green School Summit as, together, we lead and accelerate the transformation to high-performing, healthy green buildings, homes and communities throughout Alberta.
Tanya Doran
Executive Director
Alberta Chapter integrates with CaGBC under nationwide model
During a special Annual General Meeting held Nov. 24, the Alberta Chapter - CaGBC voted 93% to integrate with the new nationwide CaGBC organization.

According to the CaGBC website, the Alberta, Saskatchewan, Toronto, Ottawa and Atlantic chapters will become part of the CaGBC Council under the new nationwide model, while continuing to work with local markets.
Alberta Chapter Executive Director Tanya Doran says the integrated model offers benefits to CaGBC members as well as the green building industry overall.
"The change in CaGBC governance is really about size and scope," she explains. "Under an integrated governance model, every facet of the organization pulls together, sharing resources, maximizing benefits and allowing the Chapters to broaden their perspective nationally."
Tanya used the changes in CaGBC membership and membership benefits as an obvious example of the advantages of the new governance model.
"National CaGBC members will automatically also become Chapter members. This is a huge boon to thousands of employees working with or within the sustainable building industry. If an employee's organization is a national CaGBC member, all employees of that organization become members of the home chapter - and both the organization and its employees can take advantage of membership benefits."
She added that smaller organizations may choose to consider multiple Chapter memberships in the regions where the majority of their employees reside.
The new, integrated model offers many other benefits for Chapters:
more administrative support,
more marketing support,
assistance with membership engagement,
assistance with local education programs and events,
enhanced volunteer opportunities,
continued support for the region, providing leadership and direction and addressing regional interests,
increased Chapter participation in developing integrated national strategies, and
increased engagement and ability to effect change across the region.
The Chapter Board transitions to the Chapter Leadership Board, with an increased focus on strategic regional issues. This Board will provide direction to staff to deliver events and programs that support the vision and objectives of the CaGBC.
Nationwide, the Chapters have representation on the Canada-wide Chapter Advisory Committee, a forum to discuss and address regional challenges and opportunities and contribute to the development of nationwide strategies. The Chair or Vice Chair of the Chapter Advisory Committee will be a voting member of the National Board.
Chapter Executive Directors become employees of the CaGBC and part of the CaGBC senior management team.
Under the new, integrated model, CaGBC's plans include re-establishing a B.C. chapter and forming a strong alliance with Quebec. The CaGBC has established a new Manitoba Chapter as the former Manitoba Chapter - CaGBC chose to take their organization in a different direction.
Key milestones for the Alberta Chapter

Nov. 24

Chapter members vote online and in person at a special AGM for integration into nationwide model. 31% of Chapter members participated, and 93% voted in favour of integration.

Jan. 1, 2016

Integrated membership begins.

March 31, 2016

Alberta Chapter is fully integrated into the nationwide structure.
2016 Alberta Green Homes Summit - Jan. 29
If you're involved in Alberta's residential marketplace, the second annual Alberta Green Homes Summit in Calgary is the place to be on Friday, Jan. 29.
The one-day Alberta Green Homes Summit will focus on residential construction. Sessions will cover both single-family homes (including townhomes and various attached styles) and multifamily projects up to the midrise level (up to 12 storeys).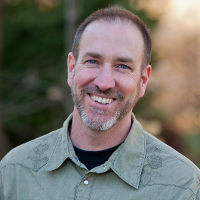 Keynote speaker Mike Reynolds, LEED AP Homes, will offer an engaging and informative perspective with his session, "Keys to broad market adoption of sustainable housing."
Mike first became active on climate issues as an educator in 1990. After 12 years of homebuilding and project management specializing in timber framing and high-performance wall systems, Mike assumed the duties of editor of ecohome.net as well as teaching and writing.
Other sessions will offer more about LEED Canada for Homes, Net Zero labelling and many regional energy and green building standards.
The Summit will be of interest to builders, developers, homebuyers, municipalities, housing authorities, financial and insurance institutions - all of whom have different reasons for adopting the idea of sustainable homes.

ASBS keynotes announced
Organizers of Alberta's premier green building event - the Alberta Sustainable Building Symposium - are excited to announce the event's 2016 keynote speakers at the May 10 event in Calgary.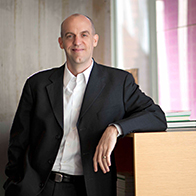 Chris DeVolder, Project & Sustainable Design Leader for HOK Sports + Recreation + Entertainment will share his experiences, lessons and vision about developing sports and recreation facilities that are sustainable both in their built form -and also as part of the communities they service.
Chris has more than 20 years of experience designing environmentally responsible facilities for sports, civic, commercial and residential markets.
A member of both the Green Sports Alliance Global Leadership Council Steering Committee and the USGBC National LEED User Group for sports venue development, he is focused on redefining sustainability and best practices within the profession. Chris' work in sustainable sports facility design has been recognized internationally by publications like The Philosophy of Sustainable Design, Redux, Natural Home, Greenability, Sports Business Journal and Stadia.
A frequent speaker, Chris has presented globally with organizations like the USGBC, Green Sports Alliance, and most recently, at COP21, the United Nation's Framework Convention on Climate Change in Paris.
His creative and technical skills have advanced the way the design profession approaches sports venues, not just in the design and construction process, but with sustainable operations and programming as well.
Debbie Baxter, Vice President, Corporate Real Estate, Deloitte Canada, will paint a picture of how buildings of the future will be used and how the changes in society are driving innovation in the function of our workplaces. Debbie sees efficient, green, healthy - and smart - buildings that help businesses achieve their bottom line goals while taking an active role in reducing their footprint and making our world a healthier, happier place.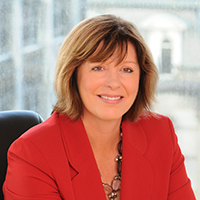 Debbie has 25+ years of experience working with businesses to implement change – from changes in real estate utilization, to changes in culture or technology.

She is most passionate about the "Future of Work," working with clients to adapt their business to the trends evident in our economy and society that will challenge our existing infrastructure and drive the need for a new way of thinking about work environments.

Debbie's efforts have been recognized on a national level. In 2013, Debbie was named to the Top 100 WXN list of the Most Powerful Women in Canada in the Trailblazer Category. Debbie was also the recipient of the 2013 Clean50 award, which honours outstanding contributors to sustainable development and clean capitalism in Canada. She was also awarded the 2011 Green Living award for Excellence in Corporate Responsibility.

Check out asbs2016.ca for more details about Chris and Debbie. A full program schedule will be posted soon after the New Year.

Registration is open now! Take advantage of the Super Saver rates.
Students lovin' SAIT sessions
SAIT Polytechnic's Architectural Technology students are giving a clear thumbs-up to the Alberta Chapter's lunch and learn sessions.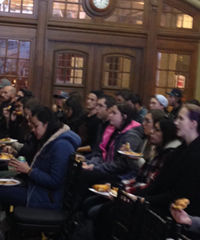 More than 100 students attended two lunch and learn programs, held Oct. 23 and Oct. 26, where they got their teeth into some weighty learning topics and a lot of tasty pizza.
"More students attended these sessions than we've ever had before with any post-secondary lunch and learn session, and we are thrilled," says Tanya Doran, Alberta Chapter Executive Director. "These students are interested, engaged and hungry to learn more. That spells good things for the future of green building in Alberta."
The sessions were hosted by the SAIT Architectural Technology Students Association.
City of Calgary bylaw changes target business recycling
Changes are coming that will affect how all Calgary businesses and organizations handle their garbage – requiring them to recycle and compost more and throw away less.
Calgary's Industrial, Commercial and Institutional (ICI) sector - offices, stores, hospitals, hotels, schools, factories, warehouses and non-profit organizations - is the biggest generator of waste, producing over one-third of all garbage going to City landfills.
Calgary Council approved amendments to the Waste and Recycling Bylaw this fall that will require all businesses and organizations to provide on-site storage and collection of recyclables effective Nov. 1, 2016. The one-year lead time before the bylaw changes are enforced will give businesses and organizations time to prepare and adapt.
"We're asking Calgary businesses and organizations to do their part to recycle, just as people already do at home," says Leanne Michie, ICI program manager with The City's Waste & Recycling Services.
Under the changes, businesses and organizations must provide adequate onsite storage and containers for a specific list of recyclable materials. That list includes all of the items now accepted in the residential Blue Cart program plus sector-specific materials such as:
scrap metal,
clear plastic (polyethylene) film, and
raw and unprocessed wood (such as dimensional lumber and pallets).
Waste & Recycling Services is taking an education-first approach. The bylaw changes, however, do allow enforcement with fines for businesses and organizations that don't comply.
Before the bylaw change takes effect, commercial vehicle loads of garbage containing paper and cardboard will be subject to higher disposal fees at City landfills effective Feb. 1, 2016. The City will ban paper and cardboard from our landfills by mid-2018. These actions are intended to encourage more recycling of these materials.
Council also approved the Industrial, Commercial and Institutional Organics Diversion Strategy. The strategy includes bylaw changes requiring businesses and organizations to separate their food and yard waste so they, too, can be diverted or composted instead of buried in a landfill. Waste & Recycling Services plans to bring proposed bylaw amendments to Council in the fall of 2016.
Michie says some businesses and organizations are already doing the right thing but more need to get on board. For more information, visit calgary.ca/businessrecycling.
Article supplied by The City of Calgary.
24 Sussex - go GREEN!
We've all heard the sad news that 24 Sussex Drive, Ottawa - the Prime Minister's official residence - is in a very sorry state of repair. What advice would you give to ensure the much-needed repairs and updates go GREEN?
Here's an Oct. 27 letter to the editor that offers some great suggestions:
Re: Trudeau's Homecoming Put on Hold (Oct. 24): If 24 Sussex Dr. needs structural renovations, Justin Trudeau should direct that the home for Canada's prime minister is turned into a state-of-the-art, energy-efficient dwelling: solar photo voltaic cells, solar hot water, low VOC (volatile, organic compounds) paint and rugs, better insulation and triple-pane windows. That would show real leadership and real change as he heads off to Paris for climate change talks.

- Jim Pine, Victoria
Much has been said about the aesthetic and decorating issues of which, apparently, there are plenty. Threadbare carpets and an outmoded kitchen and a poor laundry area in the basement are part of a long list.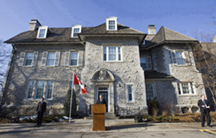 Of greater concern, however, are issues such as:
asbestos and mould in the house,
the windows, plumbing and electrical systems all need replacement,
the house needs a sprinkler system,
the house needs a central air conditioning system rather than the current units installed in windows, and
the house must be made accessible for disabled visitors.
Want to read more about the sorry state of 24 Sussex Drive? Try these:
Justin Trudeau may delay moving into 24 Sussex for long-needed repairs
Trudeau may postpone move to 24 Sussex to allow crucial repairs
Trudeau family to live in Rideau Cottage pending decision on 24 Sussex
24 Sussex Drive in a sorry state - but will it ever get fixed?
Mike Holmes, Bryan Baeumler Weigh In On 24 Sussex
DEAR READERS:
With this as your starting point, what would you suggest to the Prime Minister's Office regarding needed updates to the PM's official residence? E-mail your suggestions, which will be shared in the next Perspectives.
Calgary Green Homes Bike Tour - rewards and awards
The Calgary Green Home Bike Tour took place Saturday, Aug. 22 with tremendous enthusiasm from those opening their homes and those cycling around the city to view the homes. Out of the very successful event came great advice - and winners!
What better way to spend a Saturday in August than participate in the Alberta Chapter - CaGBC's Green Home Bike Tour in Calgary? The event featured interface with professionals in the building industry, a chance to learn about the importance of sustainable building practices that improve occupant comfort and health and provide energy and water savings - and a tour of two homes.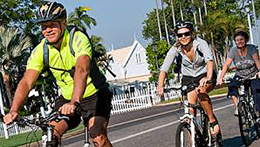 Participants were asked for their feedback and for ideas of how to encourage green building in the single-family residential market in Calgary. Two prizes, each a $50 gift card to Riva's Eco Store in Inglewood, were awarded. The prizes were provided by Mission Green Buildings, event sponsor.
Prize winner Katarzyna Gajewska really liked the event start time of 10 a.m. She thought the event was great, appreciating that the homeowners took pride in talking about their spaces. Katarzyna suggested a script could help structure the conversations at the houses. She also said she would love to see more houses next year, and urged organizers to consider having an architect or builder talk at the end of the day about their thoughts on LEED.
Katarzyna's interest in sustainability and green buildings stems from a fascination with the challenge of accepting rules and limitations within an economic culture that doesn't believe that growth and development has parameters. She believes in the spirit of sustainability because it recognizes growth can still occur with restrictions through deep thought and innovative thinking.
Prize winner Steven Cox, a contract sales representative for RONA, believes cost and knowledge are the biggest obstacles with green building projects. He sees contractors and homeowners struggle with costs and justifying going "greener" almost every day. He also feels education is lacking in this field for people interested in green building. The issues and solutions need to be simplified for average people to get what they want out of their project so they are encouraged to build green.
What's the solution? Steven suggests looking into an arm's length government organization that would be able to simplify the process and offset some building costs, something combining the strengths of CMHC and the Canada Research Council, working to develop and certify green products and technologies while also working to make them affordable and available at a one-stop shop for people who want them. Other solutions such as buying in bulk or a rebate program can also be considered.
Steven is interested in sustainability and green buildings since he believes sustainable building has to be the future of construction in North America. He is looking for ways to encourage green building and is taking courses with the Canadian passive housing institute, LEED and courses approved by the Canadian Institute of Quantity Surveyors (CIQS) to get more into the construction and green building industry.
LEED certifications
NOTE: To view CaGBC LEED certification profiles, click here and enter the name of the project in the field provided.
New Construction & Major Renovations
FEATURE: Edmonton International Airport - Combined Office Tower, Edmonton - LEED Gold
Inspired by the unimpeded Alberta wind, the Edmonton International Airport (EIA) Combined Office Control Tower is as functional as it is beautiful.
Editor's note: This feature uses information from the DIALOG website Riding the Wind feature and the DIALOG feature article in the Fall 2013 SAB Alberta Focus magazine.
Sitting within the colorful landscape of northern Alberta, the tower was specifically designed to fit naturally within the high grass and blowing snow on the surrounding prairie fields.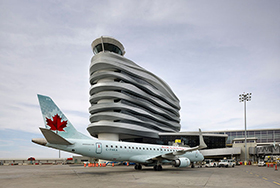 The building houses a cutting-edge NAV Canada air traffic control tower, an expanded retail precinct and new administrative offices. Additional functional objectives include improved airside ground operations, creation of a central baggage area and the development of a key nodal area to improve passenger and baggage flow.
Selected special features:
The tower saves space and costs by tapping into existing services (water, electricity, etc.) at EIA by fitting on top of an existing terminal. At the same time it meets all security and sightline specifications.


The use of sculptural zinc cladding, as well as optimal solar orientation, allows maximum natural daylight in the winter and shading in the summer.


Structurally, the design incorporates construction strategies for a post-disaster building in a unique way. The building is designed to be built entirely in structural steel, complete with steel plate shear walls. Concrete was not utilized in the wall design since concrete truck access to accommodate large pours would be prohibitive on the airside of an airport.


The building was designed to provide a healthy indoor environment for travelers and staff.


Optimal solar orientation was fundamental in establishing the new tower's siting and orientation. An optimal east/west solar orientation was employed to minimize solar gain from the west thereby providing a comfortable interior work environment.


Perimeter ribbon windows were designed to maximize daylight and views from the interior. The ribbons' aperture opens to the south and north with views to the distant city and active runways, while the aperture closes down on the east facade immediately adjacent to the existing main terminal building in response to fire separation requirements and compromised daylight access and views.


Other green features in the building include rainwater harvesting and under-floor air distribution. All roof surface runoff is collected in a cistern located centrally within the main terminal for grey water use and distribution. Mechanically, all air distribution to occupied floor areas is carried through under-slab ductwork, providing a more comfortable and reliable interior climate.
Project snapshot:
Size:
8,410 square metres / 90,525 square feet (sf)
Cost:
$70 million
Builder:
EllisDon
Client:
Edmonton Regional Airport Authority
Achievements & awards:
2015:
Award of Excellence – Transportation; Canadian Consulting Engineering Awards

Award of Excellence – Engineering; Canadian Institute of Steel Construction (CISC) Awards, Alberta Region

Award of Excellence – Building Engineering; Consulting Engineers of Alberta (CEA) Showcase Awards

2014:
Outstanding Building of the Year (TOBY) Award (100,000 - 249,000 sf category); BOMA Edmonton

2012:
Design Commercial; Top Project Awards Alberta Construction Magazine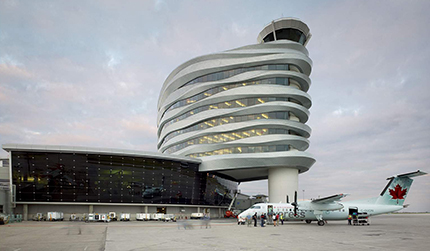 Other certifications
Airdrie High School (W. H. Croxford), Airdrie - LEED Gold
Ecole Dansereau Meadows School and Academie Santi Andre Academy, Beaumont - LEED Gold
Ecole La Prairie, Red Deer - LEED Gold
Father Henri Voisin School, Red Deer - LEED Gold
Airdrie Middle School, Airdrie - LEED Silver
Chestermere Elementary and Junior High School, Chestermere - LEED Silver
Ecole Barrie Wilson Elementary School, Red Deer - LEED Silver
Ecole Notre Dame des Vallees, Cochrane - LEED Silver
Dr. Roy Wilson Learning Centre, Medicine Hat - LEED Silver
Penhold Junior and Senior High School, Penhold - LEED Silver
Robert Thirsk High School, Calgary - LEED Silver
Strathcona County Emergency Services Fire Station #6 and Administration Building, Sherwood Park - LEED Silver
Alberta Infrastructure hits milestone 100 LEED projects
Congratulations are in order! The W. H. Croxford High School in Airdrie is the 100th LEED certified project of Alberta Infrastructure.
The school hit an impressive 60 points to bring it in as a Gold project, earning 10 more points than it needed for the distinction.
Some impressive credits the project achieved are:

native plantings and sod that do not require irrigation,
water use reduction of over 35% better than code,
energy savings of 40% better than the Model National Energy Code for Buildings,
77% of construction waste was diverted from the landfill,
Over 28% of all building materials contain recycled content,
Over 42% of building materials, where sourced, are from within the local region,
All interior finishes are low or no VOC content, and
Reduced mercury in all lighting fixtures. 
Submitted by: Cam Munro, Alberta Infrastructure
Headline highlights!
Following is a selection of recent media articles that feature a variety of topics of interest to Alberta's sustainable building community..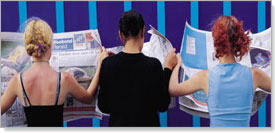 Canadian business leaders say COP21 agreement a good start, but only that (The Globe and Mail, Dec. 20) - In the wake of the Paris agreement – a historic, global pact on climate change – the results of this quarter's Canadian C-Suite Survey are encouraging. Conducted just prior to the COP21 negotiations in Paris, the survey reflects the general support of Canadian business for this kind of deal. Eighty-nine per cent of respondents agreed that Canada "should be a part of any global agreement on greenhouse gas reductions if it includes the world's major economic powers."
Capital Power sees opportunities in Alberta's climate plan (Edmonton Journal, Dec. 3) - Alberta's new climate change plan may prompt $30 billion of investment in wind and natural gas electricity generation by 2030 and Edmonton-based Capital Power Corp. is eager to get in on it, company officials said Thursday.
Wind, solar power counted on to brighten Alberta's energy future (Edmonton Journal, Nov. 26) - The province is counting on trademark sunny skies and blustery winds to lead a suite of renewable power sources that will meet up to 30 per cent of Alberta's electricity needs by 2030.
Stakeholders, politicians weigh in on Alberta climate plan (Edmonton Journal, Nov. 22) - Environmentalists and energy leaders called the province's new climate change plan a "game-changer" that will make Alberta a global leader in fighting climate change. Yet some critics continue to call for hard targets, while others say Albertans will be unfairly hit in their pocketbooks in precarious economic times.
Housing guru advocates rethinking Edmonton's approach to new suburbs (Edmonton Journal, Nov. 2) - Edmonton is losing money on every suburb it builds and won't solve the housing affordability problem for its residents either until it embraces a different style of neighbourhood, housing expert Avi Friedman says.
Sponsors