Message from the Executive Director
Where we learn matters. This is more than a statement. It's a fundamental truth. And it's the foundation upon which Canada's inaugural Green School Summit is based. Welcome to this special edition of Perspectives, dedicated to the Green School Summit and green schools.
Across the globe, and certainly in Canada, momentum is growing for ensuring our children and the professionals dedicated to their education can spend their days in healthy buildings.
This is important. In Alberta, about 643,000 individuals - about 596,000 students and more than 47,000 faculty, staff and administrators - spend at least six hours a day, five days a week throughout the school term in schools or other buildings dedicated to education. 
In a very real way, these individuals come to reflect the buildings that house them through their daytime hours. Healthy buildings encourage healthy minds and healthy bodies. Healthy minds and bodies are better prepared to learn, to explore concepts and ideas, and to engage with the world around them. These actions are fundamental to building a better life for everyone and to restoring health to the earth itself.
The Alberta Chapter - Canada Green Building Council (CaGBC) is delighted to be hosting the inaugural Green School Summit, bringing together experts from several sectors who share the common goal of creating healthy and efficient school buildings - and ensuring integrated learning opportunities that entrench good sustainability practices in young minds. 
The Green School Summit represents another milestone for the Alberta Chapter - CaGBC. In this edition of Perspectives, you'll see the advances we've made to date in greening our schools. We are proud of this achievement. Very proud. And yet we know we've only begun along the path that leads to the end goal: to ensure every child, every teacher, every administrator, can spend his or her days in a green school.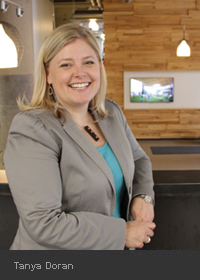 Schools, of course, are a special subsection of our built environment. The Alberta Chapter's vision is a transformed built environment leading to a sustainable future. We will get there, ultimately, by leading and accelerating the transformation to high-performing, healthy green buildings, homes and communities throughout Alberta.
And we will accomplish our work by continuing to engage with individuals, organizations, all levels of government and with entire communities to build a better, healthier, more sustainable world for future generations.
I am very much looking forward to the thought-provoking sessions that will be presented during the Green School Summit. They will help move the vision of green schools forward. I hope to see you there.
Tanya Doran
Executive Director
Green School Summit - program
Alberta's first-ever Green School Summit, a forum for leaders in education, sustainable building, wellness and healthy communities, is taking the issues and opportunities of green schools to a new level.
The one-day forum, slated for Friday, September 25 at Calgary's Career & Technology Centre in Lord Shaughnessy High School, is organized into four learning and discussion streams designed to share information, challenge conventional thinking and open a world of possibilities for the future of Alberta's schools.

Two keynotes, one a global leader in green education and the other a clinical research scientist dedicated to controlling largely preventable chronic diseases and disabilities, will offer insights - and challenges - that are fundamental to the success of green schools.
Opening keynote Stephen Ritz will energize participants with his story of giving his students undreamed-of academic success - by teaching them how to grow vegetables.
Luncheon keynote Dr. Bruce Lanphear, a clinician scientist at the Child & Family Research Institute, BC Children's Hospital and a professor of Health Sciences at Simon Fraser University, challenges us to think about how our actions - and our schools - can help control a range of preventable diseases and disabilities caused by industrial pollutants, environmental contaminants and excess consumption.
Closing keynote includes both students and teachers from the 2014 Greenest School on Earth, Dunbarton High School in Pickering, Ontario.  The high school, built in the early 1960s, is typical of most post-war construction in North America - sprawling, car dependent, ugly and initially lacking any physical feature that might be considered green.  The session will illustrate how being the greenest school is really about working in and with the community.  Pickering has a long history of environmental activism. Dunbarton has leveraged this history to engage students in a wide range of community and campus projects demonstrating It's not about the birds, bugs, plants, animals, air, soil, energy, waste and water; it's about people. The green school in the green community.
Breakout session presenters will offer their experience and expertise to explore a wide range of issues and topics pertinent to those who want to move the agenda for greening our schools forward.
The streams and stream highlights:
Green Schools in Alberta - the present and the future
Panel discussion: up-to-the-minute strategies for designing and building green schools in Alberta
Presentation: how green spaces contribute to enhanced learning
Calgary Board of Education: Sustainability Framework
Green School innovation in construction
Presentation: the business and design case for using prefabricated assemblies
Presentation: technologies that lead to lower energy consumption in schools
Presentation: the SEEDclassroom
Health & other benefits to green schools
Presentation: the benefits of a Green Commuting Challenge
Presentation: research findings and their implications for choices of building materials and their impacts on children
Presentation: different approaches to good daylighting design and its benefits
Green School curriculum and learning
Fort McMurray's Westwood Green Initiative Club
Green Calgary's Green Kids program
Calgary's Whispering Signs and the Centennial Natureground outdoor environmental education project
Check out the Alberta Chapter - CaGBC website for complete program details.
Click here to register.
Keynote Stephen Ritz: grow something greater
Green School Summit keynote speaker Stephen Ritz describes himself as: Educator. Innovator. Social entrepreneur. Keynote speaker. He believes - he knows - teachers change lives. And he will open the inaugural Alberta Green School Summit on September 25.
Stephen's incredible work is based on his belief that students shouldn't have to leave their community to live, learn and earn in a better one. And so he has led, developed and championed learning through growing food.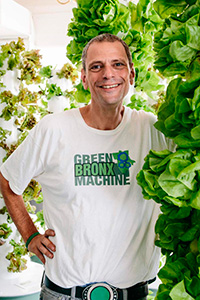 The results of his work are impressive. Examples include:
His extended student and community family has grown more than 30,000 pounds of vegetables in the Bronx while generating extraordinary academic performance.
His Bronx classroom featured the first indoor edible wall in New York City. The wall routinely generated enough produce to feed healthy meals to 450 students. 
Stephen has consistently moved attendance from 40% to 93% daily.
He has partnered toward 2,200 youth jobs in the Bronx.
Not surprisingly, Stephen's trophy case is bursting. He has recently been named a 2015 Top Ten Finalist for the Global Teacher Prize. In 2013, American Teacher: Heroes in the Classroom identified and featured Stephen as one of the top 50 teachers in America. The National Association of Secondary School Principals cited Stephen's work and Green Bronx Machine as one of five national exemplars of service learning. Stephen helped earn his school the first-ever Citywide Award of Excellence from the NYC Strategic Alliance for Health­ and directly attributes these results to growing vegetables in school.
Stephen's accolades also include a 2014 Greenius Award, 2014 Green Difference Award, 2013 Latin Trends Award, ABC Above and Beyond Award, Chevrolet / General Motors National Green Educator Award, USS Intrepid Hometown Hero Award, NYC Chancellor's Award and many others.
In 2014, Stephen's fourth and fifth grade students received a personal invitation to the White House by Chef William Yosses. His Bronx classroom's indoor edible wall was the venue where the youngest nationally certified workforce in America was trained. His students, traveling from Boston to Rockefeller Center to the Hamptons, earn living wages en route to graduation.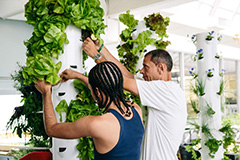 A strong advocate for project-based learning, Stephen is an annual presenter for the Buck Institute and works with school districts and universities across the U.S. He has conducted professional development for many organizations including many schools. Internationally, he consults with Instituto Thomas Jefferson in Mexico, was named a delegate at World Innovation Summit for Education (WISE), lectures for the Hebrew University and recently spoke at the Congreso Nacional de Educatoin in Colombia.
Stephen's work has been featured in Forbes, Wall Street Journal, Fast Track, The Guardian, Caring Magazine, Triple Pundit and on many TV networks. He is an Office Depot featured teacher - Teachers Change Lives!
Dedicated to harvesting hope and cultivating minds, Stephen dreams of opening a nationally replicable Career Technical Education public school in the poorest Congressional District in the U.S. - and having the school rooted in urban agriculture, green and sustainable initiatives. He recently lost more than 100 pounds by modelling positive behaviour and eating what he and his student grow in school.
Green Apple Day of Service
Alberta's Green School Summit is doing double duty - as the first-ever summit dedicated to green schools and Alberta's registered event for the 2015 Green Apple Day of Service program.
The Green Apple Day of Service helps parents, teachers, students, companies and local organizations transform schools into healthy, safe and productive learning environments through local projects and events. The event also offers teachers and administrators a hand in incorporating sustainability into their subject curricula.

There is an official Green Apple Day of Service each September, but organizations can register an event for any day of the year. Green Apple events don't need to be large or complicated. They can range from collecting rain water or cleaning out a dusty classroom, to planting a garden with students or to filling out a Healthy Air Checklist.
Check out the Green Apple Day of Service page on the Canada Green Building (CaGBC) website. The page features Okotoks' Westmount Elementary School's terrific Green Apple Day of Service initiatives in 2013, which included inviting Tanya Doran, Executive Director, Alberta Chapter - CaGBC and her team to the school to participate in a school-wide discussion about the benefits of sustainable buildings. And take a minute to listen to the "Go Go Green" song the school composed and performed for the event.
Inspired to register your school's event? Start here.
The Green Apple program is run by the Center for Green Schools, part of the U.S. Green Building Council.
What is a green school?
A green school is a school building or facility that creates a healthy environment conducive to learning while saving energy, resources and money. It incorporates sustainable building design and construction, then works with staff and students, and even the surrounding community, to develop and implement healthy, environmentally friendly programs and practices.
In short, a green school:
minimizes environmental impact,
optimizes human health and performance, and
fosters a generation of environmentally literate students.
Let's first consider the advantages and disadvantages - cost, mostly - of building a school that minimizes its carbon footprint.
The results of a study from Capital E that looked at 30 schools show very clearly the advantages of building a LEED-certified school. The bottom line: LEED schools are cost effective to build.
As with other commercial buildings, the net cost of building a LEED school is comparable to building conventional schools.  Somewhat higher initial costs are immediately offset by lower utility and water bills, saving taxpayers operational costs over the long term.
Integrated design, based on building science, is the most assured way to maximize cost streamlining opportunities that can reduce the overall cost of green upgrades by as much as 40%: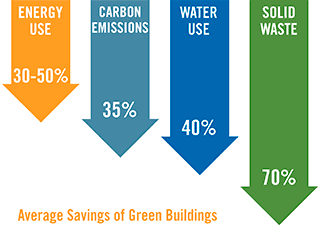 In fact, the total financial benefits of green schools are 20 times greater than the initial cost and include significant and sustainable energy and water savings -totalling about $100,000 a year in costs.
That's enough money to fund:
two new teachers,
200 new computers,
or 5,000 textbooks.
Second, let's consider the advantages of green schools for students, teachers and others who spend many hours, five days a week, in the building.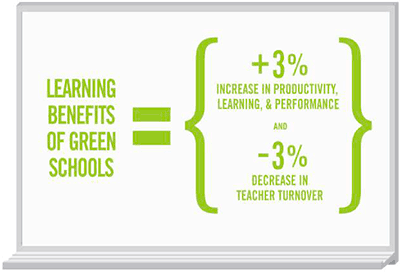 In terms of student and teacher health, green schools deliver - providing adequate ventilation and keeping relative humidity below 60%, inhibiting the growth of mold.  The presence of mold can lead to serious health concerns, especially in children. As well, studies show attendance in a green school improves and the number of illness days decreases.
Research shows green schools also help children increase their productivity, learning and performance.
Green schools go well beyond the building itself, with staff and students taking active roles to incorporate environmentally friendly initiatives and programming that enhances virtually every part of the curriculum. Such planned, active engagement significantly increases the awareness of each child and adult to good environmental practices and how each of us has a direct role to play in living successfully and respectfully with nature.
The following initiatives offer examples of how green schools can positively affect their broader communities:
Alternative transportation, including alternative fuel buses, biking and safe walking initiatives, help reduce CO2 emissions and traffic snarls while encouraging more active, healthier lifestyles.
Recycling diverts waste from landfills, reuses primary materials and eases municipal costs.
Joint use of the school building makes better use of existing facilities, saving costs and decreasing community-wide environmental impact.
Alberta's green schools: #1 in Canada!
Alberta, take a bow! We have the largest number of green schools in Canada. In fact, we share the winner's podium for the largest number of green schools in North America with two states in the U.S. taking first and second spots.
Alberta has about 2,063 schools. Those buildings welcome about 596,000 students and more than 47,000 faculty, staff and administrators five days a week throughout the school term.  That means about 15% of Alberta's population spends at least six hours a day in a school building.
And of that number of schools, 147 K-12 Alberta schools are LEED certified - offering students and staff healthy, energetic and cost-efficient places to learn.
By comparison, Ontario has 77 LEED-certified schools. This is roughly half the number of Alberta LEED schools - even though Ontario's population (July 2014) of 13.677 million is well over three times as large as Alberta's population (June 2015) of 4.175 million.  
Check out the list of Alberta schools receiving LEED certification in 2014 and 2015.

2014: A. Blair McPherson School, Edmonton - LEED Gold
Dr. Donald Massey School, Edmonton - LEED Silver
Elizabeth Finch School, Edmonton - LEED Gold
Esther Starkman School, Edmonton - LEED Silver
Florence Hallock School, Edmonton - LEED Silver
Good Shepherd Elementary School, Airdrie - LEED Silver
Herons Crossing School, Airdrie - LEED Silver
Johnny Bright School, Edmonton - LEED Gold
Monsignor Fee Otterson Catholic Elementary/Junior High School, Edmonton - LEED Silver
Mount Royal University Science and Technology Wing expansion, Calgary - LEED Silver
Our Lady of Wisdom School - LEED Gold
Saddle Ridge School - LEED Silver
Sister Annata Brockman Catholic Elementary/Junior High, Edmonton - LEED Silver
St. Anthony's School, Drumheller - LEED Silver
University of Calgary - Taylor Family Digital Library - LEED Gold
2015:
Athabasca University Academic and Research Centre - LEED Gold
Bow Valley College, North Campus, Calgary - LEED Certified
Bow Valley College, South Campus, Calgary - LEED Silver
MacEwan University - University Service Centre - LEED Silver
Roderick Mah Centre for Continuous Learning Addition - LEED Gold
Samuel W. Shaw School, Calgary - LEED Silver
Green schools: the global perspective
Alberta, along with the rest of Canada, is gaining a worldwide reputation for its advancements in green schools and overall LEED certifications. We help our own children and those of the world when we share ideas, trends and techniques with the global community.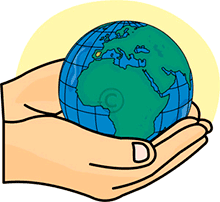 The CaGBC joined the Global Coalition for Green Schools as a founding member in 2013 and later formed the Canadian Coalition for Green Schools. The Canadian coalition is composed of members of the green building industry who contribute their time and expertise to supporting communities in the transformation of their schools.
The Coalition uses the following tools to achieve their goals:
The Green Apple Day of Service mobilizes and equips thousands of communities around the world to participate in local school service projects.

The Greenest School in Canada competition names the top three Canadian schools leading the country each year. The winning school receives $2,000 in prize money to use toward a current or new green school project.

The Global Twinning Initiative matches two same grade-level classrooms from different countries and facilitates a student conversation around sustainability concepts and curriculum.

The Greenest School on Earth Award annually rewards an outstanding school that demonstrates a strong commitment to educating sustainability initiatives.

The Global Coalition for Green Schools Annual Summit, begun in October 2013, takes place each October in concert with WGBC Congress. It is an opportunity for Coalition members to convene, share best practices and plan for the year ahead.
2016 Greenest School competition
Your school has initiated some truly impressive sustainability programming. You see increasing enthusiasm and creativity for incorporating sustainability throughout your school. Share that success and enthusiasm! Prepare now for the 2016 Greenest School in Canada competition!
The CaGBC and the Canadian Coalition for Green Schools will open the 2016 Greenest School in Canada in only a few months - in January 2016.
They will be searching for either an elementary or secondary school that truly exemplifies how sustainability can be integrally woven into the infrastructure, culture and curriculum of the school.
Schools entering the competition will be judged on the following criteria:
efficient use of resources and reduced environmental impact,
enhanced health and learning among students, teachers and staff, and
emphasis on sustainability and resource-conservation education.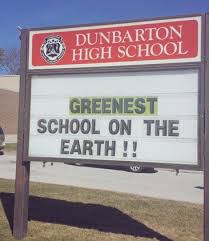 If your school wins, it will receive:
$2,000 in prize money to use for a green activity and the coveted title of Greenest School in Canada, and
an automatic submission as the official Canadian entry into the Greenest School on Earth competition, awarded annually by the Center for Green Schools at the U.S. Green Building Council. Winners of the international competition receive an additional $1,000 to put toward a new or ongoing sustainability project.
Check out more details about the 2015 Greenest School in Canada competition and Ontario's Dunbarton High School - featured presenters in the Green School Summit - winning submission as the 2014 Greenest School in Canada.
Sponsors