Message from the Executive Director
The winds of change are picking up speed in Alberta, with messages of environmental stewardship and energy resiliency for our province getting louder.
The Government of Alberta has an opportunity to demonstrate strong leadership in addressing climate change by commitment to reductions in carbon emissions.   The CaGBC recently has shared our feedback to the Climate Change Advisory Panel both in person at the buildings and houses stakeholder session as well as in our response to Minister Shannon Phillips and the panel. Read the response here.  
Buildings offer some of the greatest potential -- at least from the perspective of cost -- for achieving significant energy and GHG emission reductions.
In fact, according to Dunsky Energy Consulting, conservation policies are three to six times cheaper than new energy supply to the grid. At the municipal level, emissions from buildings account for upwards of half of a city's carbon footprint. Edmonton attributes 38.6% of its emissions to the built environment while Calgary attributes 49%. 
These results are further exacerbated across the province where new construction has not been required to meet energy guidelines. Fortunately, that is about to change as new regulations offering a staggered approach to ICI (industrial, commercial, institutional) and residential buildings will see new construction meet 2011 National Energy Code for Buildings (NECB) requirements. 
Alberta has an opportunity to prioritize energy efficiency programs and legislation for its built environment. The Province should consider a number of strategies to gain the greatest benefit:
Create incentives to increase energy-efficiency upgrades and retrofits.
Prioritize a pathway (beyond energy consumption) to low-impact buildings.
Introduce a mandatory energy benchmarking and disclosure program.
Alberta has a unique opportunity to become a leader among Canadian provinces with regard to green building. According to a CaGBC report on economic impacts and opportunities, which will be published soon, 1.8 % of the province's labour force in 2014 was employed in the green building sector. (This equates to nearly 45,000 jobs.) Additionally, the green building sector contributes over $3.6 billion dollars to the GDP.
Alberta has an enormous opportunity to do more to grow its green building sector, become an international leader and further seize the strategic opportunities tied to investments, job creation, and exports. What's needed to make this happen? We need a strategic approach at the provincial level that involves investing in innovation and industry development as well as training the new workforce with the skills they need to propel the green building sector forward. This approach includes:
investing in research and development for the green building sector, and
enhancing training for trades and operations staff.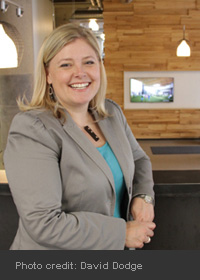 The time is now for Alberta to create a climate change plan that is ambitious, effective and achievable while considering environmental, social and economic opportunities that impact the build environment and move Alberta to a lower-carbon future. As experts in Canada on sustainable building practices and policies, the CaGBC welcomes the winds of change and will actively participate in leading and accelerating Alberta's transformation to healthy green homes, buildings and communities on behalf of our members, volunteers and all Albertans.
Tanya Doran
Executive Director
Two Alberta schools among greenest in Canada
Take a bow, Queen Elizabeth High School in Edmonton and Lord Shaughnessy High School Career and Technology Centre in Calgary, for your excellent showings in the second annual Canada Green Building Council (CaGBC) Greenest School in Canada competition.
Edmonton's Queen Elizabeth High School shared top honours of the entire competition with St. Marguerite d'Youville Elementary School in Hamilton, Ontario. Calgary's Lord Shaughnessy was second runner-up.

The CaGBC Greenest School jury, composed of Canada green building industry experts, were so impressed with the submissions they were unable to choose just one winner. They determined both Queen Elizabeth and St. Marguerite stood out from other submissions for their exemplary commitment to sustainability and impressive environmental awareness programs for students and staff.
Highlights of Queen Elizabeth's submission include:
Main educational component, called INNOVATE, is a hands-on project-based program that bridges the different curriculums, connects to the greater community and provides research and experimental opportunities to students focused on solving real-world problems of sustainable development.
Students have twice presented at the annual COP UN Climate Change Conferences to youth delegates: in Doha, Qatar (2012) and Lima, Peru (2014).
Smart Meters were installed to measure energy consumption in real time, and light sensors assess potential for natural daylighting.
C02 levels in the school were monitored. Monitors noticed levels rise throughout the day so the school incorporated planter boxes, green walls and aquaponics systems into classrooms to address and manage the increase.
Launched in 2014, the Greenest School annual competition showcases kindergarten to Grade 12 schools across the country that exemplify how sustainability can be woven into the infrastructure, culture and curriculum of a school. School submissions, therefore, focused on the schools' efficient use of resources and reduced environmental impact; enhanced health and learning among students, teachers and staff; and emphasis on sustainability and resource-conservation education.
Both winning schools of the 2015 Greenest School in Canada competition will receive $2,000 in prize money to use for a green activity and will be submitted as the official Canadian entries into the Greenest School on Earth competition, awarded annually by the Center for Green Schools at the U.S. Green Building Council. Winners of the international competition receive an additional $1,000 to put toward a new or ongoing sustainability project.
The runners-up of the 2015 Greenest School in Canada competition were:
This competition is the second in series of initiatives launched by the CaGBC and the Canada Coalition for Green Schools. The other initiative, the Green Apple Day of Service Program, encourages parents, teachers, students, companies and local organizations to transform all schools into healthy, safe and productive learning environments through local projects and events.
Editor's note: the above article is based on a CaGBC news release distributed Sept. 15, 2015.
ASBS 2016 Call for Presenters
Have you or your organization developed an innovative approach or a practical solution or product that offers Inspiring Innovation for sustainable building in Alberta? If so, here's your chance to showcase your work!
The Alberta Sustainable Building Symposium (ASBS) organizing committee is looking for best practices that continue to move Alberta toward high performing, healthy, green buildings and communities.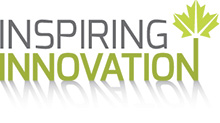 Working to the support the 2016 theme of Inspiring Innovation, successful submitters will have an opportunity to present either a 30-minute or a 50-minute session to about 200 leaders in Alberta's green building community.
Check out the Call for Presenters details at asbs2016.ca or on the Alberta Chapter - CaGBC website.
Deadline for submissions to wendy@thedagnypartnership.com is 5 p.m. Friday, Nov. 20.
ASBS 2016 registration open
You're got your calendars marked for Tuesday, May 10, 2016 for Alberta's premier green building event. Now take the next step - and register!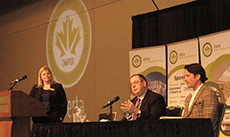 The Alberta Sustainable Building Symposium Super Saver registration is ready to hear from you! Organizers are working hard on putting together another dynamite program for you, this year in Calgary. Reserve your space early.
Canada: world LEEDer!
For the second consecutive year, the U.S. Green Building Council (USGBC) has ranked Canada as the top country in the world for LEED green building.

Editor's note: the following article summarizes a detailed news release, available on the Canada Green Building website.
The USGBC's ranking of the Top 10 Countries for LEED took into account the gross square metres (GSM) and the number of commercial and institutional LEED projects recorded for each country. LEED Homes were not included in the ranking.
The 10 countries making the 2015 list represent seven of the world's 20 largest single-nation economies by Gross Domestic Product (GDP) as well as six of the top 11 emitters of greenhouse gases - China, India, Germany, South Korea, Canada and Brazil.
The United States, the birthplace of LEED, is not included in this list but remains the world's largest market for LEED. The U.S. is the world's largest economy by GDP as well as the world's second largest emitter of greenhouse gases.
Rank

Nation

GSM of
LEED certified
commercial/
institutional
space
(millions)

Total GSM of
LEED-certified
and registered
commercial/
institutional
space
(millions)

Total number of
LEED-certified
and registered
projects
(commercial/
institutional)

1

Canada

25.39

68.41

4,736

2

China

20.42

115.26

1,968

3

India

12.74

72.46

1,836

4

Brazil

4.86

24.27

977

5

Republic of Korea

4.65

17.29

275

6

Germany

3.92

8.24

420

7

Taiwan

3.76

8.65

146

8

United Arab Emirates

2.839

52.64

901

9

Turkey

2.837

22.15

455

10

Sweden

2.5

4.17

195

United States

298.15

472.01

53,640
Within Canada, Alberta, Ontario, British Columbia and Quebec show particularly strong growth. Please note: Alberta leads the country in the amount of certified LEED project area per capita.
According to the Canadian government, buildings are the fourth leading cause of greenhouse gas emissions in Canada, contributing 12% of the country's overall emissions by sector. The good news, though - emissions from the Canadian building sector have dropped since 2005 even as the population has risen and the national building stock has grown larger, because of a strong commitment to green building.
| | | | |
| --- | --- | --- | --- |
| Rank (per capita) | Province | Total number of LEED Certified Projects (as of June 30, 2015) | Certified LEED project area (m2) per capita |
| 1 | Alberta | 318 | 1.24 |
| 2 | Ontario | 962 | 1.02 |
| 3 | British Columbia | 407 | 0.73 |
| 4 | Nova Scotia | 74 | 0.63 |
| 5 | Quebec | 439 | 0.45 |
| 6 | Manitoba | 72 | 0.37 |
| 7 | Northwest Territories | 2 | 0.32 |
| 8 | Newfoundland and Labrador | 12 | 0.22 |
| 9 | Yukon | 3 | 0.22 |
| 10 | Prince Edward Island | 5 | 0.21 |
| 11 | Saskatchewan | 31 | 0.19 |
| 12 | New Brunswick | 20 | 0.19 |
| 13 | Nunavut | N/A | N/A |
DIRTT - product of the year winner
Congratulations to DIRTT Environmental Solutions of Calgary for being named the inaugural winner of the CaGBC Green Building Product of the Year award for the firm's interior wall system, Enzo™.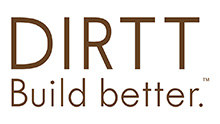 DIRTT's Enzo™ interior wall system is modular and flexible, reducing the burden and waste of regularly reconstructing healthcare interiors. Among its sustainability features, DIRTT:
completed a life-cycle assessment (LCA) for the product,
created a global Product Category Rule (PCR), and
had a third-party verified Environmental Product Declaration (EPD) completed.
This information provides consumers with an extended degree of comfort that sustainable design claims are realistic and accurate.
Product submissions were assessed based on sustainability, transparency and verification, innovation and application. The jury of experts chose the DIRTT system as winner because of its ingenuity and application, particularly as a benefit to healthcare facilities, which regularly need to adapt their spaces.
The award was presented at the at the Building Lasting Change 2015 gala dinner in Vancouver in June. View the DIRTT video to hear the story behind the Enzo System.
What's new in Calgary?
Calgary ups the game for ICI waste diversion
Changes are coming to the way Calgary businesses and organizations handle their waste, according to The City of Calgary website.
Significant waste management changes are on their way for hospitals, schools, offices, malls, restaurants, hotels, manufacturers, factories, warehouses and other businesses and not-for-profit organizations.
The changes, beginning in February 2016 and extending to 2020, will include a phased-in series of bylaw rules and landfill rates designed to encourage increased recycling and composting.
Did you know?
Calgary businesses and organizations produce over one-third of all waste going to City landfills. Of this, nearly 90 per cent is not garbage - and could be recycled or composted.
The following initiatives are designed to increase the rate of recycling in the institutional, commercial and industrial (ICI) sector:
A higher disposal fee on commercial vehicle loads containing paper and cardboard takes effect Feb. 1, 2016.
In September 2015, City Council will consider a bylaw amendment that would require businesses and organizations to recycle paper, cardboard and certain other materials. If approved, the bylaw will take effect in November 2016.
In late 2018, The City intends to ban paper and cardboard from City landfills.
The following initiatives are designed to increase composting in the ICI sector:
In late 2018, City landfills intend to charge a higher rate for commercial vehicle loads containing food or yard waste.
In late 2019, The City intends to ban food and yard waste from City landfills.
A future bylaw amendment could require businesses and organizations to compost their food and yard waste.
The City is implementing such definitive measures because landfills, in short, are a liability. They are expensive to site and manage both while they are active and long after the site has closed. Also, landfilled organic material creates harmful greenhouse gases as they break down, as well as contributing to leachate, the liquid produced by garbage.
For more information on The City of Calgary's waste management plans, check out the website and consider subscribing to Waste & Recycling Services e-newsletter.
The City of Calgary: powered by the sun
September 22 was a big, bright day for the City of Calgary and ENMAX as the partners celebrated the installation of the city's largest solar electricity system - at the Southland Leisure Centre.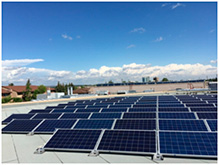 According to The City of Calgary website, the 600 solar panels now on the roof of the leisure centre will offset a portion of the facility's electricity use - as well as support The City's continued commitment to reduce greenhouse gas (GHG) emissions from City infrastructure.
The 1,740-square-metre panel array, about the size of one NHL-sized hockey rink, will produce enough electricity to offset electricity use and GHG emissions equivalent of up to 24 average Calgary homes in a year. The new solar electricity system will produce up to 184,000 kWh annually. At that rate, the estimated annual cost savings will ensure the system is paid off in less than 14 years.
Other recent sustainable initiatives implemented by The City include:
the connection of City facilities, including the Calgary Municipal Building, the Alberta Trade Centre and the Andrew Davidson Building to the ENMAX District Energy Centre,
a solar thermal project at Southland Leisure Centre which contributes to displacing natural gas in heating water,
a 50kW solar power plant at Bearspaw Occupational Work Centre,
a city-wide LED street lighting program that will reduce operating costs by an average of $5 million annually when completed in 2018, and
dozens of facility retrofits, sub-metering and energy audits at recreation facilities to support energy conservation and efficiency.
What's new in Edmonton?
Blatchford breaks ground
The City of Edmonton reached a milestone August 8 as it broke ground on the first phase of residential development and a section of the central park.
According to The City of Edmonton website, once the site grading and excavation for the first stormwater pond is complete, the City will begin installation of underground utilities in "one of the world's largest sustainable communities."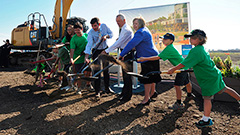 The work occurring throughout 2015 will allow the City to sell fully serviced lots to pre-qualified builders starting in 2016.

The City also will be investigating the best way to deliver on the vision to build a sustainable community that uses 100 per cent renewable energy and is carbon neutral. This may include a district energy system.

Click here to view the Blatchford ground breaking photo gallery.

Click here to view CBC coverage of the ground breaking ceremony.
Downtown cogeneration plant in commissioning
ENMAX is in the final stages of commissioning a cogeneration plant in Edmonton's downtown Boyle Renaissance Tower. The plant is expected to be ready to serve the 90-unit seniors' facility later this year.
According to a City of Edmonton report, construction of a small-scale district energy system serving the Boyle Renaissance Phases I and II - which include the Boyle Renaissance Tower - began in 2012.
The City, in partnership with EPCOR, ENMAX, FVB Energy and the Holmes Group, has been working since 2012 to develop a feasible scenario for a district energy system that could serve downtown.

The report says the plant has the capability to generate heat and electricity for Renaissance Tower and heat for the YMCA Melcor Welcome Village. Electricity generated in excess of Renaissance Tower requirements goes back to the electrical grid for resale.
Partnership roles see the City providing building connections, ENMAX owning and operating the thermal generation and selling directly to customers, with EPCOR building, owning and maintaining the distribution system.
The report says the proposed system is "estimated to result in a reduction of greenhouse gas emissions of 17,080 tonnes per year in early phases and 63,000 tonnes per year at full build out."
City hosting community energy forum
The City of Edmonton is hosting a community forum on energy and climate change, the largest environmentally themed public engagement event in the city's history, on Saturday, Nov. 14.
Edmonton's Community Energy Forum: Inspiring Sustainable Action in Your City will discuss issues of energy transition, climate change and building a sustainable future.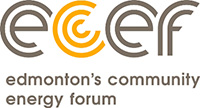 According to The City's website, forum sessions will focus on local actions to reduce climate impacts and greenhouse gas emissions. Edmonton Mayor Don Iveson and Majora Carter, American urban revitalization strategist and public radio host, will both offer addresses.
Registration fee is $20 for the forum, to be held at the Shaw Conference Centre from 9 a.m. to 5 p.m. Click here to register.
Alberta Emerald award winners
Take a visual stroll through the 2015 Alberta Emerald Award winners' submissions, and you'll find some inspiring, innovative and practical solutions for making our world more sustainable and more environmentally friendly.
Consider the following examples of 2015 Alberta Emerald Award winners: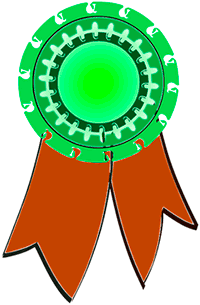 Education category:
Winner - Captain Nichola Goddard School, Calgary. Program: Green Commuting Hubs
Finalist - Clandonald School, Clandonald. Program: Warriors of the Rainbow
Finalist - Westmount Charter School, Calgary. Program: The People for Energy & Environmental Literacy (PEEL)
Government institution category:
Finalist - Lacombe County. Program: Lacombe County Environmental Management System - Leading from Within
Large business category:
Finalist - Mammoet Canada Western Ltd. Program: People, Planet and Profit.
Editor's note: Congratulations to Klaas Rodenburg, who presented a session on Mammoet's People, Planet and Profit program at the 2015 Alberta Sustainable Building Symposium.
Public education and outreach category:
Winner - ConocoPhillips Canada. Program: School Environmental Quest
Finalist - Green Energy Futures. Program: Online multi-media storytelling project
LEED certifications
NOTE: To view CaGBC LEED certification profiles, click here and enter the name of the project in the field provided.
LEED Canada for Homes
FEATURE: Habitat Net Zero Prototype, Edmonton - LEED Platinum
For those of you who have been following the 'ultimate energy-efficient home in Canada' through the phases of design and construction, you will join Lafarge Canada Inc, Stantec Design, Habitat for Humanity and the rest of the team in their satisfaction, as the building has just officially received the LEED® Platinum for Homes certification from the CaGBC.
The primary goal of the project was to construct a NetZero precast home. Being the first of its kind, the research and development purposes it would serve would be plentiful.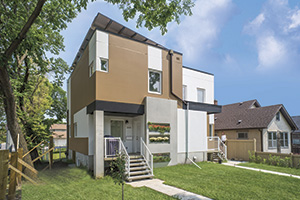 But the construction team was targeting more than just data - they wanted to build a pillar in Edmonton that could stand amongst the high-performing, healthy green buildings, homes and communities that the Canadian Green Buildings Council has certified. 
Designing to surpass the industry standards when it comes to energy efficiency, the construction team utilized the LEED® Platinum for Homes certification as a point of reference and a resource to ensure no element was overlooked.
What is NetZero?
The idea of NetZero housing, or the creation of a building that can generate as much energy as it consumes, is simple in concept. But as the design and construction teams experienced over the course of the project, it is much more complex in execution.
This NetZero Energy Precast Concrete project is an important one because of the knowledge gained by all project participants. It is both a pilot for the concrete and construction industry in Canada and advocate for sustainable construction materials and practices around the world.
"NetZero homes have been constructed around the world, but what makes the Edmonton project so unique is because of the way it has used concrete as the primary building material," explains Don Zakariasen, Director of Marketing, Concrete Products at Lafarge. 
Thermal mass is a beautiful thing
The typical structural and architectural elements of a Canadian home that are usually done with wood framing were replaced with precast concrete sandwich panels. In fact, the entire building envelope, floors and roof are constructed with concrete. This will benefit the energy performance of the homes due to the thermal mass of concrete, which in turn will reduce cyclic heating/cooling loads.
The building structure, in addition to the renewable energy technologies, has been providing the families of the homes the capability to sustain their own energy requirements since turning over the keys.
And for the past year, the energy performance of the homes has been monitored.  Once two years of data have been collected and analysed, the Massachusetts Institute of Technology will issue a report on the building operation and the interaction of thermal mass with mechanical and electrical systems.
Our key learnings at Lafarge
Our key learnings at this point in the data collection stage are: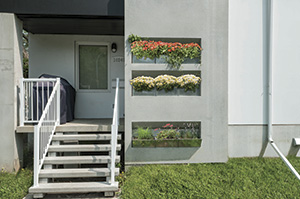 The electrical grid served as the battery in our system.  This resolved the seasonality of the Edmonton climate but made it difficult to address the financial side of electrical supply and demand.
There is a turnover of staff within the project participants, which makes documentation a very critical element.
Projects require a multi-disciplined project champion to address and facilitate solutions for evolving challenges.
The research and development knowledge acquired from the project will be invaluable and learnings from all stages of the project can be incorporated into other residential building solutions.
Lafarge, as well as others will use the results to better understand the ways concrete can be used as a sustainable building material.  We will provide further public information on the project as it evolves.
Editor's note: This article is reprinted with permission from Lafarge Canada Inc.
New Construction & Major Renovations
Alberta Hospital Edmonton, Food Service Depot - LEED Silver
Graham Edmonton Office Expansion - West Building - LEED Silver
Peter Lougheed Centre East Tower - LEED Silver
Commercial Interiors
DIALOG Edmonton Studio - LEED Silver
Existing Buildings: Operations and Maintenance
FEATURE: Keynote Office Tower - LEED Gold
What outcomes can you expect when a building management firm walks the talk of commitment to a green work environment for tenants? LEED Gold Existing Buildings: Operations and Maintenance (EB:OM) certification and very happy tenants are at the top of the list for Calgary's Keynote Office Tower managing firm Triovest Realty Advisors.
Triovest took significant steps throughout the design, construction and occupancy phases to increase occupant comfort and satisfaction while improving energy performance and reducing the environmental impact of the building.
Construction of Keynote Office Tower, in downtown Calgary, was completed in 2010.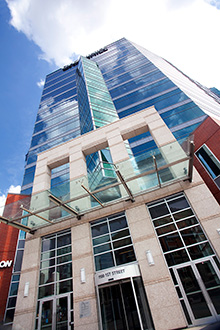 Top green building features:      
Energy Star Score of 81. The building is rated by a third party to be more energy efficient than 81% of all buildings in its class.


Enhanced building automation system, which provides key energy use data and feedback to operations staff to maintain energy-efficient performance.


Downtown location (alternative commuters). Over 55% of occupants use alternative transportation.


High efficiency air filtration promotes improved indoor air quality and reduces particulates.


A green cleaning program protects occupants from harmful chemical toxins.


Water-efficient plumbing fixtures and landscaping use 25% less water than conventional equipment and saves energy.


Big wins from LEED®-EB certification with 835 eMWh per year of anticipated energy savings. This is equivalent to the energy use of 31 single family dwellings.


340 tonnes CO2 per year of anticipated greenhouse gas (GHG) emissions savings. This is equivalent to taking 72 vehicles off the road for a year.


$30,000 lowered annual operations costs are predicted. This results in more capital available for building improvements.


Sustained performance. The ongoing commissioning process ensures the building's energy efficient performance is regularly checked and maintained.


Nine new sustainable operations policies. Triovest's policies are best in class for sustainability.


Market differentiation. Keynote joins a select group of LEED-EB:OM Gold-certified office buildings in Calgary.


Reduction of the heat island effect through the use of underground parking and green roof areas.
Project Team
| | |
| --- | --- |
| Owner | Keynote Equities Inc. and Keynote Development Corp. |
| Property Manager | Triovest Realty Advisors |
| LEED Consultant | WSP Canada Inc. |
| Re-Commissioning Agent | WSP Canada Inc. |
| Controls Contractor | Siemens |
| Green Cleaning Services | GDI Services (Canada) LP |
| Green Pest Prevention | JAPCO Pest Control Ltd. |
| Landscaping Contractor | Calgary Lawns Etc. |
| Waste & Recycling Hauler | Waste Management |
| Lighting Supplier | Commercial Lighting Products |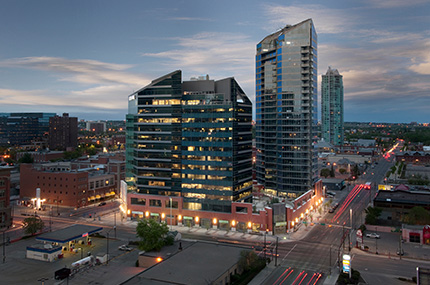 Other certifications
Shell Centre - LEED Gold

Core and Shell
Great Plains IV Buildings 1 & 2 - LEED Silver
Headline highlights!
Following is a selection of recent media articles that feature a variety of topics of interest to Alberta's sustainable building community..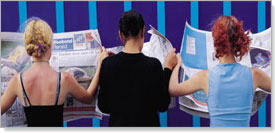 Quebec firm takes on wood high-rise challenge (The Globe and Mail, Sept. 22) - The gravel patch nestled in a bend of the Saint-Charles River along Rue de la Pointe-aux-Lièvres is not particularly remarkable. The construction office parked there on a rainy summer day, though, offers a sign of what's to come at the site, a 10-minute drive from Old Quebec. It's plastered with renderings of a 13-storey red-and-white condo tower proposed for that very spot.
Devon: a new kind of energy town (Edmonton Journal, Sept. 10) - The Alberta community that owes its existence to the Leduc No. 1 oil well wants to recast itself as a new kind of energy town.
The Town of Devon on Wednesday marked the completion of a 100-kilowatt solar electricity system on the roof of its community centre. The system's 393 solar panels can meet all of the building's net annual electricity requirements.
Solar panels help Devon become new kind of energy town (Edmonton Journal, Sept. 9) - The Alberta community that owes its existence to the Leduc No. 1 oil well wants to recast itself as a new kind of energy town. The Town of Devon on Wednesday marked the completion of a 100-kilowatt solar electricity system on the roof of its community centre. The system's 393 solar panels can meet all of the building's net annual electricity requirements.
From solar panels to gardens, citizens share climate change ideas (Edmonton Journal, Sept. 2) - Just over 500 people offered up ideas on how to battle climate change at Wednesday's open house set up by Alberta's new climate change advisory panel.
But while some called for carbon taxes, leaving more oil in the ground and moving toward more solar panels, bike lanes, and even vegetarianism and gardens in schools, others urged caution so any new provincial policies won't come with a huge price.
Wind turbines reach new heights in push for greater renewable energy returns (CTV News, Calgary, Aug. 11) - From megawatts to the size of rotors, everything about wind turbines has been getting bigger. But even proponents of wind power say they may be reaching a limit as logistics and a lack of social acceptance over their size start to hinder growth.
Canada's envoy on sustainable development: obituary (The Globe and Mail, Aug. 11) - Whether Nick Sonntag was thinking globally for the United Nations, or acting locally by setting up a market in his hometown of Gibsons, British Columbia, the Canadian engineer dedicated his life to preserving the Earth's resources for future generations. His gift for communicating complex problems clearly - complemented by his magnetic personality - made him a leader in his chosen field of sustainable development.
TransAlta testing Tesla batteries (Edmonton Journal, July 8) - Dan Chapman wants to put a fridge-sized battery in an apartment building and fill it up with electricity from solar panels on the roof so that at night there's plenty of power.
Sponsors