World Green Building Week – Sept 16-20
Put the mouse on pause, kick back the chair – and take a minute to toast World Green Building Week this week.
Everyone involved in Alberta's green building industry combines expertise and experience with an ongoing commitment to improving the world we live in.
"Our whole industry works 24/7 to achieve a shared goal. This special week of recognition gives us a perfect opportunity to acknowledge our achievements and renew our commitment to  moving closer to our ultimate aim," says Tanya Doran, Executive Director, Alberta Chapter – CaGBC.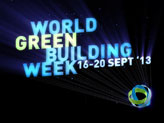 Here are a few facts 'n figures to think about this week:
At the office, green offices experience:
up to 11% gains in productivity from fresher air,
up to 23% improvement in productivity from good lighting and access to views,
up to 25% better functioning memory when workers have views, and
up to 18% increase in productivity through access to daylight and operable windows.
At green homes in the developed world:
green retrofits have delivered 63% more symptom-free days from asthma in homes, and
low-cost green retrofits have delivered 76% reduction in the frequency of respiratory illnesses.
Green schools have experienced:
a 65% reduction in asthma cases among elementary students when school indoor quality improves,
26% faster progression in reading in schools with good day lighting,
20% faster progression in math in schools with good day lighting,
3% reduction in teacher turnover, and
10% increase in overall performance in schools with good day lighting.   
ASBS Call for Presenters – showcase your innovation
Here's your chance to share your innovation or successful project with Alberta's green building industry movers and shakers.
Using the Symposium's theme of Change, challenge and opportunity, submit an abstract answering the Call for Presenters for either a 30-minute or a 60-minute presentation. Check out the details.

Your abstract will support one of the following sub-themes:
Addressing change
Answering challenge
Embracing opportunity
Submission deadline: 5 p.m. Thursday, Oct. 31, 2013 to wendy@thedagnypartnership.com.
Presenters will be notified by Friday, Nov. 22, 2013.
Calgary's Rainwater Harvesting Guide
The City of Calgary supports the use of green building technologies in the design and construction of homes and other buildings. The new Rainwater Harvesting Guide makes it easy for homeowners – and builders in general – to build rainwater harvesting systems into their properties.
The comprehensive guide, put together by the City of Calgary's Development & Building Approvals, outlines best installation practices for the design, installation and inspection of rainwater harvesting systems in Calgary.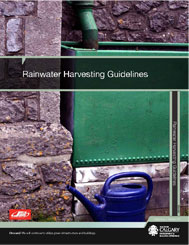 The guide makes the excellent point that rainwater harvesting for non-potable reuse improves our housing stock, conserves water and has many benefits for both the homeowner and the community at large.
So, where does the homeowner begin? The guide makes it easy with its set-by-step descriptions and diagrams that explain and illustrate the salient points of each segment of the process.
As well, the guide highlights the permitting and inspection process for installing residential rainwater harvesting systems, referencing:
the Alberta Building Code (2006),
National Plumbing Code (2010),
National Standards of Canada (2007),
the Alberta Guidelines for Residential Rainwater Harvesting Systems Handbook (2010), and
The City of Calgary Water Resources document titled Comprehensive Guide for Rainwater Harvesting as a Storm water Best Management Practice.
And there's great news for other building owners! While the guide focuses on residential systems, the overall principles can apply to other buildings with the assistance of a professional engineer.
This publication was produced collaboratively by The City of Calgary and the Green Building Technologies research initiative within SAIT Polytechnic's Applied Research and Innovation Services department.
Rebuilding — better — after the flood
This summer, Southern Alberta has seen extraordinary flooding, and shown extraordinary strength to match it.
(The following August 8 blog is reprinted with permission from Tyler Hermanson, 4 Elements Integrated Design Ltd., Calgary.)
In the coming months, as we begin rebuilding and moving forward, the natural temptation is to do so as quickly as possible in an attempt to get back to a sense of normalcy. This is understandable, this is human, but it can lead to poor construction that can often be worse than the original conditions prior to the flooding.
When our homes have dried and the clean-up work has been completed, where do we start? What questions should be asked, what techniques could help make my home more durable in a future disaster, and more energy efficient and sustainable now?
I have been in, around and on top of Green Building in Alberta for more than 8 years as a designer, consultant and inspector on some of Alberta's most sustainable homes. As an instructor for R-2000 builders, and a LEED Canada for Homes Provider and Accredited Professional, I draw from great experience, training and an excellent team of colleagues in tackling the challenges of building homes that are forward looking, durability and energy efficient.
My recommendations are based on recent National Building Code recommendations and the LEED Canada for Homes program. As a guide for sustainable homes, LEED is a premier rating system for measuring sustainable, durable and energy efficient homes, it is considered the best reference for best practice.
Minor Damage: Basement flooding only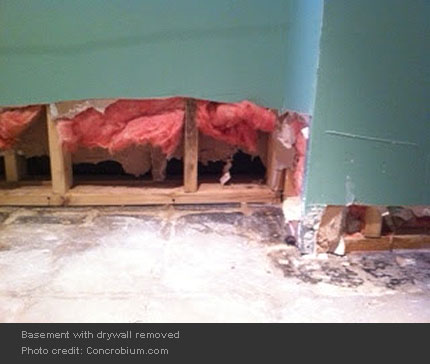 Energy Efficiency:
Insulation:
Ideally, new insulation should be non-absorbent foam types, either type IV extruded polystyrene (XPS, sold often as dense pink or blue sheets of foam), or 2lb polyurethane spray foam. Using insulation like this in flood susceptible areas will simplify future clean up. These products offer great moisture protection, higher R-values per inch and do not absorb water. Most homes may only have R12 batt insulation, which effectively works at an R-value of 10 when framing is accounted for. Heat lost through the basement could be cut in half with the use of 4" of foam with an effective R-value of 21.
Spray foams can easily be installed around existing framing and directly onto existing concrete, once clean and dry.
Look ahead to upcoming code changes. R12 batt insulation for basements is no longer considered adequate, except in Alberta which tends to lag behind the rest of the country in our Building Codes. New National Building Code requirements are calling for insulation in basements to perform better than R20 batt insulation.
Modern building science looks at basements differently than when your home was built and current recommendations for the Canadian climate call for added insulation, better air tightness, but no poly behind the drywall where its possible moisture could collect. Poly is too vapour tight, and often traps moisture behind, often causing damage. New products can be used such as "smart vapour barriers" or drywall with vapour barrier paint. These prevent most moisture movement, but do allow some drying when needed, preventing the "Double Vapour Barrier" issues that can cause problems.
Furnace and Hot Water Tanks:
If your furnace or hot water tank was damaged this may be a great opportunity to make one of the quickest pay back upgrades possible. Look for EnergySTAR ratings and condensing type equipment. These new units have sealed combustion; this means that gasses from the furnace or hot water tank can't leak backwards into the home. It is not recommended to replace a damaged boiler, hot water tank or furnace with the same chimney venting system that was likely original. These systems are the reason we install carbon monoxide detectors to prevent carbon dioxide poisoning deaths, which claim the lives of Albertans every year.
Air Sealing for Health and Energy Efficiency:
New research from Health Canada has lowered the acceptable limits of Radon exposure. Recent sampling across Alberta has shown unacceptably high levels in ALL parts of the province. Radon is a natural occurring carcinogenic soil gas that occurs throughout the province. The Environmental Protection Agency in the U.S. lists long-term radon exposure as the 2nd leading cause of lung cancer in the States and we would expect similar findings in Canada, if not higher due to more common use of basements.
Basements are a major source of cold air leakage in homes and air leakage typically makes up the larger proportion of energy loss (aka your energy bill) of any other area of the home. The basement rim joist area where the floor framing meets the concrete is often a particularly leaky area. Surprisingly, the basement slab is a major source of air leakage where left unsealed at the slab edge or unsealed plumbing holes. This is from air finding a pathway through in the drainage gravel and weeping tile below the slabs and through sump pump covers.
Air sealing your basement will improve overall comfort by keeping the cold air from settling in the basement, reduce energy costs due to increase heat loss and improve indoor air quality. Better air tightness must always be tied good ventilation. The walls and ceiling of a home (the "envelope") can never be too tight, but many homes are under ventilated.
New Appliances:
If your old appliances were damaged during the flood this may be a great time to replace and upgrade.
New fridge: Getting rid of, or updating your basement "beer" fridge can make a noticeable difference in you power bill. Old fridges are notoriously inefficient. Look for EnergySTAR labels.
Washer and dryer: Clothes washers are large water users in typical homes often second only to Irrigation or toilet use. EnergySTAR washers use less water and energy if certified. EnergySTAR does rate dryers as well. Look for units with "Auto Dry" sensing so that clothes are less likely to be over dried, wasting energy.
Best in class appliances can be found at the NRCan website EnergySTAR Listings-Best in Class.
All EnergySTAR labeled appliances can be found at EnergySTAR Listings-ALL.
Durability:
Carefully assess how your home and property responded to water and take appropriate actions.
Sanitary sewer lines can be retrofitted with back flow preventers, now mandatory on many new homes.


Improve surface water drainage away from home ensuring ground is higher next to homes foundation and slopes away on all sides.


When rebuilding decks and exterior stairs ensure that wood to concrete connections are separated using metal to improve longevity of the wood.


Using hard surface floorings in a home improve indoor air quality by not trapping dust and contaminates.


Use non-paper based drywall for first 4' or more of basement. This type of drywall will better to be able to withstand water damage and if combined with non-absorbent insulation will likely not require removal in future floods.


Properly installed, drained sump pump system. Consider a solar back up power system with small amount of battery storage. Generating free power in the good times and running the homes critical systems in troubled times.


New Alberta Building Code requirements are in place in flood prone areas, talk to your local building officials for detailed information.
Sustainability:
Look for new products that are Low VOC and contain high percentages of recycled content. Make sure to prefer post-consumer recycled content rather than simple factory offcuts and similar which are considered pre-consumer recycled content.
FSC (Forest Stewardship Council) Wood:
Choosing FSC-certified products means choosing products that come from a sustainable and responsible source. For more information visit https://ca.fsc.org/index.htm
Local:
Whenever possible, choose local products. Locally produced products have less distance to travel, so they have a lower embodied energy.
Additional Costs:
Many times the added cost to "Go Green" over standard practices is minimal and in most cases should not run more that 10%. Consumers have to be aware of green washing of many products, if a product does not meet the thorough and stringent requirements of LEED, you should be suspicious. Also many trades may inflate prices when requests are made for unfamiliar products or techniques, look for experience on certified green building projects.
Here are some rough example costs:
Typical Basement Reno:..................$30,000 - $50,000+
Improved Insulation:....................Add $2,000 - $4,000
EnergySTAR Appliances:..................Add $0 - $500 each
Improved Hot Water Tank:................Add $300 - $1,000
Improved Furnace:.......................Add $300 - $2,000
Improved Air Tightness:.................Add $0 - $500
Major Damage: Reconstruction
If your home sustained heavy damage and required a gut renovation (walls opened up in all or most areas) there are even more opportunities to re-build better. Overall, the same recommendations apply, better insulation and air tightness, better ventilation will ensure that your new home will exceed current building practices and look ahead to a sustainable future for all Albertans.
LEED Canada for Homes:
In a full renovation, your home would be eligible for enrolment in the LEED Canada for Homes program, providing you with a clear guide to rebuilding a sustainable, durable, energy efficient home. A LEED for Homes Provider will be your point of contact, reference and guide through the program. Adding LEED certification can cost as little as $2000 in fees and inspections, with most often less than 10% added to the cost of construction. LEED has certified over 200 homes in Alberta and over 3000 in Canada. LEED is enforced and used by builders, municipalities and governments across Canada and recognized leader in sustainable building.
Centennial Centre for Interdisciplinary Science – LEED Silver
The University of Alberta (U of A) credits a holistic approach to building for having its Centennial Centre for Interdisciplinary Science (CCIS) building earn LEED Silver.
Editor's note:The following article is an excerpt from a June 19, 2013 article by Kathleen Cameron on the U of A website.
Completed in the summer of 2011, CCIS sets the stage for collaborations by five research groups within the Faculty of Science, across the University of Alberta campus and around the world. New lecture halls and teaching labs provide an unprecedented learning experience for students campus-wide.
"We are taking a holistic approach to planning buildings," said Ben Louie, university architect in Facilities and Operations. "By programming and designing people-friendly spaces that are sustainable and welcoming, using materials that are built to last and ensuring the best use of resources, we can ensure this building will be in use and enjoyed for a long time."
CCIS supports the U of A's goal of providing sustainable places to study, work and live through sustainable planning, design, construction, retrofits and operations — as set out in the university's sustainability plan.
"The university is committed to a culture of environmental stewardship," said Louie. "In order to do that, we need to lead by example. The success of CCIS is a great example of how this work is paying off."
The building is designed to bring natural light into the interiors, while reducing energy consumption. The design integrates multiple systems to enhance the user experience, including transparency, use of daylight, and passive thermal heating and cooling.
The building site itself — an infill — was a sustainable choice that uses existing utilities, access to transit and parking facilities. Other green features of the project include:
on-site bicycle storage with change rooms and showers for cyclists,
low-flow fume hoods in labs,
high-efficiency heat recovery,
access to regional building materials, and
a green housekeeping program.
The first of its kind in Canada — and one of just a handful around the world — CCIS represents an interdisciplinary approach to scientific discovery that facilitates a cross-fertilization of ideas and techniques as never before.
From innovative teaching to cutting edge research, the benefits will be huge — for our researchers, for our community and, above all, for students.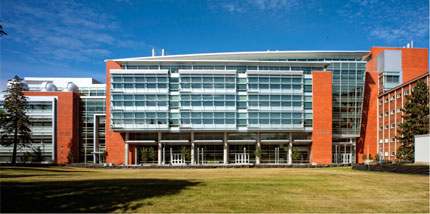 Calgary Connects Shell Centre Floors 27-30 - LEED Silver
Employees at the Shell Canada corporate head office, 400 - 4th Avenue SW, are breathing easy, sitting comfortably — and feeling good about minimizing the footprint of their workplace.
With LEED Silver certification a proud reminder of their efforts, the team responsible for renovating the 80,000-square-foot space, including consulting firm MMM Group, focused on several sustainability features. These included:
A significant reduction in water use of over 40% has been achieved by installing low-flow fixtures.

Over 90% of equipment and appliances (by rated power) are EnergyStar rated.
Enhanced commissioning was performed to ensure the systems are working properly.
A significant portion of furniture (over 60%) has been reused.
Low-emitting materials were used throughout the entire project. This included paints, coatings, adhesives and sealants, flooring systems and furniture.
Recycled and regional materials were used where possible.
Innovation credits were gained for water reduction, furniture reuse and alternative transportation.
MMM Group is a leader in green buildings. The MMM Group Sustainability Group has expertise in designing high-performance mechanical and electrical systems as well as helping building owners and architects achieve LEED certification and other performance goals through our LEED consulting, energy modeling, building performance monitoring and other sustainability services.
Yukon Hospital Corporation's Crocus Ridge – LEED Silver
Attracting medical staff to Canada's North is tough. The Yukon Hospital Corporation knew that providing efficient, attractive temporary housing would help considerably in their search for qualified staff
Their strategy worked, when the new staff residence called Crocus Ridge filled within weeks of opening its doors. At the same time, the four-storey, 5,110-square-metre facility earned LEED Silver designation with its 34 units and space for administrative offices.

According to KMBR Architects Planners Inc., a sloped roof makes the facility visually distinctive within Whitehorse while addressing the issue of snow loading and shedding. Simple, durable materials were chosen to facilitate ease of construction and not over-burden the facility's aesthetic appearance.
The design achieved value-added components not included in the original program. These include additional tenant office space and vestibules at office entrances, which provide increased energy efficiency and occupant comfort. This was achieved by selecting a smaller, more efficient mechanical system and using void space above the central stair tower.
The project earned good marks on the LEED score sheet for water efficiency, energy and atmosphere, indoor environmental quality — and full marks for innovation and design.
The new facility, completed in April 2011, replaces the Yukon Hospital Corporation's Mountainside Apartments.
Strathcona County's Centre in the Park Community Centre earns LEED Gold
The vision for this exciting community centres was to create a heart for the community — an inviting and active place for everyone to use and enjoy.
The team succeeded, earning LEED NC Gold.
The Community Centre is a model of environmental innovation, integrating building design, technology and materials chosen for greatest efficiency, cost effectiveness and benefit to the environment. The showcase building offers several public spaces for community use, providing a focal point for civic life and a gathering place for Strathcona County community celebrations.
Key features of this 300,000-square-foot space:
a two-floor, 64,000-square-foot library plus parking garage for the Bookmobile,
the Agora, a community meeting space for celebrations, events and conferences,
Council Chambers,
a 4,000-square-foot public Art Gallery,
a three-storey County administration building,
Family and Community Services,
ground-level spaces for restaurants and retail,
a central Atrium leading to meeting rooms and municipal offices,
flexible meeting rooms for community and County use,
the Galleria, an interior street linking the Community Centre to County Hall, and
two levels of underground parking for 400 vehicles.
The construction management and design team paid attention to environmental and waste management as well as building sustainability.
Highlights:
Over 80% of the construction waste sorted for recycling.
Connection to the Community Energy Centre reducing greenhouse gases by 1,100 tonnes.
33% more efficient than Model National Energy Code standards.
Modular wall system can be efficiently reconfigured as needed to suit changing work space requirements.
Rooftop rainwater collection system stores and reuses grey water for landscaping.
A grass-covered roof on Council Chambers reduces energy demands for cooling.
The original construction budget was $88 million. Added items including a third storey to the Family and Community Services wing, road work, plaza areas and site works raised the final project tally to $98 million, completed within the original timeline set in mid-2007.
Required occupancy dates made the schedule of paramount importance. The team successfully coordinated six major tender packages issued at various stages so the scheduled construction, cost and completion dates could be met.
Bow Valley Square upgrade goes LEED Gold
Calgary's Bow Valley Square recently underwent a multi-million dollar redevelopment to modernize building systems and update the appearance of the complex. Building management firm Oxford Properties Group did it right — and earned LEED Gold for the work.
Located at 205 5th Avenue SW, the four-tower complex has been the daytime home for employees of various tenants and the retail destination for scores of Calgarians since its first phase opened in 1972. A second phase opened in 1981.
The recent renovation, completed in 2012, brought all the common areas of Bow Valley Square's retail portion, including the main retail concourse, the food court and the lobby areas - into the 21st century.
In total, the project encompassed 61,000 square feet, or 5,700 square metres.
B+H Architects, working in association with BKDI Architects, was responsible for the interior transformation. The exterior façade was redesigned while the two retail levels were renovated and upgraded with new store front criteria and graphic design throughout.
The renovation also created new entry sequences for the east and west entrances to allow more natural light in and to make the space more welcoming.
The project won the award for Best Renovated Building in BOMA's Outstanding Building of the Year Awards 2012. Recipients of the BOMA awards hold the certificate for three years. Those with the best total score in each category, including the Bow Valley Square under the renovated office building category, receive The Outstanding Building of the Year (TOBY) Award.
The LEED certification and BOMA awards are public acknowledgements of Oxford Properties' commitment to the environment. As an example, the property managers set a goal in 2008 to reduce greenhouse gas (GHG) emissions by 20%. They achieved the goal well ahead of the 2012 target date, reducing GHG emissions from their buildings by 21.9%, the equivalent of taking 23,000 cars off the road for a year.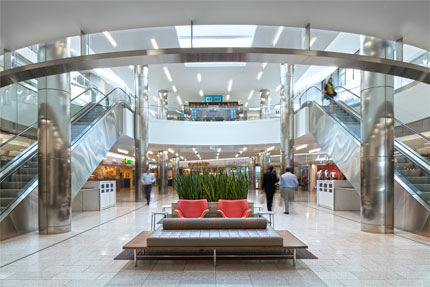 Other LEED designations
Several other buildings have also recently received their LEED designations.
Congratulations to the following projects:
Citi Suite, Calgary — LEED Silver
Fort Edmonton Park Administration Building — LEED Silver
Halsall Calgary Office — LEED Silver
Manchester Central Stores, U of C — LEED Silver
Phipps-McKinnon Building, Edmonton — LEED Silver
Quarry Park Central — LEED Certified
Red Arena — LEED Certified
Sun Life Place — LEED Gold
Sun Life, 640 5 Avenue — LEED Silver
Heads up, LEED APs!
Changes affecting LEED AP credentialing in the U.S. are coming to Canada. Read more . . .
Changes announced in early 2013 mean the USGBC is discontinuing support of the LEED AP (LEED without specialty) credential.

While those holding the designation do not have to forfeit their credential, their name will be removed from the GBCI directory. Further, when LEED v4 is introduced, LEED APs will no longer add an extra Innovation in Design point for working on the project. This point will be available only to LEED APs with specialty in LEED v4.

So far, these changes affect only projects using LEED v4 but Canadian LEED APs can take advantage of this upgrade period before those same changes make their way to Canada.

"This evolution of the LEED credentialing actually gives LEED APs a great opportunity to climb to the next rung of the credentialing ladder," says Tanya Doran, Executive Director of the Alberta Chapter — CaGBC. "With the momentum of continuous change in our industry, our professionals are far better served when they have earned a LEED specialty."

The USGBC has created a free program for LEED APs without specialty who want to upgrade to a specialty. Successful completion of the Principles of LEED webinar series, a set of six self-paced modules, earns LEED APs a specialty.

Tanya urges those of you who still hold LEED AP certification to consider adding a specialty to your designation. "If you would like to take the required education in person in an Alberta classroom, just e-mail the Alberta Chapter at info@alberta.cagbc.org."
Target — targeting LEED!
All 68 recently launched Target store locations in Canada have achieved LEED certification — a first for a major retailer in Canada.
According to a September 12 news release, Target is pursuing LEED certification for all 124 stores scheduled to open in Canada later this year.

The Target stores are obtaining LEED certification through the U.S. Green Building Council's (USGBC) LEED Volume Program, which streamlines the certification process for buildings in both Canada and the U.S.
 In order to obtain certification, remaining Target stores will undergo various rounds of audits throughout 2013. The audits require stringent criteria to be met across five LEED categories including: sustainable site development, water savings, energy efficiency, materials selection and indoor environmental quality.
Thirteen Target locations in Alberta have earned LEED certification:
Calgary - Chinook Centre
Calgary - Forest Lawn Shopping Centre
Calgary - Market Mall
Calgary - Shoppes at Shawnessy
Calgary - Signal Hill Centre
Edmonton - Bonnie Doon Shopping Centre
Edmonton - Mill Woods Town Centre
Edmonton - West Edmonton Mall
Grande Prairie - Prairie Mall
Medicine Hat - Medicine Hat Mall
Red Deer - Bower Place
Sherwood Park - Sherwood Park Mall
St. Albert - St. Albert Centre
New Edmonton neighbourhood features green homes
Welcome to the Oxford subdivision in Edmonton's northwest -- Edmonton's first large subdivision where every home was built to environmental standards set by the City of Edmonton.
Lots in the subdivision were sold in November 2012, with about half sold to the public and the others sold through for local BuiltGreen certified builders — Imagine Built Homes, Vivid Homes, Encore Master Builder and Park Royal Homes.. Their show homes are now open for viewing, and feature at least an EnerGuide 78 rating (compared with a rating of 65-72 for most new home builds).


As well, the builder partners in Oxford must achieve a BuiltGreen silver rating as well as EnerGuide 78.

EnerGuide rates a home's energy consumption and efficiency while BuiltGreen promotes water conservation, waste diversion and proper resource management, including reducing materials and using sustainable products during the construction of a home.

Oxford will contain a variety of housing styles from single family to duplex and homes with secondary suites. The homebuilders in Oxford can access Cornerstones grants to help construct the secondary suites while the Office of Environment is offering a grant for those who construct homes that achieve EnerGuide 80 or better.

With the success of Oxford, the City's Corporate Properties Branch now intends to require environmental standards on homes and businesses built on all land it sells.
Sustainability in Fort McMurray . . . it's green up north!
(A series of articles showcasing Wood Buffalo initiatives)
Portable solar power lights up Albertan winters
Submitted by Andrew Bond, LEED AP BD&C, City Centre McMurray
Zero fuel cost, no maintenance, reliable and emissions free lighting and power? From the sun in an Albertan winter?
This sounded like a pipe dream until I met Corey Hines, a Fort McMurray power engineer with business sense and an eagle eye for an opportunity. Corey has developed a solar-powered lighting unit that can provide power for tools, small HVAC and pumps — even a festival sound unit.
Until now, temporary or remote power and lighting has relied on often noisy, dirty and expensive-to-run diesel generators that demanded frequent refueling, filter changes and maintenance.  They are wasteful and polluting even with the refinements made by manufacturers.  In residential areas complaints from construction neighbours are often about the noise from generators running 24/7 simply because they can't be trusted or programmed to re-start on cold days or left on overnight to power site trailers and security.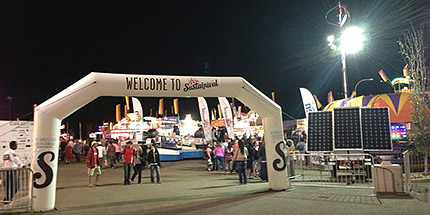 Corey has successfully removed those headaches, and costs, by combining best-in-class solar panels and advanced power management with batteries developed to run in Alberta's often-cold climate. 
These batteries are the game changer; installations in Fort Murray have successfully provided site lighting throughout the winter despite the fewer daylight hours and -30C temperatures.  Lighting is provided by a series of industrial high-power LED units that provide illumination when and where you need it with far greater efficiency than standard sodium bulbs.  Need more power? Add the vertical wind turbine to boost production even at night, or simply use a second unit.
The potential costs savings are huge: diesel alone can be thousands of dollars a month in winter, plus fuel delivery, servicing and maintenance costs that really add up.  Wind and solar take this away and leave highly competitive rental costs.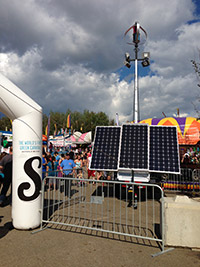 Range anxiety is becoming a common term in electric vehicle discussions: "Will I have enough battery power to get home?"  The same concerns apply on site: "How do I know if there's enough juice to keep the lights on?" Remote monitoring allows operators to check operation or battery status and control systems remotely (so you don't have to light up the road all day long).  With these communication enhancements on board, the team at PLS Alternative Energy Systems (PLS) has taken the opportunity to add weather monitoring and even live video for traffic, safety and security surveillance.
The units are built and leased through PLS, part of the Hines Industrial Site Services Group.  A real Fort McMurray success story, the local Aboriginal business is proud of its pedigree in sustainability from green cleaning to eco vehicle washes.
And the sound unit?  Fort McMurray's annual Sustainival recently used several units to power the stage, providing quiet, clean power for the entertainment of 15,000 festival goers.  Now that's Alberta green.
Check out more details at www.plsenergysystems.com.
Growing Forward 2 - helping farmers with energy efficiency
Do you know any Alberta farmers with more than $10,000 annual income? If so, spread the word about a great opportunity for them this year to earn unheard-of returns on their investments in energy efficiency.

The Government of Alberta's Growing Forward 2 program, designed to cover up to 50% of the cost of investments of energy-efficient upgrades (to a maximum of $50,000!), will conserve energy, reduce carbon emissions and save farmers a lot in operation costs.
The program is run by approved contractors, including Alberta-based Dandelion Renewables. Dandelion Renewables is conducting feasibility studies that target energy efficiency investments.
Consider a couple of cases that have been part of the Growing Forward 2 program:
A swine operator had 100 x 40W incandescent bulbs in barns that were working eight hours a day on average. The annual cost attributed to these lights was $1,401/year. The farmer replaced all 100 bulbs to 8W LEDs that he purchased for $18/bulb. His $1,800 investment resulted in the lighting cost decrease to $280/year. Growing Forward 2 covered 50% of the investment in LEDs. Thus, the farmer invested only 50%, or $900, in LEDs, which saves him $1,121/year — a payback of less than one year on an eight-year investment!
A cattle operator had a waterer that was heated by a 1,500W electric floating heater and an 1,800W space heater to protect water supply pipes from freezing. During an average winter, those heaters consumed 9,000KWh and cost $1,080 in electricity. The farmer replaced the old-style waterer with one that is well insulated and heated by earth. The cost of the new waterer was $1,200 less 50% paid by Growing Forward 2 plus a $400 installation cost. The total investment of $1,000 was paid for in less than one winter!
In addition, this year's program provides energy meters free of charge, so farmers can monitor their energy consumption and savings on their computer screen.
If you 'd like to learn more, call Alberta Agriculture 310-FARM (3276) or contact Dandelion Renewables (780) 566-6058 to rank the best energy-efficiency upgrades. A feasibility study conducted by an approved contractor is also eligible for 50% coverage from the On-Farm Energy Management Program.
Keep in mind, however, that program funding is limited. Let's make Alberta farming more energy efficient and stronger!
Exploring alternative energy in Lutsel K'e, Northwest Territories
What spurs many of our investigations into sources of alternate energy? Rising costs of traditional energy sources, of course! The same holds true for the Lutsel K'e First Nation in the Northwest Territories.
During a recent meeting with Sudhir Kumar Jha, Manager, Community Infrastructure Planning for the Government of the Northwest Territories (GNWT), the Chief and Council members of Lutsel K'e expressed concern about higher energy costs. That was enough to get Sudhir looking at alternative energy projects in Lutsel K'e.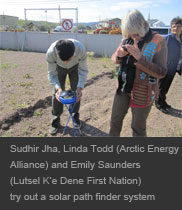 Sudhir first approached Environmental and Natural Resources (ENR) for help with information about alternative energy. From there, both Sudhir and Graeme Drew, SAO/Band Manager – Lutsel K'e, learned about the ENR funding grant process for alternative energy projects.
For the next step, Sudhir invited Arctic Energy Alliance (AEA) to help assess potential sites for a solar energy system in LutselK'e. AEA, along with community representatives and Sudhir, went on a site visit on August 21 and identified future possible sites with the help of a solar analysis tool. They then reported back to Lutsel K'e Dene First Nation Sub-Chief Emily Saunders, Councillor Ron Fatt and Mr. Drew.
Solar installations are favourable in remote communities because they require less maintenance compared to other renewable energy systems such as wind turbines.
Lutsel K'e is now exploring the feasibility of building a community-owned solar farm. In 2012 GNWT released a Solar Energy Strategy for the NWT which set a goal of deploying solar systems sized up to 20% of the average load in diesel communities. In Lutsel K'e this means installing a maximum of 35 kilowatts of solar. On a sunny day in Lutsel K'e, 35 kilowatt of solar capacity could power up to five community buildings. ENR has committed $50,000 toward the planning and engineering of this project.
U of A campus sustainability tours
Discover some of the features that make the University of Alberta a leader in campus sustainability and earned the institution a STARS™ Silver rating this past spring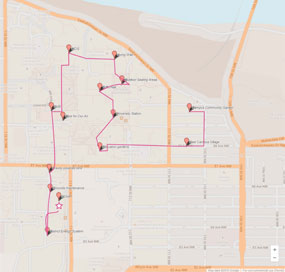 Join one of the campus sustainability tours, running until October, and discover:
how the university produces 30% of its own electricity,
where thousands of pounds of food scraps end up every year,
how the sun's energy helps power certain trash cans, and
which waste bins extend 10 feet into the ground.
Many of the destinations visited on the walking tour look quite ordinary, but they have unique sustainability features below the surface.
Registration at least 24 hours in advance is required for the tours, and space is available on a first-come, first-served basis. The next tour is scheduled for Wednesday, Sept. 25.
If you're interested in a self-guided tour, check out the guide.
Headline highlights!
Following is a selection of recent media articles that feature a variety of topics of interest to Alberta's sustainable building community.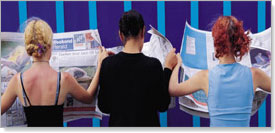 Lamphier: Green energy forcing ratepayers into the red (Edmonton Journal, September 13) –   Apparently the path to a cleaner, greener planet isn't quite as painless as many eco-altruists would have you believe. From Germany to Spain and Ontario to British Columbia, taxpayers are waking up to the fact that their power bills are going straight up.
Edmonton's love affair with suburbs can't endure, researcher warns (Edmonton Journal, September 8) — The "scary" amount of suburban growth happening on Edmonton's outer edges is not sustainable, warns an urban planning expert who authored a new national study that defines what suburbs are and how many Canadians live in them.
How to get a weather-proofed home (Globe and Mail, August 1) — Right now is a white-knuckle time to be a homeowner. Not because of bubble worries in the condo market or fears of an interest-rate spike. Over the past few years, global warming has become undeniably more menacing. It has caused an increase in roof-wrecking, basement-flooding storms and the type of sweltering, seemingly endless heat wave that makes homes feel more like giant saunas.
Edmonton infill developers launch new league to encourage good design (Edmonton Journal, July 18) — A new league of infill developers, architects and residents of mature communities hopes to create a louder voice to influence city council and a better forum to debate what makes good redevelopment.
Sponsors