More LEED milestones for Alberta
Congratulations to the teams involved in the most recent LEED certifications to be announced.
Connaught School (Calgary) – LEED Silver
Edmonton Transit System Centennial Garage – LEED Silver
Chinook Centre redevelopment (Calgary) – LEED certified
Connaught School modernization earns LEED Silver
Calgary's inner-city, century-old Connaught School has earned LEED Silver for new construction for its modernization project.
The modernization project closed the school for two years, from 2009 to 2011, so the former gymnasium could be demolished and a new one built on another side of the building.
The work also saw a new atrium added to connect the new gym with the existing school. At the same time, the basement was converted into classrooms, and existing office and classroom space on other floors was renovated to accommodate an elevator.
The school specializes as a Centre of Excellence for English Language Learners where the students speak more than 37 languages.
Because of the historic and community important of the school, the project team worked hard to integrate the 21st century renovation with the school's traditional features. The team took special care to maintain much of the original woodwork as well as other features to retain the building's character and heritage. For example, the sandstone cladding on the exterior remains although doors and windows have been replaced.
There were also numerous electrical and mechanical upgrades.
For the new construction, the team used certified wood and regional materials where possible. As well, the project resulted in reduced light pollution and reduced indoor water use.
In addition to its LEED Silver certification, the project was also awarded an honourable mention at the 2011 Calgary Heritage Authority Lion Awards, which recognize citizens and groups who have undertaken initiatives that support heritage conservation in Calgary. Connaught School was the only project that was recognized in this category with an honourable mention.
ETS Centennial Garage – LEED Silver
The impressive Edmonton Transit System (ETS) Centennial Garage has earned the City of Edmonton its most recent LEED distinction.
Located on a 7.1-acre site in southwest Edmonton, the bus garage acts as the hub for the storage of 250 buses, transit dispatch and administration.
The $99 million garage, which officially opened in April 2010, received $89.3 million in funding from the Province's Municipal Sustainability Initiative. With a total 30,000 square metres on one level, final costs were $254/square foot including site development, landscaping, paving, hoists, crane, refuelling and lube systems, exterior and under-bus wash systems, and vacuum systems.
The facility earned its LEED Silver designation by using a wide variety of sustainable tools. Highlights:
Building materials:
81 miles of in-slab heating pipe

3,300 sprinkler heads

1.25 miles of foundation grade beam

11,800 cubic metres of concrete

43 rooftop units

7 acres of roof

1,325 imperial tons of steel

31 miles of electrical conduit
Sustainable sites
Reduced heat islands

Limited light pollution of the night sky

High albedo (highly reflective) roofing stays cooler than dark roofs, reducing the cooling energy required and prolonging the life of the roof membrane
Materials and resources
Selected locally manufactured products and materials with recycled content where possible

These included structural steel (90% recycled content), concrete (27.5%), steel decking (68%), metal wall systems , drywall and carpet
Indoor environmental quality
Eliminated materials with off-gas contaminants

Selected products formaldehyde including paints and coatings, adhesives and sealants, carpets and particle board to avoid volatile organic compounds (VOCs) these products are low emitting when it comes to formaldehyde
Energy and atmosphere
Reduces energy use for heating by harnessing free solar heat using a solar wall constructed on the building's south façade

Energy modeling indicates the garage is 33% more energy efficient than a typical Canadian building of its size and type

Operable windows are located in all occupied spaces, reducing the need for artificial light

Land-locked rooms are kept to a minimum

High, automatically operated clerestory windows in the vehicle storage areas supplement the mechanical exhaust system to remove diesel fumes and provide natural ventilation

Translucent window glazing used in the vehicle storage and maintenance areas will provide natural light while maintaining high thermal insulation values

Aluminum louvered shades on all south-facing windows will reduce heat gain

Light fixtures in all administration and office areas are low energy and operated by motion sensors
Water efficiency
All washroom, shower and kitchen water fixtures are low-consumption

Washroom fixtures feature automatic flush plumbing

Buses are washed with a specialized system that cuts down on water use by more than half. The water savings for one piece of equipment in one year is over two million litres

Landscape plantings are specifically chosen so they do not need to be watered
Innovation and design process
Two unique features include a snow melt cooling system and the water-efficient bus wash system, both reducing the building's energy and water consumption

The adjacent site is a lot for snow dumping. Part of the system to obtain cooling from the adjacent snow dump site has been roughed in for future implementation and use
Chinook Centre – LEED certified
Calgary's Chinook Centre redevelopment has earned LEED certification – and illustrates the commitment of centre owners Cadillac Fairview to sustainability.
The $277 million Calgary's Chinook Centre expansion opened last fall, making it the largest shopping centre in Calgary with more than 250 stores and services.
And it is green! Choices of construction methods, materials and water-efficient landscaping were some of many sustainable options that earned the project LEED certification.
The expansion also includes easy pedestrian access to the adjacent Chinook LRT station, density to reduce sprawl, reduction of heat-island effects and light pollution, water efficient plumbing, energy-efficient ventilation and lighting equipment, recycled content in the products used to build the structure and other innovative features.
Check out some of the other shopper-friendly green features.
The expansion underlines Cadillac Fairview's commitment to environmental sustainability. The company uses its own GREEN AT WORK™ program as a blueprint for its sustainability measures.
The program, implemented at all Cadillac Fairview properties, focuses on five environmental pillars:
Energy: A key focus is on energy conservation and efficiency and the incorporation of renewable energy sources with a long-term goal of net-zero building emissions.

Waste management: Our goal is to generate zero waste by implementing a consistent and dedicated approach to waste diversion and waste minimization.

Environmental protection: Our goal is to eliminate adverse impacts at our properties wherever our activities, products and services interact with the environment while ensuring compliance with government regulations.


Sustainable procurement: Wherever possible, we will use environmentally friendly products, services and best management practices at all properties, and


Communication: Our comprehensive Green Communication Plan has been designed to inform, engage, educate and share green best practices with our employees and tenants so we can work together to make a difference.

Alberta SBS 2013 – Building Green Better
Mark your calendars for Tuesday, May 7, 2013 in Edmonton – and get to work NOW on your submission for the 2013 Alberta Sustainable Building Symposium (SBS) Call for Presenters.
The Alberta SBS planners are inviting submissions for innovative presentations that support the 2013 SBS theme of "Building Better Green." If your topic would be of interest to the senior members of our profession – architects, engineers, building owners and managers, construction leaders, designers and planners – then sharpen your pencil and get working on your submission.
Deadline for submissions is November 7, 2012
The greening of Red Deer
From the city's impressive recreation centre to an architecture office to a variety of homes, Red Deer is putting itself on the LEED map.
Following is an article reprinted with permission from the Red Deer Advocate, showing how Red Deer is "Taking the LEED" with nine registered – and varied – projects.
Taking the LEED
By Harley Richards - Red Deer Advocate
Published: July 31, 2012
If you develop a thirst at Berry Architecture and Associates, don't count on Dasani, Aquafina or Evian for relief.
"We don't let people come in with bottled water," explained George Berry, who operates the firm with his business partner Susanne Widdecke.
Instead, staff and guests are encouraged to drink old-fashioned — and environmentally friendly — tap water.
Berry Architecture also uses solar-heated water, and has motion-sensor-controlled lights, triple-pane windows and extra-heavy insulation in its two storey building, which it owns with accounting firm and ground-floor occupant Downey Roth Hrywkiw Fidek LLP.
A high-efficiency variable air volume system heats and cools 42 distinct zones inside, with unoccupied areas reverting to their ambient temperature, and natural light illuminates much of the interior.
"Our electrical load is about half of what we had in our old space," said Berry, referring to the similar-sized property his firm occupied prior to last year.
And the power it does use comes from renewable sources.
On top of the 5218 Gaetz Ave. building is a green roof with drought-resistant plants and grass, large vegetable planters, a dry creek bed and a flowing stream. There are also habitat structures, like vertical snags for insects, nesting boxes for birds and a hibernaculum for butterflies.
"We have a lot of insects up here already," said Cynthia Pohl, whose business Living Lands Landscape & Design was responsible for the rooftop layout. She added that at least four species of aquatic organisms have taken up residence in the rainwater-charged stream.
Rainwater also supplies the needs of the building's dual-flush toilets. And virtually everything inside that can be recycled, is — including the structure's steel skeleton, which was inherited from the former Red Deer Bowladrome that previously stood on the site.
"It would have probably been easier just to knock it down," acknowledged Berry. "But that would have been completely against the philosophy that we were going with."
That philosophy is one shared by the Canada Green Building Council, a not-for-profit organization that promotes LEED (Leadership in Energy and Environmental Design) building practices. Under LEED, building projects are evaluated on the basis of sustainable site development, water and energy efficiency, materials selection and indoor environmental quality — and can be certified to a basic, silver, gold or platinum standard.
"We've got over 3,600 projects in Canada," said Mark Hutchinson, director of green building programs with the Canada Green Building Council. "Over 600 are certified."
The Berry Architecture and Downey Roth Hrywkiw Fidek building is among those currently being evaluated for LEED certification. Nine other Red Deer buildings are registered in the program, with two already certified.
Most contain features like extra-thick insulation, high-efficiency heating and cooling systems, motion-sensor controlled lighting, water-conserving plumbing fixtures, recycled building materials, products with low or no volatile organic compounds (VOCs), bike storage facilities and drought-resistant landscaping.
One of the buildings already certified is an Inglewood house built by Avalon Central Alberta in 2008. It was the first home in Canada to earn a LEED platinum rating, said Tanya Doran, executive director for the Alberta Chapter of the Canada Green Building Council.
"I use them as an example all the time."
Trevor Gamelin, a partner with Avalon Central Alberta, described how the house — called Discovery 3 — has no natural gas connections and was designed to produce as much electricity as it uses.
It accomplished this with considerable help from the sun: a photovoltaic power generator and a solar system that heats water.
Its walls have an R72 insulation rating, said Gamelin, while the ceiling is R85, the floor R60 and the windows triple-glazed with two layers of krypton gas.
Another LEED-certified house is planned for Southbrook, where Platinum Homes is building an environmentally-sustainable residence for Gareth and Estelle Begley.
Platinum owner Terry Loewen described how motorized windows will automatically open and close to control heat gain and loss.
"We had to have the house at the perfect angle for solar gain," he added.
"It gets very technical."
The house will even have a system to remove radioactive radon gas from beneath it, said Loewen.
Another LEED-certified building in Red Deer is the Recreation Centre, which earned a silver rating for renovations completed in 2007.
Jerry Hedlund, the city's project superintendent, said the building's envelope was "tightened" to reduce heat loss, with thermal imaging used to locate problem areas. A heat reclamation system was added.
"What we do is we recover heat from the hot indoor pool area, and that is used to preheat incoming cold air."
Solar panels were supposed to heat the outdoor pool, but that energy is instead used to help heat domestic water in the building.
"It works beyond belief," said Hedlund.
"We're probably going to extend the life of the (natural gas-fired) boilers by five to 10 years by doing what we're doing."
The city is also awaiting confirmation of LEED certification for three of its new civic yards buildings: the administration building, the transit garage and a wash bay. All three have solar panels for heating water, and the admin building and wash bay also have photovoltaic panels for power production.
"There are occasions where we'll generate power in excess of our need and . . . actually return power to the grid," said Public Works manager Greg Sikora.
Jeff Hoglund, a facilities management supervisor with the city, described how shades and windows are automatically adjusted, based on temperature and occupancy.
"So at 5 o'clock it's going to dial back how we actually heat the building."
Raised ceilings in strategic areas allow warm air to rise, where it can be vented out or forced back down, depending on the temperature, said Sikora.
The buildings' design also maximizes the benefits of natural light, added Development Services director Paul Goranson. Interiors are open and offices on the perimeter have glass walls so sunlight can shine through.
In the transit barn, sensors monitor exhaust levels and activate fans when ventilation is required, said Hoglund. And the vehicle wash uses rainwater and recycled wash water.
Red Deer College is also awaiting LEED certification for its new centres for trades and technology, innovation in manufacturing, health education and continuing education.
Doug Sharp, the college's director of facilities, explained how an underfloor duct system allows fresh air to rise rather than being forced downward.
"We pursued, as much as possible, natural light," he said, with the emphasis on light from the north — which is less intense.
Rainwater is used in the toilets, and excess precipitation flows through a bioswale and retention pond to help remove contaminants.
Red Deer's new RCMP building is also seeking LEED certification.
Trish Bolen of Edmonton's ACI Architecture Inc., the prime consultant on the project, said a variety of features are expected to reduce the building's energy costs to about half of what they otherwise would be.
"With water, we targeted a 30 per cent reduction," she added.
More than a quarter of the materials used for the building were recycled, and waste was kept to a minimum.
"We diverted 84 per cent of the waste from our building from the landfill," said Bolen.
When Stantec Inc. performed its tenant improvements on the seventh to 12th floors of Executive Place, it did so with an eye to LEED.
Heather Bretz, the company's managing leader for buildings in Red Deer, said outside offices were built with glass walls, and furniture and partitions were kept low so natural light could penetrate the space.
"We looked for the highest standard we could possibly get for recycled content," she added, pointing out that 95 per cent of the construction waste was diverted from the landfill.
MCCAC: Taking Action to Manage Energy (TAME) Buildings initiative
The Municipal Climate Change Action Centre (MCCAC)'s new TAME buildings initiative is already paying dividends for Alberta municipalities that want to reduce their energy consumption.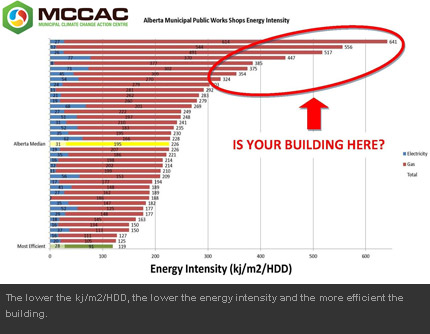 The ambitious TAME buildings initiative, designed in short to help Alberta municipalities better manage their corporate energy use, has attracted hundreds of submissions to the program's database tool and enough inquiries to keep MCCAC hopping, according to MCCAC Coordinator Bob Hawkesworth.
The database compares the electricity and gas consumption per square metre of more than 300 municipal facilities, organized by building type – from fire halls and police stations to arenas and public works shops. The database is a great source of comparative information, at the same time maintaining the confidentiality of its listings by identifying each building as a number known only to the submitting municipality.
At a glance, the viewer can see the Alberta median energy use – and the curve of the graphic above and below the median.
"We've come to realize that size really does not matter – and the size of the community doesn't matter either," says Bob. "Simply, some buildings are operating with high energy efficiency and some are energy pigs."
Because of the variation of Alberta's climactic zones, MCCAC designed the database to level the climactic playing field "so we can fairly compare the energy performance of a building in Lethbridge with a similar building in Fort McMurray."
Bob and his team see more comprehensive advantages to the tool than surface comparisons. "We've been approved as a demonstration centre to illustrate the potential of municipalities to reduce the greenhouse gases (GHGs) in their communities. That's not only tremendously exciting – it also offers a tangible, practical means of helping communities throughout our province reduce their ecological footprint."
Why focus on buildings to achieve the reduced GHG target? Bob says the research MCCAC studied showed buildings offer the most potential of achieving the reduction goals. "That's why we've made a major commitment to helping make buildings greener."
And Alberta municipalities are responding to both the database information and the offer of assistance in getting started.
"We've had a very good level of participation from municipalities across the province, and a good number of municipalities have gone on to complete detailed energy audits after they've learned how their buildings are performing."
With about 330 buildings benchmarked for their energy intensity in the year since the TAME initiative was launched, the database offers significant data for comparisons.
As well, the TAME buildings initiative offers a small rebate program available to about the first 20 municipalities that approach MCCAC with implementation projects. "This offers another incentive to take direct action in making buildings more energy efficient. Everyone shares the common objectives of saving money and getting positive return on investment, and the MCCAC program and tools help municipalities achieve those objectives."
The Monolithic Dome - a new definition of sustainability
by Glenn Johnston, ECOdomes Canada
Most engineers, architects and construction professionals have not heard of the Monolithic Dome because concrete thin-shell construction is not taught in school.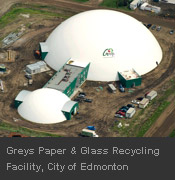 Domes are as old as construction itself and have proved their long-term sustainability with such buildings as the 1,900-year-old Pantheon in Italy and St. Paul's Cathedral in London.
Because thin shells were expensive to form, they fell out of favour, but that changed with airform technology. Clients can now have the superior attributes of concrete thin shell at conventional prices.
In 2005, Dr. Arnold Wilson wrote Practical Design of Concrete Shells, a textbook of domes as homes, schools, churches, rec centres, theatres, bulk storage, etc.
"How?" you ask. A huge part is the shape, but the big deal is the forming. The Monolithic Dome uses an airform, the secret to modern, thin-shell concrete buildings, making construction fast, simple and cost effective.
Most domes begin with a simple spread footing (a vertical stemwall may be included to give more architectural appeal). A fabric form is then attached, which blowers inflate, and it stays in place as the roof membrane. Polyurethane foam is then applied on the interior side of this form. Next, steel reinforcement is attached and then shotcrete is applied in gradually thicker layers.
Generally the building enclosure is provided by a single contractor, and the insulation and shotcrete are applied on the inside of the form so construction can continue through virtually any weather, both translating into significant time savings.
Due to their shape and construction materials, Monolithic Domes are inherently strong, so strong that the U.S. Federal Emergency Management Agency has given their highest rating of 'Near Absolute Protection,' applied to tornadoes, hurricanes, earthquakes and fire.
As well, the Monolithic Dome cannot rust, rot or be ravaged by insects. And with the concrete on the inside, the lifespan will be measured in centuries.
The dome shape is the most efficient to cover an area. A 142-foot square building is 20,000 square feet, as is a 161-foot diameter dome. Even with an integrated concrete roof, the dome only uses 20% more concrete, but 40% less steel.
The polyurethane foam creates a continuous thermal barrier from the footing to the top. The thermal mass of the shotcrete improves the system by storing energy, and because the entire structure becomes one piece, all tied into the earth, it acts as passive geothermal, gaining heat from the earth in winter, and returning it in the summer.
This system translates into significant energy savings, as well, reducing the capital costs of the HVAC and electrical systems, and future maintenance costs.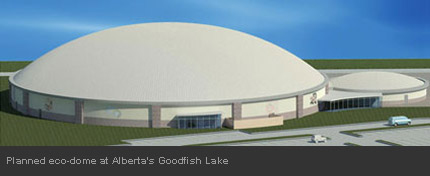 The Monolithic Dome earns LEED credits by using recycled aggregates, material savings, local suppliers, reduction of waste and formwork because the airform stays in place, labour/construction speed savings, and thermal mass and operations energy savings.
Studies show the most significant environmental impact from buildings comes from their long-term energy use, not the construction products used. Also, the life cycle of a Monolithic Dome is measured in centuries, reducing the energy required to demolish and reconstruct and the resultant waste to landfill.
Famous architect Douglas Cardinal – originally from Alberta – noted, "I am a fan of the dome because of its inherent structural strength." As more professionals learn of the Monolithic Dome, perhaps a new definition of sustainability will form and we will see more dome buildings, like we always see in futuristic movies!
Please visit ECOdomes Canada to see Alberta's activity, with a completed project for the City of Edmonton/ Greys Paper Recycling Partnership and a proposed recreation centre and hockey arena for a First Nations community in Alberta.
Which are greener – retrofits or new builds?
Look past the sex appeal of the shiny new buildings to determine whether new builds or retrofits actually win the green star for climate change reductions. Surprise! A report shows retrofits win hands down.
The report, The Greenest Building: Quantifying the Environmental Value of Building Reuse, conducted by the Preservation Green Lab and partners, compares various building categories in four cities: Chicago, Atlanta, Phoenix and Portland across a number of environmental categories over a 75-year building life span.
According to the National Real Estate Investor (Aug. 13, 2012 issue), the report concludes that retrofits win the green race in several categories.
For example, it can take from 10 to 80 years for new builds to overcome the negative climate change impacts of construction. Looking from another perspective, the report states a baseline retrofit has 20% less environmental impact compared to a new build.
Human health is another interesting perspective. The study concluded that the negative environmental impact of retro green for human health was 12-38% less than for new builds.
Despite the many advantages of upgrading the old, the report does identify situations when there are advantages to tearing down and starting over. If the existing building is low density in an area where high density can offer access to public transit, for example, the case can be made to start fresh.
Tanya Doran, Executive Director of the Alberta Chapter, found the report's correlation between North America's building practices and the energy efficiency of buildings an interesting perspective.
In the early 20th century, buildings were relatively efficient. About 50 years ago, the building industry incorporated mechanized systems as much as possible. With the best of intentions, that level of mechanization in some instances actually impaired building efficiency.
Our provincial history also is offering some opportunities for us now. Remember the economic boom of the late '70s and early '80s?
"The boilers and other major building infrastructure in those '80s boom buildings are now reaching the end of their anticipated life span. They are going to need replacing, and soon," says Tanya. "That timing gives us a great opportunity to consider alternate technologies as replacements that simply weren't available when these buildings were new."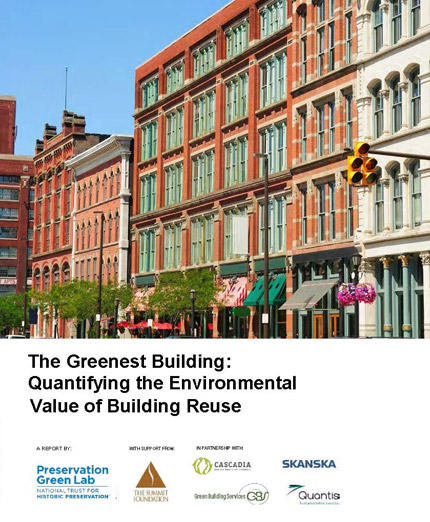 What eco-upgrades would you do with $1,000?
by Tyler Hermanson
Good question! $1,000 can go a long way, or not far at all depending on how you look at it. So how do you narrow your choices for an eco-upgrade?
$1,000 is a great threshold since many of us can justify that amount.
In all the performance upgrades we recommend when working with clients, it's always a balance between good smart choices vs. exciting (solar, geothermal, net zero, etc.). Some of the best improvements are simple and boring – and people glaze over them.
As with all performance upgrades, whether for a new home or a renovation, there are NO silver bullets. No single solution will instantly create a high performance home. It's about many small steps and pieces that fit together to create an efficient, healthy, durable home at a reasonable price.
So with $1,000:
$75 – Swap out my light bulbs to Energy Star certified CFL (Compact Fluorescent Light) bulbs or LED fixtures. A good quality CFL bulb is really a great choice. I don't recommend using any but Energy Star rated as these bulbs have been tested to produce good colour, quick startup and long life compared to cheaper, non-rated.
$300 – Install a low-flow toilet. If you've still got a large 12 litre per flush toilet, this is a no brainer. Good toilets now use 4.8 litres per flush or less. If you still think six litres per flush is low flow, you're out of touch. This one has great impact for the environment and is easy to install yourself.
$100 – Clean and tune the furnace. Bring in a service company to make sure your equipment is running as efficiently as possible, even if it's an older unit. Testing for combustion leakage is important for safety, and clean ducts and a new filter are great for indoor air quality. Your furnace will likely be quieter, too. When the time comes, you can upgrade your furnace to a high efficiency condensing model.
$50 – Buy a CO detector. Many people still die each year due to combustion spillage from furnaces and fireplaces. These easy-to-buy-and-install monitors are now code required for new homes but likely aren't in existing homes. They should be located on the ceiling near your bedrooms where warm CO gases will collect first before settling.
$75 – Install a programmable thermostat. Consumer reports say swapping out and properly setting your thermostat can save up to $180/year. Buy one that is easily set up – but don't set the temperature back too far. A variation of 2-5o C is lots. If you notice increased condensation on your windows, you've lowered the temperature too much since as the temperature decreases, humidity increases in homes.
$200 + one case of beer – New seals and weather stripping for the house. Buy a few cans of caulking, some foam tape and new weather stripping – and have a sealing night. On a cold or windy night you should be able to feel the drafts where you need to seal up. Typical homes are very leaky, with warm air literally blown out of the cracks and gaps. The air has to be heated again by your furnace, sometimes as much as 14 times an hour in very leaky homes.
In older homes with induced draft furnaces or hot water tanks, ensure you don't seal the combustion air source your mechanical room needs for proper operation.
Headline highlights!




Following is a selection of recent media articles that feature a variety of topics of interest to Alberta's sustainable building community.
Builders demand eco-friendly demolition (Aug. 8, Edmonton Journal) - Bill Knight, owner of B&B Demolition, has invested $2 million in equipment to help satisfy the demand from building owners conscious of the environment.
Waste to fuel Fort McMurray community greenhouse (video) (Aug. 10, Edmonton Journal) - EDMONTON - Fort McMurray plans to turn its trash into tomatoes. By this time next year, the northern gateway hopes to be growing produce in a greenhouse heated with electricity generated by combining solid waste with biodiesel manufactured from used cooking oil.
Gardening takes to the skies. City experiments with green-roof technology (Aug. 10 – Edmonton Journal) - Go back 10 years, and had you mentioned a green roof to me, what would have come to mind was a rooftop covered in green shingles. Today, I'm a little wiser and know that when I hear the term green roof, it generally means living roof — one that contains plants growing in some kind of soil high above the ground.
Calgary's towering environmental statement (Aug. 13, Globe and Mail) - Cenovus Energy Inc. is taking its fight for environmental credibility to a new battleground: its kitchens inside The Bow. All 78 of them.
Bio-wall at college library more than 'pretty plants' (Aug. 20, Globe and Mail) - A wall of lush tropical plants soars four storeys above the atrium of the Centennial College Library and Academic Facility at the Progress campus of the Ontario college.
Calgary can benefit from U.S. 'mistakes' (Sept. 7 – Calgary Herald) - Planning where and how our city grows is a big job. It directly impacts economic growth, migration and jobs throughout the building industry. For Calgary, that blueprint is drawn up on the desk of Rollin Stanley, the city's top planning official, who started the position in June.
Alberta's largest wind project near Red Deer ready before winter (Sept. 19 – Calgary Herald) - As Alberta's largest wind farm nears completion, Edmonton-based Capital Power Corp. is opening the site of the $357-million project to the public.