Register before April 15 for Alberta SBS – and save!
It's great to see so many of you registered for Alberta Sustainable Building Symposium 2013. For the rest of you, hurry! Regular registration rates are in effect only until April 15.
With more than 20 presenters, two internationally renowned keynotes, a maximum 12 CE hours from GBCI and a maximum 3 core and 2.5 self-directed hours from AAA, there are a lot of reasons to register now for Alberta's premiere green building event.
Check out the details – and register now! After April 15, late registration is in effect. For those of you from out of town, check out the special delegate hotel package at Edmonton's Sutton Place Hotel.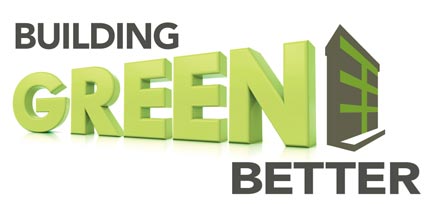 New Alberta Chapter directors announced
Congratulations to new Alberta Chapter – CaGBC Board directors Bonnie Dong, Adam Stoker and David Richardson.
Electronic elections were held online between February 27 and March 13 for the director vacancies. All three newcomers will serve three-year terms.

"The three new directors bring a wealth of experience and knowledge to the Board," says Tanya Doran, Alberta Chapter Executive Director. "Their fresh perspectives and willing work ethics will make our Chapter even stronger for our members – and the Alberta green building community."
Bonnie Dong, Alberta Infrastructure – represents both Red Deer North and South regions as a representative of the Government of Alberta. Bonnie is a building science engineer and the in-house expert in sustainability and building science at Alberta Infrastructure (AI). She is a LEED AP+BD&C and a current Living Future Ambassador in Training and long-standing volunteer with the Edmonton Program Committee of the Alberta Chapter – CaGBC. She started her career in green buildings during graduate studies at the University of Toronto and has been passionate about minimizing the ecological footprint of buildings for over a decade. Bonnie has written numerous green building publications on a wide range of topics
At home, Bonnie chose a walkable neighbourhood and lifestyle. She has added insulation to the whole house and upgraded to a high-efficiency furnace. She believes it is important to build green and build better, with less, while being respectful of future generations.
Adam Stoker, University of Calgary (U of C) – represents the Red Deer South region. As a member of the U of C's Office of Sustainability, Adam works as a sustainability champion on both the design and construction of new building projects and the operation and maintenance of existing facilities. He has worked in the field of high performance green buildings since 2004 and has worked on a variety of green building projects – from energy auditing to life cycle planning, from energy modeling to building design, and more.
Adam has worked with most LEED rating systems and has given presentations for local Alberta Chapter events, the Alberta Sustainable Building Symposium and the CaGBC National Conference. He also taught LEED courses at Mount Royal University and worked with two other instructors to update and regionalize the LEED NC 2009 higher education course for the CaGBC.
David Richardson, Designworks Architecture – represents the Red Deer South region. David is the founding principal of Designworks Architecture, who focus is on sustainable design and LEED consulting. His green building experience started in the early '90s in Vancouver. Since then, he has consulted to industry on LEED compliance aspects and has provided sustainability and LEED consulting services. Dinosaur Provincial Park Visitors Centre was the first LEED certified building David was involved in – and the Government of Alberta's first LEED certified building , achieving LEED Gold.
David graduated from the University of British Columbia in architecture in 1988. He is a member of the Alberta Building Envelop Council and an active member of the CaGBC.
The three new directors fill vacancies left from John Bulmer, Troy Braithwaite and Lydia Miller whose terms have ended.
Tanya acknowledges the significant responsibility placed on the shoulders of each Board member. "The mix of new and veteran Board members gives our Chapter an effective mix of energy, Board experience and viewpoints. I want to thank the outgoing directors for the time they invested in the Alberta Chapter. When each individual contributes to the fullest, the Chapter can fulfil its ambitious mandate – and that benefits the entire Alberta green building industry."
Return on Calgary's LEED Gold investment 'shocking'!
The City's return on its investment (ROI) in LEED Gold standard efficiency and design standards is shocking, says Calgary Mayor Naheed Nenshi. And that's a good thing.
At a March 12 City committee meeting, Council members reviewed a civic administration report that illustrated that meeting LEED Gold standards provides a much faster and greater ROI than initially believed.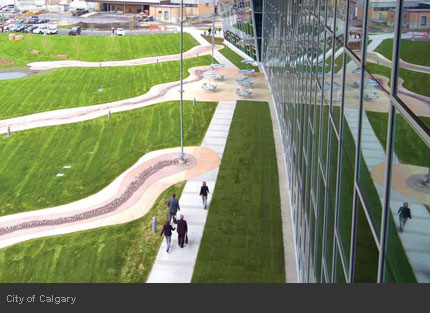 Ald. John Mar was also impressed, according to a March 13 report in Calgary Metro. "I'm absolutely flabbergasted at the minimal investment to get such a huge return," he said.
The Metro report says the benefit-to-cost ratio ranges from 10 to 1, to 12 to 1. Mayor Nenshi said those numbers are "pretty shocking. The benefits, particularly in reduced energy costs, are huge."
LEED in Canada – and Alberta: an overview
Want an idea of the LEED momentum across the country – and how Alberta stacks up with the other provinces and territories?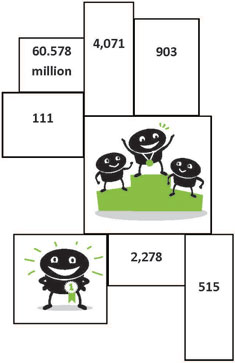 60.578 million square metres – All LEED registrations in Canada*
4,071 – LEED registrations in Canada
903 – LEED certifications in Canada
111/903 – LEED certifications in Alberta
Alberta on the winners' podium behind only Ontario and British Columbia in registrations and certifications for:

LEED for New Construction
LEED for Commercial Interiors
LEED for Existing Buildings

Alberta first in Canada for registered LEED project area (square feet) per capita, at 26.8 square feet/capita
2,278 – LEED Canada for Homes registered across the country
515 – LEED Canada for Homes certified across the country
* With the exception of USGBC LEED for Homes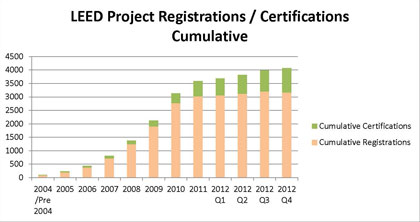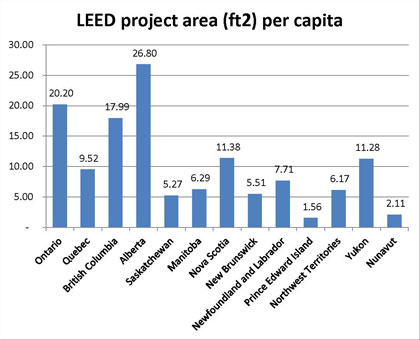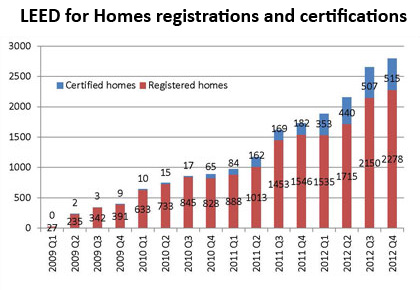 Red Deer College – Four Centres
The Four Centres, a new addition to the college, acts as a teaching lab for students in the building trades – and has earned LEED Gold for other innovation features.
The addition houses the Centre for Trades and Technology, Centre for Innovation and Manufacturing, Centre for Visual Art and the JB Quinn Centre for Corporate Training.
Scoring maximum points in the LEED Canada Green Building Rating System for water efficiency and innovation and design, the project also earned strong points for its sustainable site and indoor environmental quality.
The Four Centres provides 14,000 square metres of floor space in new and renovated facilities at the east end of the main campus. The space supports an innovative mix of trades, technology, manufacturing, business and visual arts programs. The $50 million project was completed in August 2009.
Building features include:
a learning commons as a singular, prominent "spine" that connects disparate campus buildings and groups of students,
a new building entry defined by an enormous steel frame,
a design that results in generous sunshine throughout the space,
exposed building components from electrical conduit feeding an outlet box to the main mechanical room that is used as a teaching lab so students in the building trades can understand the complexities of building assembly. 
A variety of site, water and technology innovations from a man-made lake to capture storm water and redeploy it to internal fixtures, displacement ventilation, significant daylighting and a high performance building envelope comprised of R40 prefinished steel wall panels positions the project as a sustainability laboratory.
Read more from Barry Johns (Architecture) Ltd. and Group2 Architecture Interior Design.
RMWB Wastewater Treatment Plant
Scoring full marks for water efficiency, Wood Buffalo's impressive new wastewater treatment has earned LEED certification.
The $225 million facility, designed to be completed over two phases, also earned strong marks for its innovation and design. The plant was officially opened in May 2010.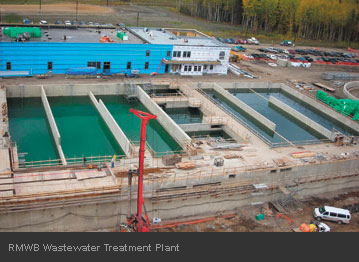 A short study of Fort McMurray's population growth quickly shows the importance of a phased approach for the Wood Buffalo facility. In the early stages of the project – when construction began in 2006 – the plant was designed to serve 85,000. A population projection at that time estimated Fort McMurray would have a population of 133,000 by 2025.
From a population of about 36,000 in 1999, the number of residents and oil field workers being served has expanded rapidly to more than 100,000 individuals – and plant managers are planning for a population of 231,000 by 2031.
With the municipality well aware of its infrastructure challenges to support its growing population, the wastewater treatment plant can accommodate massive residential growth in existing communities and new subdivisions.
The new facility can also handle an increase in trucked sewage, much of it is from industrial construction camps. Wastewater from truck haul has more than tripled since 2004, adding an equivalent population of more than 40,000.
In addition, the expansion of the wastewater capacity allowed the replacement and upgrading of sewer lines to service these new developments.
As well as allowing the municipality to look forward, the new plant closes outmoded past practices. Before the completion of the treatment facility, sewage was treated in mechanically aerated lagoons built in the 1970s and 1980s. The former lagoon system was designed to serve a population of about 60,000.
The Fenlands Banff Recreation Centre – LEED Silver
Scoring full marks for water efficiency and strong marks in sustainable sites and innovation and design, the Town of Banff has earned LEED Silver for The Fenlands Banff Recreation Centre.
Sustainable features include:
reused beams from a dismantled school in Canmore,
walls of glass to maximize daylight,
recycled energy from the ice plant to heat hot water,
collected rain water to flush the toilets,
use of native plants in the landscaping,
a restored riparian along 40 Mile Creek, and
use of low VOC-emitting materials to increase air quality.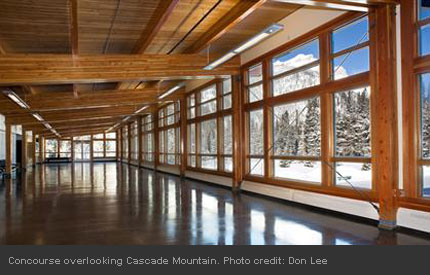 As well, a vigorous recycle and reuse protocol kept 50 per cent of construction waste from the landfill, and more than 21 per cent of the materials used were regionally manufactured or extracted.
The Town of Banff also gave considerable thought to keeping The Fenlands green well into the future. The facility makes use of green housekeeping, interpretive diagrams for public, recycling collection — including organics — a disposable water bottle ban, and shower and bike storage facilities to encourage alternative transportation modes.
The Fenlands offers two ice rinks and a four-sheet curling rink, associated amenities for hockey and skating, two multipurpose meeting rooms, a lounge, an airy concourse and a small meadow.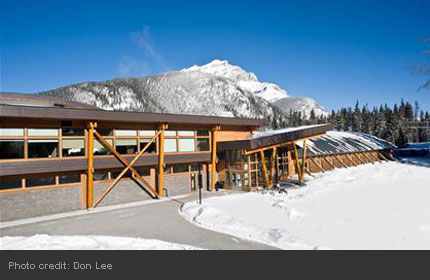 Since opening in December 2010, the facility has been used by NHL teams and Team Canada juniors for training, as a movie location, and has hosted conferences, weddings and bonspiels as well as serving as home to the Banff Hockey Academy, Banff Minor Hockey League, Banff Curling Club and Banff Skating Club.
The Fenlands replaces a 50-year-old curling rink and old arena on the same site and was developed under the Town's Green Building policy, which requires all new and renovated public facilities to meet a minimum LEED Silver standard.
The City of Calgary takes action on construction & demolition materials recycling
The City of Calgary is taking action on increasing construction and demolition (C&D) materials recycling. A series of stakeholder engagement sessions helped shape new services and policies that will come into effect this July.
Increasing C&D materials recycling is key to the success of The City of Calgary's commitment to divert 80 per cent of waste from City landfills by 2020. To begin addressing this opportunity, The City's Waste and Recycling Services invited representatives from the four core C&D waste stakeholder groups (associations, generators, haulers and processors) to a series of workshops in 2012. The workshops were designed to gather feedback on The City's current and planned C&D waste diversion initiatives, and to clarify The City's role in C&D waste diversion, particularly in the absence of a provincial program.
Alberta Chapter – CaGBC board member Nancy Burton participated as a stakeholder in these discussions.
Here is an overview of the things stakeholders shared.
Current challenges:
There have been no significant changes made at the provincial level since 2009.
Some stakeholders are unclear about the full range of C&D waste diversion opportunities and initiatives. Source separation of C&D materials can be challenging and costly.
The majority of stakeholders support:
Adding recyclable wood and drywall to the Designated Materials list. Designated Materials cost more to send to landfill, so this will encourage diversion.
Expanding source-separated C&D materials recycling, currently only offered at the Spyhill Landfill, to the Shepard and East Calgary Landfills. Eligible C&D materials are accepted for recycling at significantly reduced rates.
Enhancing promotion of C&D waste diversion opportunities.
Based on stakeholder feedback and internal reviews, Waste & Recycling Services will implement the following solutions beginning July 2, 2013:
Add recyclable wood and drywall to the Designated Materials list.
Accept C&D materials recycling at the Shepard Landfill (East Calgary to follow in 2014).
Increase promotion of these opportunities among industry stakeholders.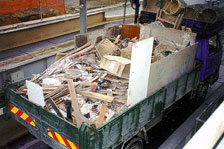 The City has already sent out updates to stakeholders and the results are also available online. More information on the upcoming changes and the results from stakeholder engagement can be found on The City's website.
Prairie wood design awards – nominations open
Are you on a project team that has produced an outstanding example of local wood architecture? Then the 2013 Prairie Wood Design Awards are for you!

Alberta Wood WORKS! is seeking nominations of local wood architecture in the following categories:
Commercial/Institutional
Interior Showcase
Municipal/Recreational
Residential
Entries should consist of building projects that display a wide range of wood product applications and demonstrate an understanding of the special qualities of wood such as strength, sustainability, durability, beauty and cost effectiveness.
The jury will select two special awards – Engineer Wood Advocate and Jury's Choice – from all submissions.
In Alberta, more than 50 communities rely on the forest industry. Wood is intrinsically linked to our history and is showcased in the Prairie Wood Design Awards program.
For more information or to request an application package, visit www.wood-works.org/alberta or e-mail Barbara Murray or call her at (780) 392-0761. Deadline for submissions is June 15, 2013.

The jury's decision will be announced at the Alberta Wood WORKS! gala event Nov. 27 at Edmonton's Fairmont Hotel Macdonald.
FCM's Sustainable Community 2013 award winners
Take a bow, Red Deer and Vegreville, for earning 2013 Sustainable Community awards from the Federation of Canadian Municipalities.
The City of Red Deer was a co-winner in the transportation category for its commuter bike pilot project.
The City is pilot-testing a 20-kilometre network of bike lanes, which connects with 100 kilometres of existing trails, giving cyclists viable travel routes to a range of destinations.
The City believes this transportation option will reduce the number of cars on the roads, encourage healthy and active lifestyles, increase the use of public and green spaces, and improve the community's environmental stewardship.
With the new lanes, Red Deer's cycling networks now compare to those in Calgary and Edmonton.
The city put in four kilometres of bike lanes in 2011 and another 16 kilometres in 2012. Staff members have been evaluating the project and will report on the results at the end of 2013.
What lessons has Red Deer learned from its pilot test?
There is no single solution for accommodating cyclists. Evaluate local needs and develop the best solutions for each situation.
Set up a steering committee with representatives from municipal departments and public interest groups. This ensures the project will be an administrative priority and reflects viewpoints from the community.
Focus on the five E's: engineering, education, encouragement, enforcement and evaluation.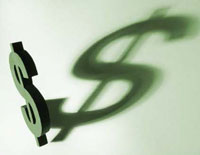 For more details and to listen to a short video about the project, click here. 
The Town of Vegreville was a co-winner in the waste category for its residential compost program.
Objective of the program is to extend the life of the town's landfill – while reducing odours and organic compounds leaching into the soil – without a costly commitment to developing and operating a municipal composting facility.
The Town contracted with local company Growing Power Hairy Hill to generate electricity, distill ethanol and produce nitrogen-rich soil from waste. The anaerobic digestion process uses a range of materials, including grain and feedlot waste, to create compost. This compost is used to produce green power that is fed into the provincial grid.
Lessons learned:
Public education is needed! Residents need to know what can be composted. Loads contained non-compostable material cannot be composted and are landfilled.
Commitment from the community's administration is critical.
For more details and to listen to a short video about the project, click here. 

FCM's Green Municipal Fund is the primary sponsor of the awards, given out during the FCM Sustainable Communities Conference and Trade Show (SCC) in February.
Emerald Day in Fort McMurray
From a high school to a national park, from a local environmental association to a provincial ministry – they all participated in Emerald Day in Fort McMurray.
As part of the Alberta Emerald Foundation's  Community Dialogue Series, the organization travelled north on Jan. 31 thanks to sponsor Syncrude Canada.
Twelve local environmental organizations participated in the day along with keynote speaker Simon Jackson, Founder and Executive Director of Spirit Bear Youth Coalition. Highlights included: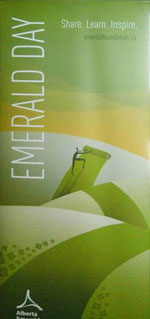 The Wood Buffalo Environmental Association (WBEA) monitors the air in the Regional Municipality of Wood Buffalo, 24 hours a day, 365 days a year through a variety of air, land and human monitoring programs. The information collected is shared with stakeholders and the public.
The Regional Municipality of Wood Buffalo Environmental Services Zero Waste Initiative aims to create a more efficient and effective way to convert waste into resources. This waste-to-resource approach will allow residents to throw a can in the garbage as is and the residual food will be converted into energy through gasification – while the can is recovered for recycling. They even plan to use waste heat energy to grow tomatoes and cucumbers. Listen to Kevin Scoble's TEDx Talk to learn more.
Wood Buffalo National Park, the largest national park in Canada and one of the largest in the world, is working on protecting the Peace Athabasca Delta that is slowly disappearing due to reduction in water.
Edmonton's net-zero concrete home – update
Habitat for Humanity Edmonton's Riverdale concrete home is progressing very well. Want to see the progress?
The Habitat for Humanity Edmonton (HFHE) website offers a great photo gallery of the build – including interiors. Check it out.
The Lafarge NetZero Energy Precast Concrete duplex is the first of its kind in Canada. The duplex is a state-of-the-art prototype, and the project is a partnership including HFHE, Lafarge and Stantec.
A fuller description of the project is included in the November 2012 edition of Perspectives.
Headline highlights!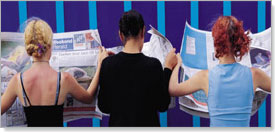 Full House Lottery: dream big, do good (Edmonton Journal, March 11) - Don't ask me to pick just one. I'm shamelessly in love with all three of the Full House Lottery grand-prize homes. . . . Each custom-built home represents one of today's hottest trends in architecture and home design — the lottery's first flat-roof, first net zero home and its largest-ever bungalow.
Garbage goes green (Edmonton Vue, March 6) – New biofuels facility will further divert wastes from the landfill.
Solar gains. Royal Dutch Shell looks into a bright future – at the likely expense of oil (Calgary Herald, March 1) – Solar could overtake oil as the world's dominant energy source by 2060 in one scenario envisioned by Royal Dutch Shell PLC.
Affordable solar energy: coming soon to everyone (YouTube, Feb. 8) – with University of Alberta's Jillian Buriak.

How architecture students would shake up our cities (Globe and Mail, Feb. 28) – A city that runs out of fresh, invigorating ideas is like a Hollywood star who overdoses on botox, flames out, then dies. Do not confuse construction cranes with enduring urbanity. After all, the collapse of ancient Rome was well under way even while endless roads were being laid. In Toronto right now, for example, a lot of angst is being created over landing a mega-casino development – a deadening scenario and a sure sign that kick-ass imagination has gone missing. Shouldn't a city intent on the future be lighting bonfires of creativity?

Silicon Valley shifting to power grid after solar sours (Calgary Herald, Feb. 25) – Silicon Valley investors that helped build the solar industry are shifting cash into electricity-grid technology and energy-storage developers after bets on panel manufacturers failed to pay off.