Lafarge teams up with Calgary Zoo's Centre for Conservation Research
Lafarge wants to help sustain the ecosystems where we work and live - and the company has put its money, materials and labour to work to make it happen.
Through a partnership with the Calgary Zoo and the zoo's Centre for Conservation Research, Large has contributed cash, gift in kind of aggregates, concrete and cement, as well as employee volunteer hours to further biodiversity research at the Centre.
"Lafarge has a long history of environmental leadership and has connected specifically with the Conservation Research Centre to further our efforts. We have supported the zoo for over 20 years and find their research work critical to biodiversity," notes René Thibault, President and CEO of Lafarge Western Canada.
Lafarge's Sustainability Ambitions 2020 are a step towards a vision of the future where we strive to protect the environment and make a net positive contribution to society as a whole.
"This funding is immensely helpful. With Lafarge behind us, we can continue our long-term projects and excellent science which are critical components in the fight against species loss in Canada," says Dr. Axel Moehrenschlager, head of the Centre for Conservation Research.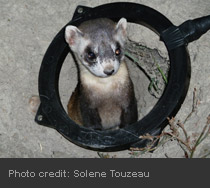 The support from Lafarge will help back critical field research on a variety of projects such as black-tailed prairie dogs and black-footed ferrets, whooping crane incubation studies at the zoo's Devonian Wildlife Conservation Centre and international community-based conservation work in collaboration with the zoo's conservation outreach team.
Launched in 2003, the zoo's Centre for Conservation Research specializes in using science to help save species that are at risk of extinction nationally or globally. The CCR collaborates with academic, government and industrial partners to address key environmental needs by conducting scientifically excellent research particularly in the field of species reintroductions.
Thanks for making Alberta SBS 2013 a great success!
The 2013 Alberta Sustainable Building Symposium set records for event attendance - and evaluations show the program again hit the mark with delegates.
More than 200 professionals attended this year's Symposium to get the latest on the green building industry.
And it's interesting to note that more than half (51%) of all attendees who completed the online Symposium evaluation took an eco-friendly mode of transportation to the event. Here's how attendees arrived::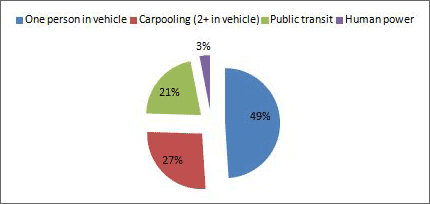 Following are some of the comments received about the event:
The event offered confirmation that sustainable building has a future in Alberta!
The keynote speakers and presentation topics were all highlights.
The morning and noon keynote speakers were excellent. It is very good to have these prominent Americans come to speak. Good choices.
The variety of presentations was good, including high-level trends and suggestions for the future of the industry. The range and quality of speakers was a highlight.
Enjoyed the opportunity to speak with home builders who had extensive experience with different materials.
Always a fun time. Very well organized. Great turnout!
It was great and inspiring to be there and to meet and connect with people of like minds. Thank you.
Organizers also asked for potential topics for the 2014 Symposium in Calgary. Following is a selection of suggestions:
A panel discussion with the Alberta Minister for Energy and Environment, a representative from provincial utilities, an architect, engineer, etc. to speak about incentives/penalties to improve building performance throughout the province.
LEED EBOM and LEED CI challenges and success stories.
Stormwater management via landscape/site design.  Constructed/treatment wetlands.   Design, implementation and maintenance of cisterns for grey water harvest and conveyance.  
Procurement + pursuit strategies to budget for and retain LEED/specialized service providers (energy model, Cx, durable building) on sustainable building projects.
Implementation of green building practices on a large scale in Alberta, from a regulatory and development standpoint.
Interior design for green buildings.
New methods of construction for high energy efficient residential construction (tradesman perspective).
A moderated brainstorming session to expand and create future direction and developments as a regional green community.
Passive house and how it is built compared to conventional housing.
Local building tours before or after the Symposium.
Public engagement: how do we get the community association to champion and implement sustainability plans for their respective neighbourhoods?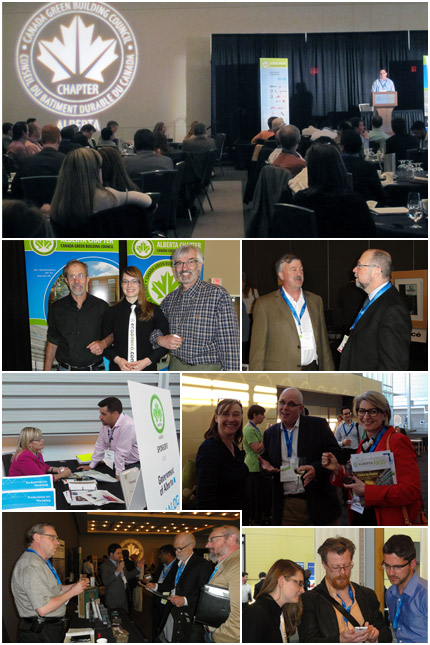 Register now for Alberta SBS 2014 in Calgary - and SAVE!
If you know you're going to attend the 2014 Symposium in Calgary - register now at the 2013 registration rate!  And bookmark the site so you can keep up to date with the program when it starts taking shape in the fall.
Pine Bungalows - helping green Jasper National Park
Jasper residents know to expect the unexpected with Michal Wasuita. Michal is a 2013 pioneer, proud of taking the path less travelled - and very excited about where that path has led.
Michal is the owner/operator of Pine Bungalows, nestled just north of the Jasper townsite and a fixture of Jasper National Park.
In fact, Pine Bungalows has welcomed visitors from across the world for the past 70 years.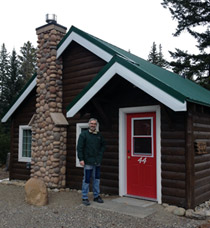 That lengthy history ultimately took its toll on the rustic pine bungalows - and that's where Michal's story with LEED certification begins.
In 2003, with only three years remaining on his lease with Parks Canada, Michal and his mother, Connie Bjorkquist, who spent her lifetime working on the property and is still actively consulting with Michal, had some serious decisions to make about the property.
"The cabins needed updating and the infrastructure was slowly failing," Michal explains. He knew some of the cabins were prone to flooding, conditions were right for developing mold in some of them, the interiors had used oil-based paints and the failing water, sewer and gas lines offered an opportunity to modernize and right these services.
Michal had to think about what he wanted to accomplish. "Remodelling the existing cabins was just putting lipstick on a pig. Contractors and developers told me just to rip them down and start over."
Michal had a better idea than just replicating the old cabins. This was his chance to make Pine Bungalows an eco-friendly part of Jasper National Park. "My sense of place is very strong. If we can't look after a national park, we're doomed."
He read, he researched, he found EcoAMMO Sustainable Consulting Inc. in Edmonton to help secure LEED certification.
"My strategy was simple. I had to change my attitude about how business is run, about how construction is done. We were abusing the earth – everything from David Suzuki's teachings to my research into the broader scientific world reinforced for me how important our planet is. I'm not on a crusade. I'm only doing my small part."
Needing Parks Canada approval for any building project, Michal submitted his master plan. The Pine Bungalows concept proved unique, both for Parks Canada and for LEED.
"I'm breaking new ground. I want to certify a residential building located on a commercial property inside a national park."
Michal says his research gave him the tools he needed to guide Parks Canada through the process. "They developed an appreciation for the project and for LEED. For instance, they questioned the fact that I hadn't included plans for irrigation to water the landscaping. I told them I had no plans to water the landscaping because I would use all native plants that would adapt to local water conditions."
He says Edmonton's EcoAMMO offered invaluable advice as they worked alongside each other. "Their enthusiasm is great. I sourced everything from caulking to street lighting with EcoAMMO guiding me on the right path. They have the know-how and enthusiasm and really helped steer some of my suppliers in the right direction. Stephani (Carter) was very responsive and helpful."
Michal says he's learned a lot about sustainable building and LEED. "I'm getting more intuitive about what I need to know."
The master plan approved by Parks Canada included nine phases. He's just completed Phase 4 - with eight cabins completed. "The toughest parts were the first couple of phases, replacing the infrastructure one section at a time. So far, I've invested over $4 million in capital, with another $2.5 million to go."
"I wanted to do the right thing – for my customers, my suppliers and myself. We're still a cabin in the mountains – welcoming any traveler from anywhere to connect with nature and even with their own children. We're a digital detoxification zone."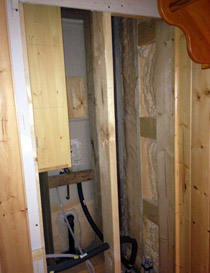 The project is targeting LEED Silver, but some of the features Michal has included have the potential to boost the project to Gold certification - when they are implemented. For example, the cabins are solar ready, with the electrical panel ready for the change sometime in the future. As well, Michal may consider a hot water loop in future rather than the current central hot water system.
"I get a lot of satisfaction over what I'm doing. The Jasper town folks thought I was crazy at first. Now, people understand my motivations and have taken a real interest in the project. And education is an important part of LEED. The process is pretty cool. You get a point if you do an open house to educate your staff and the public."
"I like the LEED system. If you comply with all the categories, the points add up quickly. And you end up doing the right thing."
An example is Michal's local sourcing of his materials and his use of modern building and construction techniques. He installed bathroom fans to coordinate with the lights. A bathroom timer pulls air out of the room for a set 15 minutes rather than using a humidifier.
Michal's only real surprise is the minimal response to the green project as a whole as "I thought using all the right products and financial investment in sustainable tourism would elevate the tourist sales and be a bigger draw. My expectations around the dollar movement have not been met; the education and awareness is a slow process but hopefully the project will be a draw in itself. I really am encouraged by the success of the LEED certification process as it is the way of the future and Pine Bungalows has made the financial and, more importantly, the social and emotional commitment to a forward green movement."  
Stoney Industrial Centre, Building 4 – LEED Silver
Calgary's Stoney Industrial Centre, on the corner of Deerfoot Trail and Country Hills Boulevard, is one of the most recent Alberta structures to earn LEED Silver.
Developed by WAM Development Group, Building 4 of the light industrial distribution centre reflects the WAM commitment to set a new standard of advanced industrial centres in Western Canada.
The structure received full marks on the LEED score sheet for water efficiency and innovation and design. In addition to the complex's convenient location for tenants needing access to distribution routes out of the city, the features contributing to its LEED Silver designation include:
Site:
Non-irrigated water-efficient landscaping
Bicycle storage lockers and change rooms with low-flow plumbing fixtures
Green housekeeping and landscape maintenance program
Materials and finishes:
Regional materials used where feasible
37% of construction materials have recycled content
62% of construction materials extracted or manufactured regionally
Low VOC emitting materials throughout
68% construction waste diverted from landfill
All wood products are FSC certified
Windows and doors
Aluminum sun shades at curtain wall
All glazing has low E coating
Systems
Programmable thermostats with humidity-sensing capability
Energy Recovery Ventilation (ERV) units
Grey water cistern system roughed into tenant spaces for future connection for non-potable water supply for toilet flushing
T5HO lights with motion sensors in warehouse areas to provide an average of 30 fc of lighting
Portion of building power purchased from Green Power source
Stoney Industrial Centre consists of six industrial warehouse buildings totaling over two million square feet of usable space as well as several land lots for sale or lease and opportunities for build-to-suit developments.

Deloitte Calgary office relocation – LEED Silver
From siting to recycling, the new Deloitte offices in Calgary have earned LEED Silver – in a building that earned two LEED certifications itself.
Staff in the new Deloitte offices, located on five floors of Bankers Court, 850 2nd Street SW, get stunning views across downtown Calgary, loads of daylight – and lots of features that make their workplace comfortable, efficient – and sustainable.
Deloitte is the first tenant in Bankers Court, which has earned LEED gold for the shell and LEED certification for the core. Following are highlights of the building and the Deloitte floors that earned the multiple LEED designations.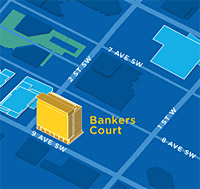 Siting and construction:
Public transportation is easily accessible.
Bicycle parking stalls are dedicated for staff to encourage alternative transportation.
20% of all project construction materials and office furniture were manufactured regionally (within 800 kilometres).
50% of all project construction waste including materials, packaging, etc. was diverted from the landfill.
Interior:
20% of all project construction materials (i.e. carpet and furniture systems) contain recycled content.
Only low-emitting materials were used during construction and finishing stages.
Energy and water efficiency:
Appliances and equipment (i.e. fridges and copiers) are all Energy Star rated for energy efficiency.
Technology equipment including printers, computers and monitors is Energy Star-rated.
LED lights will reduce energy consumption by 15%.
Deloitte has purchased renewable energy for 100% of the office energy needs for the first two years and has recently signed on with Bullfrog Power.
The Deloitte space is calculated to use 30% less water for plumbing features such as showers, low flow sinks and toilets.
Operations:
A comprehensive recycling and composting program (including composting, pop can and bottle, blue cart and pen recycling) is in place in the DOT spot and hubs.
Deloitte also recycles cardboard and all paper (through confidential shredding). The firm's stationery supplier now only uses reusable Boomerang boxes.
Only fair trade coffee products are used.
Compostable kitchenware is stocked in the DOT spot and hubs.
The building's janitorial services use ECOLogo and Green Seal-certified cleaning products; staff are trained in green cleaning practices.
A plant program produces cleaner air.
The office purchases only FSC-certified paper products and has incorporated a paper reduction program.
The firm continually educates staff on sustainable practices through its Green Team and regular events such as a Lunch & Learn series.
Intact Place goes Gold
Intact Place earned Gold for its commitment to increasing the tower's waste diversion rate - and its innovative waste stream management.
The path to the prestigious designation under the LEED Canada for Existing Buildings: Operations and Maintenance category for the 33-year-old, 19-storey tower at 311/321 6 Avenue SW in Calgary started with a commitment to a set of social and sustainable objectives shared by its owner -bcIMC Realty Corporation - and managing company Bentall Kennedy.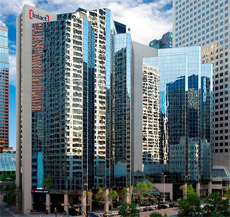 Bentall Kennedy's Environmental Policy Manual sets out the framework for the management of Intact Place.  Guided by an Environmental Committee and a Strategic Resources Group, the company's Environmental Officers are responsible for implementing and updating the policies, monitoring and ensuring compliance, overseeing assessments and increasing policy awareness.
In 2012 Bentall Kennedy partnered with Blu Planet to manage the Intact Place waste streams.  Through the introduction of a no sort option, organics recycling and enhanced tenant communication, the goal was to increase Intact Place's 2012 diversion rate of 49% to 55% by year end 2013. 
The building's waste stream weights are recorded and tracked in Eco Tracker and the diversion rate verified through biannual waste audits conducted by Green Calgary.
In addition to periodic air quality spot checks conducted by the Intact Place operations team, comprehensive indoor air quality (IAQ) assessments are performed on every floor of the building twice annually. Management and operations review the IAQ reports to ensure recommendations or any reported deficiencies are promptly addressed.
As well, suppliers and service providers are encouraged to adopt Bentall Kennedy's Responsible Property Management philosophy.  At the initial planning stages of a project, a "Green Construction & Design" manual is given to tenants, designers and contractors. The manual outlines environmentally conscious building and design practices that follow the sustainability strategies of the owner and Bentall Kennedy. 
Bentall Kennedy's commitment to responsible property management and sustainable practices has earned the company a #1 ranking in the Diversified Commercial Real Estate category in the Americas for the second year in a row by the Global Real Estate Sustainability Benchmark Research Report.
Other building initiatives:
Variable frequency drives on return and supply fans
Adjusted building operation schedules to maximize efficiencies
Use of green cleaning products
All building fluorescent lighting converted to T8s
Auto flush/low flow fixtures in washrooms
BP Centre goes Gold
Similar to Intact Place, owner and management company commitment to increasing BP Centre's waste diversion rate earned the Calgary facility LEED Gold.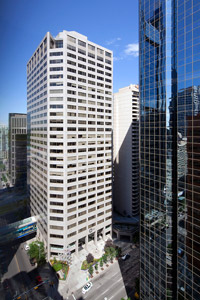 BP Centre, at 240 - 4 Avenue SW in downtown Calgary, is also owned by bcIMC Realty Corporation and managed by Bentall Kennedy - both committed to the principles of responsible investment and property management.
A 2012 partnership between Bentall Kennedy and Blu Planet resulted in setting a waste diversion target of 60 per cent, up from 51 per cent, by year-end 2013, with tracking and recording systems similar to those used at Intact Place.
In addition to air quality assessments, an electricity sub-metering system was recently installed in BP Centre.  This system monitors the electricity consumption of base building equipment, office tenants by floor and retail tenants individually. The ability to monitor electrical consumption in real time allows the operations staff to identify non-standard consumption trends and potential equipment problems.
In 2012 the final phase of retrofitting all building washrooms with low flow fixtures was completed.
As at Intact Place, suppliers and service providers are encouraged toward green practices.
Wood Buffalo RCMP Detachment - LEED Silver
Wood Buffalo added another green feather to its cap with LEED silver certification of the RCMP Detachment in Timberlea.
The 70,000-square-foot facility officially opened in January 2009. It houses the Wood Buffalo RCMP, Bylaw Services, Victim Services and Search and Rescue.
The building features a number of environmentally friendly initiatives including:
a solar wall,
a raised flooring system,
a "glass spine" design that enhances natural light,
individually ventilated workstations,
displacement ventilation,
high-efficiency boilers,
a high-performance thermal envelope, and
adjustable workstation walls to facilitate future growth.
ACI Architecture worked with Stephens Kozak Architects Ltd. to design the new detachment.
According to Canadian Business Executive Construction magazine, the firms looked at space programming, scope identification and site selection. To alleviate site and location issues, the municipality made a decision to separate the administrative areas from the cell block. Thus, a perfect location was selected to house RCMP and Bylaw Services.

LEED's increasing high standards drawing attention
In reaction to the U.S. Green Building Council's recent move to increase stringency on materials and chemicals, the affected industries are apparently taking aim at LEED in the U.S.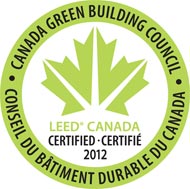 (Editor's note: The following is an excerpt from Cascadia Green Building Council, leading a movement of defence in the U.S. against industries fighting LEED's recent changes. LEED, of course, is an increasingly important pillar of Canada's green building industry as well, and historic trends show that attitudes and actions occurring in the U.S. well may migate into Canada.)
As most of you are probably aware, USGBC is being hammered by an unprecedented wave of attacks stemming from regressive elements within the chemical, plastics and timber industries who feel threatened by LEED v4's forward-looking position on chemicals of concern and forest certification.
LEED has been banned for use in state government construction in several states including Maine, Georgia, Alabama and Mississippi by gubernatorial order or legislation; it faces potential bans in several more states, including North Carolina, South Carolina, Tennessee and Florida; and most worrisome of all, there is a possibility that the General Services Administration and all other federal agencies could be prohibited from using LEED in the near future.
This federal ban would come from an amendment pushed by chemical lobby favorite Senator Landrieu and added to the popular Shaheen-Portman energy efficiency bill.
Here's some recent reporting:
http://designbuildsource.com.au/new-us-efficiency-bill-threatens-leed-asap
http://www2.buildinggreen.com/blogs/hidden-beltway-lobbyists-who-shape-green-building-policy
http://www.treehugger.com/environmental-policy/leed-bashing-plastic-people-trying-slip-trojan-horse-amendments-shaheen-portman-bill-gut-leed-certification-2.html
http://www.greenbuildingadvisor.com/blogs/dept/green-building-news/leed-challenged-north-carolina
It's high time to stand shoulder to shoulder with USGBC and push back. For now, here are some relatively simple things you can do to help:
A fact sheet on the amendment to Shaheen-Portman
A fact sheet on LEED's consensus process in relation to the American National Standards Institute (ANSI)
A form letter
Forward this email to your networks and urge your friends and colleagues to get involved!
EcoTours in Edmonton
There's still time to catch some of the 2013 EcoTours in Edmonton.
The tours run from May 28 through June 6, and are free! The objective of the EcoTours, now in their 14th year, is to show how energy-efficient building and home technologies are being applied in Edmonton. 
Here are some great stats you'll find on the EcoTours:
The capital cost of a typical commercial building is only 8% of the life cycle cost.  The other 92% is spent on utilities, repairs and maintenance. Looking at the building another way, an $8 million building will cost $92 million over its 50-year life cycle. 
Edmonton's cold weather climate is not a detriment to using solar energy. In fact, Edmonton is one of the best places in Canada to use solar energy; we get more than 2,000 hours of sunshine a year. In Edmonton, solar thermal and solar electric technologies are cost effective - saving you money in the long run.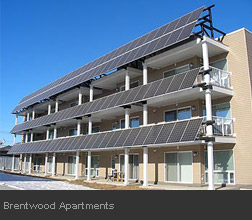 This year, there are eight commercial and industrial buildings on the tours. Experts will be on hand to describe and answer your questions about the technologies on display at each location. The free Eco-Solar Tour of Energy Efficient Buildings is open to the public but is specifically intended to appeal to engineers, architects, contractors and equipment suppliers interested in energy efficient building in Edmonton.
This year's home tour features 12 energy-efficient homes including four net-zero energy homes that harvest more energy than they consume. Also on the tour are five new energy-efficient homes, a home that generates heat and power from an engine in the garage, a renovation of a home into an energy-efficient office and a solar electric system you can lease from a power company.
Lethbridge College site of KidWind Challenge
Lethbridge College was the place to be May 17 when southern Alberta's brightest and youngest wind engineers displayed their innovation at Canada's Second Annual BMO Kid Wind Challenge.
The International Wind Energy Academy (IWEA) hosted Grades 9 to 12 student teams from around southern Alberta as part of the hands-on activities at Canada Wide Science Fair.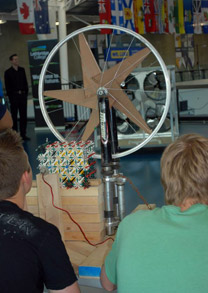 The challenge gave students an opportunity to take part in friendly competition and learn about wind technology in a hands-on format. Students were encouraged to design, build and test their very own two-foot-tall wind turbines in an actual wind tunnel.
Judges from Lethbridge and area with a background in engineering, wind and renewable energy will evaluate the student's work. The turbines will be evaluated based on how much energy they produce, unique designs and reports the students produce as well as knowledge on the subject matter.
Judges will be looking to discover what the students learned about wind energy while they were creating their small wind turbines.
Headline highlights!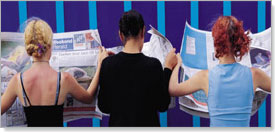 Following is a selection of recent media articles that feature a variety of topics of interest to Alberta's sustainable building community.
Teens' wind turbine kicks up storm (Edmonton Journal, May 24) - The teenagers involved with the Cochrane High School Sustainable Development Committee weren't looking for a controversy. Yet controversy is what their wind turbine project has stirred up in the town of Cochrane, northwest of Calgary.
Self-sustaining skyscrapers (Globe and Mail Report on Business, May 1) - Buildings account for roughly 40% of the world's energy consumption. But is it possible to build a structure that is energy-neutral? Here's a look at how architects and engineers imagine we'll live and work in the skyscrapers of the not-so-distant future.
Sustainable student moving (VUEWeekly, Edmonton, April 25 - May 1) - With over 39 000 students and 15 000 staff-mainly stationed at North Campus-the University of Alberta generates a lot of waste. But an initiative started by the U of A's Office of Sustainability will reduce all waste that now ends up in the garbage to 50 percent on the North Campus by 2015. One of its ideas to get there has been Eco Move Out.
Special Report on Sustainability: University of Calgary's Energy Performance Initiative (WADECanada.ca, April 30) - WADE Canada spoke with Joanne Perdue, Chief Sustainability Officer at the University of Calgary. With the recent announcement that the University of Calgary's Energy Environment and Experiential Learning building has received Leadership in Energy and Environmental Design (LEED) Platinum certification, the University is now home to two of only four Platinum projects on Canadian post secondary education campuses. (Editor's note: LEED Platinum certification has not yet been confirmed.)
Edmonton's development policies add at least seven per cent to cost of construction (Edmonton Journal, April 22) - Edmonton's environmental, art and other policies add more than seven per cent to the cost of putting up the average city building, says an auditor's report.
Earth Day: Let's build 'passive' houses with an eco-punch (Globe and Mail, April 22) - Critics of high-efficiency homes often argue that the cost of building to a higher standard cancels out any economic benefit. Recent, affordable technology proves them wrong.
Edmonton engineering students charged up over zero-emission car (Edmonton Journal, March 18) - University of Alberta engineering students are aiming for the moon - or at least an international mileage record - in this year's Shell Eco-Marathon next month in Houston. The students will unveil their entry Monday morning, a single-seat vehicle powered by a hydrogen fuel cell.
Will Quebec stray from its 'virtuous' energy path? (Globe and Mail, March 15) - For years, Quebec's leaders have constructed a politically profitable narrative about the province's transition toward a post-carbon economy. They have sold voters on the notion of clean hydro and wind power turning the province into an oasis of electric cars and trains.
Sponsors