A district heating system would provide both thermal and electrical energy to the two development areas. It is currently anticipated that a medium temperature system with 90o C (flow) and 50o C (return) will be provided.
All buildings will ensure their building systems, mechanical, electrical, plumbing are configured as "district energy ready." They can do this by ensuring:
adequate space in plant rooms for installation of heat exchangers, controls and metering when a DE system is available,
primary energy distribution systems are enabled to ensure DE systems can connect,

sleeves/ducts are designed and available so they can connect easily to a DE system when it becomes available, and

in the interests of economy and convenience, space is allowed for DE pipes to run through parking structures associated with buildings.
The ambitious Municipality also has plans on the drawing board for new community facilities and amenities, including a new city square, a new arena and an expansion of the popular MacDonald Island Park recreation area.
Wood Buffalo Municipal Development Plan
---
The exciting work in downtown Wood Buffalo is based on the Municipality's Municipal Development Plan (MDP) – Big Spirit, Big Ideas, Big Plan. The Plan was developed in 2011 after significant community input.
Following is the overview statement from the MDP regarding sustainable communities:
A commitment to sustainability hinges upon the need to build attractive, healthy places to live, work, and enjoy across the region. Key considerations include developing urban and rural areas that are more community and neighbourhood centred, are transit and pedestrian oriented, and have access to a greater mix of housing, commercial and retail uses. It also means respecting our natural environment, preserving open space, and offering more recreational amenities.
Ultimately, sustainable communities in Wood Buffalo will come about through responsible development, environmental stewardship, economic resilience, a sense of home and belonging, a vibrant culture, and working together.
First Calgary Financial goes LEED Gold
First Calgary Financial sees its Okotoks branch achievement of LEED Gold as a "milestone in the greening of financial institutions in southern Alberta."
"First Calgary Financial is a triple bottom line company with a stated strategic goal to consider how all of our business decisions impact our environment, "said Paul Kelly, president and chief executive officer. "We don't view this as a one-time achievement, but rather an important step toward our long-term goals."
Calgary Financial received the good word about their LEED Gold achievement in March.
Including their Okotoks branch, the company reports there are only 15 LEED Gold certified buildings in the greater Calgary area. "Our employees live in the communities where they work and care deeply about the impact our corporate activities have on our natural environment," said Kelly. "Our sustainability initiatives are not simply the work of one employee, one department, or one team. It's how we do business."
First Calgary Financial's environmental initiatives include:
Recycling. Work included an external waste assessment audit; as a result, extensive recycling and composting stations were rolled out first to five locations with more to follow. In the first three months, their operations diverted 1,535 kg of plastics, paper, organics and metals from landfills.

Energy, gas and water, including installation of energy-efficient lighting and low-flow plumbing fixtures in many locations.

Transportation, including a no-idling policy around all corporate locations and incentives to encourage employee car-pooling to corporate events.

Purchasing: The company pushes itself to find new ways to reduce its environmental impact across business lines. For example, they look to choose environmentally responsible suppliers and products. Buying "green" helps them improve the safety and health of employees, members and the public, conserve natural resources and energy and improve awareness of environmental stewardship.
Calgary fire station achieves LEED Gold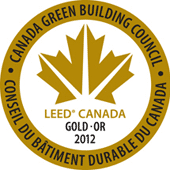 The Calgary Valley Ridge Fire Station No. 35 achievement of LEED Gold enhances Calgary's growing community of LEED certified buildings.
The City of Calgary's Sustainable Building Policy (SBP) came into effect in 2004, providing direction across all City business units and acting as a catalyst for change toward more sustainable building construction and operating practices.
Indeed, Calgary's list of LEED achievements has grown substantially since the SBP came into effect.
As reported in the SBP 2011 annual report, the City added three additional LEED certified projects in 2011 (with the fire station receiving official confirmation in March 2012), for a total of 12 LEED-certified City-owned and City-funded buildings in Calgary's building inventory. The 2011 additions are:
Valley Ridge Fire Station No. 35 (LEED Canada New Construction (NC) Gold),

Oliver Bowen Maintenance Facility (LEED Canada NC Gold), and

TRICO Centre for Family Wellness arena expansion (LEED Canada NC Certified).
The Sustainable Buildings Partnership Program (SBPP) continues to focus on upgrades to existing City-owned facilities to improve energy and water efficiency and to measure the performance of existing buildings. Projects include energy audits, lighting upgrades, sub-meter installations, a solar thermal pilot project, irrigation controls to reduce water use, a green roof initiative and a material reuse demonstration.
The SBP responds to the needs of individual business units, industry trends and technical innovations, aligning with the strategic vision and direction set by City Council.
The City continues to build on lessons learned to demonstrate that strategic planning, innovative ideas and fiscal responsibility will result in an inventory of sustainable buildings that pass on economic, social and environmental benefits to generations of Calgarians to come.
How products earn LEED points
by Andrea Pelland, Principal, EcoAmmo Sustainable Consulting Inc.
If you're a product manufacturer wondering how your product or material can help achieve LEED points, don't worry – you're not alone.
Confusion as to how the use of product or material can contribute to the achievement of LEED points has led to hastily prepared LEED compatibility forms with misleading or incorrect information. 
Most often, these mistakes reflect a lack of knowledge about LEED rather than deliberate attempts to sell products, but manufacturers should be aware that the market is evolving and LEED users are becoming much more savvy.
Having poorly prepared LEED materials could hurt your reputation.  On the other hand, having well-researched and easy-to-understand LEED compatibility information will make it simple and painless for users to specify your product, leaving them feeling assured that you know your stuff! 
Below are two of the most common errors we see:

#1. LEED compatibility forms should tell people which LEED credits the product is compatible with. In other words, articulate how the product will help contribute to the achievement of LEED points. 
Many LEED forms on the market today state the use of a product will achieve LEED points, or even claim a product is LEED certified.  Both of these statements are incorrect because no products are certified or endorsed by LEED, and no LEED credits can be achieved by using just one product!  If you ever see claims like these, beware!
#2. Many LEED forms confuse product features with LEED compatibility.  For example, you might manufacture a hand dryer that contains recycled content in the plastic casing; you might then assume the use of your hand dryer will contribute to the Recycled Content credit. 
However, the truth is very different. Although the fact that your product contains recycled content is AMAZING and should be plastered all over your marketing materials, the Recycled Content credit does not include mechanical, electrical or plumbing components, and therefore the use of your hand dryer that contains recycled content will not contribute to the achievement of Recycled Content LEED points and should not be included on your LEED compatibility forms. 
It is important to understand that your LEED forms should stick to "just the facts, ma'am."  After careful investigation, you may find your product is directly compatible with only one or two LEED points – that's okay!  It is more important that those one or two points are well thought out and accurate, rather than listing 10 credits that are not actually useful to the LEED user. 
When your LEED forms are more about product features than actual LEED compatibility, the user will be left feeling skeptical about your LEED knowledge and annoyed at having to re-do your work for themselves.
If any of you have had to track down LEED compatibility for yourselves, you will know how frustrating and time consuming the process can be.  Therefore, it is very important to thoroughly research and understand how your product fits within the various LEED systems and how to best communicate this to LEED users. 
For more information, contact me.
Alberta Chapter Scholarship Fund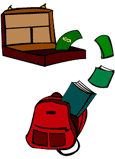 Did you know the Alberta Chapter, CaGBC will award two scholarships in 2012 from our scholarship fund?
One scholarship will be awarded at SAIT and the second at the University of Calgary.
The scholarship fund was initiated in 2011 to support young people with a passion for the sustainable building industry.
"The scholarship fund is a win/win. The students who receive the funds welcome the financial assistance. As important, they recognize they are being supported by a powerful and influential network of professionals who share their vision of a more sustainable world," says Tanya Doran, Alberta Chapter Executive Director.
"On the other side of the ledger, the scholarship fund offers an appropriate avenue for members of our profession to support the industry as a whole."
For example, the City of Medicine Hat made a donation to the scholarship fund on behalf of the speakers at a two-day ISO 14001 session held in May.
Similarly, the 2012 Alberta Sustainable Building Symposium donated to the fund instead of offering speakers more traditional, individual gifts.
Keep the fund in mind if you or your organization is looking for ways to support our sustainable community. Any donation is welcome. As well, a growing number of employers will match personal donations or will provide a donation to the fund on behalf of their employees.
For more information, contact Tanya.
Headline highlights!
Remember the days not so long ago when there was good-hearted discussion about whether sustainable building and developing sustainable communities had achieved mainstream recognition and profile?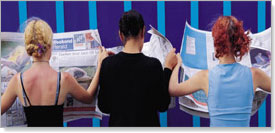 It has!
Following is a selection of recent media articles that feature a variety of topics of interest to Alberta's sustainable building community.
"A new approach to infrastructure " (April 12, Calgary Herald) - Collaborative planning that transcends municipal departments and develops a holistic approach to emerging challenges is putting a new spin on infrastructure development.
"Not thinking green will hurt Canadian businesses internationally" (May 16, Calgary Herald) - Canadian businesses are facing "significant economic repercussions" that will affect the country's growth and international competitiveness because of inadequate policies to ensure environmental stewardship through the lifespan of products, says a report released Wednesday by a doomed federal advisory panel.
"Low-energy home yields big rewards" (May 18, Edmonton Journal) - Let's get this out of the way, shall we? Dennis and Christy Cuku live in a gorgeous country home tucked into the woods, about a 20-minute drive west of town. The polished concrete floors, south-facing window wall, stone fireplace, stained woods and majestic view of glade and glen make this feel like a visit to a royal hunting lodge. Minus the taxidermy.
"Off-the-shelf solar systems ease hassles of going green" (May 18, Edmonton Journal) - Karl Kovacs' bungalow in the Argyll neighbourhood is like many other Edmonton homes — a small front porch and a tidy front yard on a pleasant tree-lined street. Yet Kovacs' home features something different. On his roof, glinting in the bright spring sunshine, are 24 solar-electric modules that generate electricity for the Kovacs' home.
"City seeks cost info on going green" (May 24, Edmonton Journal) - City councillors want more details about the cost of going green before they look at plans to encourage renewable energy in Edmonton.
"Does it benefit your company to go green?" (May 24, Globe and Mail) - Government-mandated environmental audits don't come cheap. So when Staples Advantage, the B2B arm of the office supply giant, found that it could eliminate the consultant and assign the work to an internal "green team," the choice was a no-brainer.
"U of C award winner capitalizes on green technology" (June 1, Calgary Herald) - Nick Blitterswyk lives in fast-paced New York City and helms a company that, in less than five years, has grown from a three-person startup to an international operation employing 160 people.
Canada's first annual KidWind Challenge

High school students from across southern Alberta got a hands-on opportunity May 11 during the KidWind Challenge to explore the promise and limits of a wind-powered future.
Organized by the International Wind Energy Academy (IWEA) at Lethbridge College, KidWind is a student-oriented wind turbine design contest. Students spend a couple of months designing and constructing their own wind turbine as efficiently, elegantly and functional as possible.
Using two-foot wind turbines, teams compete to see how much electricity they generate in a fabricated wind tunnel with four 20-inch fans.
"At its core, the event is about learning. We want to immerse students in the science of how a wind turbine works through the process of design and redesign," says Kris Hodgson, Wind Energy Community Liaison at Lethbridge College. Kris says this is Canada's first KidWind Challenge, and he hopes the event becomes an annual event.

Kris says the College received Rural Alberta Development Funding for a mandate of "Community Capacity Building for Wind Energy Development" in 2010.
"Since then, we have educated more than 500 elementary and high school students across southern Alberta, spoken at a multitude of conferences across western Canada about facts and myths of wind energy, met with many municipalities to encourage renewable energy development and have developed new programs to build on our famous Wind Turbine Technician Program that has been training 45 graduates a year since 2005 to work all over the world."
Some of those new programs include a small wind and solar installation program, wind park construction, high angle rescue, high voltage training and a powerlinesman course (starting 2013). As well, the College is developing Supervisory Control and Data Acquisition (SCADA) and advanced wind courses like a SCADA program.
"At every opportunity, we are spreading the word to landowners, municipal leaders, teachers, students and economic developers that we have an incredible opportunity to harness the power of our abundant natural resources – and wind power is a perfect staging point," concludes Kris.
Book review by Jen Hancock, Chandos
The Commercial Real Estate Revolution
by: Rex Miller, Dean Strombom, Mark Iammarino and Bill Black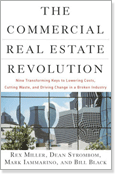 The Commercial Real Estate Revolution takes a candid look of some of the construction and design industries' biggest inefficiencies, blemishes and problems.
In particular, the authors examine the design-bid-build (DBB) process and illuminate some of the issues with it: lack of time, lowest bid wins, silos, new team on every project and the ensuing inefficiencies that can result from this process.
They then go on to detail the 'mind shift' needed to transform our industry from this stagnant and inefficient place in the market to a more dynamic and efficient process that works for all parties involved. As the authors point out, DBB has been around for more than 50 years. While other industries, such as manufacturing, have become more efficient, the construction industry and its processes have stayed relatively the same. So if it's time for change, then how do we go about it?
This book identifies nine keys to 'lowering cost, cutting waste and driving change in a broken industry' and covers some of the hottest design and construction topics: BIM, sustainability, lean, and IPD to name a few.
The third key, 'built-in sustainability,' is of special interest to those wanting to learn about cost-effective sustainability.
Many of us working in the industry - owners, operators, designers or contractors - have been trying to quantify the cost of designing and building green. Authors Miller, Strombom, Iammarino and Black argue that green shouldn't cost more. As the chapter title implies, you must begin with the goal of sustainability rather than considering it as an add-on. Combine this built-in sustainability with an experienced team and green building is possible at the same cost as conventional construction. This oversimplified summary doesn't go into enough detail, of course; you'll have to read the book for that.
If you agree the industry needs to change, this book isn't going to solve all of your problems. In fact, reading it is only the beginning; the actual mind shift is going to take time, dedication and hard work. I do like the fact, however, that the authors don't try to gloss over the difficult work ahead nor the time it will take to get there. They are honest and provide tools, case studies and motivation for making the journey.
The Commercial Real Estate Revolution is an informative and necessary read no matter where you are on your path to change.
Green Energy Futures
A new initiative, Green Energy Futures, has set its goal to help Canadians understand the potential of and embrace green energy solutions.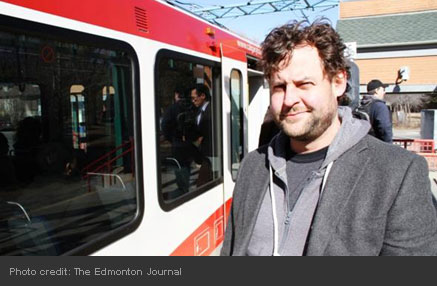 Green Energy Futures shares the stories of green energy pioneers. Individually, these people are doing interesting projects; together, they are leading us all to a more sustainable energy future.
The initiative is new; the very first episode of Green Energy Futures featuring author Chris Turner went live May 5. That date coincided with the debut of the Green Energy Futures column in the Edmonton Journal.
So, what action does the Green Energy Futures team want as a result of their efforts?
"We want to empower green energy keeners, to feature and inspire entrepreneurs, to tell the stories of amazing things going on in Canadian towns and cities and help interested citizens get engaged with green energy solutions," says Duncan Kinney, Green Energy futures Editor/Production Manager.
Take a few minutes to review the website. It's worth the look.
Introducing the GREEN UP public website
Want a wealth of information on GREEN UP, an innovative new energy reporting and benchmarking program from the Canada Green Building Council (CaGBC)? You're in luck – check out the new public website.
The website is chock full of useful and interesting tools and information. You'll find a program overview, features-at-a-glance and an image gallery that shows what these new comprehensive GREEN UP dashboards will look like.
The website also gives you screenshot previews of GREEN UP's new dynamic data visualization tool. With this tool, you'll be able to:
consolidate, analyze and benchmark performance,

target and track sustainability projects,

compare with your peers, and

improve portfolio performance.
If you would like a more in-depth explanation of the program and what it has to offer, CaGBC can arrange a demonstration with you. To book this demonstration or to find out more about this exciting new offering from CaGBC, call toll-free at 1-866-941-1184 or e-mail greenup@cagbc.org.
GREEN UP is Canada's building performance program for building owners to manage, compare and improve their real estate portfolios. The program provides affordable access to a national, dynamic database that includes building performance data from multiple sectors, such as office buildings, MURBs, long-term healthcare, K-12 schools, and government.
Stay tuned to the website and your e-mail inbox for more updates in the months to come.
Alberta SBS 2012 – what they said
What a great event the Alberta Chapter hosted May 3 at the BMO Centre in Calgary!
More than 200 industry professionals attended Alberta Sustainable Building Symposium 2012, to take in international keynotes, local and regional speakers presenting case studies and hands-on practical tips, exhibitors displaying the latest and greatest – and, of course, enough networking time to greet old friends and meet new ones.
But, really, how did the 15th annual Symposium go?
All of the staff was very friendly and helpful. The food tasted good and the happy hour was a great way for people to socialize. I am looking forward to see what you guys have for next year!

Great job this year - the new format is working well and the new speakers/topics were great to see.

I look forward to this event every year and always come away with some great ideas and feel motivated about the movement.

Keep up the good work. I will be there next year!

Overall a very good day that went by quickly due to lots of presentations with a good selection.

The keynotes were great! The food services were great!

The success of the Alberta Sustainable Building Symposium comes from the contributions many individuals dedicated to making each production the best experience possible. This event has gained momentum every year.  Thanks to all of the people behind the scenes for their part in 15 years of insight and inspiration.  

One city, one venue is more appropriate than previous two-city, two venue approaches.

I had a great time at the ASBS. Good job!