Just what are the responsibilities of EGB coordinators? Simply, they encourage EGBs – the young members of our Chapter and our profession – to get project experience, build their network of professional colleagues and increase their understanding of the Chapter and how it supports our industry.
More specifically, EGB coordinators:
host regular EGB meetings in Edmonton and Calgary to discuss EGB initiatives, events, and project-related issues,
participate in the national EGB Committee to develop the EGB group startup package,
participate in the Alberta Chapter board meetings to provide direct feedback to and from Chapter EGBs,
organize building tours for the Chapter to showcase the great buildings in our province,
develop the EGB mentorship program,
organize the EGB Design Competition to be held in fall 2012, and
organize events, programs and networking sessions that will benefit the professional growth of EGBs in our industry.
Adrienne Haak is well qualified for her new role. Her interest in sustainability and energy efficiency led her to earn her LEED Accredited Professional (AP) designation and her Construction Technology Certificate from the Northern Alberta Institute of Technology (NAIT).  Adrienne's experience from her involvement on a wide range of project types enhances the reduction of the environmental impact and contributes to sustainable innovation.
Adrienne has been involved in the following LEED projects:
CWB Jasper Avenue Project, LEED® -NC (Edmonton)
Clareview Community Recreation Centre and Library, LEED® (Edmonton)
Stantec Interior Renovations, LEED® -CI (Red Deer)
Eastgate Business Park Office Building, LEED® -CS (Edmonton)
City of Edmonton, South-West Police Station, LEED® -NC (Edmonton)
Dundee Office Tower, LEED-NC (Yellowknife)
Grant MacEwan Administration Building, LEED-NC (Edmonton)
Yellowknife Fieldhouse, LEED-NC (Yellowknife)
Federal Building Rejuvenation/Restoration,  LEED-NC (Edmonton)
Edmonton Eskimo's Field House,  LEED-NC (Edmonton)
Centre in the Park, LEED® -NC (Sherwood Park)
Jessie Roy is a keen participant in the Calgary green building community, a LEED Green Associate and project manager at Patching Associates Acoustical Engineering.
Outside work, Jess is a regular at the Sustainability for Breakfast networking group and a dedicated volunteer with APEGGA Science Olympics and the Alberta Acoustics & Noise Association. With her background in mechanical engineering and a broad range of project experience, Jess is excited to bring her unique technical expertise and enthusiasm to the Emerging Green Builders group.
Jess has been involved in the following LEED projects:
Pine Creek Wastewater Treatment Plant (Calgary)
Connaught School Redevelopment (Calgary)
Edmonton Habitat for Humanity Precast Concrete Home (Edmonton)
Agrium Western Event Centre (Calgary)
Alberta Sustainable Building Symposium 2013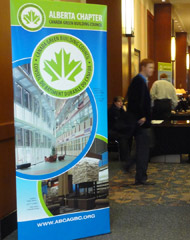 Mark your calendars – Tuesday, May 7, 2013 in Edmonton – for the Alberta Sustainable Building Symposium (ASBS) 2013.
With the symposium's new single-city format, Alberta's premier sustainable building event will be held in Edmonton, at the Edmonton EXPO Centre in Northlands Park, in 2013.
Interested in sharing your innovative project or approach with the leaders and decision-makers of the province's green building industry during the event? Then keep your eye out in September for the ASBS 2013 Call for Presenters.
And if you would like to receive direct e-mail notices about the symposium and when registration opens, simply e-mail Perspectives editor Wendy Campbell.
Green Rater: the new kid on the LEED block
by Tyler Hermanson, LEED AP+H, LEED Faculty
You may have heard the terms "Provider" and "Green Rater" in relation to the LEED Canada for Homes program – but what do they do and how do they support sustainable building in Alberta?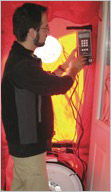 In short, Providers are the organizations that administer the LEED Canada for Homes program locally, completing the final project review and ensuring all required submissions are made to the Canada Green Building Council.
Green Raters are the technical side of the inspection verification team. They report to the Provider, helping the project team throughout the project and completing the on-site inspection work.
"This system provides a triple check system of verification for LEED homes. The Green Rater checks the builder and trades; the Provider checks the Green Rater's work and the CaGBC checks all projects submitted by the Provider."
The system encompasses various business models for the relationship between Provider and Green Rater. Some Providers like me are also qualified as a Green Rater. I have other in-house Green Raters and am also looking at contractor Green Raters. Other Providers have no in-house Green Raters and use contractor for all inspections.
"The role of a Green Rater isn't always clear for builders and those new to the program. A Green Rater is part consultant, part inspector and part file manager. We act as a key point between the building project team and the CaGBC and Providers who certify the home."
A Green Rater:
helps projects navigate the LEED process and requirements, offering clarification and additional information (for example, offering advice on proper features for good Radon sealing when protecting foundations from sub-soil gasses),
completes visual inspections and reviews support documentation to ensure all credits are verified (for example, completing required inspections for insulation during construction and final inspections upon completion),
collects documentation and accountability forms from the project team, often the builder or architect, and compiles them into a package for submission (for example, project teams have several required accountability forms and signatures in all LEED projects, and some credits required additional signoff),
signs off on the LEED project as compliant with the standard before quality assurance and auditing by the Provider and CaGBC (for example, Green Raters must approve a project as compliant and meeting the certification levels before a project is submitted for certification).
A good Green Rater will not act as the "Green Police" on a LEED Canada for Homes job site but, more importantly, as an educator and resource for project teams to use as they move through construction and certification.
Current Green Raters come from a variety of backgrounds but they will have experience in residential construction and high-performance, sustainable building practices. Some are technologists or engineers, often with a background in EnerGuide or R2000 construction.
Often Green Raters have additional credentials as Certified Energy Advisors with EnerGuide, ventilation training through HRAI and additional building science or building investigation training. They have valuable experience with LEED and energy-efficient building techniques and they can be of considerable help to project teams working toward LEED certification.
About the contributor:
Tyler runs 4 Elements, a LEED Provider and design firm based in Calgary. Tyler has been active in the LEED Canada for Homes program since its pilot phase; he and his team are currently involved in 32 LEED projects, over 249 homes across Alberta.
Interested in becoming a Green Rater?
The process starts with a single step – approaching your area's LEED Provider.
Alberta has two Providers - Alberta Chapter – CaGBC members Tyler Hermanson of 4 Elements in Calgary and Stephani Carter of EcoAMMO in Edmonton .  Providers do not have fixed territories, but its often best to work with your nearest Provider.
After you start the process, Tyler or Stephani would review your credentials. There is no formal training or exam for Green Raters in Canada so acceptance is up the Provider.
Green-Raters-In-Training would then start a mentorship / shadowing process with an experienced Green Rater. It is expected that Green Raters will at minimum pass their LEED AP+Homes shortly after completing their mentorship. As the program continues to grow, the need for additional Green Raters will increase, especially in outlying areas or smaller city centres such as Red Deer, Medicine Hat and Grande Prairie.
LEED Canada for Homes – an overview
The LEED Canada for Homes program was launched in March 2009, the newest LEED certification suite on the market.
Since its inception, the program has certified more than 400 Canadian homes and multifamily projects with more than 2,100 projects registered.


In Alberta, 221 single-family homes and 37 multifamily homes are registered with the LEED Canada for Homes program.

LEED Canada for Homes is built on the same model as other LEED programs so the intents, credit areas and checklist will be familiar to existing LEED APs.

Some significant differences, however, simplify the program to match the smaller scale of single-family homes and their construction process.

Unique features of LEED Canada for Homes include:
the use of local Providers to promote, administer and organize projects regionally,
the requirement of on-site inspections by a LEED Green Rater during and after construction,
the requirement for very little documentation to be submitted to the CaGBC,
the speed of certification, typically only two weeks once documentation is submitted, and
significantly lower certification costs , often as low as $2,000 per home or $650 per unit on larger multifamily sites.
A different Elbow Valley home
With a 7,000-square-foot house and a 2,000-square-foot garage, the environmental footprint of this Rocky View County home must be huge. Right? Wrong.
A Calgary couple are building an impressive two-storey home, situated in the Elbow River corridor on 1.1 acres next to a four-acre municipal reserve and a children's playground. While the architectural appeal of the home is apparent at first glance, the homeowners are equally excited about the possibility of their nearly completed home achieving LEED certification.
With an impressive range of sustainable features, and help from Green Rater and Home Provider Tyler Hermanson, the Calgary couple included the following features in their home to ensure solid construction while meeting their objective of building an environmentally conscientious home:
a large roof solar panel array that meets 100% of the household's electricity needs,
Insulated Concrete Forms (ICF) that allow for thermal mass in the lower level of the house for increased energy efficiency,
prefabricated, factory-built insulated main floor walls that deliver an R38 insulation factor while reducing onsite construction waste,
Pinkwood engineered i-joists, dimensional lumber and wall and roof sheathing that provide fire protection as well as moisture and mould resistance to all the wood framing and floor systems,
a high-efficiency natural gas-fired boiler system,
an in-floor radiant heat system that provides baseline heat in cold months,
triple-glazed, low-energy windows,
a dual heat recovery ventilation system, and
a hot water circulation pump,
automated lighting, heating, water sensor and security controls with features controllable remotely by iPhone, and
disposal of construction waste through recycling.
Outside, the project is focusing on a sustainable landscape design with naturalized and permeable features including a high-efficiency irrigation system.
"We are particularly proud of our use of the Pinkwood products for our floors, walls and roof," said the owners. "Pinkwood engineered wood improves the air quality of a house by eliminating the potential of mould. We are also very pleased that our solar electricity system can take advantage of Alberta's micro-generation rules to allow homeowners to sell electricity to the grid."
Alberta's micro-generation rules came into effect January 1, 2009, significantly simplifying the grid connection process for micro-generators such as these homeowners. The regulation allows offsetting the site energy consumption with the energy generated on site, so-called net metering.
Construction of the home, started in June 2011 and nearing completion, has been an intensive undertaking.
Has it been worth the challenge?
"Going green is easier than most people think. Homeowners have to do a little research and educate themselves about the myriad ways to produce an environmentally friendly home while being able to finish a home in the style and design of their choice. There are some great, cost-effective consultants in Calgary who can help people understand what green elements are important, what they cost and how to set priorities among the options," explains the couple.
"We are amazed how quickly some green elements literally pay for themselves. It was also important for us to incorporate these features in our home as a way to set an example for our three young kids of how to respect limited natural resources in everyday life."
The owners have become huge advocates for green. "Our experience is that one can build an architecturally stylish home while achieving important environmental efficiencies with just a little planning.  It is clearly possible to achieve good returns on investment from electricity and heating savings with green elements such as solar panels, heat recovery units and higher insulation values.
"We would urge those families interested in an environmentally efficient build or renovation to take some time to research environmentally conscientious features to determine what they believe to be important, then contact energy efficiency and/or LEED consultants to help them build a sustainable house they will love and be proud of."
Boreal forest lodge – LEED certified
The attractive Leismer Lodge, a housing complex for Statoil workers in Conklin, near Fort McMurray, hosted its LEED commissioning ceremony on June 13.
Completed in February 2009, Leismer Lodge exemplifies Statoil's commitment to "reduce the negative impact of [their] activities and products on the environment."
The building is an attractive, comfortable and sustainable home-away-from-home residential complex that accommodates about 500 staff members.
The design of the central core facility of the lodge, which is connected to modular housing units, incorporates food preparation and service spaces, leisure and recreation spaces, administration and meeting spaces, lockers, utility and support spaces. The lodge is integrated into the native boreal forest and sensitive to community needs.
Welcome to my (near-net-zero) home!
Edmonton architect Shafraaz Kaba took the "doors open" part of the recent Historic Festival & Doors Open Edmonton event literally.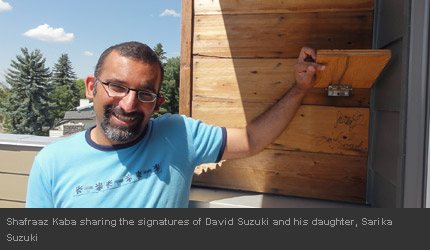 The Kaba home was one of the listed private residences open for public viewing during the July 3-8 festival.
The Beverly Heights net-zero-ready home on Ada Boulevard was described as "an experiment in the reuse and reclamation of materials, a passive-solar design and creating a unique, sustainable example for redevelopment in a mature neighbourhood."
It was a busy place with individuals examining the many features of the unique home and then enjoying the wonderful river valley view from the second storey balcony.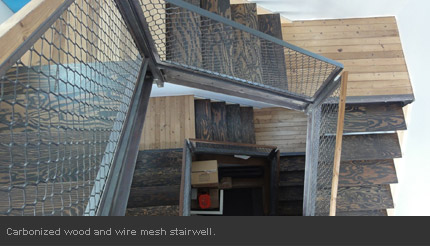 While some finishing remains, Shafraaz is particularly proud of the following features:
designed around a passive solar strategy using low-tech solutions to achieve a high performance result,
the most high-tech part of the house is a 4.8 kW solar PV system,
the innovative reuse of materials including church pews as window seats and door casings, fridge doors as pantry doors and reclaimed gym flooring in a randomized pattern,
testing carbonized wood for durability and colour steadfastness for our climate, and
the small ground footprint for a relatively large edible garden/permaculture.
Headline highlights!
Following is a selection of recent media articles that feature a variety of topics of interest to Alberta's sustainable building community.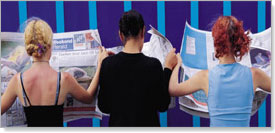 Prosperity allows Edmonton to chart a clean, green future (July 19, Globe and Mail) - Faced with the prospect of an empty site in the middle of the city, with 300 acres of land ready to be developed, a lot of municipal governments would have seen nothing but dollar signs.
Plan places city 'on top of the world' (July 18, Edmonton Journal) - Mayor Stephen Mandel called redevelopment plan for the City Centre Airport "dynamic" and "innovative" after seeing for the first time extensive details of what the planned community will look like.
Canadian projects named on global list for innovation in urban infrastructure (July 17, Globe and Mail) - Six Canadian projects have made a global list of the 100 most innovative and inspiring urban infrastructure developments. Projects – ranging from a renewable energy system that feeds off yard waste to a billion-dollar airport redesign – in Calgary, Toronto, Vancouver, Courtice, Ont., and Richmond, B.C., join a collection of international cities recognized by the Infrastructure 100: World Cities Edition report, released on Tuesday by the KPMG infrastructure advisory practice.
Canadian cities trying to redefine what it means to be an urban planner (July 6, Globe and Mail) - When Rollin Stanley worked for the City of Toronto, he often joked that he didn't "do suburbs." Last month, shortly after he started a new job as Calgary's top planning official, a local alderman presented him with a bumper sticker that read, "I do suburbs, and I do them better."
Hilton joins remake of Calgary's oldest neighbourhood – (June 19, Globe and Mail) - Since it was incorporated as a town in 1884, Calgary's downtown east end has seen its share of colourful hotels come and go.

Lakeland College opens new research centre (May 31, Vermilion Standard) - Leading the way in renewable energy research, Lakeland College opened its latest research facility on the Vermilion campus, which has the potential to change the way Canadians consume and store power.
Technology changing the way construction business is done (May 19, Calgary Herald) - BIM me up, Scotty. That's the message being heard by trade schools across North America as the construction industry goes high-tech.
Alberta Emerald Awards winners
The 21st annual Emerald Awards honoured organizations and individuals alike for their innovative ways of balancing Alberta's rich resources with environmental stewardship.
In the June 6 ceremony, held in Calgary, several award recipients were recognized for their sustainable building tenets. Descriptions of the winning entries:
Landmark Group of Builders – Large Business category
Project: Landmark Panelized Construction System (LPCS)
The LPCS is not only leading the home building process in Alberta, it's transforming it - making home building more efficient and effective while leaving a vastly greener ecological footprint.
Panelization of floors, walls and roofs, and the construction of key components like stairs and fireplaces, eliminate weeks of time from the building cycle. LPCS is home building, revolutionized.
LPCS reduces greenhouse gas emissions by a whopping 6.21 tonnes per home. And, because each piece of wood used is value engineered, LPCS produces an incredible 58% less waste.
Executive Mat Service Ltd. – Small Business category
Project: Hazardous towel to clean energy
The use of cloth or paper towelling to wipe or absorb hazardous oils and solvents is widespread in Canadian industry. These oils and solvents are often referred to as volatile organic compounds.
Towels contaminated with VOC's are deemed hazardous and cannot lawfully be landfilled. Executive Mat Service has developed a solution to the problem of what to do with these contaminated towels by using "Air Assisted Vapour Recovery Technology" to remove harmful VOC's from the towels.
VOC's are condensed to a liquid and used as a fuel source within our operating plant. Cloth towels are laundered and made available for reuse. Paper towels are converted to thermal energy using our unique in-house gasification technology.

University of Calgary (U of C) Solar Decathlon Team – Educational institution
Project: U of C TRTL solar home
The University of Calgary TRTL (Technological Residence, Traditional Living) home is a fully sustainable house designed as a partnership between U of C students and the Treaty 7 Aboriginal community to enter in the 2011 U.S. Department of Energy Solar Decathlon.
Incorporating technology and tradition, the 8.7Kw solar-powered home was built with longevity and cultural sensitivities in mind, exemplifying experiential, multidisciplinary learning inside and outside a classroom.
Editor's note: Check out the September 2011 Perspectives article regarding the TRTL home.