Complementing these passive (and largely forgotten) techniques of the 1930s era, the renovation added modern technologies. A solar hot water system, for example, provides enough renewable energy for the building's domestic hot water system while chilled beams are used to efficiently cool the office space.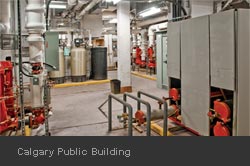 Photo credit: courtesy of Stantec
All of the mechanical, electrical and plumbing systems include measurement and verification (M&V) technology allowing the City to confirm the energy savings predictions made during the design phase of the project. In addition to the M&V technology, a unique digital commissioning system gave each piece of commissioned equipment a barcode which can be scanned with a tablet computer during and after construction, enabling the user to access installation, operations and maintenance, commissioning and shop drawing data on the device.
The restoration resulted in a contemporary office space with superior indoor environmental quality and energy efficiency, while respecting the aesthetics of this historic building.
The livability of the space was dramatically improved as evidenced in the reduced number of service calls initiated by staff and an overall improvement in occupant satisfaction rates.
Northern Sunrise County and Partners Regional Water System Treatment Plant
Forming a partnership of several northern Alberta communities to build a new water treatment plant –now certified LEED Silver – is a win/win situation.
The communities of Northern Sunrise County (NSC), the Village of Nampa and Woodland Cree First Nation (WCFN) formed a collaborative partnership to meet the future water needs of their communities.
The new water treatment plant replaces two outdated plants and includes a raw water transmission line, desilting pond, raw water reservoir, water treatment plant (WTP) and regional transmission line system.
The $45 million project, located near Peace River, features innovative and ambitious design that includes: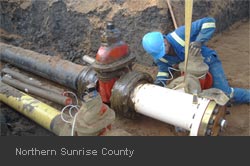 a smaller building envelope on the site,

storm water management to control runoff,

a solar wall pre-heat air ventilation system,

a high R-value building envelope,

daylighting,

local and recycling content construction materials,

low VOC paint/sealant,

improved thermal control and comfort,

energy-efficient lighting,

drought-tolerant landscaping, and

water-efficient plumbing fixtures.

The plant is expected to reduce energy use by 58% compared to Model National Energy Code for Building (MNECB).
"Although sustainable design initiatives may at times come at a premium, the payback period, or life-cycle cost savings, is often positive," says Peter Thomas, Chief Administrative Officer for the region. "By implementing sustainable design, building owners can expect reduced operation and maintenance costs, in addition to the environmental benefits."
Signal Hill Library expansion and renovation – LEED Gold
This unique project included renovation of the existing library branch and a new 621-square-metre addition, all completed while the library remained open and operational.
Of special note are the building envelope and the mechanical and electrical systems.
The building envelope balances the need to mesh with the existing structure while contributing to the health of the indoor environment, improved energy performance and the ongoing durability of the building.
A new triple-glazed, low-e curtainwall system and three skylights allow for generous daylighting in the reading areas and a healthy learning environment.

The thermally improved glazing ensures the library is comfortable.

Energy use and carbon footprint are minimized. The potential for air and water leakage was minimized to ensure the building will stand the test of time.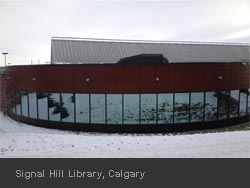 The mechanical and electrical systems provide an excellent example of how to achieve energy efficiency for a small building.
The commercial rooftop AC units at the centre of the design are provided with airside energy recovery, economizer mode and the highest Energy Efficiency Ratio (EER).

Zone CO2 sensors are connected to the main RTUs to provide demand-controlled ventilation while remaining areas have CO2 monitored by the building automation system.

Heating is provided by finned convector systems fuelled by a high-efficiency condensing boiler.

Domestic hot water to low flow fixtures is supplied by a high-efficiency hot water heater.

Lighting is provided by high-efficiency T5 and T8 fluorescent fixtures connected to occupancy and daylight sensors to capitalize on the daylight provided by skylights, clerestories and glazing.

The exterior site lighting uses full cut-off, dark sky compliant luminaires to preserve the nighttime environment, prevent unwanted lighting of adjacent properties and further reduce lighting energy. The result is a building that saves an impressive 49% in annual energy costs compared to the MNECB – and over 82 tons of CO2 equivalent annually!
Other sustainable features include:
a low-carbon transportation plan encouraging employees and visitors to travel by bicycle, public transit and carpool,

low-impact lighting to respect the adjacent public park and naturalized zone,

water-efficient water closets, urinals, faucets and showers –resulting in water savings of 155,265 litres annually (51% LEED water savings),

electricity use is 100% offset by purchased green power for the first two years,

best practice commissioning program addressing maintenance, operations and energy performance,

reuse of the existing building structure, avoiding the environmental impact of new materials,

use of sustainable building materials including FSC certified wood and regional or highly recycled materials,

sustainable construction plans addressing the local environment, indoor air quality and construction waste diversion

use of low-VOC, environmentally friendly construction materials to preserve indoor air quality, and

a green housekeeping plan using products certified by GreenSeal and EcoLogo.
Servus Credit Union – LEED Silver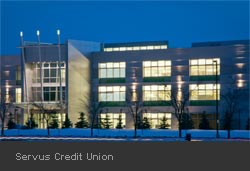 The LEED scorecard for Edmonton Servus Credit Union Corporate Centre confirms LEED Silver. A dramatic increase in energy savings and comfort tell the real story.
When an international corporation constructed this building in Edmonton's Research Park, they did not start with a new design. According to architect Manasc Isaac, the corporation instead built a clone of another design they had previously built in Oklahoma.
What suited an Oklahoma climate did not suit our harsher climate despite the fact the building was only a couple of years old.
Manasc Isaac rejuvenated the building, showcasing Servus' vibrant corporate image. The dramatic renovation included:
a new front entrance and canopy,

a light well in the centre of the building, welcoming light to pour in and improving the work environment,

a building automation system to control air flow rate and temperature based on time occupancy to reduce energy costs,

the use of low-emitting materials,

reinsulated and reclad building envelope, and

an innovative window replacement strategy, using locally manufactured, high-quality and ultra-high performance operable windows, allows optimal natural lighting inside the facility.
Behind the scenes, the numbers are impressive. For example:
The building's existing irrigation system was removed – it wasn't needed – and low-flow fixtures were installed throughout the building. Result: a 25% water reduction.

A new layer of insulation and cladding was added to the exterior. Result: a 46% reduction in energy consumption relative to the Model National Energy Code for buildings.

The project also resulted in a 70.5% reduction in natural gas use and a 42.5% reduction in power use.

As well, 96% of the building's existing walls, floors and roofs were maintained; 80% of the construction waste was diverted from the landfill – and Servus installed facilities for a recycling program in the building.
Based in Edmonton, Alberta, Canada, Manasc Isaac built the first C-2000 green building, Alberta's first LEED certified building and Edmonton's first LEED Silver building. The Corporate Centre renovation is a reimagine project – a Manasc Isaac initiative to transform existing buildings into beautiful, healthy, sustainable spaces.
BMO Macleod Trail South – LEED Silver
When next you're travelling on Calgary's Macleod Trail, take a moment to give a wave of acknowledgement for the BMO Macleod Trail South branch for achieving LEED Silver certification.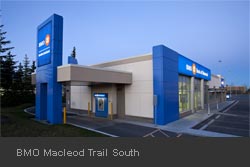 The branch, a new stand-alone location, incorporates a number of green building strategies including:
site selection,

use of local, recycled and recyclable materials,

low-flow plumbing fixtures,

high-efficiency building systems, and

an interactive display for users.
Specifically, the project scored well for water efficiency and innovation and design.
Property owner First Capital Realty and property manager (and the subsidiary responsible for construction) First Capital Asset Management ULC initiated the LEED certification process. Project architects BKDI Architects are involved in a range of projects for BMO throughout Southern Alberta.
Lillian Osborne High School – LEED Silver
In a word, a wealth of practical sustainable features that emphasize natural light, energy efficiency and environmental comfort earned LEED Silver for this Edmonton high school.
Paying particular attention to the Indoor Environmental Quality (IEQ), architect DIALOG of Edmonton incorporated a host of green features into the school. It opened its doors for the 2009-201 school year, underlining the Edmonton Public School Board commitment to providing superior learning environments for their students.
The green features include:
a light-filled gathering space at the main entrance that connects the Academic Learning Centre and the gymnasium to form the heart of the school,

a roof that opens the Learning Centre to the sky and a glass wall that connects the Centre to the adjacent gathering area and the exterior landscape,

high performance, energy-efficient lighting systems,

mechanical and lighting systems that allow increased controllability of these systems for the users,

effective ventilation systems that assist in ensuring thermal comfort for the students and faculty,

carpets, paints and adhesives with low volatile organic compounds (VOCs), and

a school commitment to use only "green" cleaning products and chemicals.
Check out DIALOG for more about the high school.
Photo credit: courtesy of Tom Arban Photography Inc.
Wood construction – a welcome member of the sustainability family
Is wood getting a fair hearing as a viable sustainable building material – or is it justifiably being replaced because of the obvious energy-efficient merits of concrete and steel construction?
The debate regarding the merits of wood as a 21st century sustainable building product has been making the rounds for years, according to Tanya Doran, Executive Director of the Alberta Chapter – CaGBC.
The debate is good, she says, because it offers an opportunity to expose some of the myths and clear up the misunderstandings about wood.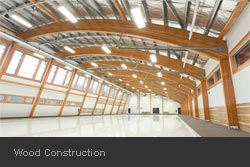 "The bottom line," says Tanya, "is that wood originating from sustainable forests upholds the mandate of the Canada Green Building Council and its chapters. It offers a reduced carbon footprint during the construction phase and allows for the use of a full range of efficient systems and products throughout the building's life cycle."
While most of Canada's forests are certified by the Forest Stewardship Council (FSC), the Canadian Standards Association (CSA) or the Sustainable Forestry Initiative (SFI), to date LEED grants a credit only for the use of Forest Stewardship Council (FSC) designated wood because it is considered one of the best sustainable forest management standard in the world – and its principles align well with those of the CaGBC.
Peter Moonen, Sustainability Coordinator for the Canadian Wood Council, says the issue of world-wide wood certification is complex. "In a nutshell, global certification standards vary widely from country to country."
He says, for example, that certified wood from Canada is well respected and sets a high measure of quality. "However, certified wood from other countries would not always meet the same standards as any certified wood from Canada, because of our high level of forest management legislation. Each system has its strengths and weaknesses, but any wood certified in Canada gives certainty to specifiers."
Peter notes that there are many instances of double and even triple certified lands in Canada.
The FSC credit in LEED is voluntary and represents only one point out of 110 possible points under the LEED for New Construction 2009 rating system.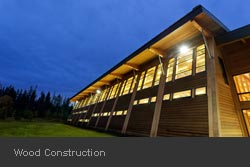 "Wood projects can also earn local/regional materials credits if the wood is harvested and manufactured within 800 kilometres (2,400 km if shipped by rail or water) of the project site for these products regardless of any forestry designation," explains Tanya. "This encourages use of wood products from Alberta markets, which is also good for employment and our economy."
The Canadian Wood Council's Peter Moonen says projects can go forward without the Certified Wood credit because, in large, part, the environmental attributes of wood can lead to a building with a lower environmental impact.
He adds that the proposed changes to LEED may demonstrate to specifiers the advantages of increasing their use of wood. "Under the proposed LEED version, Life Cycle Assessment and the use of Environmental Product Declarations may highlight the advantages of wood.
The Lawrence Grassi Middle School in Canmore is an excellent example of how wood construction can meet all building science and code challenges, and do so while meeting budget limitations and providing extraordinary architectural appeal. The school provides a bright, inviting learning environment. Exposed wood structural elements and natural lighting combine to provide an architectural appeal too often lacking in schools.
So, where does the discussion – and the viability of wood as a sustainable building product – go from here?
"We can all play a part in encouraging the use of wood from sustainable forests," says Tanya. "Alberta's policy makers are increasingly aware of the advantages of entrenching this approach in policy, and are working toward that goal."
In saying that, Tanya recognizes that structural wood products have an uphill battle to recapture their market share when faced with the many attributes of steel and concrete products, which often offer greater flexibility in their applications than does wood.
Peter Moonen agrees wood products may have to brush up their image, "but new engineered wood products, coupled with the increasing skills of architects, engineers and contractors, are destined to increase the use of wood in a greater diversity of building types."
Tanya believes there is a place in the green building industry for greater use of wood products. "Competition in the marketplace can spur innovation – and the forest products industry has great potential to position wood as a viable sustainable building material, both within Canada and globally."
About the Forest Stewardship Council (FSC)
FSC is an international certification and labeling system dedicated to promoting responsible management of the world's forests.
Forests are evaluated to meet FSC's strict environmental and social standards. Fibre from certified forests is then tracked all the way to the consumer through the FSC Chain of Custody system.
FSC certified wood, paper and other forest products are then sold with the FSC logo by certified companies in the marketplace.
LEED certification – not the easy option
by Harley Richards, Advocate business editor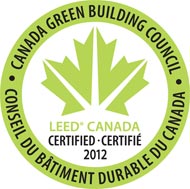 Those who have sought, and in some cases received, Leadership in Energy and Environmental Design approval for buildings in Red Deer are nearly unanimous in their assessment of the program.
City of Red Deer project superintendent Jerry Hedlund described the system of collecting points to achieve certification as "rigorous." George Berry of Berry Architecture and Associates called the process "arduous," Red Deer College director of facilities Doug Sharp declared it "onerous," and Trevor Gamelin of Avalon Central Alberta said it was "incredibly complex" and "overkill." However, Sharp also acknowledged that a stringent system with detailed requirements is necessary to maintain the integrity of the LEED program.
Mark Hutchinson, director of green building programs with the Canada Green Building Council, agreed. He also said the system has helped achieve uniformity when it comes to environmental building practices.
"It's provided a framework for everyone to kind of talk the same language."
Local LEED builders have been spurred to action by more than environmental concerns.
The City of Red Deer, said Development Services director Paul Goranson, wanted to lead by example.
"We felt if we were going to expect others — the private sector, for instance — to take some of these initiatives, . . . then we should provide some leadership."
Trish Bolen, an accredited LEED professional with Edmonton's ACI Architecture — the consultant on Red Deer's RCMP detachment building — said municipal governments often drive environmental initiatives.
"That's the starting point of all green."
But private sector firms Berry Architecture and Stantec Inc. wanted to set good examples as well. "We felt it was really important as a company to demonstrate our commitment to sustainable design by actually using our space as a showroom and a showcase, and to lead by example," said Heather Bretz, Stantec's managing leader for buildings in Red Deer.
Goranson said the city also wanted to learn about green technologies, like photovoltaic systems, so it could evaluate them and develop appropriate regulations.
"By getting into the game of taking on these new initiatives, we learn about how they're applicable and how they can be used in Alberta and Central Alberta," agreed Public Works manager Greg Sikora.
For instance, plans to re-use water from the Red Deer's Recreation Centre's showers in its toilets and urinals proved impractical, said Hedlund.
"Some things work and some things don't work so well, and you don't really find these out until you operate a while.
"We learned lots from (the Recreation Centre) project and we then displayed that on the (G.H. Dawe Community Centre) project."
Sharp also sees education as a benefit of LEED, with Red Deer College's soon-to-be-certified building serving as a continuing classroom.
"All of the structural and mechanical and electrical systems are as exposed as possible," he said. As with the city's projects, Red Deer College's LEED work helped set the stage for other environmental initiatives, said Sharp.
"One really positive outcome of moving forward with a LEED building was when we were part way through this building and talking about it being LEED-focused and so forth, we thought, 'You know what, over and above the building being LEED, is there something that we can do in terms of embracing a lot of this stuff campus-wide?"
A green campus task group resulted, which in turn led to enhanced recycling, promotion of alternative transportation, a car-pooling incentive program, and encouragement of cyclists and walkers.
The public sector may be better able to absorb the cost of LEED initiatives, an assumption supported by the fact that more than half of the LEED projects in Canada are publicly funded, including schools.
But Goranson pointed out that green building options for Red Deer's civic yards project underwent a careful cost-benefit analysis. Hedlund agreed that it's a mistake to simply chase LEED points if other benefits, such as a long-term reduction in operating expenses, can't be achieved.
"If it's going to take us 20 years to recover the cost, or 25, then you've got to kind of weigh that out and say, 'I don't think it's worth it.'"
Berry said his clients become more interested in green initiatives if they can quickly recover the additional cost and then start saving money. And this is becoming more likely as technologies like photovoltaic systems drop in price and become more efficient.
"I notice it's a lot easier now to talk a client into LEED," said Bolen. "Before it was almost like pulling teeth."
Tanya Doran, executive director for the Alberta Chapter of the Canada Green Building Council, said studies have indicated homeowners are willing to pay a premium for green.
"They all found that home builders were willing to spend up to and sometimes over $20,000 for green and energy-efficiency upgrades."
And Hutchinson doesn't think the cost of LEED is as great as many believe, especially if they keep their environmental aspirations in check.
"A platinum project really is fairly ambitious," he said. "On the other hand, a LEED silver or even LEED gold can usually be done pretty much with minimal or no incremental cost, if it's done right."
As builders and tradespeople become more familiar with LEED standards, the associated costs decline, he added.
Berry pointed to a less tangible benefit of LEED.
"One of the biggest items that we didn't necessarily expect is the way that it has affected our staff," he said, describing increased productivity and fewer sick days.
"The benefits for that are less tangible but they're incredibly important," agreed Bretz. "A healthy and a happy workforce, because they like their space, may actually save you a lot of money."
All in all, LEED certification can be an expensive and time-consuming exercise, summed up Sharp.
"But," he added, "when you look at all the attributes you achieve, it's worth it."
Reprinted with permission from hrichards@reddeeradvocate.com.
Eco Solar Commercial Tour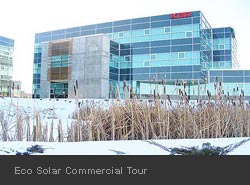 Are you responsible for one of Edmonton's most energy-efficient buildings? Showcase its success by signing up for the 2013 Eco-solar tour!
Planning for the June 3-7 event is underway, and organizer Andrew Mills, President of Eco Solar Home Tour, is confident this year's event will offer an exciting showcase of state-of-the-art efficiency technologies.
If you want to take advantage of this opportunity, register now! Application deadline is Jan. 31. Need applications by the end of January.
SAIT complex earns multiple honours
SAIT Polytechnic's Trades and Technology Complex is a winner – from many different perspectives.
The complex has been recognized as:
Project of the Year in two distinct categories (Engineering & Construction and Community Advancement) from the Project Management Institute (PMI) Southern Alberta Charter — the first ever double win by a project from PMI-SAC.

Project of the Year

Winner of the Institutional – Over $50 million category

Winner of the Design – Institutional category

one of the most innovative and exciting urban infrastructure projects in the world, according to KPMG's Infrastructure 100: World Cities Edition publication.
Quick facts about the impressive complex:
At 740,000 square feet, the complex is the largest construction project in SAIT's 96-year history.

The $400 million project involved 2.5 million man hours to construct and up to 700 workers per day.

The complex has the potential capacity for an additional 8,100 full and part-time students each year, focusing on the high demand sectors of energy, construction, and manufacturing and automation.

It includes 56 classrooms, 94 teaching labs/workshops and three new schools of learning.

Beyond the state-of-the-art classrooms, learning was built right into the complex. Exposed duct work and HVAC systems are part of the natural beauty of the building and allow students to best understand the systems they are learning in the classroom. One set of passenger elevators in both the new Aldred Centre and Johnson- Cobbe Energy Centre buildings has glass-front panels to showcase the mechanical functions of the elevators.

The complex officially opened Sept. 5, 2012.
Headline highlights!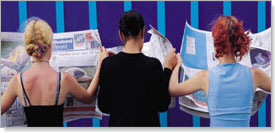 Following is a selection of recent media articles that feature a variety of topics of interest to Alberta's sustainable building community.
Building Strategies & Sustainability explores issues of building life cycle management, showcasing market successes, acknowledging innovation and leadership – Twitter
What does it mean to make every building greener? – YouTube (CaGBC, December 2012)
Boyle Street Renaissance Project heating up (Edmonton Journal, Dec. 21) - The second phase in the Boyle Renaissance Project not only has a new name, but will use a unique energy-generating system.
Green efforts on the rise at campuses across Edmonton (Metro, Nov. 30) – Being green can be done in many ways, and is evident on post-secondary campuses throughout Edmonton. While environmental sustainability isn't new, more groups, projects and programs are popping up in research, academics, construction of campus buildings, and also student-led initiatives.
Sustainability is at core of Walmart's fresh-food distribution centre in Alberta (Edmonton Journal, Nov. 22) - As you walk past two wind turbines, a rack of solar thermal modules and a large vertical hydrogen tank on your way into Walmart's western Canadian perishable food distribution centre in Balzac, you might think that's the sum total of its commitment to sustainability.
New Edmonton neighbourhood demands green standard (Metro, Nov. 15) – Edmonton newest neighbourhood will be a green one with mandatory environmental standards and sustainable development.