Alberta Sustainable Building Symposium program announced
Keynote speaker Bill Reed, internationally recognized proponent of sustainable and regenerative development and design, will headline the 17th annual Alberta Sustainable Building Symposium, set for May 6 in Calgary. Read more . . .
——————————————————————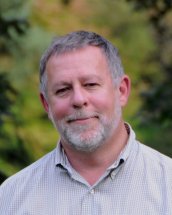 With more than 35 years' experience as an architect in the U.S., Bill will challenge our thinking about the built environment. Bill believes sustainability goes well beyond the built environment to include sustaining all life.
A next, vitally important target is to change the way we think so we can reintegrate our buildings with life on Earth so our built environment becomes a process of healing and restoration.
Bill, a practicing architect in the U.S. for 35 years, will explore the practical concepts of integrating technical perspectives with the living systems that support life to achieve truly regenerative buildings and communities.
More than 25 other speakers chosen from a call for presenters will offer case studies ranging from discussions of green roofs to commissioning, and from designing for density along transit corridors to the impact of architectural form on building energy performance. Check out the full program.
The theme of this 17th annual green building symposium, hosted by the Alberta Chapter - CaGBC, is "change, challenge and opportunity."
"Sustainable building in Alberta has advanced significantly over the past decade. We've achieved important milestones on the road to minimizing the carbon footprint of our built environment," said Tanya Doran, executive director of the Alberta Chapter - CaGBC. "Creative thinking, emerging techniques and new technologies are allowing us to take the next steps to making our buildings better, more resilient and longer lasting."

Also speaking to the theme of change, challenge and opportunity, a luncheon panel will explore our changing climate and how to manage these challenges to make our built environment more resilient in the face of increasingly severe weather patterns. Panel members will speak to the issue from a provincial government policy perspective and from the perspective of the insurance industry.
Participants will also hear the latest on LEEDv4 and its implications for Canada's green building industry. The updated LEED version features greater emphasis on performance while addressing new issues such as integrative design, envelope commissioning and acoustics. In fact, LEED v4 addresses 21 different market sector adaptations including new and existing data centres, new and existing warehouse and distribution centres, hospitality, existing schools, existing retail and multifamily midrise.
The symposium will offer learning credits for GBCI and most other professional organizations.
EcoHouse Design Challenge
What an opportunity! Teams from Alberta's design community — professionals and students — are invited to unleash their creativity as they design a house for RRRibbitt, recycling mascot for the Regional Municipality of Wood Buffalo (RMWB). Read more . . .
——————————————————————-
Yes, RRRibbitt is a frog — and passionate about being a good environmental steward. Since 2005, RRRibbitt has helped the Wood Buffalo partners in recycling, the Municipality and Suncor Energy, spread the word about eco-friendly behaviours.
The partners in recycling now want to help Wood Buffalo residents better understand the whole product cycle and highlight ways they can positively impact that cycle through choices they make in their own homes and everyday lives.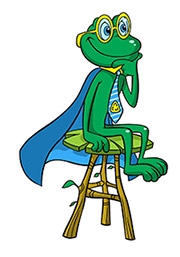 Where do design team come in? Using one or more worksite trailers, teams are invited to design a house for RRRibbitt that showcases eco-friendly practices and materials — and becomes a living museum that will attract the attention of Fort McMurray residents with its innovative material reuse applications from the reuse of the trailer itself to the products and systems (energy, water, etc.) incorporated into the design.
The Alberta Chapter – Canada Green Building Council is managing the Challenge for Wood Buffalo's recycling partners.
"The Wood Buffalo EcoHouse Design Challenge is a truly unique opportunity for our industry to get creative in a fun way with our green applications," says Tanya Doran, Executive Director of the Alberta Chapter. "I am delighted to be working in collaboration with the Regional Municipality of Wood Buffalo and Suncor Energy and I am confident we're going to see some very innovative ecohouse designs."
Key dates:
| | | |
| --- | --- | --- |
| • April 14 | - | Challenge closes SEE the correct date as the 14th |
| • April 25-27 | - | designs showcased at Fort McMurray Spring Trade Show |
| • May 6 | - | designs showcased at the Alberta Sustainable Building Symposium |
| • June | - | official presentation in RMWB to the winners |
For more information, check out the Alberta Chapter website or e-mail Tanya Doran.
LEED certification – the human process
Tanya Doran, Alberta Chapter Executive Director, is offering a new series of articles based on thoughts and advice from her role serving Chapter members in their work on LEED green buildings.
You have registered your LEED project online with the Canada Green Building Council and received your confirmation e-mail.  This is the first step in a documented, multi-phase process toward LEED certification of your project — and every step involves a human element. Read more . . .
——————————————————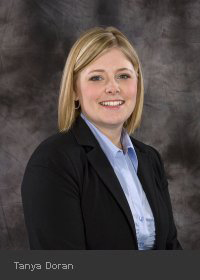 The LEED certification process is also an exercise in communication among all involved green building professionals. Effective communication ensures fewer speed bumps on the path to certification.  Remember, we all connect at a human level – something spreadsheets and e-mail just cannot do.
If you do hit that speed bump, refer first to the LEED reference guide and the CaGBC website.  If those tools don't answer your questions, contact your project LEED Coordinator at the CaGBC.  LEED Coordinators are the lifeline for LEED information.  They answer your specific questions and liaise with the independent review teams.  Get in touch by e-mail or pick up the phone.  These individuals are the human at the other end who genuinely wants your project to succeed.  The answers to your questions are often a short conversation away with your CaGBC connections – either at the head office or at your Chapter. 
The CaGBC is run by humans for humans!  (OK, there are some exceptions. There are a few kennels, penguin exhibits, elephant enclosures and other buildings that also reap the benefits of green building). There are actually about 35 staff who support the nearly 3,000 projects seeking certification in Canada.  That's more than 46 million square metres of LEED-registered floor space the CaGBC staff want to see complete the certification process.
The CaGBC staff in Ottawa and Vancouver take the lead with LEED projects in Canada but the team extends outside these head offices to include eight regional Chapters – Cascadia, Alberta, Saskatchewan, Manitoba, Ottawa, Greater Toronto, Quebec and Atlantic.
In Alberta, the Chapter offers green building and LEED-specific education, works with policy and decision makers regarding green building policies and supports our green building professionals with their LEED projects and specific LEED project questions. 
The Alberta Chapter has two staff members, a team of nine dedicated Directors, two Emerging Green Builder Coordinators and many dedicated volunteers and committee members working behind the scenes to transform Alberta's built environment to high-performing, healthy green buildings, homes and communities.
We strive to be your first source for green building information and education or to assist our green building industry at the local level.  We want to hear from you. Drop us an e-mail or just call us at (780) 669-3825. We would love to hear from you.
In our effort to design, construct, operate and certify high-performing buildings in Canada, let's remember the most important reason we do what we do – for people! – and that LEED is, in fact, a human process.
FSC forest certification
Spray Lake Sawmills has earned Forest Stewardship Council (FSC) certification for its Forest Management Agreement area, giving green product suppliers an Alberta option for certified wood products. Read more . . .
——————————————————

According to an announcement by Spray Lake Sawmills, operating out of Cochrane, the operation's Forest Management Agreement area and northern timber quota consists of approximately 300,000 hectares of Crown land. The SmartWood™ auditing team assessed the company's sustainable forest management system against the FSC® Canada's National Boreal Standard.
"Spray Lake Sawmills is excited to be the first sawmill in Alberta to be recognized by the environmental community for our leadership in sustainable forest management," offered Jason Mogilefsky, the firm's Environment and Safety Manager - Woodlands.
The FSC's stringent social, economic, and environmental criteria are considered the most far-reaching when compared to other certification programs, and FSC-certified wood products are increasingly favoured by the sustainable building industry, clients and consumers who want to make their buildings more efficient and sustainable with a reduced carbon footprint.
The move to the international FSC® certification program demonstrates Spray Lake Sawmills continued commitment to forest certification and sustainable forest management. From 1996 through 2009, Spray Lake Sawmills was certified under the Alberta ForestCare certification program.
The firm was awarded FSC certification in October 2013.
Habitat for Humanity Edmonton project: Alberta Construction Project of the Year
Congratulations to the team involved with the Habitat for Humanity Edmonton Net Zero precast concrete duplex. The duplex has been named winner of Alberta Construction Magazine's Top Projects Awards' 2013 Project of the Year as well as winner in the Sustainability category. Read more . . .
———————————————————
Created by Lafarge North America Inc. in partnership with Stantec, the duplex is the first of its kind in Canada.
Key features of the project include:
its generation of solar power and use of geothermal energy to achieve net zero energy use, where the homes create enough energy to meet their needs,
an air-tight and energy-efficient building envelope,
exterior insulated precast panels with an insulation rating of R44 for the walls and R88 for the roof,
geothermal heating and hot water system, and
photovoltaic panels in the roof to generate solar electricity.
The Alberta Construction Magazine's feature about the duplex says researchers from the Massachusetts Institute of Technology (MIT) will monitor the building's energy performance for the next two years to determine whether the high-efficiency design delivers from an operational perspective.
The project team includes the Canada Green Building Council (CaGBC) which sponsored the LEED certification fees for the duplex and the Alberta Chapter - CaGBC which paid for registration and provider fees for the project.
For more details on the project, check out a documentary and the Perspectives issues from November 2012 and March 2013.
LEED projects well represented in list of award winners
Alberta Construction Magazine's impressive list of 2013 award winners includes several LEED-registered builds. Read more . . .

————————————————-
Bow Valley College, the Markin Macphail Performance Training Centre (WinSport Athletics & Ice Complex, Pine Creek Wastewater Treatment Plan Campus Site and the Eastgate offices for Environment Canada made the list.
Manasc Isaac adds to its trophy case
Architectural firm Manasc Isaac rounded out 2013 in grand style by taking home three prestigious awards. Read more . . .
—————————————————————
Highlights of the awards:
Prairie Wood Design Award, Jury's Choice (for the net-zero-ready Beverly Heights House). This award celebrates innovative building designs that incorporate one of Alberta's most sustainable resources, wood, into our local buildings.
Alberta Construction Magazine Top Projects Award, Commercial Design category (Eastgate Offices for Environment Canada). The Top Projects Awards recognizes the creativity, innovation and hard work of Alberta's 2013 building projects.
Solar Adopter of the Year Award by CanSIA (Canada's association for solar manufacturers, installers, resellers, and consultants). The Game Changer awards highlight individual and corporate solar industry accomplishments. This year's gala was a particularly important one, aligning with CanSIA's 20th anniversary.
For more information, e-mail Kent McKay, Manasc Isaac Communications Director, or call him at (780) 784-1169.
Manasc Isaac announces Blue Sky Award winners
As well as accepting awards in late 2013, Manasc Isaac was at the podium handing out awards — to the winners of the 3rd Annual Blue Sky Architecture Award. Read more . . .
—————————————————————-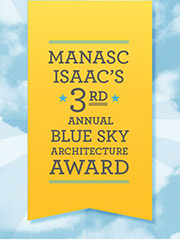 Created to help Albertan non-profit organizations overcome their building/infrastructure changes or setbacks, the Blue Sky Award offers $10,000 in consulting time from Manasc Isaac.
The 2013 winners were:
SKILLS Society of Edmonton, which assists children and adults with developmental disabilities and adults with acquired brain injuries realize their full potential, by fostering opportunities for individuals to contribute their skills, knowledge and gifts to the mosaic of talents and personalities that make our communities strong and healthy."
Fulton Child Care Association, which has provided pre-school and before/afterschool care in the community since 1974. Fulton is the second largest non-profit daycare in Edmonton and was one of the first daycares in Alberta to become provincially accredited.
Edmonton: Earth Hour City Challenge 2014 finalist
Edmonton is one of three Canadian cities chosen as finalists in WWF Canada's Earth Hour City Challenge 2014, selected by an international jury of sustainability experts for impressive city actions on climate change. Read more . . .
—————————————————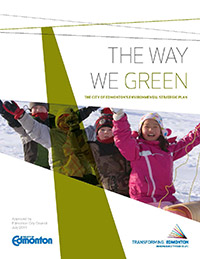 According to a news release distributed by WWF Canada, Edmonton was selected as a finalist because of The Way We Green, "which uses community-centric commitments and publicly engaging actions to achieve a carbon neutral future."
The Way We Green is the City of Edmonton's award-winning environmental strategic plan. Judges said the plan's focus on energy efficiency, reducing emissions and saving money while ramping up plans on renewable energy secured Edmonton's place as a finalist.
WWF created the Earth Hour City Challenge initiative in 2011 to celebrate cities that are taking innovative actions toward creating greener, cleaner and more sustainable cities to live in, while inspiring other cities to do the same.
This year, WWF's city challenge focuses on supporting cities in the global transition toward a sustainable future powered by renewable energy. WWF has worked closely with ICLEI - Local Governments for Sustainability in mobilizing cities to join the challenge and enabling their reporting through carbon Cities Climate Registry (cCCR).
The winner of Canada's Earth Hour Capital will be announced March 27.
Vote for Edmonton!
Vote for Edmonton as your favourite green city in the We Love Cities campaign by posting photos, videos and climate-friendly suggestions. Check out the details. Don't delay! Voting deadline is March 20.
Maple Rose Furigay: her experience at USGBC Greenbuild
Maple Rose Furigay: her experience at USGBC Greenbuild
Remember reading of Maple Rose Furigay's USGBC Greenbuild scholarship that allowed her to attend Greenbuild 2013 in Philadelphia in November? She loved the whole experience! Read more . . .
———————————————————
Perspectives: Who did you meet (and talk to) at Greenbuild?
Maple Rose: I met so many people! Students, architects, engineers, chemists, building scientists, software programmers, not-for-profit directors, product innovators, manufacturers and civil servants.
What they had in common was their passion toward correcting the negative impact built environments are having on our planet. They feel a sense a responsibility to lead the movement toward more green building.
Perspectives: What did you learn?
Maple Rose:
I attended a very interesting presentation by a panel from the Living Building Challenge, Interface, Columbia Green Technologies and Centre for Sustainable Landscapes in Pittsburgh. They spoke about transforming the building materials market through radical transparency.
After many years of lobbying, the food industry transformed its industry by demanding that food manufacturers label the nutritional content of the food they package. The Living Building
Challenge, through their Declare program, are aiming to impact the building industry in the same way by asking manufacturers to disclose the individual contents (ingredients) in their products and materials.
So far, the results from this disclosure from manufacturers is the awareness of what these products really contain. If an ingredient is hazardous, the manufacturer has the opportunity to discover healthier options.
For example, formaldehyde is a very common ingredient in insulation, carpet, etc. — and it is proven to cause cancer. Manufacturers and chemists have discovered that in some product cases, formaldehyde can be replaced by sugar and perform to the same capacity. This discovery would not have been made if the manufacturer didn't know, or care, about making a healthier product for its consumers and end users.
Most importantly, the Declare program is a platform for the public to start demanding built environments that are healthier and more resource efficient. Radical transparency, similar to the food industry, is needed to advance real change in the building sector.
Perspectives: Was the event what you were expecting? Any surprises?
Maple Rose:
I was amazed I was the only Canadian chosen for the scholarship. There were other foreign scholarship recipients from Jordan, Australia, the Philippines and South America. The remaining recipients were from across the U.S. This really underlined what a great honour it was to be chosen for the scholarship.
Perspectives: What was the highlight for you?

Maple Rose:

Hillary Clinton. She delivered an inspiring speech about the conscious creation of built environments and how the industry must come together with a common message for change. She said it's through this one united voice that we will begin to see change at all levels.

LEED certifications
* Editor's note: Perspectives is proud to list all recently certified LEED projects in Alberta in each issue. You will note, beginning with this issue, the certifications are organized according to LEED rating system. Occasionally, Perspectives will showcase one project per category as a special feature.
New Construction
FEATURE: Calgary South Fire Station No. 5 earns LEED Gold
Calgary's new South Calgary No. 5 Fire Station pays tribute to its rich history as part of the community, at the same time representing the future of sustainable design and construction.  Read more . . . .
----------------------------------------------------------------------
Officially opened in November 2012, the new No. 5 fire station incorporates several features from the original No. 5 fire station, located adjacent to the site of the new station. Calgarians who know the area will recognize the Fire Station No. 5 sign and the original red brick, both incorporated into the new facility. Even the antique firefighting equipment moved to the new station.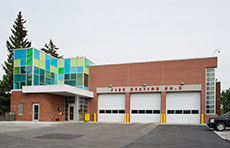 These integrated aesthetics were part of a comprehensive plan to complement the attractive community — and reinforce that the station is very much a part of the community. The Calgary Fire Department consulted extensively with area residents during the design process. As a direct result of citizen feedback, the new structure presents a lush exterior with green space, pathways, benches and a permanent public art component.
Its attractiveness is equaled by the station's Gold standard environmental features. These include:
solar water heating panels,
solar photovoltaic panels on the roof to supply some of the electrical needs, and
Variable Refrigerant Flow air handling for reduced noise and better heating and cooling control.
Need for the new station was clear: the community was growing rapidly, and the original station was too small to house many models of modern firefighting apparatus. From the original site's two narrow and short apparatus bays, the new building has three bays sized for the larger fire apparatus and has room to grow into to accommodate the changing needs of the community
As well, the new station has moved its vehicle access to 30th Street S.W. to improve the safety of motorists and pedestrians and its firefighters
The Province of Alberta's Municipal Sustainability Initiative funded $10.25 million of the total cost of $14.8 million cost for the station, land and required apparatus.
Other New Construction certified projects:
Acden Corporate Headquarters - LEED Gold
Our Lady of Wisdom School - LEED Gold
Monsignor Fee Otterson Catholic Elementary/Junior High School - LEED Silver
Saddle Ridge School - LEED Silver
Sister Annata Brockman Catholic Elementary / Junior High - LEED Silver
Calgary Courts - LEED Certified
SFCRA facility expansion - LEED Certified
Core and Shell
FEATURE: EPCOR Tower at Station Lands earns LEED Gold
Teams worked collaboratively to develop a range of sustainable design strategies for EPCOR Tower, the first multi-storey office building constructed in Edmonton in 20 years. Their efforts paid off as the distinctive 30-storey building has earned LEED Gold.  Read more . . . .
----------------------------------------------------------------------
Editor's note: the following feature summarizes an EPCOR Tower Case Study. Printed with permission from Kasian, prime consultant. Check out more about the Tower.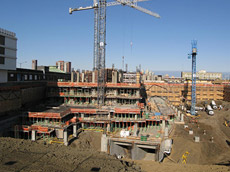 Locating the EPCOR Tower downtown is arguably the most important step in creating a sustainable building because  it prevents urban sprawl and helps build density, which is important in the creation of a vibrant, safe and walkable community.  The EPCOR Tower is close to public transport, including the LRT. It has installed on-site bike storage and shower facilities to promote the advantages of an active lifestyle for building occupants and visitors and to reduce dependence on private vehicles.
Building orientation, a critical first step in sustainability, was determined early because it has repercussions in the overall design, and in energy performance.  The orientation, in conjunction with glazing, minimizes glare and heat gain/loss. The slender shape of the floor plate allows more natural light to penetrate and maximizes access to natural light, a critical component to occupant health.
The building envelope is vital to maintaining adequate occupancy comfort, providing a thermal barrier to the outdoors and minimizing the effects of extreme swings in temperature. It features:
a window-to-wall ratio (WWR) of 49 per cent, with unitized curtain wall glazing, and
high-performance triple-glazed exterior walls to provide enhanced insulation which also minimized the need for large mechanical systems around the perimeter of the building.
EPCOR Tower is a conventional cast-in-place concrete structure featuring:
50 per cent ratios of flyash to cement for elements such as footings and columns, and
ratios of 25 to 30 per cent for the horizontal elements reduced the demand on virgin materials.
The tower boasts a long list of building features. Following is a summary of those features.
A stormwater system stores the runoff in an underground storage tank below the parkade. The system is capable of handling all the runoff during a two-year, 24-hour event — so there will be no discharge to the city's storm system from 91 per cent of the site area. The tank volume is 725 cubic metres (m3), or 191,525 gallons, and can provide 4,434 m3 (1.17 million gallons) of domestic water savings annually. This, in combination with dual flush toilets and low flow urinals, faucets and showers, results in a 63 percent water use reduction.
The Urban Heat Island Effect, caused by the sun heating sections of the structure, has been reduced by over 92 per cent through the use of a highly reflective roof coating and reflective deck pavers.
Deck spaces enable occupants to enjoy fresh air, light and an informal social space.
The heating system is composed of conventional boilers with two separate heat exchanger coils in the stack condenser. An exhaust heat recovery system is provided to capture waste heat from the building's general exhaust air.
Cooling towers allow for free cooling in the warmer months with the chillers being bypassed in colder weather.
A unique system of earth tubes, using the principle of geothermal exchange between the air and the surrounding earth, pre-heat and pre-cool the building outdoor air. The ground is used to heat the air in winter and cool the air in summer because the ground temperature remains essentially constant below the frost line.
Lighting includes high-performance and energy-efficient T5HO lamps as a building standard. Occupancy sensors, daylighting sensors and dimming systems are incorporated into the luminaire designs where possible to maximize user comfort. Emergency and night lighting luminaires are located along all designated emergency paths.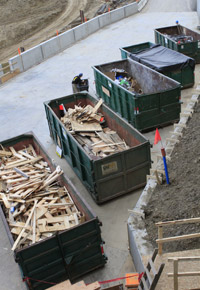 Building materials also helped the team earn LEED Gold. The team used local, sustainably harvested materials wherever possible. Non- or low-volatile organic compound (VOC) emitting materials in interior adhesives, sealant, paints, carpets and agrifibers create a healthier indoor environment. FSC (Forestry Stewardship Council) wood products have been used wherever possible.
Outside, more than a quarter of the total project area is devoted to natural landscaping features including drought-tolerant trees, shrubs and grasses to reduce the need for irrigation.
Finally, the project team took diligent care to divert as much material as possible away from the landfill. About 87 per cent (roughly 285,000 m3 or 3.065 million cubic feet) of 'impacted' material was available for use at other locations after additional segregation and testing was undertaken.
Other Core and Shell certified projects:
Deer Valley Market Place - LEED Certified
Parkside A & B - LEED Certified
Commercial Interiors
Gibbs Gage Architects Interior Space - LEED Certified
Existing Buildings: Operations and Maintenance
Commerce Place - LEED Gold
Headline highlights!
Following is a selection of recent media articles that feature a variety of topics of interest to Alberta's sustainable building community.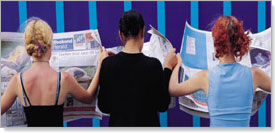 Net zero home a solar testing ground (Edmonton Examiner, January 26) — Edmonton is no stranger to solar-powered homes, but Paul Horsman has big dreams for his Net Zero house, currently under construction in Old Strathcona.
U of A urban planning graduates can help reshape city, prof says (Edmonton Journal, January 25) — Sandeep Agrawal hopes graduates of a new University of Alberta program will help Edmonton fight its reputation as one of Canada's most spread-out cities.
Out-besting the Nest (The Globe and Mail, January 24) — Whether considered from the standard of design innovation or public popularity, the 2010 Winter Olympics' most successful venue was the $178-million Richmond Oval, and the world of engineering agrees.
Sick of congestion? Build roads, not transit (The Globe and Mail, December 27) — Few ideas have proven more powerful in shaping Canadians' thinking about urban transit than this: Building roads is self-defeating. Like those famous South Sea Islanders who built crude wharves thinking that it was the wharves that caused cargo ships to appear and unload valuable goods, those holding this view believed that building highways could never solve our transit woes because the mere existence of the roads would conjure up more cars.
Sponsors