Entitled TRTL (Technological Residence, Traditional Living), the competition design is LEED registered.
"LEED is certainly part of the competition," says Tyler Hermanson, one of two LEED for Homes Canada providers in Alberta. "LEED really lends itself well to these sorts of high-performance, high sustainability projects. We have such a diversity of projects."
While TRTL is an inspiring, one-of-a-kind design, Tyler says LEED is proving its adaptability in many different styles of homes. "The Solar Decathlon is way out there in terms of sustainability but we also have townhouses that are doing well - proving the flexibility of the LEED system."
Inspired by the tipi, the TRTL house's rounded form, east-facing entrance and south-facing windows relate to the sun as a traditional source of energy and life. The two-bedroom, open-concept design is flexible and includes ample space for storage, recreation and gatherings.
From a technological perspective, green building materials and renewable energy technologies result in a healthy, safe, durable and affordable home. From a traditional perspective, the design is guided by a holistic view of the home as a living part of a greater natural order.
"The Team Canada project is pretty phenomenal," offers Tanya Doran, Alberta Chapter Executive Director. "The University and industry have come together to showcase the skills not only of the university but of all of Canada. Our team is competing against the world - and helping thrust sustainable building even further into the mainstream. What a great example of effective collaboration!"
Alberta municipalities - stewards of sustainability
Oh, the times they are a'changing!
Only a few short years ago, Alberta's municipalities were part of the throng being showered with messages about the advantages of sustainable building, and why and how they should get involved. We were talking; they were listening.
Now, our urban centres have actively embraced sustainable development.
"I see our municipalities investing substantial resources in visioning, policy formulation, planning and implementing initiatives that lead themselves, their communities and stakeholders toward a far greener future," says Tanya Doran, Alberta Chapter Executive Director.
A whole host of triggers led to the evolving - and refreshing - municipal perspective on sustainability. These include the increasing global focus on environmental issues, the increasing focus on the diminishing supplies of conventional energy sources, the escalating costs of infrastructure and, certainly, an increasing public demand for sustainable solutions in every part of our lives.
Following is a brief overview of the sustainable building initiatives undertaken by our key cities.
Regional Municipality of Wood Buffalo (Fort McMurray)
Our busy cities!

Take a glance at the number of sustainable building projects on the books within Alberta municipalities. These projects are registered under various rating systems including LEED.
Calgary
178
Edmonton
107
Red Deer
10
Lethbridge
8
Wood Buffalo (Fort McMurray area)
7
Grande Prairie
5
Lloydminster
2
Altogether, Alberta can boast 490 projects in 67 municipalities and counties across Alberta.

"Sustainable building has moved far past the corporate limits of our big cities. From north to south, we have proven our province has the technical skills and abilities to lead the way to sustainability," observes Tanya Doran, Alberta Chapter Executive Director.
In 2005, the City of Calgary launched the world's largest community visioning process - imagineCALGARY - engaging more than 18,000 Calgarians and starting the process of creating a 100-year vision of sustainability for the city.
Consider some of the document's energy targets:
By 2036, 30% of Calgary's energy derives from low-impact renewable sources.
By 2036, all new and retrofitted communities, buildings, vehicles, equipment and processes are built to be within 5% of the highest energy-efficient design
In 2007, the City began creation of an integrated land use and transportation plan that aligned with imagineCALGARY. The process for developing an integrated Municipal Development Plan (MDP) and a Calgary Transportation Plan (CTP) was called Plan It Calgary.
Plan It Calgary highlights:
sustainable growth plans to accommodate another 1.3 million people over the next 60 years,
grounded in the values of SMART growth, and
adopted sustainability principles for land use and mobility focusing on walking, cycling and transit, and preserving open space, parks and other environmental amenities.
Calgary City Council approved a new MDP and CTP in September 2009, entrenching policies that will continue to integrate social, economic and environmental objectives - and keeping the focus on sustainability.
Carolyn Bowen, Manager of the City's Office of Sustainability, says the City is currently engaged in reframing the imagineCALGARY partnership after its initial five years.
"Basically, we want to ensure the plan's targets still viable, still the right targets and whether we have baseline data for evaluating our success," she notes.
Besides the imagineCALGARY review, Carolyn says the City has begun implementing Plan It Calgary. "We're educating City staff and the community on what it means and how it impacts our lives within the built environment. We've reached a very practical level. We're working with development and building approvals and asking ourselves what they look like in the context of the plan and how do we move forward from here."
The City team gave itself high 5s on July 20 when Edmonton City Council officially adopted The Way We Green, the City's overarching strategic plan for all environmental initiatives.
The milestone capped several years of visioning, public consultation and public education - and paves the way for the next step, implementation of about 30 supporting, detailed plans that answer the "how" of achieving the vision. Sustainable building is one of this suite of plans with the bottom line objective of becoming energy sustainable and reducing our greenhouse gas emissions.
"It's about getting the rubber off the road," says Jim Andrais, Program Manager, Corporate Environmental Management and lead for the development of The Way We Green.
Jim says this plan is different from similar plans of the past.
"This is one takes a more selfish perspective. It's not as much what we can do to help the birds and the bees, but what's coming along as bumps in the road that we need to deal with," he says.
"We need to guide our city in a way that recognizes by mid-century, we - and the whole planet - will be much more energy constrained. This recognition has to be reflected in the buildings we create and the way we move around."
Grande Prairie's Municipal Sustainability Plan also melds the input from citizens, community stakeholders and internal audiences to define its preferred future. The plan incorporates the five dimensions that affect the community's future growth and development: social, governance, economic, environment and culture.
How will the community achieve its preferred future? Highlights include:
developing and implementing policies on new green building programs,
developing and implementing a sustainable procurement policy,
ensuring every new development is accessible by alternative methods of transportation,
promoting environmental sustainability and progressive land use with strong consideration for the environment, transit, parking concerns, housing density, etc.
maintaining and enhancing remaining natural landscapes, and
developing plans, policies and systems that adopt practices utilizing renewable energy
Grande Prairie also takes pride in its Corporate Sustainability Initiative (CSI), a dedicated cross-functional volunteer team that champions sustainability initiatives.
By 2050, the City of Lethbridge estimates its population will be more than 130,000 people.
The City of Lethbridge Integrated Community Sustainability Plan/Municipal Development Plan (ICSP/MDP), adopted in 2010, combines an Integrated Community Sustainability Plan (ICSP) and a Municipal Development Plan (MDP) to provide a framework for Council and the community to address the evolving changes over the next 40 years.
Lethbridge's Integrated Community Sustainability Plan (ICSP) is a community-based planning document built on its residents' vision for the future of their community and based on six dimensions: economics, social needs, culture, the built and natural environments, and governance.
Specific to the sustainable built environment, the City's plan references a commitment to enhance and sustain a quality built environment through:
minimizing the urban footprint,
placing a priority on pedestrian friendly mobility,
ensuring supporting infrastructure is in place for growth, and
preserving and enhancing public space.
The City of Medicine Hat is enjoying success with its environmental initiatives.
In 2008, community stakeholders developed a Community Environmental Roadmap, setting out priorities, performance indicators and long-term environmental targets.
The City's role was to provide leadership and track the community's progress toward its targets. It notes that progress has been good in some areas while significant challenges in meeting long-term goals remain in other sections of the strategy.
The same year, the City launched a multi-tiered program, HAT Smart, providing incentives for homeowners and business owners to conserve energy as well as helping with residential, commercial and city-wide renewable energy projects.
This year, HAT Smart won the Federation of Canadian Municipalities (FCM) Sustainable Community Award in the energy category.
The City of Red Deer, too, recognizes the benefits and the need to entrench its principles of sustainability in a formal way.
As a first formal step, the City developed its Strategic Plan and Municipal Sustainability Framework.
Next came development - and approval in April 2011 - of the Environmental Master Plan. Designed as a planning tool, the plan addresses the environmental component of the sustainability framework. The environmental plan includes a 25-year vision with a series of recommendations to address municipal environmental priorities.
With its approval, the City and its partners are moving forward on implementation of its recommendations.
Regional Municipality of Wood Buffalo (Fort McMurray)
After months of community consultation, the Regional Municipality of Wood Buffalo posted its draft Municipal Development Plan - Big Spirit, Big Ideas, Big Plan - earlier this month.
The plan is ambitious, stating the community's desire to have Wood Buffalo emerge as a global model for sustainable living in the north. Considering its huge challenges of growth through 2030, with a population that has doubled in the past 10 years and is expected to more than double again in the next 20 years, there is ample opportunity for sustainable development in the region.
Key sustainability points in the plan include:
a recognition that sustainability is built on a responsible growth management strategy that optimizes existing infrastructure through intensification, efficient servicing, minimal greenfield development, contiguous development and efficient transportation networks,
a strong commitment to the efficient and reliable movement of residents (some form of rapid transit), supporting the principles of transit-oriented development (TOD),
a balance of economic development and urban growth targets, ensuring social and environmental goals are not compromised, and
a commitment to reducing GHG emissions and helping residents and businesses save on energy costs.
Provincial product profile - GFRC concrete
by Reece Schulte, Andrea Pelland & Stephani Carter of EcoAmmo and Green Alberta
Concrete is a common, strong, fire retardant and dynamic building material that can come in various strengths and tolerances. Typically concrete can be energy intensive in its creation but contemporary green products such as Glass Fiber Reinforced Concrete (GFRC) are striving to change the norm.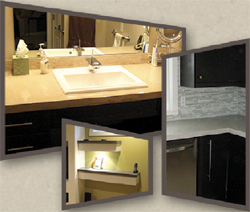 GFRC is an ecologically, energy-friendly concrete that is flexible in design and function. It has numerous applications including but not exclusive to exterior cladding, the restoration of exterior facades, sculptures and countertops. The glass fibres reinforce the concrete in the same way that rebar stabilizes regular concrete, giving the product a higher flexural nature.
GFRC allows for nearly unlimited design and aesthetic options because it can be molded into any shape and finished in many ways.
By using many recycled materials such as aggregate, glass and steel, GFRC retains a structural integrity and an appealing aesthetic while producing no waste. GFRC uses significantly less portland cement, making it lighter so it can be cast in thinner sections and can be fully recycled into new concrete projects. As well, it can contribute toward LEED certification.
Most materials used in GFRC are naturally occurring minerals and are not considered pollutants. Those combined with aggregates and glass fibres make GFRC an inert substance.
Click here or visit Green Alberta for more information.
St. Albert Fire Station achieves LEED Gold
It's official! St. Albert Fire Station No. 3 earned LEED Gold, the first fire hall in Alberta and only the second in Canada to achieve the coveted environmental designation.
The team responsible for the new facility got the official word soon after the building's official opening July 27. As you can see below, the opening proved interesting, informative and fun!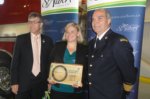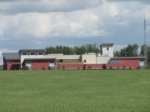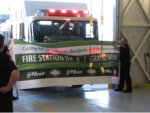 Clockwise from top to bottom: St. Albert Mayor Nolan Crouse, Alberta Chapter Exec. Director Tanya Doran and Fire Chief Ray Richards - Guy Boston, General Manager, Planning & Engineering, chats with a reporter - The solar panels with a great view over St. Albert - LEED Gold – and a handsome exterior as well - Cutting the ribbon in style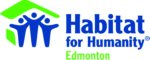 Habitat for Humanity - Edmonton update
The January 2011 edition of Perspectives offered an article about Habitat for Humanity Edmonton's (HFHE) largest - and greenest - build to date, the 47-family Anderson Gardens at 123 Avenue and 41 Street in Edmonton.
The homes, being built to a Build Green standard, raised the bar for attractive, sustainable and affordable homes.
On June 29 this year, HFHE celebrated their 20th anniversary by giving 10 families keys to their new homes in Anderson Gardens, the largest Habitat for Humanity Built Green project in all of Canada.
Alfred Nikolai, HFHE President and CEO, says he hopes 40 of the 47 homes will be completed by Christmas. "That's wishful thinking, but if the good weather continues, we'll do it."
He also says the Build Green team have been great to work with.
"There are really two environmental pillars at Anderson Gardens. First is the way we build the homes and incorporate energy efficiency into each home. The second aspect is our landscaping. It wasn't an accident this community is called a garden."
Alfred says HFHE is working with Evergreen Canada from Toronto to help design appropriate, sustainable landscaping. "A great portion of the footprint on our site will remain green."
Watch for details of the upcoming Riverdale project, a partnership between Habitat for Humanity Edmonton, Stantec, Lafarge, EcoAmmo, EcoSynergy, Vital Engineering, Kassian Dyck Associates and the Alberta Chapter - CaGBC. Alberta Chapter Past Chair, Klaas Rodenberg is presentating the project at the Chapter Forum October 4 at Greenbuild in Toronto. This exciting venture has been submitted for an American Institute of Architects (AIA) award.
Edmonton Remand Centre - Going for LEED Silver
Consistent with its commitment to sustainability, the Government of Alberta is targeting LEED Silver for Edmonton's new remand centre, scheduled to be completed in the fall of 2012.

The remand centre, located in the city's north end next the Edmonton Young Offender Centre, sits on a site about the size of 27 CFL football fields.
ONPA designed the facility as a replacement for the aging and overpopulated remand centre in downtown Edmonton. When complete, the facility will be the largest of its kind in Canada with five general population pods, one segregation pod and one medical/mental health pod with the initial capacity to serve a population of 1,947 inmates and an additional 864 inmates in future.
The building is 56,400 square metres with a budgeted cost of $490 million.
Book Review by Trina Larsen, P.Eng., M.Sc, LEED AP +
Collapse - How Societies Choose to Fail or Succeed
by Jared Diamond, 2005
"At what point do we as individuals prefer to die than to compromise and live?"
- Jared Diamond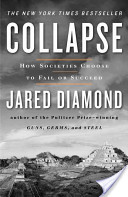 Collapse stands alongside anthropology textbooks in its detail of explaining the life and death of various ancient cultures; however, it goes further by directly contrasting some of the different cultures and societies of today.
From ancient Maya to modern Rwanda, Jared Diamond explores what made the culture what it was, and how that essence caused the conditions for that society's collapse. Delving into both human and natural reasons for disaster, he hypothesizes that 12 factors are necessary for collapse and, although they are intertwined, some are stronger indicators than others.
Because of the great detail within this book, it is a challenging read. However, the final chapter brings it all together, making that difficulty worth it. Here, he hypothesizes why people don't always make the changes necessary to avoid collapse. He notes four contributing factors: failure to anticipate the problem before acting, failure to perceive that there is a problem, rationalizing the behaviour that causes the problem, and, finally, the inherent values that prevent change.
The end of his "further readings" section is also interesting as he explores what we, as regular citizens, can do to effect change - including who to lobby and why.
Chances are, you have a family member, neighbour or friend who's taking advantage of the federal government's ecoENERGY Retrofit - Homes program, brought back to help homeowners make their homes more energy-efficient and save some costs of home energy.
From this past June through March 31, 2012, homeowners are eligible to receive grants of up to $5,000 to make their homes more energy-efficient. Homeowners who participated in the program to date have saved 20 per cent on their energy bills.
This program differs from its predecessors in two major ways. First, participants must register directly with the program before booking their evaluation. Second, homeowners are now required to provide receipts to their energy advisor at the time of the post-retrofit evaluation to confirm eligibility for the grant.
A maxim in organizational communications goes something like this: repeat your key messages until you can recite them in your sleep. Then, you might expect your audiences to start hearing what you have to say.
And our message about LEED - and particularly LEED for Homes Canada - is making itself heard in mainstream media.
Alberta LEED for Homes provider Tyler Hermanson and Alberta Chapter Executive Director Tanya Doran were quoted in a September 8 article in the Calgary Herald.
The article sets the context for newcomers to LEED and does a great job spreading the word about LEED in general and LEED for Homes Canada specifically.
Reimagine's Tower Renewal Summit Five
Here's an opportunity Alberta Chapter members won't want to miss!
Reimagine is hosting "Tower Renewal Summit Five," a luncheon speaker session in either Calgary or Edmonton featuring Michael Brooks, CEO of the Real Property Association of Canada (REALpac).
Michael will speak about the 2010 REALpac Energy Benchmarking Report that discusses the energy performance of Canadian office buildings.
Catch the action in Calgary on Friday, September 30 and in Edmonton Thursday, September 29.