Better Buildings Breakfast - Geothermal Heating & Cooling
September 11 - Edmonton


October 9 - Calgary
Please join the Alberta Chapter for this objective appraisal of geothermal heating and cooling technology in Alberta.
The presentation attempts to dispel common myths about geothermal technology and show when and where geothermal heating and cooling can be used most effectively. Presentation topics include how geothermal heating and cooling works, the advantages and disadvantages, problems with past installations, what it takes to properly design a geothermal system, and also looks into the financial side including a payback example. It also includes 3 real life examples of buildings in Alberta.
Time:

Edmonton:
7:30 – 8:00 am
Registration, Networking & Breakfast
8:00 – 9:00 am
Presentation

Calgary
11:30 am - noon
Registration, Networking & Lunch
Noon - 1 pm
Presentation

Speakers:

Jacob Komar, chief mechanical engineer at rEvolve Engineering Inc.

Geothermal Systems Design, having designed more than twenty commercial geothermal systems (and numerous residential systems) on a variety of projects ranging from multi-story commercial office buildings to apartment buildings and government facilities. Jacob also has experience with the design and installation of solar thermal systems and the integration of those systems to the geothermal heat exchanger. In addition, Jacob has extensive experience in Building Energy Modeling, most notably for a 3-story "net-zero energy" apartment as well as several LEED projects. Jacob's passion for designing sustainable, energy-efficient buildings is evident in each of his projects and he always strives to push the envelope in energy efficient designs.

Jacob Komar is a registered course provider with the Alberta Architects Association and this course is an approved presentation worth one core credit to Architects

Location:

Edmonton
Heritage Room
Edmonton City Hall
1 Sir Winston Churchill Square

City of Calgary - Water Centre


Bow River Room
2503 Spiller Rd. SE


Calgary

, Alberta


Price:

Alberta Chapter - CaGBC Members: $30.00
EGB/Student Members: $20.00 (please email)
Non-members: $40.00

GBCI Continuing Education: 1 CE hour - live presentation
AAA - 1 Core learning
---
LEED Education - anyway you want it!
LEED Green Associate Study Course
Oct 2 & 3 - Calgary Oct 16 & 17 - Edmonton
The LEED Green Associate Exam is an introductory level exam for individuals who wish to demonstrate a general knowledge of LEED and green building practices, or continue on to more advanced LEED credentials, such as the LEED AP with specialty.
The LEED Green Associate study course is an important element of an individual's study plan. It provides opportunities to gain and test new knowledge through the use of lecture, small and large group activities, and practice test questions.
*Any CaGBC workshop will meet eligibility requirements for the Green Associate exam.
TARGET AUDIENCE:
The target audience for this workshop is individuals studying for the LEED Green Associate exam. This may include architects, engineers, interior designers, project managers, real estate agents, product manufacturer representatives, students, and any individuals working or interested in the green building industry.
OBJECTIVE:
Identify the LEED credit categories

Identify the general concepts, technologies and strategies associated with each credit category

Describe the purpose of each LEED rating system

Successfully register for the LEED Green Associate Exam
FEES:
| | | | |
| --- | --- | --- | --- |
| | National Members | Non Members | Chapter Members |
| Regular | $625 | $740 | $625 |
Registration include: workshop material, morning coffee break and lunch
LEED AP BD+C Study Course
Virtual Classroom - 2 month online course
Register now
Successfully prepare for the LEED AP Building Design + Construction (BD+C) exam with this 2-month virtual classroom LEED AP BD+C study course. For more information click here.
The LEED AP Building Design + Construction credential demonstrates advanced knowledge of green building practices with specialization in the Green Building Design + Construction LEED rating systems (New Construction, Schools and Core & Shell).
This credential is designed for professionals with hands-on technical experience on a LEED® registered and/or certified project, including architects, designers, engineers, designers, and building managers. The approximately 30 hours of activities in this study course provide fundamental knowledge for the LEED AP BD+C exam and make it an important element of your study plan. Access the on-line readings, recorded audio presentations and practice test questions whenever convenient; you are encouraged to submit comments and questions to online discussions several times a week to maximize your learning.
Higher Education LEED Education in Alberta
The CaGBC offers the Higher Education Program in partnership with three Alberta insitutions - NAIT, Mount Royal University and SAIT. The Higher Education programs offered at these institutions are the only CaGBC approved full-semester courses for post-secondary education in Alberta.
The two higher education courses available in Alberta through continuing education are:
LEED Green Building Strategies and Green Associate exam preparation course (36 hours)

Building Green with LEED: LEED Canada for New Construction 2009 (36 hours)
---
Lunch & LEED
Edmonton - September 19
Considering Becoming a LEED Professional?
Bring your lunch and join the Alberta Chapter - Canada Green Building Council for a 1 hour presentation about LEED. This is the opportunity to get all questions answered about what it takes to become a LEED Professional and how to fulfill continuing education requirements.
We will cover: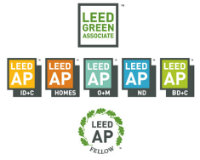 Brief Overview of the LEED Rating Systems

Institutions You Should Know

LEED Accreditation + Exam Info

Credential Maintenance Program (CMP)

Available Resources
We will answer questions such as:
What are LEED credentials and how will they help me professionally?

What is the new three-tier system? What is GBCI?

Should I go for my LEED Green Associate credential or become a LEED AP?

Am I eligible to take the exam? How hard is it? What resources are there to help me pass the exam and how do I register?

Which speciality should I choose?

How do I maintain my credential?
Already a LEED AP or Studying for Your Exam?
Even if you've earned your credential or know where to begin studying, we'll be covering the Credential Maintenance Program and available tools and resources to support you in earning and maintaining your credential. This is also a great opportunity to connect with other aspiring LEED Professionals and form study groups.
Edmonton
When
September 19
noon - 1pm
Where

Centennial Room


Stanley A. Milner Edmonton Public Library
7 Sir Winston Churchill Square
Cost

Free!
You must register to confirm your attendance


Register
click here