At the beginning of the project, SAIT students used a thermographic camera to capture images of the heat loss from the building - mostly from the windows - and took comparative shots near the completion of the project. Compare the results for yourself in the photos.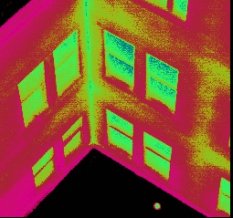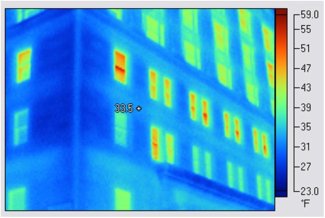 What if every act of design and construction made the world a better place?
Living Building Challenge Workshop
The Living Building Challenge workshop is coming to Alberta! On June 23, you can take advantage of this excellent opportunity to learn about the tenets of the program.
There are now more than 60 projects in process from coast to coast pursuing certification under this vigorous performance standard, and interest continues to rise.
Workshop participants will:
identify the key components of the Living Building Challenge,

discuss the rationale for restorative design principles,

understand successful strategies for compliance with each performance area (site, water, energy, health, materials, equity and beauty),

recognize financial, regulatory and behavioural barriers and incentives related to high performance design, and

describe the Living Building Challenge community resources and certification process
To make this workshop even more attractive, the Alberta Chapter is offering a special fee structure:
National member early bird*: $250.00
Chapter member early bird*: $297.00
Non-member early bird: $350.00
*Register by June 10
Click here for course details and to register.
Living Building Challenge is a philosophy, advocacy tool, and certification program that addresses development at all scales. Its performance areas, are subdivided into a total of 20 Imperatives, each focusing on a specific sphere of influence.
The Living Building Challenge defines the most advanced measure of sustainability in the built environment possible today and acts to diminish the gap between current limits and ideal solutions. Whether your project is a single building, a park, a college campus or even a complete neighbourhood community, Living Building Challenge provides a framework for design, construction and the symbiotic relationship between people and all aspects of the built environment.
Wave the flag at 2011 Greenbuild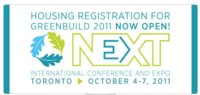 Share an historic moment! If you attend 2011 Greenbuild in Toronto, October 4-7, you will be part of the first-ever Greenbuild to be held outside the U.S.
"Canada is such a natural option to host Greenbuild," says Tanya Doran, Alberta Chapter, CaGBC Executive Director. "Our sustainable initiatives are increasing every day, showing our commitment, spirit of innovative and knowledge of the industry. Canada has something to say, and we will say it loud and clear at Greenbuild."
The stage is set at the Metro Toronto Convention Centre for the big event. Adjacent to the convention centre in the Steam Whistle Brewery Roundhouse is Canada House 2011, the CaGBC Canada House Pavilion. That's the headquarters for Canadian hospitality as conference-goers explore the technologies, products and knowhow that are driving the green building industry. Admission is free to most activities at Canada House.
The Alberta Chapter, CaGBC will be on site at the expo involved again this year with Orest Warchola and his Alberta International and Intergovernmental Relations team and at Canada House offering outreach opportunities. What does that mean for us?
"Greenbuild attracts the largest number of industry professionals, and those allied with the green building industry, in North America. There is huge potential for sharing our message with other leaders in the industry," notes Tanya. "With Canada hosting Greenbuild this year, the spotlight will be on our entire nation to 'show our stuff." I can't wait for the opportunity to do just that."
Looking at LEED from the trades' perspective
The spring 2010 edition of Hardhat, the magazine for Alberta carpentry professionals, has an interesting article on Page 14 about getting the trades fully on board with LEED.
Take a read. It's in a question-and-answer format featuring Glenn Chanut, Alberta Chapter member, a LEED AP and coordinator of project management for building infrastructure, corporate properties and buildings with the City of Calgary. He brings up several good points about the need to change the thinking about any construction job from its inception forward.
Acquiring and maintaining your LEED credentials
To those of you who have started down the path of updating and maintaining your LEED credentials, congratulations!
To those of you still finding your way through the changes and requirements, read on.
First, why were the changes necessary and how did they come about?
"Our profession is growing very quickly. The new credentials and credential maintenance process support the evolving maturity of the profession and offer greater recognition for the breadth of skills our members need," says Steve Dulmage, Canada Green Building Council (CaGBC) Director of Education & Training.
After surveying about 60,000 industry professionals, the Green Building Certification Institute concluded changes were needed to enhance the professional status of LEED professionals and to address the current and future needs of members and the industry.
The changes cover three main areas of LEED credentialing and credential maintenance:
introduction of specialties,

progressive levels of credentials, and

formalized credential maintenance (continuing education).
Introduction of specialties: Existing LEED APs (for those of you new to the scene, those are Accredited Professionals) are now encouraged to upgrade their credential in one of the three specialities: building design and construction, interior design and construction and operations and maintenance.
Professionals seeking a LEED specialty credential for the first time will also have the opportunity to pursue neighbourhood development or homes specialties.
These specialties give transparency and precision to the selection of the most appropriate LEED professional. "I want a LEED AP with proven expertise in building design and construction to design my commercial building, as an example," says Tanya Doran, Executive Director of the Alberta Chapter, CaGBC. "Seeing that professional specialty designation behind an individual's name would give me confidence in my choice of professional."
Levels of credentials:

Becoming a LEED Green Associate is the first step of professional accreditation, the starting point for students. Other industry professionals such as suppliers may also be interested in becoming a LEED Green Associate to keep themselves up to date with LEED or simply demonstrate their knowledge of green building. These individuals may choose to remain at this level if they have no need to work in-depth with any of the LEED rating systems.
However, a significant number of green building professionals will work toward their LEED AP with specialty credential.
"We saw 10,000 professionals become LEED APs in Canada, most of whom we expect to upgrade to LEED AP with specialty," says Steve. "The pressure is on our staff and our systems to accommodate their educational needs we know will come."
That pressure is coming soon. Deadline to upgrade for most Canadians is Thursday, October 27, 2011. The deadline for Canadians who wrote the USGBC exam in Canada in 2004 (or earlier) could be as early as August 1. Pay attention to these dates! If you make the decision after your deadline to pursue LEED specialty credentials, you will be required to write the LEED Green Associate exam - and proceed from there.
The next step after registration is to choose your specialty. "Upgrading your credential defines you as a professional interested in keeping abreast of a rapidly evolving industry," says Steve. "It tells your peers, clients and stakeholders that you are committed to remaining current with our industry and the marketplace."
He adds that specialties are increasingly useful in opening business - and career - opportunities. "More and more often, proof of your professional expertise is requested in RFPs and other professional scenarios."
LEED APs can choose not to identify a speciality; those members would not need to upgrade their credential.
Once you've made the decision about specialty, you can choose between two options for advancing: take the LEED AP exam, or undertake a 30-hour, flexible credential maintenance (CE) process.
"Most members will choose the credential maintenance option," notes Steve. "It takes more time but not many people liked going through the examination process the first time around! It also helps the LEED professional acquire knowledge and skills they can apply on projects."
The 30-hour CE process must be earned within a two-year period that begins the day you enrol in the Credentialing Maintenance Program (CMP). It includes activities such as active participation in Chapter activities (serving on the Board, attending workshops or the AGM), presenting workshops, writing articles of substantive length (at least 1,000 words), participation on LEED projects, etc. Credential maintenance for other, related organizations also is likely to be counted toward CE providing it has been approved for this education.
"The continuing education component is a very flexible process. Clearly, it adds value to the industry and those working within it," observes Tanya.
CaGBC is working hard to support members as they move through the new system. "We are increasing the education available to LEED APs with specialty to support their needs," says Steve.
The third and final level of LEED credential - the pinnacle of success - is the LEED Fellow designation, developed to honour and recognize distinguished LEED APs who have made a significant contribution to the field of green building and sustainability at a regional, national or international level.
LEED Fellows must be LEED APs with specialty who have held the LEED AP credential for a minimum of eight cumulative years and with at least 10 years' experience in the green building field. Nominees for LEED Fellows are nominated by their peers and evaluated on four of five mastery elements: technical proficiency, education and mentoring, leadership, commitment and service, and advocacy.
The inaugural LEED Fellows will be announced at Greenbuild 2011, Oct. 4-7 in Toronto.
Achieving your LEED Green Associate designation
Start your way up the professional ladder! Earn your LEED Green Associate designation by following the steps below as set out by the Green Building Certification Institute (GBCI).

1. Eligibility
Candidates must have experience with one of the following:
documented involvement on a project registered or certified for LEED

OR employment (or previous employment) in a sustainable field of work

OR engagement in (or completion of) an education program that addresses green building principles
Candidates must describe their eligibility in their exam applications, offering all required details.
2. Application
Simply log into My Credentials on the GBCI website, select "Apply for an exam" - and follow the prompts to completion. Please note, there is an option for student pricing depending on your eligibility.
You don't have to complete your application at one sitting; you can leave it incomplete and return to it later. Your application won't be processed until it is completed and submitted. When it has been accepted, you will receive on-screen notification and will be given an application reference number.
You will receive notification within seven days that your application is either approved or incomplete. If it has been approved, you can proceed to registration.
3. Registration
Again, log into My Credentials on the GBCI website. Select "Register for an exam." If you don't see this option, you have not applied for an exam, your application hasn't been approved or has expired. If you do have this option, again follow the prompts to completion.
Within 48 hours, you will receive an e-mail confirmation giving you an eligibility ID number, which you must use to schedule an exam appointment through Prometric.
You may register anytime during your one-year application period through My Credentials. There is no required waiting time between registrations; however, you may have only one pending registration at a time.
4. Scheduling
Once you've registered and have your eligibility ID, schedule an exam appointment. Make sure to verify that your name matches the identification you will present at the test centre. If it doesn't match, contact GBCI Name Changes or call +1-202-828-1145.
Once you've completed the scheduling steps, you will receive a confirmation number onscreen and in an e-mail. Be sure to keep the confirmation e-mail for your records since you will need it for any communication with GBCI or Prometric about your appointment or if you want to confirm, cancel or reschedule your appointment through the Prometric website.
5. Preparation
Canadians preparing for the exams are doubly fortunate. They have ready access to a wealth of resources from CaGBC as well as from GBCI. The test specifications, which consist of domains and their corresponding knowledge areas, provide the framework of the exam. The texts used to develop the exam are also referenced. Together, they form the study materials for the LEED Professional Exams.
As well, sample questions, which are items discarded in the exam creation process, give you a chance to familiarize yourself with the format and general content of items on the exam. Please be aware, however, being able to answer these questions doesn't guarantee your success on the actual exam.
View your exam's test specifications, exam references and sample questions.
LEED Green Associate
LEED AP Building Design + Construction
LEED AP Homes
LEED AP Interior Design + Construction
LEED AP Neighborhood Development
LEED AP Operations + Maintenance
LEED for Homes Green Rater
6. Exam Day
Following are some tips to make sure exam day goes as smoothly as possible:
Ensure your name in My Credentials matches the name on the identification you will be given at the test centre.

Arrive at the test center 30 minutes before the exam time so you can check in, get settled and begin the tutorial.

Be prepared to leave all your belongings outside the testing room.

Follow all test centre regulations and requests.

File an incident report with test centre staff if there are any irregularities in the exam delivery.
Your results will be posted to My Credentials no later than 72 hours after your exam. Check out the following as well:
Book Review by Trina Larsen, P.Eng., M.Sc, LEED AP +
Kick the Fossil Fuel Habit - 10 Clean Technologies to Save Our World
by Tom Rand, 2010
"Climate change is not a political issue. It is neither left nor right, liberal nor conservative, corporate nor anti-corporate. It is a serious, practical problem affecting everyone - and it needs to be solved."
-- Tom Rand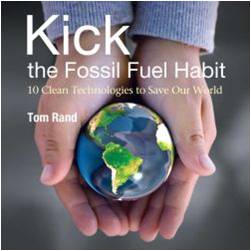 What would One Trillion dollars buy you?
This question is asked for 10 different technologies that can replace fossil fuels. From solar to geothermal to smart grids and everything in-between, Tom Rand explores ways to break our addiction to fossil fuels. The one trillion dollar figure comes from the International Energy Agency's prediction that the world needs to invest $45 trillion in energy systems over the next 30 years. If this gets invested in clean infrastructure, rather than traditional, what can be done?
Mr. Rand explores the practical approaches for each technology, along with the technical and financial limitations. He shows how energy sources can be pushed using today's knowledge and, being both an engineer and an economist, he includes some of the potential challenges associated with each technology. Yet he exudes optimism that we can overcome these issues.
Sandwiched between each technology is a collection of essays on topics reinforcing the reasons to break our fossil fuel habit and move towards a non-carbon based economy. These essays are quite thought provoking - particularly Mr. Rand's comments on nuclear power.
This book is a celebration of where society needs to be, before fossil fuels become prohibitively expensive.
Alberta Sustainable Building Symposium - What you said!?!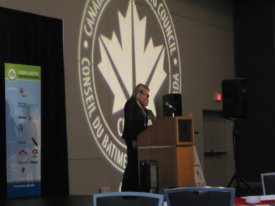 This is a particularly apt question considering the theme for the refreshed and reformatted 14th annual Alberta Sustainable Building Symposium (ASBS) was "Join the conversation."
And the answer is clear. "Our presenters challenged everyone in the room to move beyond their comfort zones of knowledge, application and expectations. Alberta's sustainable building industry has achieved some huge and significant milestones - but we still have a long way to go before our ideals are entrenched," says Tanya Doran, Alberta Chapter, CaGBC Executive Director.
"The ASBS - Alberta's premiere green building event - again offered a perfect forum for re-energizing the conversation and re-igniting our collective passion for exploring the evolving areas of our industry."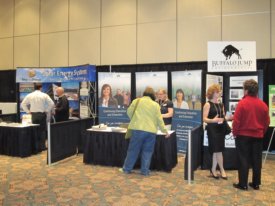 The 300+ attendees had lots to explore, from the short, energy-filled plenaries to the BIM sessions held concurrently with the plenaries to the 20+ trade show booths. More than 110 people attended the BIM workshops in Calgary and Edmonton.
Following are some of the memorable moments from ASBS 2011:
Jason McLennan, keynote - I challenge Alberta to put forward a living building.

Laura Aune, Canadian Trade Commissioner - Dallas - We used to have the argument about sustainable building in Texas, LEED won.

Ganesh Bala, Canadian BIM Council - BIM is a want, a need, a must for sustainability.

Cory Krygier, Jigsaw Homes - Presenting high performance specs on a real estate listing is like including nutrition information on food packaging. Consumers have a right to know. We need to empower home owners by educating them about the real advantage of building green in a clear, simple manner.

Dan Cloutier, Cummins Power Ecosystems Inc. - Increasing the use of co-generation systems in commercial buildings has the potential to reduce U.S. energy demand by 23 per cent.

Mark Anielski, The Economics of Happiness - About 40 per cent of life satisfaction comes from our relationships with people. I challenge all of us to rethink how we quantify our quality of life. Is it through our national GDP, or how much we earn, or what?

Anne F. Rosen, Canadian Trade Commissioner - Chicago - Last year in the U.S. alone there were 300,000 trademarks proclaiming "green" or "eco." That's a lot of greenwash.

Trina Larsen, Alberta Chapter Chair - We must create a new story as a province. Sustainability is here to stay.

Marnie Banting, Wal-Mart - Wal-Mart's goal for the Balzac distribution centre is net zero energy use. We're even looking at a green supply chain. We are committed to walking the talk of sustainability .

Laura Aune, Canadian Trade Commissioner - Dallas - LEED defines the Dallas building code.

Cory Krygier, Jigsaw Homes - Focus on the return of investment for green upgrades. Their value exceeds the dollar savings. Show buyers the value, not the investment.

Jason McLennan, keynote - Instead of building buildings just less bad, how about we build them so they are restorative? Let's put something back.
Fast-forward the old TV show, "Have Gun, Will Travel" to 2011 . . . and the Canada Green Building Council and Alberta Chapter just could make you an offer you shouldn't refuse!
While most LEED workshops and events take place in Edmonton and Calgary, LEED professionals can - and will - travel outside the two major centres to hold sessions in smaller centres.
"LEED is important throughout the province. We have LEED projects in many smaller communities," observes Alberta Chapter, CaGBC Executive Director Tanya Doran. "That means we have professionals who want to keep abreast with LEED updates and information."
An example was a LEED for Construction 2009 workshop held in Medicine Hat in March.
Whether you work for a municipality, a local construction group or represent a trades organization, inviting LEED to visit outside Calgary or Edmonton is an economical option for your group. If you're interested in holding a LEED workshop in your community, call the Alberta Chapter at (780) 669-3825.
It's not too late to cast your vote for your favourite Edmonton 2011 CANstruction creation. View the creations and take it from there. Voting for the 2011 People's Choice Award closes May 21, so hurry!