Does "Green" Pay? Enroll today!
Municipal leaders understand the need to ensure our families and communities have a healthy, sustainable environment into the future. And as a responsible steward of public assets today, they have to be prudent spending money on services and capital investments. Are these two duties in conflict?
Does taking action on energy efficiency and reducing Greenhouse Gas emissions really come at the expense of other priorities? Can you achieve both your environmental and your financial responsibilities?
We can help Alberta's municipal leadres answer these timely, relevant, but tough questions.
The Municipal Climate Change Action Center (MCCAC) and the Canada Green Building Council (CaGBC) invite you to register for a new and unique education certificate program in Green Building Economics for Municipal Leaders. This 5 part program includes two online courses and three webinars focused on Alberta municipal case studies. Learn from the experience of other local government leaders like you, who have provided value for money to their citizens by also doing the right things for the environment.
Program Description
Date
Program Component
Program Content
April 3
Webinar #1

Introduction to the Green Building Economics for Municipal Leaders program

What you need to know about the Taking Action to Manage Energy (TAME) Buildings Initiative

Case Study: Jasper Municipal Library Renovation and Expansion Project

April 3-April 25
Participants complete on-demand
Green Economics course #1

The Business Case for
Green Building

Does Green Cost More?

Provided Online – 1.0 or 1.5 hours to complete

April 25
Webinar #2

Case Study: City of Calgary – public building renovation

Open discussion of learnings from Green Economics Part 1: The Business Case for Green Building

April 25 - May 23
Participants complete on-demand
Green Economics course #2

Making Green Pay

How do you develop green buildings economically?

Provided Online – 1.0 or 1.5 hours to complete

May 23
Webinar #3

Case Study: Alberta Municipal Place

Open discussion of learnings from Green Economics Part 2: Making Green Pay
The first online course provides an introduction to the business case for green buildings. This session will focus on the question, "Does green cost more?" It explores how cost savings from energy efficiency can also unlock access to other benefits.
The second course will show you how to economically develop green buildings. This session will discuss a wide variety of strategies that can reduce or eliminate cost premiums for green development projects. It will offer you tools in approaching investments to achieve long lasting benefits.
All successful graduates of the Green Building Economics for Municipal Leaders program will receive a certificate from the MCCAC and the CaGBC recognizing their accomplishment.
The introductory webinar to launch the program is April 3, 2012.
Register today for this special, five part educational opportunity. The rate is only $80 ($60 for CaGBC corporate members). Enroll today!
As a special bonus, all registrants receive a $100 discount on registration at the Alberta Sustainable Building Symposium in
Calgary on May 3.
Taking action to proactively manage energy in your buildings can help you be a responsible steward of the environment and of public infrastructure assets. Be one of the growing number of municipal leaders who are learning how. Join us in this new and unique education program.
Special green building FOCUS for Alberta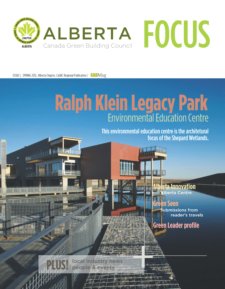 A Canada Green Building Council [CaGBC] special regional publication in partnership with the Alberta Chapter. This regional FOCUS publication will be mailed to design and building decision makers in Alberta, and handed out at the Alberta Sustainable Building Symposium, and at all Chapter events throughout the year. For more details click here.

Don't miss this great advertising opportunity!

Associate your company with local green building - and benefit from the visibility

it will bring!

Alberta Chapter board welcomes new Directors

Congratulations to re-elected Board Director Cam Munro, representing Red Deer North and new Board Directors Mike Melross, representing Red Deer North, and Nancy Burton, representing Red Deer South.

At the Alberta Chapter Board meeting held March 14, Cam was elected Board Chair.

Elections for the three Board positions were held by electronic vote in February and announced at the AGM.

Board Director positions are for three-year terms. This year, a maximum of three positions were available. This systems ensures continuity on the Board so new members can make use of the experience of veteran Directors while offering their fresh perspectives to the many issues and opportunities facing the Chapter.

Board Chair Cam Munro offers strong leadership skills and indepth experience in the sustainable building industry.

Cam has worked in the construction industry for more than 25 years, and is the Senior Sustainable Innovation Specialist with Clark Builders. He has been involved in over 14 LEED projects throughout Alberta. He is an enthusiastic supporter of the Integrated Design Process (IDP) and has contributed to sustainable construction documentation and participated in IDP workshops as a contributor and speaker.

Mike and Nancy both bring very strong skill sets to the Chapter.

Mike, Senior Environmental Project Manager, Urban Planning & Environment for the City of Edmonton's Sustainable Development Department, offers a wealth of experience.

He started at the City of Edmonton seven years ago as an Environmental Manager for the Fleet Services branch where he developed and implemented an ISO14001 Environmental Management System. His recent accomplishments include: " member of The Way We Green: The City of Edmonton's Environmental Strategic Plan project team, " currently program manager responsible for the development and implementation of Edmonton's Green Building Plan, " has functioned as President of the Alberta Capital Airshed Alliance, and " provides technical support to the City of Edmonton's Brownfield Development Coordination Office.

Before joining the City, Mike was an environmental consultant working primarily in real estate due diligence, environmental management systems, and contaminated sites assessment and management. Mike has also worked in wildlife management and ecotoxicology. Mike is a registered Professional Agrologist through the Alberta Institute of Agrologists.

Nancy is the team lead for Stantec's Sustainable Solutions group in Calgary. She has more than eight years' experience delivering a variety of services including contract administration, LEED documentation, coordination and direction, and project management. Her architectural background combined with LEED project experience is a strong asset for design teams in finding sustainable solutions for each building's unique issues.

Nancy first became involved in the green building industry while working for HCMA in Vancouver. When USGBC released the LEED rating system, Nancy became the key person for implementing LEED into the firm's projects.

When she joined Stantec, Nancy became involved with their Sustainability Faculty and began running internal training sessions to prepare other Stantec employees to challenge the LEED AP exam.

Nancy has worked on more than 22 LEED projects over the past eight years using both USGBC and CaGBC NC, CI, CS and ED: O&M rating systems. She participates as an alternate on the MR Tag committee for CaGBC and is part of the CaGBC Review Team.

Government of Alberta webinars
Planning for a sustainable workforce

Alberta is projecting a labour shortage. Learn how you can hire and retain temporary skilled foreign workers to help plan for a sustainable workforce. Register online to attend one of two webinars hosted by the Government of Alberta on April 11th and April 18th.
---
News & Views is the biweekly e-blast of the Alberta Chapter, Canada Green Building Council.
Do you have a short submission you would like included or websites you would like to share? E-mail Tanya Doran, Executive Director.