The 2011 Calgary CANstruction competition raised more than 43,000 pounds of food for the Calgary Food Bank with creations supporting the "Oh Canada" theme.
Again this year, Fluor Canada Ltd. took the Structural Ingenuity Award for its design of non-perishable canned food tins.
Other award winners:
Best meal: The City of Calgary
Best use of labels: ABB Inc
Best use of theme: ARC Resources
Juror's favourite: Bantrel
Check out the photos of the awesome creations.
Canstruction® is a global anti-hunger project. Using canned food and other non-perishable items as building blocks, teams of engineers, designers, architects and builders create extraordinary structures. When the competition is over, all food goes to the local food bank.
Since 2006, Canstruction® Calgary has provided nearly 300,000 pounds of food to needy Calgarians.
Are you taking part in Edmonton's CANstruction competition? Let us know!
Deadline for entering the Edmonton competition is March 31, and the creations are to be built May 6. They will be on display at Southgate Centre from May 7-21.
If you're competing, let us know. We'll help tell your story from the trials of creation through the fun of construction – and we'll publish the highlights of your photos!
Hole's Enjoy Centre redefines the "green" in greenhouse operations.
For more than 50 years, Hole's Greenhouses and Gardens in St. Albert has appealed to "green thumbs" throughout Alberta and beyond.
Never a family to rest on their laurels, however, the Holes realized a "destination garden centre" would offer a more amenable experience for their traditional fans as well as the 20- and 30-somethings.
Enter the Enjoy Centre. Located on a 4.5-hectare site a few kilometres away from the familiar Hole's location, the Enjoy Centre's experience includes event and banquet space, delis, spas and wine stores familiar to younger urban residents as well as the greenhouse operations.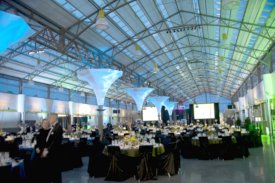 "Many younger folks simply aren't as familiar with gardening and gardening centres as their parents and grandparents were," said Jim Hole. "The Enjoy Centre will let them discover gardening in a context they are comfortable with."
Equally exciting are the many sustainable building features at the centre.
For example, locating the greenhouse spaces on the second storey, some on top of warehouse space, maximizes heat and water savings. "This design takes advantage of heat rising from main floor areas and incorporates an efficient water collection system," says Jim.
Water efficiency is a big feature at the centre. "We collect rain water off the roof," Jim notes. The water flows down pipes into a 500,000-litre cistern, then is used to water the plants in the greenhouses.
As well, the greenhouses use flood floors that allow each plant to take the water it needs – and no more. "Gone are the days when we irrigate each plant and allow the excess water to drain away," Jim explains.
Another innovation is the track system that moves each hanging basket to a central station where exact amounts of water needed and supplied are monitored. "We have zero runoff throughout our Enjoy Centre greenhouse operation."
Other sustainability features include an onsite co-generation system used to heat the greenhouses.
As well, all floors are heated, ensuring the heat is supplied to the roots and stalks of the plants. "Heat conservation is an important concept in our industry. Plants are like people in many ways. If your feet and lower body are warm, you don't need so much heat in the rest of the room."
The Centre also features a sophisticated control system with double windows and automated curtains that close at night to contain the heat.
Using the building 365 days a year also makes good sustainability sense. "If your greenhouse is vacant or under-used for several months of the year, you're not making best use of the infrastructure. We maximize the use of the space – and combining plants with event space ensures the plants are scrubbing out the volatile gases in the air."
Finally, the Enjoy Centre is placing heavy emphasis on local food suppliers for their deli and food market operations. "We are enthusiastic supporters of the living local concept. Every food source we can get locally cuts down on transportation requirements, reducing the carbon footprint. And that's good for everybody."
Provincial Product Profiles – Mould Control
by Andrea Pelland & Stephani Carter, of EcoAmmo and Green Alberta
Moulds are found in our natural environment and are vital to the decomposition of organic materials – they also serve to recycle nutrients back into the soil.
Moulds reproduce and grow very rapidly; all that is needed is a food source and moisture and they will flourish. Unfortunately, food sources for moulds can include wood, paper, insulation, and even paint and drywall.
As important as moulds are to the natural world, they can become dangerous and even toxic when located indoors. Mould only needs a few days to start colonizing and producing spores – these spores can produce compounds such as mycotoxins that in humans can produce anything from allergic reactions to serious immune and respiratory problems.
Once mould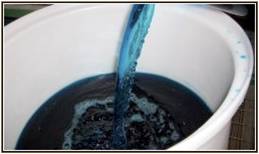 has gained a foothold indoors, the removal and
clean up process can be very costly and time consuming.
The best way to deal with mould is to ensure that your home is an unfriendly place for it to grow. One way to do this is to use a wood sealer to prevent moisture gain. An Alberta company, Genics Inc., manufactures a product called CobraTM Coat-Blu, an oil-free, environmentally safe, home use mould control. It is easy to apply and is non-toxic to people; it can be used as a pre-treat for residences and commercial buildings as well as on decks, fences, poles, spindles, landscape timbers, lattices, gazebos, etc.
For more information, please visit www.genicsinc.com, or www.greenalberta.ca.