The Countdown is on. Time is running out!
Update to a LEED AP with specialty today!
Thinking about upgrading your existing LEED AP to the new LEED AP with Specialty designation? Now is the time to do it.

As of August 1, the one-time upgrade process will be counting down to October 27. For example, if you wrote the CaGBC LEED AP exam, you will have until October 27th. If you wrote the US exam before 2004, your date could be as early as August 1st.
Why Upgrade?
Professional differentiation - identifies your robust knowledge of green building principles and practices
Highlights knowledge – shows your expertise in a particular type of LEED project
Current skills – proves your expertise is current and relevant and shows your commitment to continuing education
Recognition par excellence - The LEED AP with specialty credential will continue to be recognized by the green building industry and by the LEED rating systems.
How do I Upgrade?
There are two (2) choices: (1) write and pass a specialty exam; or (2) enrol in the prescriptive Credential Maintenance Program (CMP). Option 2 requires earning 30 prescriptive Continuing Education (CE) hours in Years I & II, and following the CMP thereafter.
CaGBC Education – We're Here for You!
Click on the following links to download resources related to the webinar "LEED Credentials: What Existing LEED APs Need to Know:"
In addition to our popular one- and two-day workshops, we are developing and launching new online courses. CE credits are clearly indicated to help you make the best choices for your ongoing professional development.
For more info, visit the LEED Credentialing page on the CaGBC website.
Green Build 2011 Registration Now Open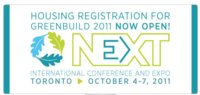 Registration is now open for the world's largest conference and expo dedicated to green building. The U.S. Green Building Council is partnering with the Canada Green Building Council, to host the 10th annual Greenbuild International Conference and Expo at the Metro Toronto Convention Centre, October 4-7, 2011.
Greenbuild is the green building industry's must-experience event. It's where we go to learn about what's new in green building practices through extensive educational sessions; exhibit-hall technologies and innovations; and of course, where we go to do business.
Most sessions at Greenbuild will be approved for continuing education credits for LEED and other professional credentials.
Visit the Greenbuild Expo website.
CaGBC members will receive discounted pricing (USGBC member rate) during the early-bird registration period. When you login to the web page, use the promo code cagbc-gb11. This special pricing will expire at the early bird deadline. Join now and save!
CaGBC Member pricing (full conference): $600 early registration, $700 after August 15
Non-Member (full conference): $775 early registration, $975 after August 15.
Register for Greenbuild today. You'll be glad you did. Click here.
Kick Start a Young Green Professional's Career
CaGBC invites you to help a student attend Greenbuild 2011 in Toronto.
Over 800 students and emerging green builders will be volunteering at Greenbuild 2011 in Toronto from October 4-7. With free admission to over 120 education sessions and the Expo, volunteering is a unique opportunity to learn and network with industry professionals from all over the world.
You can help offset travel costs for out of town volunteers by donating to the CaGBC Aeroplan Charitable Pooling Account. All contributions are welcome and will be used to subsidize flights and improve the overall volunteer experience.
Donating is easy! Until Thursday, June 30th, make a donation by completing this form. Signed pledge forms can be faxed to 613-241-4782 or emailed to greenbuild2011@cagbc.org. Aeroplan Miles will be deducted from your account by the end of July.
Your donation will be providing an opportunity for students and emerging green builders to not only learn from leaders and innovators in the green building industry but also bring that knowledge home and share it with their post-secondary institutions and local chapters.
---
News & Views is the biweekly e-blast of the Alberta Chapter, Canada Green Building Council.
Do you have a short submission you would like included or websites you would like to share? E-mail Tanya Doran, Executive Director.