Already a LEED AP or Studying for Your Exam?
Even if you've earned your credential or know where to begin studying, we'll be covering the Credential Maintenance Program and available tools and resources to support you in earning and maintaining your credential. This is also a great opportunity to connect with other aspiring LEED Professionals and form study groups.
Calgary
Edmonton
When
June 27
noon - 1pm
July 17
noon - 1pm
Where
The Water Center
25 Ave & Spiller Rd. SE
Productivity Alberta
Suite 301, Cecil Place
10110 - 104 Street NW
Cost

Free!
You must register to confirm your attendance


Register
click here
click here
Improved energy benchmarks for LEED Canada for Homes to take effect August 1, 2012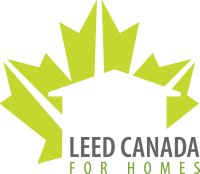 The Canada Green Building Council (CaGBC) has completed a national consultation on the energy prerequisite in LEED Canada for Homes. Introduced in early March 2009, LEED Canada for Homes is a national third-party certification system for energy efficient, healthy, green homes with over 1800 homes registered, and 350 certified to date.
In an effort to build upon this success, the CaGBC has responded to the suggestions of LEED Canada for Homes builders and developers by consulting with the industry to determine whether or not it should be raising the minimum energy efficiency threshold for participation in the program.
As a result of the survey that was conducted in winter 2012, the CaGBC has announced that the new minimum for energy performance in the LEED Canada for Homes rating system will be EnerGuide 80 for all homes that register after August 1, 2012. In keeping with this, the Prescriptive and HERS (Home Energy Rating System) paths will also be adjusted: a HERS score of 72 will be required, or if using the prescriptive path a minimum of 8 points will need to be achieved from EAc2, EAc3, EAc4, EAc5, EAc6 and EAc7.3. Projects that are registered before August 1 will be able to continue with the existing energy performance thresholds.
The CaGBC would like to thank all of those who provided feedback from across the country, and for continuing to help shape the progress of LEED Canada for Homes. We'd also like to recognize the great work being done by the hundreds of dedicated green home builders in Canada who are committed to improving the way homes are built now and in the future.
For more information on LEED Canada for Homes or the updated energy requirements, please visit www.cagbc.org/homes. We also welcome your feedback at any time, comments can be sent by email to homes@cagbc.org.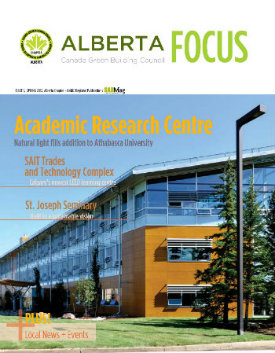 Alberta Focus

Did you receive the Alberta Focus edition of SABMag?

If not download it here and learn about the new and exciting green building projects in our province.








The BOMA e-Energy
The BOMA e-Energy Training is a BOMA initiative, supported by 10 BOMA local associations, committed to delivering relevant and timely CRE education. This is an energy management course for building operators and managers of commercial and institutional buildings. Delivered online, in a self-learning format, participants learn at their own pace, and have access from remote locations. To see a more detailed breakdown of the course, visit the online presentation of BOMA e-Energy Training. Upon completion of the course, participants will understand basic energy principles, identify energy reduction opportunities, develop strategies and learn how to influence stakeholders to adopt energy savings behaviour. Learn more or register now.