Bayer employees give LEED a Gold star
For the 70+ Bayer CropScience employees, their new office space in Calgary's Quarry Park has proven a win-win-win-win situation.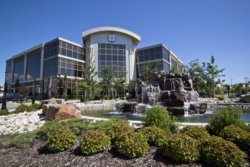 Win 1: The 2,600 m² fit-out project, over one and a half floors of the building, includes loads of sustainability features. Key highlights:
Lighting. Motion detectors are installed on all lights, so it's lights out on all vacant rooms within minutes of the occupants leaving. As well, the space makes great use of the ample natural light. The enclosed offices around the perimeter share the natural light with interior work spaces through glass walls.
Energy efficiency. Everything from the HVAC (heating, ventilation and air conditioning) design to appliances and computers contribute to energy reduction and reduced operating expenditures. For example, all computers are set to go to an energy-saving mode within 10 minutes of their last use.
Water conservation. All taps in washrooms and a gym are low flow as are the toilets and urinals.
Use of recycled materials. Recycled materials make up some of the wall materials and are a component in the carpeting as well.
Reduced carbon footprint. The building has excellent access to transit, and employees are encouraged to get out of their cars. As well, the entire Quarry Park development is set up as a modern urban village with a mix of retail, business and residential that offers basic services and promotes walking.
Win 2: The sustainable space in Calgary supports Bayer's global vision. The global giant is committed to reducing environmental headaches - and their clout is considerable.
"There are 220,000 Bayer employees world-wide. When the computers all across our network automatically go into energy-saving mode when they are silent for 10 minutes, that makes a difference," said Derrick Rozdeba, Manager of Integrated Communications.
Win 3: Calgary's Bayer employees have learned that going green doesn't mean you have to sacrifice aesthetics.
"This is a really great building. Some people think you have to give up attractiveness for efficiency and sustainability. Absolutely not," cheered Derrick.
Features such as the cork floors in the entrance and boardroom add to the ambience. "They are really lovely. They look like wood."
Win 4: LEED Gold! The project team was advised in early July of their certification - and they are proud as punch. "We were shooting for Silver - and were blown away when we received Gold certification."
New workshops offered this fall
Check it out! Two new 300 level workshops on Solar Energy: Best Practices for Residential Buildings and Design, Installation, Green Economics: Strategies for Making Green Buildings Financially Successful and Management of Rainwater Harvesting Systems will be offered this fall in Alberta.
"The Chapter is delighted to offer these specialized sessions to our members and others interested in keeping on top of the emerging technologies in our profession," says Tanya.
The workshops were developed in partnership with the Toronto Regional Conservation Authority. Dates are being determined. Stay tuned for more details.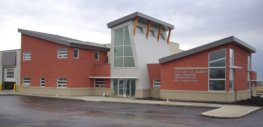 St. Albert fire hall eager to set milestone
Do the numbers add up for the City of St. Albert's Fire Hall No. 3? Will the impressive, eco-friendly new headquarters for the city's fire service become the first LEED Gold certified fire hall in Alberta?
While the St. Albert team eagerly awaits the official announcement about their quest for gold, a quick review of the project offers some impressive stats:
More than 90% of the building has access to natural light.
Water consumption, on average, has been reduced by 75 per cent compared to other fire halls through the use of low flow faucets, showerheads and water-efficient landscaping.
Specific building materials were used to reduce the station's carbon footprint:

15% of the building materials contain recycled content,
20% of the materials were manufactured locally to reduce greenhouse gas emissions, and
a minimum of 50% of certified wood products were used in construction.

For the first two years of operation, 100% of the building's estimated electricity requirement was purchased from wind power, again reducing greenhouse gas emissions.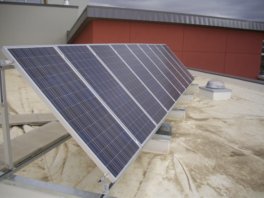 The building features a white roof to help keep the facility cooler in summer and warmer in the winter. Work spaces feature individual environmental controls.
Clearly, the St. Albert team kept focused on LEED requirements during design and construction - an incredibly difficult task considering the building was constructed during the 2007 construction boom in Alberta.
"We considered both immediate and future environmental benefits at every stage of design and construction," says Tracy Allen, Capital Projects Manager for the City of St. Albert. "For example, we chose the flooring based on VOC emissions and recycled content, as well as considerations for long-term durability and maintenance."
PCL Construction showed their commitment to sustainability on the job site. "They set up systems that made best use of resources throughout the months of construction."
These included:
recyclable material that was sorted into bins on site, and
all waste leaving the site was weighed and accounted for.
The results speak for themselves, with approximately 85 metric tonnes of construction waste - about 85% of the total waste from the project - diverted from local landfills.
The team also considered the facility's long-term durability and maintenance, creating a civic environment that encouraged eco-friendly behaviours. "We wanted to ensure the project resulted in a really good balance of both immediate and future environmental benefits," Tracy added.
Staff are encouraged to use alternate forms of transportation such as carpooling, bicycling and public transit. As well, the fire hall follows a green cleaning policy with only eco-friendly cleaners allowed.
The St. Albert project team is proud of the building - and so are the 56 emergency services personnel and eight administrative staff who call the fire hall home during their work days.
"It's a pleasure to work at Fire Station No.3," says Bernd Gretzinger, Deputy Chief - Logistics. "This building is a premier facility and also a leader in environmental best practices."
Maintaining your LEED credentials
Alberta Chapter Executive Director Tanya Doran has some advice for you: keep focused on your deadline!
If you're a LEED AP with Specialty and have chosen to maintain your credentials through the credential maintenance process, you must earn 30 hours every two years. LEED Green Associates must earn 15 hours over the same period.
"Two years seems like a long time, but break that time up into annual quarters. You have eight quarters to earn your points," says Tanya. "How many points have you earned since May? That's one quarter gone."
The two-year period that begins the day you upgrade. It includes activities such as active participation in Chapter activities (serving on the Board, attending workshops or the AGM), presenting workshops, writing articles of substantive length (at least 1,000 words), participation on LEED projects, etc. Credential maintenance for other, related organizations also is likely to be counted toward CE providing it has been approved for this education.
For more information on CE, check out the Canada Green Building Council website.
Edmonton seminary embodies permanence, peace and sustainability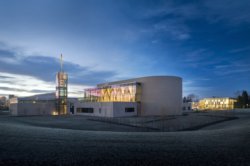 Change can mean opportunity - for leaders with vision and determination.
Such is the case with St. Joseph Seminary, an Edmonton landmark since 1927. Owned by the Roman Catholic Archdiocese of Edmonton, the seminary has expanded and moved locations several times in its history, most recently to accommodate construction of Edmonton's Anthony Henday ring road.
At the outset of the project in 2007, the Archbishop of Edmonton made one remarkably influential statement: "The Catholic Church thinks in hundreds of years."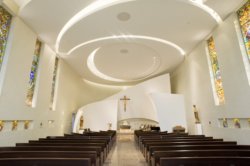 That simple declaration guided the entire design, helping to create a beautiful seminary with a sense of permanence - and 21st century sustainability features that are targeting LEED Silver. Those features include the use of:
high recycled content steel,
operable windows,
daylighting, and
energy efficient electrical/mechanical design.
The exterior material finishes draw from the character of the site and from St. Joseph's Basilica, the flagship of the Edmonton Roman Catholic Archdiocese. The combination of stone, brick, metal and glass provide a quiet, elegant palette. The composition of the materials expresses the three major elements in the seminary - the chapel, the community spaces and the residence.
DIALOG, an integrated multidisciplinary team of architects, engineers, interior designers, urban designers and planners, was the prime consultant on this project, providing a fully integrated design approach. DIALOG's integrated team was led by Donna Clare, principal and lead architect, and included Alberta Chapter President Trina Larsen, an electrical engineer.
While the team is still awaiting word on their quest for LEED Silver, the project is a multi-award winner, so far earning:
an Award of Merit, 2011 Illumination Awards, The Illuminating Engineering Society of North America, and
an Award of Excellence - Buildings Category, American Concrete Institute Awards - Alberta Region.
The seminary is located at 9828 - 84 St., Edmonton.
Photo credit: Jason Ness Photography
Book Review by Trina Larsen, P.Eng., M.Sc, LEED AP +
Balance of Nature - Ecology's Enduring Myth
by: John Kricher, 2009
"The Earth's collective biodiversity is experiencing its sixth major extinction event since multicellular life first evolved. It is also passing through a period of rapid climate change, a change that is likely forced by anthropogenic actions."
- John Kricher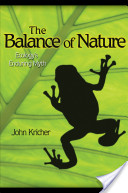 The buildings that we, as building professionals, design and construct impact the surrounding flora and fauna. But have we disrupted the balance of nature? This book seeks to counter the myth of balance of nature, without negating human impact.
Mr. Kricher takes us on a journey through changes in human understanding of ecological processes and in actual evolutionary change. Throughout, he points out there never has been, nor will there be any balance within nature. On the contrary, nature is constantly changing and evolving in order to survive both natural and anthropological impacts.
At the same time, he doesn't let humans get off easy - he points directly to us as the cause of the current major extinction event, stating: "the human impact on Earth is staggering, and grows daily!"
Some readers may be concerned that without a presumed natural balance, a licence is given to continue the status quo. But we're not let off the hook. Mr. Kricher finishes by showing how to ensure the sustainability of Earth's ecology while reconfirming the economic benefits of natural processes. He proposes environmental ethics that involve informed decisions towards impacts on ecological processes which result in the least harm to those processes.
Mazankowski Heart Institute earns Silver
Congratulations to the Mazankowski Alberta Heart Institute on achieving LEED-NC Silver certification.
The Institute's achievement marks a milestone for Alberta - the first hospital or health centre in the province to achieve LEED certification and only the seventh in Canada to earn the honour.
There are currently 12 health care facilities registered for LEED certification in Alberta.
A world of CaGBC education at your doorstep
Have you ever looked wistfully at the array of workshops offered by the Canada Green Building Council (CaGBC) and imagined how great it would be to attend one of them in your own community?
Wonder no more - and start drawing up a list of your colleagues and other interested professionals whom you can invite to a workshop. The more people who attend, the more cost-effective the workshop will be.
"Every workshop on the CaGBC roster can be offered very economically as a private workshop," said Tanya Doran, Executive Director, Alberta Chapter CaGBC. "You can tailor your session however you want. Keep it formal, or have some fun and keep it informal."
Of course, economics dictate that the more attendees you attract, the more the fee can be discounted. You can count on a cost-effective session with as few as 10 participants. With 40, expect fee discounts of almost 50 per cent.
The added bonus of exploring private workshop delivery: you and your group get the same professional instruction on your own doorstep. Just supply the venue and lunch - and let the Alberta Chapter do the rest.
U.S. green building market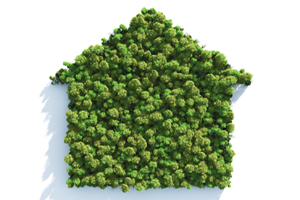 Remember Laura Aune, Canadian Trade Commissioner - Dallas when she spoke at the Alberta Sustainable Building Symposium (ASBS) in May?
Laura doesn't mince words. At ASBS, she said:
We used to have the argument about sustainable building in Texas. Get over it. You have a tool. Use it.
Last year in the U.S. alone there were 300,000 trademarks proclaiming "green" or "eco." That's a lot of greenwash.
LEED defines the Dallas building code.
Now she's got another message for Canadians interested in sustainable building: if we want to take advantage of "explosive growth" forecast for the U.S. green building sector, stop thinking about U.S. markets "as one monolithic market". Look to where the activity is, and focus your efforts.
Read more on the Foreign Affairs and International Trade Canada website.