LEED Silver for University of Lethbridge water & science building
The Lethbridge region: known for its sunshine, agriculture and, of course, the city's famous High Level Bridge. It's also making a name for itself as a world-class natural laboratory for the study of water. With its proximity to the mountains, the region's river systems and prime agricultural land, Lethbridge offers ideal conditions for water research.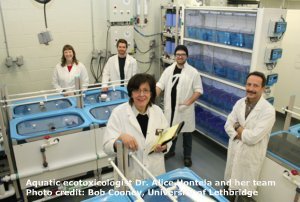 Couple the natural environment with the University of Lethbridge's (U of L) Alberta Water and Environmental Science Building (AWESB) - and you have an ideal magnet to attract top calibre researchers.
The 5,500-square-metre (approximately 60,000-square-foot) facility opened Nov. 13, 2008 - and received its LEED Silver certification in October 2011.
Designed by Dialog integrated design and built by Graham Construction, the AWESB focuses on environmental responsibility and incorporates innovative features that maximize energy and water use including:
collecting rainwater in a basement cistern for use in toilets,
natural airflow,
more efficient air-conditioning/heating systems,
holding rainwater in retention ponds/wetlands, and
irrigation use.
A large living wall - a three-storey vertical greenhouse -- provides a unique internal green feature. The building design takes advantage of southern Alberta's abundant natural sunlight to illuminate its public areas.
Research at the centre revolves around social policy (including how the government is legislating water use); ecology (the relationship of water to flora and fauna); toxicology (the effects of chemical pollutants to the health of water supplies); environmental impacts (including how agriculture and industry impact water); and water-climate interactions (for instance, how rising global temperatures affect water systems).
The building's three levels are all busy places. The basement level houses the Aquatic Research Facility with specialized tanks for fish and aquatic organisms in which environmental conditions can be manipulated.
The two main floors include a mix of offices, meeting and class rooms, 'wet labs' (with extensive plumbing and servicing for experimental study of plants, animals and tissues) and dry labs (with computers and other electronic instruments for remote sensing and other fields of environmental research). The upper floor houses the analytical lab containing the mass spectrometers and other specialized instruments that enable environmental science research.
The $27-million centre is a partnership between the University of Lethbridge and seven provincial and federal research partners including Agriculture and Agri-Food Canada, Animal Diseases Research Institute, Health Canada, Environment Canada, Alberta Environment, Alberta Agriculture and Food, and the Alberta Irrigation Districts.
2011 LEED Certifications in Alberta
Alberta is LEEDing by example! In our major centres and further afield, Alberta construction projects are becoming LEED certified in unprecedented numbers - with 21 awarded certification in 2011.
"LEED is entrenched in Alberta! In only a few short years, the conversation has moved from weighing the merits of LEED certification to maximizing the benefits that certification offers everyone involved with the project," says Tanya Doran, Alberta Chapter Executive Director.
Following is a list of projects earning LEED certification in 2011.
Please note: two projects, achieving LEED Silver, chose to remain confidential.
Alberta Water & Environmental Science Building, Lethbridge (Silver)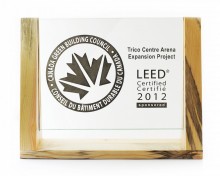 Allwest Furnishings showroom and offices, Edmonton (Gold)
ARC Resources Ltd., Calgary (Silver)
Bayer Commitment to Sustainability in Canada, Calgary (Gold)
Centennial Place, Calgary (Gold)
City of St. Albert Fire Station No. 3, St. Alberta (Gold)
Cuku residence, Parkland County (Platinum)
Dickson Trail Crossing, Airdrie (Certified USGBC)
Enermodal Engineering Ltd - Calgary Office Suite 603, Calgary (Platinum)
FT Services - Corporate Office, Calgary (Certified)
LoyaltyOne Calgary office, Calgary (Gold)
My RONA Home Season 2, Calgary (Silver)
Our Lady of the Snows & Notre-Dame des Monts, Canmore (Silver)
Quarry Park West, Calgary (Gold)
SMART Technologies headquarters, Calgary (Gold)
Spruce Grove Delivery Depot, Spruce Grove (Silver)
Trico Centre Arena Expansion Project, Calgary (Certified)
WestJet Campus Corporate Office Centre Phase 1, Calgary (Gold)
Zen in Aspen, Calgary (Silver)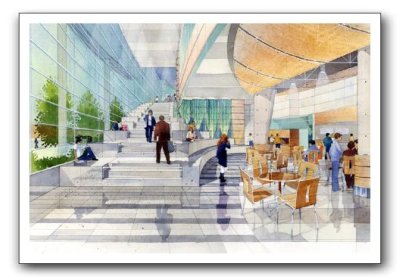 Chandos waste reduction efforts
We talk frequently and enthusiastically about sustainable building. We examine photos of exciting innovations that will help reduce our footprint and save resources.
We don't talk often, however, about the waste our construction generates - and how good a job we're doing reducing that waste.
In fact, the construction and demolition industry does not get good marks for waste reduction. This sector produces one quarter of Alberta's trash, according to the Province, yet recycles less than 10 per cent of its waste.
Chandos Construction in Edmonton is one of the exceptions. Jennifer Hancock, the company's director of sustainable construction, says she convinced her bosses early in 2011 to get the company's crews to sort their construction waste on site when possible and ship it to recyclers. By August, the company had recycled about 679 tonnes of waste from its sites, achieving a diversion rate of about 66 per cent.
The company had a number of reasons for instituting the environmentally friendly practice:
landfill fees are generally less for sorted waste than unsorted, so recycling resulted in a bottom-line impact for Chandos,
the company has its processes in place, and tested, should the Province decide to legislate recycling on work sites, and
it's simply a good sustainability practice.
"It's the right thing to do, and we see the benefit in prepping the company for the future," says Jennifer.
She adds that Chandos has long been recognized as a construction company that practices environmental sustainability. She points out that Chandos built the very first LEED® NC Silver building in Alberta, and sustainable building projects will continue to be an important part of the company's project initiatives.
"We have completed a variety of 'green' projects from new construction to interior renovations. And through the course of these projects, we have managed to divert over 1,400 tonnes of waste away from the landfill. Our construction team, including both site and office staff, work with the design team to improve the sustainability of these projects."
Book Review by Trina Larsen, P.Eng., M.Sc, LEED AP +
Getting Green Done - Hard Truths from the Front Lines of the Sustainability Revolution
by: Auden Schendler, 2009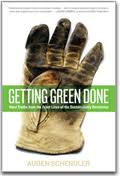 "Solving climate change is tough work. But it's also beautiful, inspiring, fun and meaningful." Auden Schendler
This book contains a series of anecdotes exploring reasons and rational for embracing change. It defines sustainability as staying in business forever, whatever your business is; thus all scales of impact need to be evaluated and communicated. It's about the challenges and foibles that most of us face every day. Upon reading it, I was left with a feeling of camaraderie - someone else is having similar struggles!
Mr. Schendler has been working to improve energy efficiency and overall sustainability for years, and has experiences that are both positive and negative. He's found the real reasons for doing the right thing challenge conventional wisdom, and often pure economic arguments aren't all that are required - the moral issue is equally important. And sometimes the right thing is done solely for marketing purposes. Ultimately, greening your business isn't as simple as flipping a switch. Even if your business fully embraces sustainability, there are wrinkles to making it happen. And, each business needs to find out what their biggest impact actually is. It may be less about in-house energy efficiency, and more about the impact outside their own facilities, on how the public spends and acts.
Making Alberta the National Leader in Energy Efficiency

If you want to participate in a discussion on making Alberta the national leader in energy efficiency, register now for a Wednesday, February 8 Alberta Energy Efficiency Alliance event at Calgary's TELUS Convention Centre.
In November 2011, Alberta Premier Alison Redford gave four of her Ministers a mandate to "design and implement an initiative that would make Alberta the national leader in energy efficiency and sustainability."
The February 8 event is the gathering place for discussions about what the Premier's direction means for Alberta and how such an initiative should be designed. The Honourable Diana McQueen, Minister of Environment and Water, has confirmed her attendance at the event.
The focus will be on high-level government policy, so discussions will be of interest to senior management. The input gathered will be compiled into a discussion paper that will be presented to the ministries working on energy efficiency.
Plan on joining other participants after the event at James Joyce Irish Pub (114 - 8 Ave SW) for continued networking.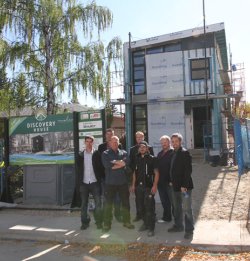 SAIT/Avalon Discovery 5 House
SAIT Polytechnic wanted to explore the facets of the latest in environmentally efficient building technologies - and Discovery 5 let them do just that.
The Discovery 5 House, another partnership project between SAIT and Avalon Master Building, was designed and constructed on SAIT's campus to research, test and demonstrate the latest in environmentally efficient building technologies.
The two-bedroom, 1,817-square-foot home took 10 months to build. The fully assembled two-storey structure was relocated mid-September, 2011 to Altadore, an established southwest Calgary neighbourhood. Discovery 5 features:
solar electric and thermal heating,
advanced grey water recycling and rain water collection to reduce reliance on the municipal water system
a green roof that filters rainwater for use in toilets
cold water laundry and irrigation located near the master bedroom
a solar chimney to heat water,
a solar photovoltaic system on the roof and garage to harness the sun's power for electricity and heating throughout the home,
a "living wall" in the kitchen, filled with many plants and herbs to improve indoor air quality and reduce cooling requirements,
wood containing blue vegetable-based coating to prevent mildew and mould,
wall-tight eco foam insulation - dyed purple for easy recognition - beneath the fixtures throughout the home.
"Building a home that generates as much or more energy than it consumes over an annual period is an exciting project to work on," says David Silburn, Green Building Technologies Research Associate with SAIT's Applied Research and Innovation Services. "It gives us the opportunity to research the latest home building technologies while providing students with hands-on learning in an emerging field."
The partnership is proving valuable for Avalon Master Builder as well as for SAIT.
"The home being built on an infill lot rather than in a new neighbourhood has made this a unique project and a different challenge compared to our other Net Zero homes," says Ryan Scott, CEO of Avalon Master Builder. "Our continued partnership with SAIT on research for green building technologies has been eye-opening for us. We are confidently incorporating new elements that bring us closer to meeting our vision of building Net Zero homes at no additional cost to consumers by 2015."
Discovery 5 will be rated/certified under LEED for New Homes, EnerGuide and Holmes Approved Homes.
The Green Building Technologies program was established by SAIT's Applied Research and Innovation Services department in 2008. With funding through the Natural Sciences and Engineering Research Council of Canada (NSERC), the program provides training to students in green building technologies and works with industry to implement and help commercialize these findings. The Discovery 5 House is the second net-zero home built at SAIT for applied research.
CaGBC streamlines LEED Canada certification process
LEED has been a highly transformative force in the Canadian building industry, driving dramatic changes in design and construction practices and operations. With the goal of better meeting the large demand for LEED certification, the CaGBC is implementing changes to streamline the certification process to an average of less than six months.
The CaGBC's objective in implementing these changes is to better serve project owners and deliver certification in a timely fashion, in line with market expectations. Some changes have already been made this year with the CaGBC increasing internal staff to address the majority of backlogged projects and delayed Credit Interpretation Requests (CIRs). In addition, the CaGBC hired four new review teams of highly skilled consultants, bringing the total to six teams who are now working to certify projects.
In June 2011, the CaGBC established a taskforce to further expedite certification. The taskforce, which included industry stakeholders and subject matter experts, recommended significant changes to the CaGBC's certification process; these will be implemented over the coming year.
These changes include:
Shortening the three-stage certification pathway to two stages for LEED Canada NC 1.0 and LEED Canada CS 1.0 projects. Projects that choose this option will follow a certification pathway similar to that used in the 2009 versions of the rating systems, and will benefit from a quicker and cleaner certification process.
Investing in technology infrastructure to improve certification administration.
Introducing a design review process. LEED Canada NC 2009 and LEED Canada CS 2009 projects will have the option of submitting design-stage credits and prerequisites immediately following design. The design review will allow issues to be addressed while the relevant parties are still engaged. It will also provide teams with greater clarity regarding the likely outcome of certification and allow for adjustments to be made before final certification.
"We listened to the industry and have taken action. We've created an implementation plan that should shorten the certification process to an average of less than six months," said Thomas Mueller, President and CEO of CaGBC. "The demand for LEED is a positive sign of where the green building industry is going in Canada. It's the CaGBC's responsibility to support and better serve the market."
Delays in certification also stem from the failure of applicant teams to respond to certification reviews in a timely manner. To further streamline LEED certification, the CaGBC will be introducing measures to help encourage quicker response times from applicant teams.
To assist applicant teams seeking LEED Canada certification, CaGBC also offers a 'Speed up Your LEED Canada-NC 1.0 Certification: Getting it Right the First Time' interactive workshop that discusses the more complex documentation requirements. Additionally, early in 2012 CaGBC will offer an on-demand online session addressing the process associated with certification.
For more information, please contact Renee Rietveld, CaGBC, at (613) 288-8075.
Sustainability tools for property appraisers and realtors
Assessing a property's sustainability features has become more accurate, and easier, for property appraisers.
The Appraisal Institute recently created and published a Residential Green and Energy Efficient Addendum that walks the appraiser through details of a number of categories:
energy efficient items (insulation, water efficiency, windows, day lighting, appliances, HVAC, energy rating, HERS information, utility costs and energy audit),
solar panels,
green features such as LEED certification, and
location / site that details a walk score, proximity to public transportation and site orientation.
As well, the U.S.-based National Association of Realtors has developed a Green MLS Tool Kit that addresses the recommended steps from industry experts and early Green MLS adopters to support efficient flow of green home information and value:
Step 1 - Cross Industry Goals & Team
Step 2 - Design for Data Integrity
Step 3 - Design for Ongoing Quality
Step 4 - Create the Green MLS Platform
Step 5 - Educate, Communicate
Step 6 - Track & Publish Market Trends
"These tools tie in very well with an initiative the (Alberta Chapter) Residential Committee is developing," says John Bulmer, Committee Chair. "The result of our initiative will be a series of short documents that give purchasers, owners and realtors some advice and insights on what to look for when they consider upgrading to a green home."