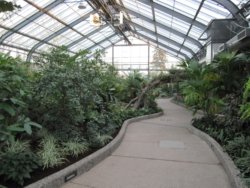 Enmax Conservatory Tour - How to Make a Greenhouse Green
February 21 6:00 pm -
Calgary Click here to register
Found in the middle of the Dorothy Harvie Gardens, the ENMAX Conservatory provides a year-round horticultural showcase of exotic tropical plants and towering palms, complete with a roaring waterfall, pools of goldfish, and free-flying birds.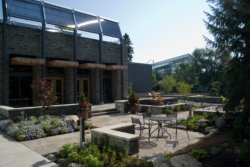 The Enmax Conservatory at the Calgary Zoo is a mixed use facility targetting LEED NC v1.0 Gold. This new building was designed to replace the previously existing 1960 era inefficient greenhouse.
Overall, the conservatory achieved 43% energy cost savings in comparison to a similar building, 4.2% of which is from onsite renewable energy including 10kWp photovoltaic system and 12.5 MWh of solar hot water panels. Set in the south portion of the Zoo campus, the Enmax Conservatory functions primarily as a visitor center to demonstrate the relationships between plants and humans, and energy conservation.
Time:

Calgary:
6:00 pm sharp
Meet at the Calgary Zoo South Administration Parking lot (1200 Zoo Rd NE)
See map
Case Study Presentation & Tour
Refreshments and Networking following the tour

Tour Guides:
Kerrie van Gaalen - Senior Project Manager, Sustainable Buildings
Menush Ackbari, M&V Consultant
Enermodal Engineering

Kerrie van Gaalen, B.A.Sc., LEED™ AP BD+C
Kerrie van Gaalen is a Senior Project Manager at Enermodal Engineering. Since working with sustainable design in 2007, she has gained expertise in the integration and implementation of the LEED program for a variety of building types, including; greenhouses, ice rinks, industrial buildings, schools, and offices. Kerrie also instructs the "Building Green with LEED" and "LEED New Construction 2009" CaGBC Higher Education Courses at Mount Royal University. She has been working with the design teams on the Enmax Conservatory LEED certification since 2008.

Menush Akbari, EIT, B.Eng, CMVP, LEED AP
Menush Akbari has worked on sustainable buildings since starting at Enermodal Engineering in 2009 wherein she has gained expertise in energy efficient design facilitation, building energy modelling, commissioning, and performance assessment to ensure buildings are functioning properly and working the way they are designed. Menush is assisting with the measurement & verification of Enmax Conservatory's ongoing energy use.

Location:

Meet at the Calgary Zoo South Administration Parking lot

(1200 Zoo Rd NE)
See map

*Please note the LRT entrance will be closed. Access to the south parking lot is on the footpath around St. Georges island. Access via bus through Inglewood (9 Ave & 12 Street SE) is a more suitable public transportation option.

Price:
Alberta Chapter - CaGBC Members: $30.00
EGB/Student Members: $25.00 (please email)
Non-members: $40.00

GBCI Continuing Education: 1 CE hour - live presentation
Case Study & Video Tour - Greening a Heritage Building
February 28 7:30 – 9:00 am Edmonton Click here to register

The Calgary Public Building is historically significant to the landscape of our city. It is located at the eastern end of Stephen Avenue in downtown Calgary and was built in 1929 by the federal government as the local post office and purchased by The City of Calgary in 1979 for use as offices. Part of proudly serving a great city is taking care of places like the Calgary Public Building. It is part of our history and to be able to restore as many of its original features as possible, while reducing energy consumption and focusing on sustainability including doing more with the assets we already own, in this case, increasing the occupancy of the building from 210 to 350.
The completed renovation improved the environmental performance of the building while lowering operating costs by 46 per cent, and reducing greenhouse gas emissions by 54 per cent. The Calgary Public Building has achieved gold and is awaiting a platinum rating on the LEED Commercial Interiors scale.
Time:

Edmonton:
7:30 – 8:00 am
Registration, Networking & Breakfast
8:00 – 9:00 am
Case Study Presentation & Video Tour

Speaker:

Russ Golightly,

P.Eng, LEED™ Accredited Professional, SMART Project Management Certified

Project Manager, The City of Calgary

Russ graduated as a Civil Engineer from the University of Calgary and has worked in several areas of consulting before landing into municipal projects. He has worked in construction as well as oil & gas for Colt Engineering. It was his work at Reid Crowther that opened the door to working at The City of Calgary. Russ has been working with The City of Calgary since 1999.

Russ is the project manager responsible for the municipality's first LEED-Gold rated office structure – the Water Centre.

Russ has contributed his knowledge and experience working on the Water Centre to the University of Calgary's Environmental Design Courses and contributed to the implementation of the City of Calgary's Sustainable Building Policy. He has also helped develop and deliver courses with the Canada Green Building Council (CaGBC) on creating and maintaining a sustainable building policy as well as serving as a director on the national council of the CaGBC from 2007 - 2008. He is currently a technical advisor for the LEED rating system for Sustainable Sites & Water categories.

Along with the Talisman Centre Roof Replacement, Russ has recently completed the renovation of the Calgary Public Building – applying his green skills in managing a consulting team to create an energy-efficient heritage building.

Location:

Edmonton


Edmonton City Hall – Heritage Room1 Sir Winston Churchill Square

Price:

Alberta Chapter - CaGBC Members: $30.00
EGB/Student Members: $25.00
Non-members: $40.00

GBCI Continuing Education: 1 CE hour - live presentation
Call for Presenters - 15th Annual
Alberta Sustainable Building Symposium
The Business of Green - "What's in it for Me?"


Have you or your organization developed an innovative approach or a practical solution or product that advances sustainable building and the business of green – and answers what's in it for me?
Here's your chance to showcase your work!

The ASBS 2012 organizing committee is looking for best practices that address the continuum of sustainable building from residential to commercial and industrial projects.

For more information and to see the full call for presenters click here.
---
News & Views is the biweekly e-blast of the Alberta Chapter, Canada Green Building Council.
Do you have a short submission you would like included or websites you would like to share? E-mail Tanya Doran, Executive Director.