How do you learn?
Preparing for your LEED Green Associate Exam
The LEED Green Associate Exam is an introductory-level exam for individuals who wish to demonstrate a general knowledge of LEED and green building practices, or continue on to more advanced LEED credentials, such as LEED AP with specialty.
Thinking about adding the LEED Green Associate designation to your pedigree this fall. There are a multiple options available to best suit your calendar and your personal learning preference - two days, two months or at your own pace.
Two-day Green Associate Study Course
The two-day LEED Green Associate study course provides the foundational knowledge for the LEED Green Associate exam. This course is an important element of an individual's study plan, providing opportunities to gain and test new knowledge through lectures, small and large group activities, and practice test questions.
Note: This workshop, like any CaGBC education program, meets eligibility requirements for the Green Associate exam.

Registration is now open for this two day course in Calgary - September 14 & 15 and in Edmonton - September
27 & 28. Click here for more information.
Higher Education - LEED Green Building Strategies and Exam Preparation
This higher-education course is an intensive 36-hour program that provides a comprehensive overview of techniques, approaches, materials and technologies used in creating green buildings and communities. It describes the LEED rating systems and highlights how various strategies can be used to meet LEED requirements. The course provides an excellent preparation for writing the LEED Green Associate exam, as well as meeting the eligibility requirements for that exam.
The course is designed to be interactive and engaging, incorporating multimedia, field trips, guest speakers, and case studies in addition to assignments. In Alberta this course is offered at the following institutions:
NAIT - September 10 - November 2, 2011
SAIT - October 17 - November 23, 2011 and February 6 - March 19, 2012
Mount Royal University - October 18 - November 24, 2011
Self Study
If you already qualify for the Green Associate exam and like to learn at your own pace with the flexibilty of self study you can order publications that are designed to assist with your Green Associate exam success. Order the Green Associate Study (priced between $70-85) either as a hard copy or an e-book.
Additional reference and exam prep material including practice exams and flashcards are available at the CaGBC online store.
Fall Workshops - Registration Open Now!
Get your continuing education (CE) hours early
Registration is now open for the fall workshops in Alberta and online. Register early to take full advantage of your CaGBC or Alberta Chapter membership and the early bird pricing - available until two weeks before the workshop - and get that important credential maintenance for your LEED Green Associate and LEED AP+.
Green Build 2011 - Early bird deadline August 15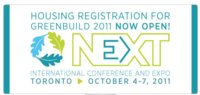 Registration is now open for the world's largest conference and expo dedicated to green building. The U.S. Green Building Council is partnering with the Canada Green Building Council, to host the 10th annual Greenbuild International Conference and Expo at the Metro Toronto Convention Centre, October 4-7, 2011.
Greenbuild is the green building industry's must-experience event. It's where we go to learn about what's new in green building practices through extensive educational sessions; exhibit-hall technologies and innovations; and of course, where we go to do business.
Most sessions at Greenbuild will be approved for continuing education credits for LEED and other professional credentials.
Visit the Greenbuild Expo website.
CaGBC members will receive discounted pricing (USGBC member rate) during the early-bird registration period. When you login to the web page, use the promo code cagbc-gb11. This special pricing will expire at the early bird deadline. Join now and save!
CaGBC Member pricing (full conference): $600 early registration, $700 after August 15
Non-Member (full conference): $775 early registration, $975 after August 15.
Register for Greenbuild today. You'll be glad you did. Click here.
Don't miss your deadline - October 27 is almost here!
Update to a LEED AP with specialty today!
Thinking about upgrading your existing LEED AP to the new LEED AP with Specialty designation? Now is the time to do it.

As of August 1, the one-time upgrade process will be counting down to October 27. For example, if you wrote the CaGBC LEED AP exam, you will have until October 27th. If you wrote the US exam before 2004, your date could be as early as August 1st.
Why Upgrade?
Professional differentiation - identifies your robust knowledge of green building principles and practices
Highlights knowledge – shows your expertise in a particular type of LEED project
Current skills – proves your expertise is current and relevant and shows your commitment to continuing education
Recognition par excellence - The LEED AP with specialty credential will continue to be recognized by the green building industry and by the LEED rating systems.
How do I Upgrade?
There are two (2) choices: (1) write and pass a specialty exam; or (2) enrol in the prescriptive Credential Maintenance Program (CMP). Option 2 requires earning 30 prescriptive Continuing Education (CE) hours in Years I & II, and following the CMP thereafter.
CaGBC Education – We're Here for You!
Click on the following links to download resources related to the webinar "LEED Credentials: What Existing LEED APs Need to Know:"
In addition to our popular one- and two-day workshops, we are developing and launching new online courses. CE credits are clearly indicated to help you make the best choices for your ongoing professional development.
For more info, visit the LEED Credentialing page on the CaGBC website.
Sustainable Building Advisor Program
October 21 to June 16 - Calgary
The Sustainable Building Advisor Program is a 9 month (meeting 2 days per month) certification course that teaches building industry professionals how to apply the fundamental principles of sustainability to the built environment. The Program is lead by expert academic and industry professionals with site visits to exemplary projects to reinforce key learnings. Approved for GBCI Credential Maintenance and AAA Core Learning Units.
For more information and to register visit Buffalo Jump Environmental.
Solar Energy Society - Classes
Renewable Energy - The Path to Energy Independence
Rob Harlan Executive Director SESA
Sept. 20 – Nov. 1, Tuesday evenings 6:30 - 9:30pm

What are the latest renewable energy technologies available? What is actually practical for our climate? The Solar Energy Society of Alberta and the Grant MacEwan Institute of Environmental Studies are offering this popular class again this Fall on Tuesday evenings. It provides an overview of photovoltaics, solar hot water, solar home design, green transportation options and more. Tools will be provided to determine your own energy usage. Solar equipment will be demonstrated. Of interest to homeowners as well as people would like to green their existing profession or start a new one, the class consists of seven 3 hour classes each on a different topic plus a Saturday tour of commercial solar systems.

Instructor Rob Harlan has installed over 150 solar electric and solar hot water systems. He has lived off of the utility grid in a solar house for 25 years.

Location: Grant MacEwan University City Centre Campus
Cost: $250
Contact: 780.378-6178 office@solaralberta.ca

Photovoltaics for Electricians Class
October 28-30, 2011
Eric Smiley P. Eng Vancouver Island University Department of Engineering

This class is designed for electricians or those with electrical experience and an understanding of electrical theory and electrical terminology. The class will overview system design, siting, shading and maintenance issues. Photovoltaic equipment including modules, racking systems, inverters, charge controllers, and batteries will be introduced. Section 50 of the Canadian Electrical Code will be interpreted.

Location: Northern Alberta Institute of Technology main campus Room X-105
Cost: $290 ($260 for members) includes lunches
Further information and registration: Go to www.solaralberta.ca click on Classes
---
News & Views is the biweekly e-blast of the Alberta Chapter, Canada Green Building Council.
Do you have a short submission you would like included or websites you would like to share? E-mail Tanya Doran, Executive Director.