Associate Exhibitor:
your company literature (25 pieces) will be displayed in the Alberta exhibit, (however due to limited space, products or demonstrations cannot be displayed).

a one page profile, as provided by your company (approximately 150 to 200 words) will be inserted in an Alberta Green Building Products and Technologies reference booklet, to be distributed at the event. The booklet also serves as a mini directory on Alberta companies who wish to do business in, or who are already doing business in the area of green building.

Deadline for company profiles is October 15, pls forward to Orest Warchola (orest.warchola@gov.ab.ca)

Alberta companies attending or already exhibiting at Greenbuild 2010, are welcome to have their literature displayed in the Alberta booth.

No Participation fee.

Companies planning to attend Greenbuild 2010, are also invited to attend the Canada Networking Reception, a green business speed dating event being held November 17 in Chicago. Interested participants please advise ASAP.
For more information, please contact;
Orest Warchola
Director, US Trade and Investment
Alberta International and Intergovernmental Relations
Ph: (780) 427-6257
Email: orest.warchola@gov.ab.ca
Planning on attending Greenbuild 2010, November 17-19 in Chicago? Then make sure to stop by the Government of Alberta exhibit and say hello to Alberta Chapter Executive Director Tanya Doran, who will be showcasing the Chapter's mission and work to attendees..
We hope you are able to participate with us at Greenbuild 2010 in Chicago.
Ecole Lawrence Grassi Middle School in Canmore offered the Alberta Chapter Board a very attractive setting and an up-close look at a LEED certified school constructed primarily of wood for part of its July Board retreat.
The school, which opened in September 2008, was striving for LEED Silver – but may achieve Gold certification because of its range of sustainable features. Lawrence Grassi is also a great example of how wood construction can meet all building science and code challenges while meeting tight budgets and providing extraordinary architectural appeal.
Aesthetics, of course, won't earn LEED certification, but the school abounds with features that will. Its design, for example, is expected to result in energy use about 50 per cent below the baseline defined in the Model National Energy Code of Canada for Buildings. It also includes high-efficiency HVAC systems, and the design uses motion detectors, occupancy sensors and low water plumbing fixtures to achieve additional energy savings and reduced environmental footprint. Natural light was used to reduce electricity costs.
As well, the regionally harvested and manufacturing materials, components and assemblies can harness local skills, enhance the local economy and create a durable and functional building with great appeal.
That's only part of the story. As part of construction management for the project, 85 percent of an existing building on the site was diverted from the landfill. Materials from the previous school were salvaged and shipped to Guatemala for use in schools there.
A construction period waste management plan set an objective of recycling or diverting 75 per cent of waste (by weight). Every contractor and sub-contractor used the recycling bins and reuse piles. Recycling bins were inspected to ensure materials weren't contaminated.
Prairie Wood Solutions Fair – free, futuristic and fun!
Wood: old as Mother Earth herself and still offering the potential of fresh, eco-friendly approaches to sustainable building.
To find out more about innovative uses of wood material, hybrid construction with timber and concrete, sustainable design with western red cedar and more, plan to attend the Prairie Wood Solutions Fair at Calgary's Deerfoot Casino on Wednesday, October 6.
Sponsored by woodWORKS!, part of the Canadian Wood Council, the event is free of charge – and attracts an audience of up to 600 architects, engineers and other specifiers and designers interested in wood-based products. Its program offers:
technical information from suppliers, manufacturers, wood engineering consultants and industry associations,

seminars,

a range of structural wood products and finishing wood products,

wood and related product exhibits,

consultation with wood industry experts and product specialists, and

Continuing Education Credits for architects attending the seminars.
Register at www.woodsolutionsfair.com.
Book review by Trina Larsen, P.Eng., M.Sc, LEED AP
Whole Earth Discipline – An Ecopragmatist Manifesto
by Stewart Brand, 2009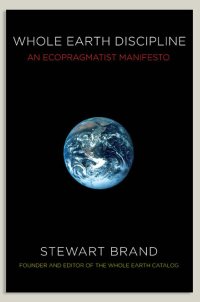 My grandmother used to say she was in God's hands in the garden – without her there would be weeds instead of flowers. Similarly, Stewart Brand argues without human intervention the environment would become overgrown. Tackling topics of cities, nuclear energy, genetic modification and resource management, he makes a strong case that traditional positions of most environmentalists may end up harming what they're trying to preserve.
His position on cities is championed by those of us involved in green buildings: densification and walkable communities are part of the solution to climate change. However, his glorification of the slums became a bit spurious to this reader. Regarding nuclear power, he discusses the carbon footprint and radioactivity of coal versus nuclear, and the wilderness return after Chernobyl. With bioengineering he contends that by using genetic manipulation the biologist chooses specific traits without unforeseen residual resulting from breeding techniques. The book's final chapters focus on how bioengineering, gardening and other human interventions can improve the environment, yet points to a balance between managed and unmanaged landscapes.
Mr. Brand's arguments are challenging and worth exploring. He proposes it's time to attempt something new rather than continuing down the same harmful path, regardless of the precautionary principle.
In response to greater demand for ways to reduce CO2 emissions and growing interest in renewable electricity
generation, the City of Edmonton introduced a solar-electric pilot program on September 1.
This one-month program is allocating a total budget of $200,000 in the form of rebates for home and business owners interested in installing solar panels to generate electricity.
Response has been impressive; by September 13, the residential component of the program was at capacity, with the budget fully committed although some funding remains for commercial interests.
Station Pointe – targeting community-wide net zero
August 4, 2010 was a milestone day for the Vital Engineering team of Sherwood Park – the day many hours of work paid off when the team's Station Pointe project in northeast Edmonton was named the first project under the Government of Canada's EQilibrium ™ Communities initiative and awarded $481,000 in research and development funding.
Station Pointe Greens is one of six winning projects under the federal initiative. The projects represent three new builds and three to existing buildings. Station Pointe Greens is one of the new builds and the only project selected in western Canada.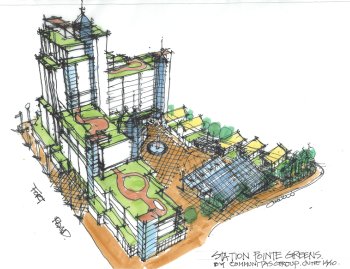 The funding will primarily be used to research building techniques, materials and systems that support the project's net zero target for energy use while keeping it affordable.
The Vital Engineering team, including Hartwig Architecture, was selected as prime consultants by project development consultant Communitas Group for the mixed-use community, located north of Yellowhead Trail on Fort Road near the Belvedere LRT Station.
"We're focusing first on exploring the use of passive energy elements, essentially a non-mechanical approach," says Dean. "For example, we're taking advantage of the vast amount of air the development needs. If you have enough warm air rising, you should be able to create the ability to draw air into the building with very limited mechanical means."
He envisions a whole system of tubes to draw air in and circulate it through the development. "Buildings use a lot of energy in heating fresh, cold air brought in from the outside. We'll draw it through tubes that serpentine below ground, then draw it through the solar towers, which will heat the air, and then draw the heated air through the interior spaces."
The Station Pointe plans call for a 16-storey residential tower and multiple-storey condominium and townhouse buildings with businesses on the ground floors and a courtyard in the middle of the 200-unit development.
In addition to sustainable energy, the development boasts many other sustainable features.
Recycling water is high on the list. "We want to recycle water. Not just a little – but most, including black water." Dean says the team is investigating a solar aquatic treatment system that uses a series of plants, bacteria and fish that will treat and neutralize sewage." He says the water would be pure enough to drink at the end of the filtering process, although provincial regulations won't yet allow it. In fact, some of the research dollars will be used to identify the policy and safety issues with teh hope that these can be addressed and the system implemented as a pilot project.
As well, Station Pointe's location near an LRT station and bus routes encourages the use of public transit.
"We're talking a development that targets net zero for the whole community. You have to think big. Even if certain ideas don't fly, look at what we're learning," concludes Dean.
Construction is scheduled to begin after the research is complete, likely in late 2011. Read more.
Students learning sustainability first-hand
LEED targets, standards and certification have proven a learning experience for everyone involved. Nowhere is more apparent than at Edmonton's Lillian Osborne High School.
The school, which opened to its first 300 students in 2009, is the first school within the Edmonton Public School District to be designed as a sustainable building. The facility is targeting LEED Silver certification.
"When we started the design, we weren't considering LEED certification. About a year and a half into the process, we adapted our targets to comply with the provincial government's new mandate that all public buildings target LEED certification," said Terri Gosine, Lillian Osborne project coordinator for the school board.
With many sustainability features from the landscaping to the windows and water-saving devices, the school is setting a new standard for school design and operation in Alberta.
Exterior features were the first order of the day. "We oriented the building on the site to get the most daylight possible into the building. We also limited the paved surfaces wherever possible, installing the minimum number required by the City of Edmonton. Lillian Osborne also has more bike racks than a normal school," said Terri. As well, the school is located directly across from a transit centre, encouraging students and staff to use public transit.
Inside, things are bright for staff and students. "We included lots of windows – and they can be opened. Almost all classrooms have natural light." And speaking of lights, all lights operate on occupancy sensors, which turn off the lights if there is no motion in the room for 20 minutes.
The school also features no flow and low flow toilets and urinals to limit water consumption. Its effective ventilation systems help to ensure thermal comfort. Carpets, paints and adhesives were selected for their low volatile organic compounds (VOC), and the school uses only "green" cleaning products and chemicals.
"The kids love all the daylight. They have really taken ownership of the school. They really take care of it. They enjoy learning about what we did differently with their school."
Terri hopes to hear before Christmas whether the project has achieved LEED Silver certification, but she says the work toward sustainability won't stop there. "The students and staff are continuing the sustainability work we started. The kids are working on getting a recycling program started. Our design helps because we ensured there is room for a recycling bin wherever there is a garbage can."
At full occupancy, Lillian Osborne will house about 1,000 students.
Clean-Tech Symposium – exploring this cutting-edge industry sector
If you're planning to attend the Clean-tech Symposium September 17 & 18, good for you! You'll learn why clean-tech is one of Alberta's fastest-growing industries – and hear some great presentations!
On Friday, September 17, the Clean-tech workshops in Lacombe include eight educational workshops designed to address contemporary economic and environmental, social, and political issues of clean-tech.
The Alberta Chapter's own Klaas Rodenburg is facilitating a workshop on Green Building and Construction, targeting architects, engineers, real estate professionals, landscape architects, construction managers, lenders and government officials. The workshop will review the basics of green buildings and explore the clean-tech opportunities. The expert panel will discuss the successes and challenges of the current state of high performance buildings through LEED, Challenge 2030, and Living Building Challenge rating systems as they shift into the mainstream of our industry. A delegate discussion will explore the emerging ideas and technologies that will help us achieve our NetZero goals.
Cliff Soper will offer the luncheon address, "The Art of Possible Politics - How a bird farm attracted Dubai financing," on the workshop day, exploring the broad appeal of environmental projects for capitalizing on the growing market for environmental sustainability.
The Clean-tech Conference on September 18 focuses on the establishment of the Alberta Clean-tech Industry Alliance and the guiding resolutions derived from the Calgary and Edmonton Symposia this spring and features speakers/facilitators Tom Rand and Satya Das.
Tom Rand, author of the best seller Kick the Fossil Fuel Habit - 10 clean technologies to save our world, will offer an insightful and timely presentation on the status of the clean-tech evolution and the relevance of green bonds for financing the adoption of clean-tech.
Satya Das, author of Green Oil – Clean energy for the 21st century, will lead a feisty panel and engaging audience discussion on diversifying Alberta's economy and achieving green status through clean-tech.
Check out the Alberta Council of Technologies website ((link to http://www.abctech.ca/)) for more information and registration.
Calgary Green Associates' post-secondary courses
Mount Royal University - Building Green with LEED®: Core Concepts and Strategies

(Sept/ 27 – Nov. 8) Designed by the Canada Green Building Council, Mount Royal University's course helps green associates prepare for the first LEED exam. It doesn't stop there. Experienced instructors, Alberta Chapter members William Thompson and Adam Stoker go beyond basic concepts to give you a deeper understanding of sustainable building practices.
SAIT - Architecture 125 Building Green with LEED: Core Concepts and Strategies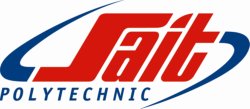 (Oct. 25 – Dec. 1) Develop a working knowledge of core concepts and strategies to reduce the environmental impact of the built environment in Canada. This course highlights how these core concepts and strategies can be used in various LEED rating systems and provides a comprehensive overview of techniques, approaches, materials and technologies used in creating greener buildings and communities. This course is suitable for anyone interested in developing a basic understanding of LEED; for LEED Green Associates, this course provides an excellent foundation for preparing for the exam.
Sustainability intern - Stantec
Position title: Sustainability Inter
Closing date: Sunday, October 3
This is an ECO Canada internship position. Applicants must meet all of the eligibility criteria for an ECO Canada youth internship. Preference will be given to pre-approved candidates.
Stantec's Sustainable Development practice area is responsible for growing Stantec's sustainability consulting business as well as coordinating performance improvement projects designed to reduce the environmental and social impacts of the organization. The Sustainability Intern will work with Stantec's Sustainable Development group to help progress various performance improvement projects.
Visit Stantec careers for more information and to submit your application.