"Building sustainable homes has been a primary focus for Avalon for several years, "said Neidert. "There is a growing market for sustainable homes, and the more they are in the marketplace, the more economical they become because of the increasing availability – and acceptance – of materials and systems."
Avalon builds a Discovery House, or research house, every few years. "This is our third Discovery House. It's a great way to test new technologies. If they prove effective, we incorporate a particular technology or innovation into our standard construction. If an idea needs works, the Discovery House gives us the practical environment we need to see the problems."
The new house includes several innovations. For example, there are no gas lines. Instead, the house sports a large solar thermal water heating system. The house is powered with an 8.3 kilowatt solar PV panel system.
Many Canadian homes protect us from the winter chill with R40 insulation. The Neidert residence features R72 insulation in the walls and R80 in the ceiling.
The nine-inch-thick walls themselves are constructed from two parallel sheets of OSB with insulating foam injected between the sheets. The house is also the testing ground for new exterior wall framing.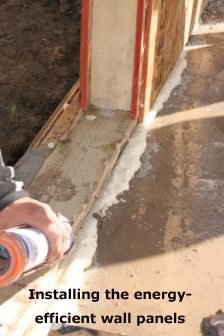 Roll-down shutters on all exterior windows helped the family keep cool on hot summer days. "When we wake up in the morning, we shut them all. There are different settings on the shutters so you can literally black out the entire house, or open them to allow some light to come through. They really work! On the hottest summer days, the house reached only 23o inside – of course with no air conditioning."
The house also features slab construction. "It's more efficient to control heat loss from cold air than it is from the ground. Basically, the house is a bungalow with a large attic living space. The four corners of the attic are designed for storage."
Maximizing the use of space is also the name of the game. Basements are often highly prized for the storage space they offer. For the Neiderts, a ship's ladder that folds into the ceiling in the garage makes the space in the garage loft easily accessible for articles traditionally stored in basements.
"My family has moved often enough that we know the advantages of keeping our possessions under control. The house has ample storage for the three of us," Neidert says. "At first, I was sceptical of not having a basement but it's working just fine. It's a matter of letting go of preconceptions and being willing to try new approaches."
Avalon's sister company in Calgary is building Discovery House IV, focusing on working out more cost-effective ways of achieving the innovations built into his house. "Discovery III was a learning curve. Now we take the next steps beyond it."
Ultimately, those steps will lead to the Discovery III innovations becoming standard construction practices. Evolution is, indeed, an exciting process.
High density expanding polyurethane foam is being used in many ways in the building industry, from spray insulation, to concrete raising, soil stabilization, rigid paving repair, foundations, piles and even load bearing elements.
But how 'green' is it? It's a chemical resin, right? Polyurethane foam is lightweight so it won't overburden soil or foundations, yet it is extremely strong and durable. Most installation methods are quick, efficient, and require very little construction activity. Some polyurethane foams can also aid in achieving LEED® credits and prerequisites such as minimum and optimum energy performance (products can have high thermal characteristics of R5.5 to R6 per inch of thickness), management of construction waste (the waste, if any, generated from installation can be recycled), indoor environmental quality – specifically due to its typically low to zero VOC lab tests, and, depending on where your project site is located, regional materials.
For those looking to use high density polyurethane foam, Alberta has a few local manufacturers. Uretek in particular formulates their product on site, reducing the carbon footprint associated with plant manufacturing and transportation. For more information, see www.uretek.ca or www.greenalberta.ca.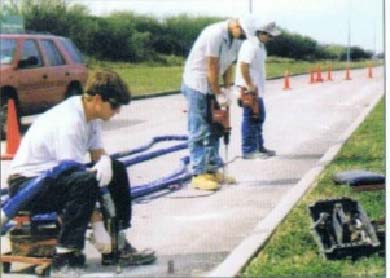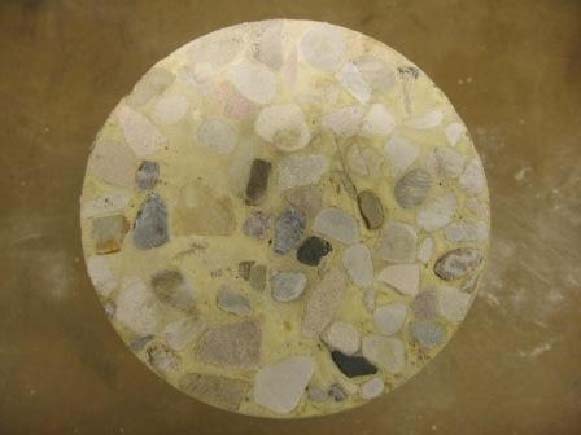 Graham Construction staffer Steve Martin isn't surprised about the growing interest in green building. "It's in humanity's best interest to take an interest in green construction. It's a responsible direction for construction overall."
Armed with that philosophic perspective and the need to make sense of an intimidating array of information in preparation for the LEED® Accredited Professional (AP) exam later this year, Steve signed up for the "Building Green with LEED" course offered this spring at NAIT.
NAIT is one of only eight to 10 post secondary institutions in Canada approved by the Canada Green Building Council to offer the course. Two years ago, the institute had identified that sustainable building techniques and alternate energy technologies are leading-edge industry practices. These emerging fields dovetail exactly with NAIT's mission.
"We like to develop or facilitate the development of leading edge courses and programs as we are a technology-based Institute. We knew there would be a big demand for this course, given what we were hearing from industry, so we approached the CaGBC and worked with them to ensure both their needs and our students' needs would be met by offering this course," said Laurie Halldorson, NAIT's Continuing Education Manager.
Through instructor Stephani Carter of EcoAmmo, the 36-hour course offers case studies, field trips and guest speakers to give students a working knowledge of the CaGBC LEED® Canada for New Construction Rating System 1.0. Key focuses include sustainable site development, water savings, energy efficiency, materials selection and indoor environmental quality. The course is offered Saturdays and evenings to accommodate working professionals.
"The course really gave me a good handle on the specific aspects of the LEED-NC system. In particular, it helped tremendously in understanding the reference guide," said Martin. "Going through the reference guide on your own is like being handed a telephone book. It's overwhelming. The NAIT course really clarified specifically what to study and how to use the guide."
In fact, with the popularity of the spring course and the impending Dec. 31, 2009 deadline for writing either the LEED® Canada NC exam or the LEED® Canada CI exam, NAIT dramatically increased the number of seats available for the course that begins in October – and the Oct. 13 Edmonton class is almost full.
"There is huge demand for this course. People are racing the clock to get their AP designations," said Halldorson.
NAIT's Calgary location is offering the same course (ARC50) to Calgary professionals this fall starting Oct. 6. The course runs a combination of Tuesday and Wednesday nights with some Saturday classes. Check the NAIT website for the exact combination of dates. There will even be a few Edmonton and Calgary class times linked together via video conference. For more information, e-mail lhalldor@nait.ca or call NAIT at 1-780-471-6248 to register.
Want your 15 minutes of fame? Here's your chance! E-mail Chapter Executive Director, Tanya Doran with your wish list of what you'd like to share with fellow Chapter members at a regular Chapter professional development event. Instead of one speaker, let's put the spotlight on our collective knowledge. Get your topics in soon! Spaces are limited.
Review by Trina Larsen, P.Eng., M.Sc., LEED AP
The Daily Planet Book of Cool Ideas – Global Warming and What People are Doing About It
by Jay Ingram, 2008
"It is the speed of warming that has convinced the majority of climate scientists that something is going on, and that something is us." - Jay Ingram
This book provides an upbeat read with a variety of ideas to help combat climate change. Broken into brief stories and articles, it provides an unabashedly Canadian perspective.
The introduction provides a synopsis of the science of climate change, looking at various records and data that are available, how the data is collected, etc. Throughout the rest of the book, Jay Ingram explores both mundane and extraordinary ideas people are exploring throughout the world to combat climate change. Some of the ideas are completely audacious, while others are realistic or already exist. Accompanying the stories are some pretty amazing photographs.
One concept that intrigues me is micro houses – houses less than 100 square feet. As an exercise – think about what it would take for you and your family to live in 100 square feet. How could you make that work while still having a bathroom, kitchen and sleeping space? What type of modularity would you include? Then as a further exercise, take a moment to double the space to see just how much room you suddenly have!
This book contains many interesting ideas - some plausible while others have limited appeal. It's packed with fabulous photographs and is generally worth perusing.
Free to Alberta Urban Municipality Association (AUMA) members – until October 31
AUMA Municipal Green Building Toolkit
CaGBC's Municipal Green Building Toolkit is one of those hidden gems. It's full of practical advice and tips for helping municipalities facilitate and stimulate both private and municipal green building projects. Its eight sections each speak to very specific challenges and opportunities municipalities face including the business case for building green, training and education, monitoring and verifying, practices and technologies and more.
The online toolkit is available free of charge to all AUMA member municipalities – but only until October 31!
Spread the word to your municipal contacts to make use of the toolkit. Contact Rachel Bocock, rbocock@auma.ca or call her at 780-409-4313 for further information.
The Retail Branches pilot project will be launched this fall, allowing banks and credit unions to benefit from the GREEN UP program. The project will identify, document and recognize the most energy and environmentally efficient retail branch buildings in Canada. The performance metrics from these top performing buildings will inform the assessment and improvement of all buildings taking part in the project.
The GREEN UP program provides real, quantifiable results; to view the energy use and greenhouse gas emissions savings of GREEN UP participants, visit the program website.
Building Performance Audits (BPAs) are also an important part of GREEN UP. The program is developing an integrated system of tools and performance standards designed to help building owners assess and improve the energy and environmental performance of whole building portfolios.
BPAs measure and document the design and performance metrics of building systems, identifying areas for improvement and enabling better energy performance. Areas covered include: lighting, fan power, pump power, equipment, plant capacity, water fixtures, and building envelope. Measured loads are also reconciled with the billed electrical demand for the building.