Success! LEED certified Alberta projects
Congratulations to those involved in the following projects that have achieved LEED certification.
IHS Calgary Office - LEED Canada-CI 1.0, Gold
1331 MacLeod Trail SE, Calgary
Registration date - 19/2/2008
Certification date - 16/3/2010
The project is a tenant fit-up of floors 2,3,4,5 and part of 6. IHS Energy (Canada) Ltd is committed to achieving a healthy and environmentally friendly office space and has therefore integrated LEED into the design process. An example are the excellent public transport links from the building.
Future Shop-South Edmonton Common - LEED Canada-NC 1.0, Certified
1320 - 99th Street NW, Edmonton
Registration date - 16/4/2008
Certification date - 23/3/2010
The South Edmonton Future Shop project is a prototype store that offers new customer experiences. Our developed interior design is planned on few punctual zones organized in quadrants around a central hub. This allows the client to engage with different experiences and specified services.
Signal Hill Fire Station #33 – LEED Canada-NC 1.0, Silver
3800 69th Street SW, Calgary
Registration date - 1/9/2005
Certification date - 22/7/2010
Fire Station No. 33 will serve the rapidly growing communities in southwest Calgary. The 1,600 square metre building is located on a small, sloping site with limited access.
Community Energy Centre – LEED Canada-NC 1.0, Silver
NW 1/4 Sec 26, TP 52, Rg 23-W-4th Meridian, Lot J, Plan 4097 – TP, Strathcona County
Registration date - 14/12/2005
Certification date - 8/9/2010
This is a 3,600-square-foot district energy facility and interpretive centre.
Provincial product profile – hemp: back to the future
by Shane Korithoski, Canamo Enterprises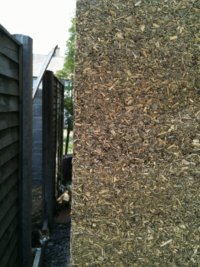 One of the biggest challenges facing today's green builders is finding materials that are non-toxic, have lower embodied energy and support the local economy. Rating systems such as Cradle to Cradle and the Pharos Lens standard create more transparency around these issues.

Unfortunately, there is not a lot of choice regarding healthier building materials. Materials that are petroleum free and free of fire retardants and blowing agents are almost impossible to find. So what should a forward-thinking green builder look for?

One material appropriate for the Alberta climate is made from hemp. Combining the shiv & fibre of the plant with lime creates an organic masonry material with superior insulation R-values to any earth building mix.

Building with hemp is not new. The Romans and Japanese both used it, and the material has been making a comeback for some time throughout Europe. The hemp-lime system caught on about 25 years ago in France and has since spread to other areas of Europe, including Ireland and England. It's been said that growing hemp on just 1% of the farmland in the United Kingdom would be enough to build 180,000 houses a year! Only within the past five years have North Americans begun opening their eyes to the awesome potential of hemp.
Hemp has been called a bio-composite superstar: it's a fast-growing and versatile plant with a unique closed-cell structure that sets it apart from other kinds of cellulose. While most straw yields about three tonnes of fibre per hectare, hemp straw weighs in at 10 to 15 tonnes. The plant sequesters carbon, producing carbon-negative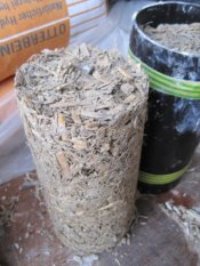 products and helping to combat global climate change.

Hemp buildings are resistant to fire and mould and can be incorporated into passive solar design strategies due to the material's impressive thermal mass. Living in a "hemp house" can be viewed, in a sense, like living in a tree. The walls act like a permeable skin, releasing negative ions (as opposed to positive ones) into the air; thus residents have fewer problems with static electricity and electromagnetic fields. In addition, the hemp home supports the local economy and is pleasant to be in!
Even the Alberta government has begun to take notice of this plant and its amazing properties; our province can now be considered Canada's leader in bio-materials development, and hemp is one of the main interests. Check it out at www.canamobuilding.com.
NOTE: Do you have a product you would like to profile? Get in touch – and get published!
Calling all EGBs and students! If you're into all things green and are passionate about inspiring others about sustainability, consider applying for the Andy Kesteloo Memorial Student Project Award.
The award, offered annually through the Canada Green Building Council, recognizes an innovative student project that demonstrates leadership and creativity, and encourages sustainable planning, design, construction, maintenance and renovation of buildings.
The winning project will inspire and teach others about sustainable building practices that help lessen the impact of global warming (climate change). The project should demonstrate this through creative and innovative strategies that recognize real world needs.
The Andy Kesteloo Memorial Student Project Award includes:
a $2,000 cash award,
free conference registration to the 2011 CaGBC's National Symposium in Toronto, including attendance at the gala dinner and award ceremony where the winner will be announced to the public,
transportation costs to and from the conference,
two nights' lodging in Toronto during the conference, and
$100 in expenses.
In addition, the award recipient's professor will be provided free entry to the CaGBC's 2011 National Symposium, gala dinner and awards ceremony.
Any full-time student enrolled in the second or third year of his or her program during the academic year starting September 2010 is eligible. Students must be enrolled in an undergraduate program at a Canadian university or college that is a member in good standing of the Canada Green Building Council (see www.cagbc.org for a list of CaGBC members). Project groups must select one group representative, and the project award will be awarded to only one group member.
The Andy Kesteloo Memorial Student Project Award is in memory of Andy Kesteloo, a visionary green building advocate, who with humour, insight and passion shared his commitment for a sustainable earth.
For more information, e-mail or call Crystal Finnigan, CaGBC LEED Green Associate, at (613) 288-8073.
GREEN UP launches arena pilot project

The Canada Green Building Council (CaGBC) has announced the launch of a pilot project for arenas as the GREEN UP program continues to address new building sectors. This national pilot project will benchmark arena facilities across Canada, identify and audit top-performing facilities, establish national performance and design standards and enable participants to track performance trends in their own facilities and the sector as a whole.
The GREEN UP Program provides tools, performance standards and resources to help building owners and operators understand, measure and compare on-going performance of their building portfolio - helping them find efficiencies and improvements to achieve deep reductions in energy use, water use and greenhouse gas emissions.
Pilot participants will be able to:
monitor actual energy, water and emissions savings of their arena facilities over time,
benchmark energy, water and emissions performance for their own facilities compared with a growing national database of arena facilities,
access energy and environmental performance standards, baselines and best practices derived from top-performing facilities,
contribute to the development and testing of:
a standardized Building Performance Audit for arenas to document building systems and highlight areas for improvement,
a normalization and target-setting protocol for identifying energy and water conservation potential in individual facilities, and
an easy-to-use operations log and reporting system for use by arena managers to help track ongoing performance.
To register your arena facilities in this pilot project or for more information, e-mail Monique at GREENUP@cagbc.org or call her toll free at 1-866-941-1184, ext. 1066.
Certification: helping with your green job search
You're scrambling like mad trying to meet the demands of 8 to 5. Make that 8 to 8, plus weekends. You're trying to find the time to work on your professional certification – and still have time to breathe.
Is certification that important to your future career, which seems to be at an all-time high?
Yes, definitely yes. Education and certification are crucially important factors in ensuring your career develops as you want it. Read what one professional has to say on the subject.
Greenbuild 2010 – check out Booth #2589!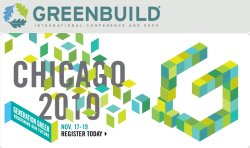 Planning on attending Greenbuild 2010, November 17-19 in Chicago? Stop by the Government of Alberta exhibit, Booth #2589 and say hello to Alberta Chapter Executive Director Tanya Doran, who will be waxing poetic about the Chapter's many initiatives and successes.
As well, stop by the Canada 2011 host booth and offer a special Canuck welcome to other visitors. Next year, Toronto will host Greenbuild – the first time it's being held outside the U.S. Go, Canada, go!
Administrative Assistant
The Alberta Chapter is hiring! An Adminstrative Assistant is required on a part-time contract basis, 12-20 hours weekly from a home office. The positions responsibilities will include office managment, event and executive support. For more information on this opportunity click here.
Submit responses to Trina Larsen, Alberta Chapter Chair at TLarsen@designdialog.ca by 4 pm Friday,
November 26th.