Moveable walls have been around for many years now and have gone through many renditions of style, functionality and flexibility. You may remember demountable walls that had three options of vinyl finishes that really did not appeal to many interior designers.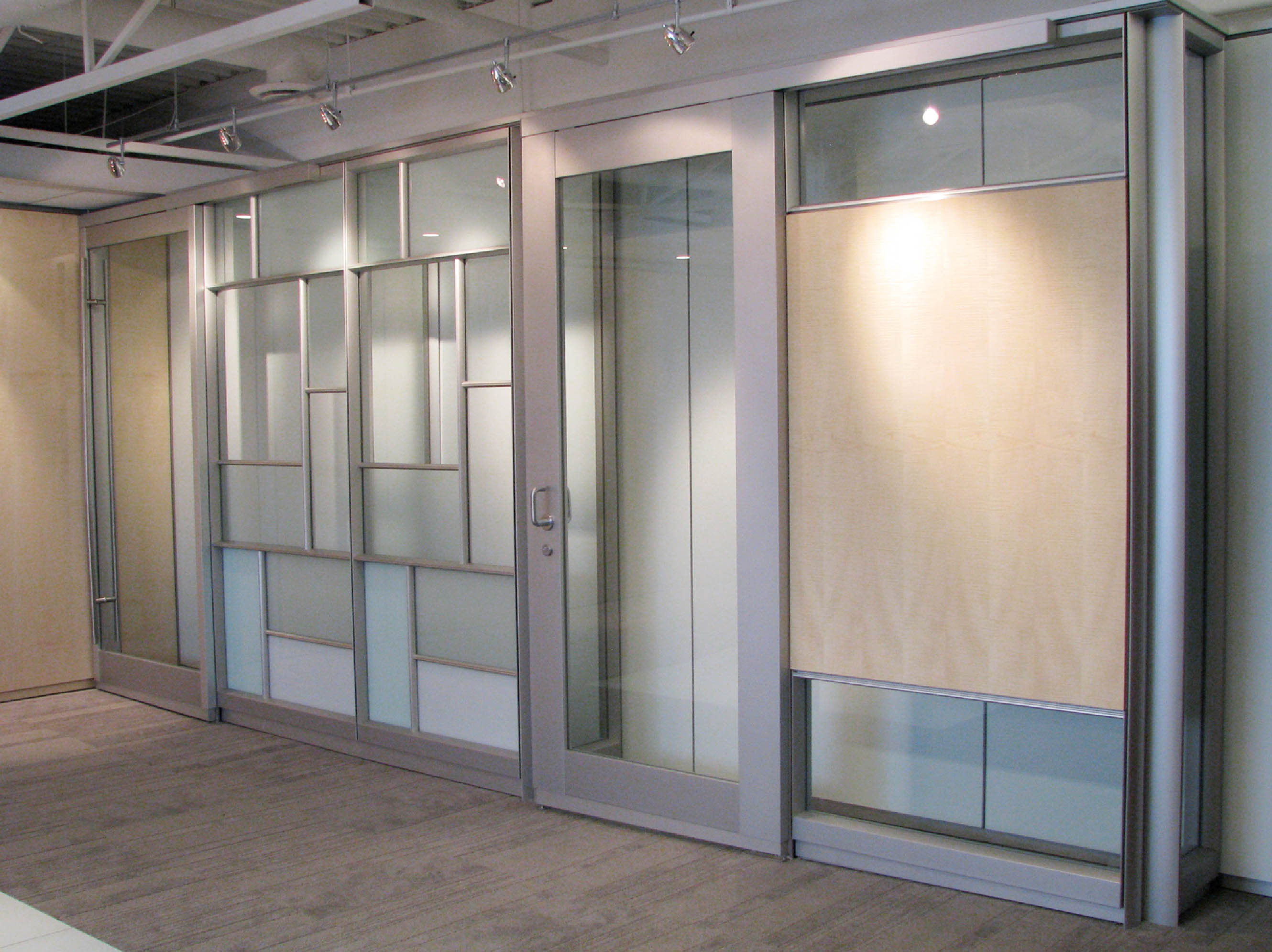 Moveable walls are now fully flexible with easy install and reconfiguration, minimizing down time and health problems from dust and debris you get with typical interior construction. They also create minimal waste, sending less to our crowded landfills. Being able to reconfigure rooms in an afternoon allows for spaces to serve different purposes over time, saving precious lease space and the costs associated. They are also super sexy with a million different types of finishes and even compatible furniture, making a complete, coordinated office.
For those looking to use moveable walls on their local LEED® projects, Alberta has a local manufacturer who includes recycled content in their products, no urea-formaldehyde sub straights, low VOC finishes and FSC certified wood finishes, which can aid in the achievement of regional materials, recycled content, certified wood and indoor environmental quality credits.
Check out www.dirtt.net or www.greenalberta.ca for more information.
The Chapter's first-ever design competition, held this spring, caught the attention of our green building community with its challenge of developing a transitional housing project for Edmonton's Bent Arrow Traditional Healing Society.
The Seven Elements integrated team of architectural, structural, electrical and mechanical Emerging Green Builders (EGBs) and their mentor, Beatriz Vorontsov, from Cohos Evamy integratedesign™ took top honours.
The team's concept integrated life's four primitive elements – earth, air, fire and water – and created a fifth element, space, which harmonized the four primitive elements. The concept was particularly appropriate considering the women and children who would live in the building.
"We decided to incorporate these natural elements throughout the building in an attempt to provide an atmosphere and environment conducive to healing, and to provide support for the occupants – allowing them to develop skills necessary for the next phase of their lives," says Beatriz.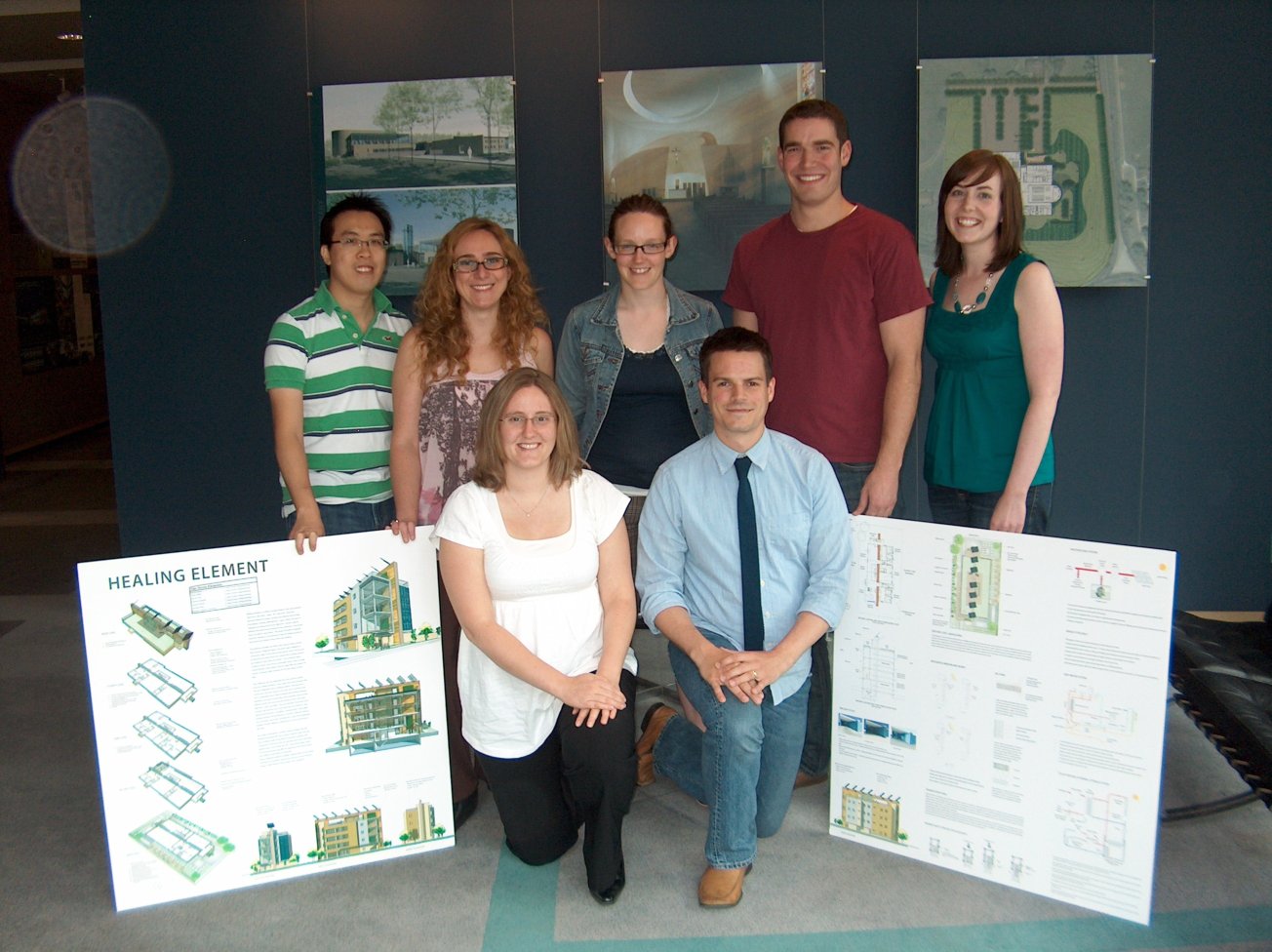 Earth was represented by a one-metre-thick, 16-metre-high wall, constructed from rammed earth. This wall separates public, private and shared common areas within the building and also houses various building systems. Fire was conceived as part the heating system and the natural thermal qualities of rammed earth, along with a communal rooftop fireplace exclusive to the building occupants. Water was expressed through solar hot water systems and an underground thermal storage system. An air chimney running down through the rammed earth wall, as well as other passive ventilation strategies, help incorporate the element of air.
The building orientation, materials selection and various building systems would qualify the building for an environmental rating of LEED® Platinum in LEED® Canada NC.
"We incorporated elements of sustainability that took advantage of the angle of the sun, the prevailing winds and specific neighbourhood considerations," says Carson Gemmill.
Jury members Cheryl Whiskeyjack from Bent Arrow, Justin Pockar, architectural representative from the City of Calgary, and Sean Piper, engineering representative from Stantec, said the submission illustrated good integrated design process and well-thought-out detail, doing an excellent job of expressing sustainability as a design element.
The team learned several lessons from the competition.
"Integration was the first lesson. The building is not sustainable unless all the components work together. The competition also made me appreciate each team member's specific responsibilities, all of which have to fit together to enhance the whole," says Janice Mills.
In recognition of their winning submission, four team members were hosted at the Canada Green Building Council's national Summit in Montreal in June.
The team acknowledges the tremendous support they received from Cohos Evamy and is looking forward to next year's competition. "It was a cool experience," says Carson.
This is not the book I intended reviewing for this issue of Perspectives, since I picked the book up from the library at random. Upon reading, I recognized that this book provides a helpful reminder for all of us on how to represent statistics correctly and how to critically evaluate statistics before making decisions or forming opinions based on them. It's written in a conversational tone, without delving into mathematics.
At their best, statistics show what's really going on, providing perspective and concrete information on which to base decisions. At worst, they provide misleading data designed to confuse, mislead and befuddle. (Green-washing would fall into the latter category.) Dr. Campbell provides guidance on the nuances of what makes bad statistics, noting that the statistics themselves aren't always the problem – sometimes it's the representation. As an example – think of comparator pie charts, which all use the same size of pies. However, when looking more closely, one pie is referring to global economics while the next is about household budgets.
By using statistics properly, we're able to more effectively spread the message about benefits of green buildings. This book shows how to do that. Perhaps more importantly, however, it describes how to critically evaluate statistics so we're not hoodwinked into believing nonsense . . . even when it's nonsense we agree with!