Chinook Centre redevelopment – striving for LEED certification
This fall, a $277 million expansion opened at Calgary's Chinook Centre making it the largest shopping centre in Calgary with more than 250 stores and services.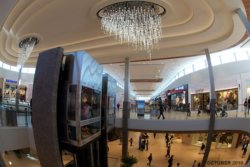 Even more exciting from the Alberta Chapter's perspective is that Centre owners Cadillac Fairview is striving for LEED certification with its choices of construction methods, materials and water-efficient landscaping.
The expansion also includes public infrastructure that moves pedestrians quickly and easily from the adjacent Chinook LRT station, a dense form of construction to reduce sprawl, reduction of heat-island effects and light pollution, water efficient plumbing, appliances energy efficient ventilation and lighting equipment, recycled content in the products used to build the structure and other innovative features.
Check out the fun feature on the Chinook Centre website offering some insights into the facility's carbon footprint. Read more about the project itself.
Book Review by Trina Larsen, P.Eng., M.Sc, LEED AP +
The Ecology of Commerce
by Paul Hawken, 1993 and Revised Edition 2010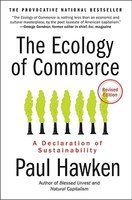 "We call ourselves consumers, but the problem is that we do not consume… An ecological model of commerce would imply that all waste has value to other modes of production so that everything is either reclaimed, reused or recycled." Paul Hawken, 1993
"We need an economy based on more humility." Paul Hawken, 2010
This book's first version provided one of the inspirations for Ray Anderson to redesign InterfaceFlor into a manufacturer without smoke-stacks, toxic chemicals or significant impact on the environment. For a book to inspire a move from business as usual to an entirely new and more benign "usual" meant it had to be a pretty significant work. So, I began reading with rather high expectations and was not disappointed. Mr. Hawkins presents a blueprint for a restorative economy - one that mimics nature so that each process' waste is someone else's fuel. Both problems and solutions are described, along with limitations of the solutions. Successful businesses and business models are portrayed and contrasted with sad portraits of some corporations and the laws they habitually thwart.
The 2010 version is more sombre in tone. Included are discussions on opportunities lost, alongside corporate successes. I sense an increasing level of frustration at the lack of environmental progress and the continued strong role that corporate advocacy plays within governments. There's significant criticism of the capitalist, global economy, particularly in relation to its discounting of "externalities." Thus, the blueprint provided in this version is a global economic overhaul with an economic system explicitly tied to waste elimination, non-carbon based production and long-term accountability and response.
On the whole, I was quite impressed with the detail and examples in both editions. I understand why the 1993 version was such an inspiration to Mr. Ray Anderson of Interface, and found it to be an inspiration to me, in my own day-to-day walk on this planet. The 2010 version still provides valuable insight into things that can be done, but left this reader feeling a little less hopeful than after reading the original.
High performance building interiors
The case for a more holistic approach to construction of interior environments
by Andree Iffrig, Alberta Chapter - CaGBC member
Editor's note: In the November issue of Perspectives, Green Associates and LEED APs were invited to submit a substantive article to our e-newsletter to earn up to three continuing education (CE) hours. Andree Iffrig responded to the invitation with the following article.
Green building has come a long way in just two decades. In the bad old days, energy efficiency was rarely discussed. Today, the Holy Grail is net zero consumption when it comes to energy and water usage. Sustainable design principles and construction practices are more widely understood by building professionals and clients have become zealous advocates. Green certification systems have been developed to facilitate and recognize the creation of greener buildings.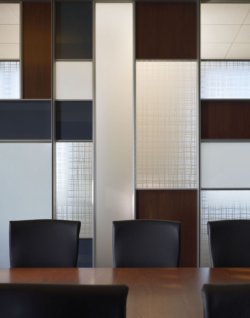 Strangely, the interior has escaped the kind of scrutiny devoted to other parts of the building. Green building systems reward use of low VOC paints and fabrics, or use of recycled and rapidly renewable materials, but not a way of conceiving the interior so that it never needs to be demolished or rewired for the life of the building.
"Green certification systems are concerned with the bits and pieces of an interior, not its overall footprint," observes Michelle Anderson of DIRTT Environmental Solutions, a manufacturer of modular interiors. "LEED is a snapshot of a single point in time prior to real people occupying the space. True sustainability is more like a motion picture, following those people in the space."
Anderson is an accountant who created an award-winning life cycle analysis program called ICEberg. Developed as an educational tool, it compares the environmental and cost implications of conventional versus modular interior construction. "Too often, design of the interior does not accommodate change, resulting in reconfigurations that require knocking down walls and throwing out drywall and wiring. The engineer may come up with a more efficient mechanical plant for a green building, yet that plant is meant to serve a workspace that is two or three times the area necessary because occupants have outsized expectations about their offices and homes. We're not asking the right questions when it comes to design of sustainable interiors."
Designing Holistically
What if instead of being preoccupied with choosing the right bits and pieces on the interior to improve air quality and win credits, we asked, "How would the interior behave if it was genuinely sustainable?" Many design professionals know the answer to this question, but not all of their efforts are being rewarded by green certification programs. Their strategies include:
Applying Reduce-Reuse strategies before moving to Recycling of parts, because the best building is one that is never built. Repurposing buildings and diminishing space demands are two easy ways to diminish the impact of buildings on the environment.

Using less embodied energy in the construction/manufacture of parts, and striving to create a "clean construction site" with lower levels of nitrogen oxide, CO2 and other noxious chemicals that are a consequence of transportation of materials and crews to a project site.

Working with the sustainable design principle "long life, loose fit" to ensure flexibility for walls, power and data systems, and to accommodate technological change and reconfigurations on the interior.

Ensuring healthy indoor air quality through judicious selection of materials and finishes.

Designing with beauty as a goal (sustainable design that is ugly will never be loved or maintained).

Offering occupants self-administered controls for lighting, temperature, etc.

Providing for durable construction that will stand up to changes in the interior environment.

Giving every occupant access to light and a view.
Green certification systems in North America have yet to consistently reward interior solutions that place the emphasis where it needs to be, on Reduce, Reuse strategies. Lifecycle analysis, with its emphasis on building performance, is challenging green advocates to reframe how they think about sustainable building. If the focus is on an interior that is adaptable, with parts that can be reused and repurposed, clearly an alternative to conventional construction with studs and drywall is required.
Modular Interior Construction: Agile, Cost Competitive, Good for the Environment and Enduring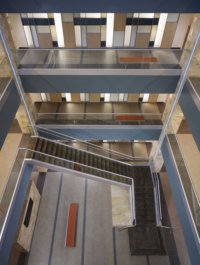 The ultimate goal of sustainable interior design is to create an environment that retains its investment in embodied energy, diminishes the negative environmental impacts of construction, provides a pleasant work or living environment and ensures the client's financial investment is well spent. Pre-manufactured and modular interior solutions meet this goal. Whether used in new or existing buildings, they retain the embodied energy in building materials rather than being part of a conventional approach where interiors are knocked down and built anew. Modular interior construction is infinitely agile and adaptable. Given that programmatic demands conceived at the outset of a project nearly always change by the time the building is finally ready for occupancy, this flexibility is critical.
Beyond site considerations and passive orientation of the building, the next step in the design process is to fully understand the needs of the client group, their work processes and workplace preferences. Reducing the amount of real estate per person is preferable to incorporating more efficient mechanical systems. When occupants participate in the integrated design process for a sustainable building, their willingness to downsize is greater. Tradeoffs can be made, such as introducing open office space along the perimeter walls and placing private offices and meeting rooms at the centre of the floor plate. The decision to incorporate sliding glass doors for offices lessens the amount of area required for circulation in offices and hallways without impairing design quality or occupant comfort.
With programmatic constraints worked out, the interior can be designed with modular interior solutions. The parametric design of contemporary modular walls offers designers ample choice in finishes, module sizes and opportunities for creativity. Some manufacturers' wall systems readily integrate technology: LED screens, computers and iPod docks, to name just three examples. The chase in the centre of the walls can be used to run power, data and even medical gas lines. Furniture can be hung on horizontal supports. The result is an aesthetically-pleasing interior that is ready for change and the many ways occupants will use it.
The lifecycle calculator ICEberg referenced earlier demonstrates how Reduce-Reuse strategies with modular interior solutions bring substantial economic benefits. An Excel program, it is based on reliable third party data from the RSMeans construction cost index, produced by Reed Construction. In painstaking detail, ICEberg examines the financial implications of building with modular versus conventional construction. The data base contains current cost figures for 1000 cities in North America. Using an 18,000 sq. ft. office scenario, ICEberg quickly works out costs and environmental impacts for the two types of construction.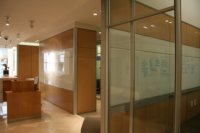 "With modular interior construction, the client's investment is maintained for the long term, regardless of changes to the interior," states ICEberg creator Anderson. "Final cost can be determined at the outset and quality is consistent. First costs for modular in many jurisdictions in North America are competitive with conventional construction, and even where cheaper labour rates prevail, return on investment is typically captured in two years, well within usual project parameters."
ICEberg reveals there are implications for carpet, power, data and acoustic choices. In conventional construction, rolled carpet and carpet tiles must be cut around walls, with waste from rolled carpet particularly egregious. With modular, carpet is laid out in advance and the walls rapidly erected; less carpet and labour are required. Plug & play power can be installed in walls, and redeployed when the walls are moved. Newer base and ceiling trims, combined with sound masking, ensure high acoustic standards. The bottom line: Modular construction is a faster way to realize a quality interior, with savings all along the line.
The environmental case for modular is equally compelling. Fewer people are required to construct a modular solution and it goes up faster during installation at the project site. That translates into fewer commutes by construction crews and an associated CO2 footprint that is 45 percent smaller than conventional construction. Additional environmental gains are realized because less material is used for flooring such as carpet, installation is clean and dust-free, scraps created by the manufacturing process are carefully recycled or disposed of, and modular construction limits material waste to about 5 percent. Contrast this with conventional construction, where 10-15 percent of new drywall becomes waste, along with wiring, cable and other materials.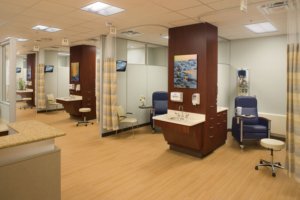 "High-performance buildings are critical to cost effective lifecycle management of building stock," says Anderson. "Increasingly clients such as federal agencies are mandating lifecycle cost analyses to promote best business practices. ASHRAE Standard 189.1 2009, Section 9.5.1., for the design of high-performance green buildings, makes lifecycle assessment for buildings a requirement. The high-performance building interior is no longer a "nice-to-have". In future, building professionals will have to demonstrate how they have met performance targets, on the exterior and interior of a project."
Energy efficiency can be measured in many ways. It's time green rating systems took a harder look at building interiors and rewarded Reduce-Reuse strategies. In the absence of credits, sustainability advocates would be well advised to do the environment and their clients a favour by investigating the merits and potential of modular interior construction.
About the author:
Graduate architect and LEED AP Andrée Iffrig works at DIRTT Environmental Solutions. DIRTT is a manufacturer of sustainable, pre-fabricated modular wall systems, with facilities in Calgary, AB, Kelowna, B.C. and Savannah, Georgia. www.dirtt.net
Take a few minutes to peruse trim tab, Cascadia's magazine for transformational design and people. The fall 2010 issue explores how buildings can benefit the ecosystems they inhabit with the first Certified Living Buildings.
There's a light at the end of the Styrofoam tunnel
Does the hair on the back of your neck bristle when you're left with no options but to throw Styrofoam packing into the waste bin?
Never fear! A terrific new pal to recyclers, called an electrothermal densifier, has hit the Edmonton scene, ready to showcase the art of recycling Styrofoam.
Alberta Chapter, CaGBC member Jim Donaldson's firm, Polycore Canada, is one of several Alberta firms testing the Japanese-built equipment.
Polycore Canada sees municipalities as a major market for the recycled material but notes lower-volume users should also take a serious look at the new-to-Canada technology. Read more.
Habitat for Humanity – and the Alberta Chapter, Canada Green Building Council (CaGBC) – are moving into new territory. And they couldn't be happier.
In August, Habitat and a large community of supporters attended the ground-breaking ceremony of the organization's largest build to date – the 47-family Anderson Gardens at 123 Avenue and 41 Street in Edmonton. Check out the ceremony on YouTube.
The project represents several "firsts":
It's being built to a Build Green standard.
The Alberta Chapter, CaGBC is sponsoring the project's LEED Canada for Homes certification on one of the units.
"This is a milestone project for all of Alberta – and even further afield. The project will provide attractive, sustainable – and affordable - homes for dozens of families. Habitat for Humanity is proving that building to Build Green standards is achievable at an affordable price point," said Tanya Doran, Alberta Chapter Executive Director.
Lafarge Canada Inc. and Stantec are working with Habitat for Humanity Edmonton on the innovative project. The structures are manufactured from pre-cast concrete so work can continue even in winter.
"The project showcases the fact that building green doesn't necessarily cost more. Another huge point is that building to the Build Green standard helps keep home operating costs in line for the new home owners," Tanya added.
She said the project also offers an opportunity to showcase the Chapter's work and objectives. "In a very tangible way, the Chapter's investment in Anderson Gardens shows a wider audience what we stand for and the range of tools we have to offer."