Message from the Executive Director
Each year the Alberta Chapter looks back on the past year of activities and asks how we can do more to advance the mission of our organization to lead and accelerate the transformation to high-performing, healthy green buildings, homes and communities throughout Alberta.
In the past year we have continued to see the green building market grow in Alberta, seeing more space certified than ever before under the LEED rating system in the province and for the first time certified more than one million square metres (m2). Congratulations! Collectively we have significantly advanced the Alberta market transformation.  Yes, it has been at least 18 years in the making and it was a slow start but we are up and moving to a more sustainably built environment in Alberta.
Most interesting is the uptake in Existing Building certifications in the Alberta market.  Currently there are 2.6 million m2 of projects targeting LEED for Existing Building certification in Alberta.  The better news is that 1.8 million m2 has already been certified.  That represents about 24% of the total projects in Alberta that have recognized the buildings already here have inherent value. Renovating a building ensures the inherent value of an existing building is sustained while increasing the building's performance and the occupant experience.  Increased building performance and occupant experience mean tenants and landlords are listening.  There is new research every day linking sustainability to satisfaction.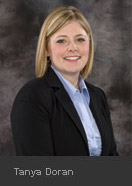 I hope to see all Alberta Chapter members and followers attend the 18th annual Alberta Sustainable Building Symposium on May 5 to hear from David Pogue, Global Director of Corporate Responsibility for CBRE as he talks about Driving success in green real estate and the occupant experience as well as Michael Deane, LEED Fellow & Chief Sustainability Officer for Turner Construction as he talks about The builder's role in achieving sustainable success. Of course, the day also includes case studies and in-depth examinations of everything from building motivations to evaluation.
Keep up the effort for Alberta and our collective goal to achieve high-performing, healthy green buildings, homes and communities throughout Alberta.
Tanya Doran
Executive Director
2014: a landmark year for the Alberta Chapter - CaGBC
Take a bow, each of you associated with Alberta's sustainable building community! You and your organizations helped us achieve a red letter year of building sustainability in 2014.
The numbers tell the story — of hard work, dedication, enthusiasm and success!
LEED

83 LEED projects were certified in Alberta in 2014 — a 6.5% increase over 2013. For the first time ever, Alberta certified more than 1 million square metres (1,216,909 m2, to be exact) in a calendar year! That represents a 70% increase over 2013!
85 new projects were registered with LEED —nearly 1.4 million m2, or the equivalent size of about 873 NHL-sized ice surfaces! (*Hint: One of these new projects may well be a new NHL arena. Learn more here).
281 projects overall are certified in Alberta – approximately 5.2 million m2 or 18% of the total certified projects in Canada.
In 2014, Alberta claimed #2 ranking in North America for feet of LEED certified space per resident. We achieved 3.18 ft.2 of LEED certified space for each Albertan.
Professional development and education
The 17th annual Alberta Sustainable Building Symposium attracted about 200 attendees and offered 11 hours of credential maintenance hours for LEED professionals.
Over 27 education programs and events were offered in Calgary, Edmonton and Fort McMurray.
Training reached over 618 green building professionals and students who gained more than 3,000 hours of green building knowledge.
The Build Green with LEED higher education program reached 156 full-time students and totalled over 5,600 hours of green building education.
Currently two Alberta post-secondary institutions offer the Build Green with LEED program as either continuing education or as a curriculum program requirement.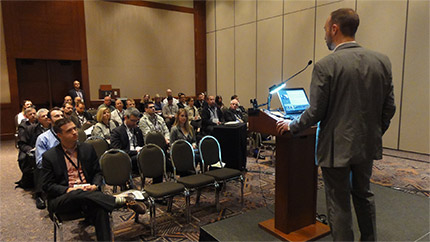 Alberta Sustainable Building Symposium program announced
The 18th annual Alberta Sustainable Building Symposium (ASBS) is set to offer another thought-provoking, stimulating day of updates and explorations on Tuesday, May 5 to Alberta's sustainable building community.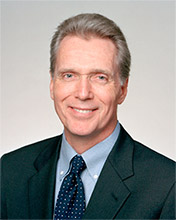 Keynote speaker Michael Deane, LEED Fellow and Chief Sustainability Officer with Turner Construction will set the tone with his presentation, "The builder's role in achieving sustainable success." Turner Construction is the largest general builder in the U.S. and was named the #1 Green Contractor by Engineering News Record from 2007 to 2012. As of September 2013 Turner had 327 LEED certified projects and 279 LEED registered projects completed or under way totaling more than 115 million square feet and valued at more than $33 billion.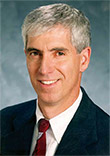 Second keynote David Pogue will close the day with his discussion of "Driving success in green real estate." David is Global Director of Corporate Responsibility with CBRE.
Throughout the day are the breakout sessions that highlight practical aspects of projects from our own region, offering approaches, updates, results and opportunity for discussion for the architects, engineers, builders, building owners and operators, planners, green product suppliers and policy makers attending the day.
Check  out the full program details.
The Symposium is eligible for GBCI hours and continuing education credits for most professional organizations.
Register now for Alberta's premier green building event.


Alberta Chapter - CaGBC Call for Nominations
Nominations are open for three Directors to serve on the Alberta Chapter - CaGBC Board of Directors.

Any Alberta Chapter member in good standing may be nominated, although nominations from the Northern Region (Red Deer north) of the province are encouraged to ensure a balanced representation across Alberta. Nominations are for three-year terms and close on Friday, March 13.
Voting by members in good standing will take place electronically between March 16 and March 20, with the results announced at the Chapter's Annual General Meeting online March 30.
"The strength of the Alberta Chapter is founded on the commitment, enthusiasm and knowledge our volunteer Board members bring to the table," says Tanya Doran, Alberta Chapter Executive Director. "Keeping the Chapter's vision fresh and our business matters in order is hard, but satisfying, work but Alberta's sustainable building results show the success our Board has achieved."
The Chapter welcomes participation from all sectors within the Alberta green building community:
Building owners, managers, realtors and tenants (private and public)
Retail, construction and products
Professional firms
Non-profit organizations and trade associations
Utilities
Financial and support services
Academia, research and policy
The Alberta Chapter Board:
participates in the development of Chapter goals,
sets Chapter policy and serves as a forum for public debate on key issues that affect the industry,
oversees the work of the Chapter committees,
allocates resources (i.e. budget),
identifies and recruits members and leaders,
hires, evaluates and supports staff resources as appropriate,
actively supports and promotes the ASBS,
maintains Chapter structure and governance, and
promotes membership in CaGBC.
If you would like to nominate yourself or another candidate please click here and complete the online nomination form before 4 pm. Friday, March 6. Please note: All nominees must be members of the Alberta Chapter. To become a member of the Alberta Chapter please click here.
Mosaic Centre: Alberta's first net-zero commercial building
Edmonton's Mosaic Centre for Conscious Community and Commerce took the honours of becoming Alberta first net-zero commercial building in Alberta with the installation of the final solar panel.
Edmonton Mayor Don Iveson joined other dignitaries Tuesday, Feb. 17 for the official solar panel installation and to get a closer look at the Mosaic Centre, targeting to become Alberta's first Living Building Challenge-certified project and LEED Platinum.
Following are some photos from the Feb. 17 ceremony. And check out the related Edmonton Journal and Edmonton Sun event coverage.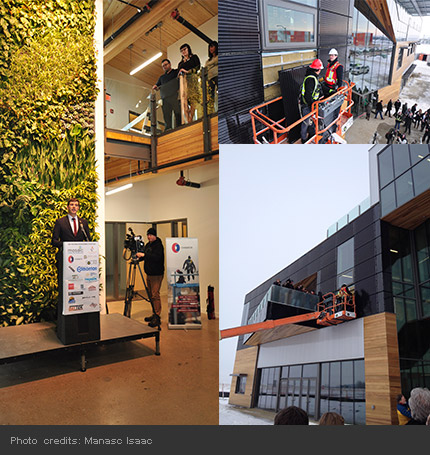 SAIT GBT Advisory Committee
The connection between the Alberta Chapter - CaGBC and SAIT Polytechnic's Green Building Technologies (GBT) research initiative strengthened recently when Alberta Chapter Executive Director Tanya Doran joined the GBT Advisory Committee.
The Green Building Technologies (GBT) research initiative started in 2008 within SAIT Polytechnic's Applied Research and Innovation Services (ARIS) department. ARIS, SAIT's gateway for applied research, has brought SAIT Polytechnic and GBT researchers together with industry partners to identify and develop environmentally friendly products, programs, systems and services that will fundamentally change the way we build, educate and develop skilled labour.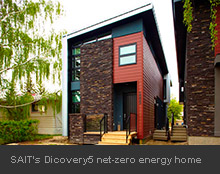 GBT's three main goals involve:
leading industry in implementing green building technologies,
providing training for students in green building technologies, and
enhancing the commercialization of green technologies within Canadian industry.
SAIT conducts research on a variety of GBT projects at any given time, often initiated through a specific partnership or funding grant. Read more.
2015 Canadian Green Building Awards
Hurry! Deadline to enter the 2015 Canadian Green Building Awards is Friday, March 6.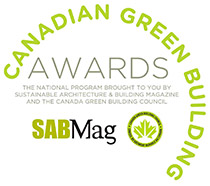 Entry kits with complete details are now available for the awards, a joint program of SABMag and the Canada Green Building Council.
Winning projects will be published in the Summer issue of SABMag and at sabmagazine.com, and all projects submitted will be considered for publication in other issues of SABMag or ecoHouse Canada.
The Canadian Green Building Awards recognize excellence in the design and execution of Canadian residential and non-residential buildings of all types (commercial, institutional, industrial and Part 9 residential), including new construction, existing buildings, renovations and interior design projects. Projects need not be certified under a green building rating system.
Judging takes place March 13. Winning entries will be announced June 2at the CaGBC National Conference in Vancouver.
Alberta Green Homes Summit recap
Alberta's inaugural Green Homes Summit, held Jan. 29 at Edmonton's Royal Glenora Club, proved to be a huge success.
With more than 100 professionals interested in building residential properties above code standards attending the first annual event, it's clear there is significant appetite in Alberta for the information sharing that took place.
"I am delighted with the entire event," Tanya Doran, Alberta Chapter Executive Director, summed up. "Response to the Call for Presenters was enthusiastic, and clearly the information presented in those sessions hit the mark with the residential green building community."

Keynote Sean Pander, Green Building Program Manager from the City of Vancouver spoke about Vancouver's Greenest City Action Plan is achieving its targets — and creating opportunities for individuals and businesses alike.  
Breakout sessions focused on many regional energy and green building standards and resulting programs.
For example, Winnipeg architect Marten Duhoux, principal with ft3 Architecture Landscape Interior Design, and Shokry Rashwan, Construction Research Chair from Winnipeg's Red River College, offered a session on developing protocols for post-occupancy evaluation of LEED homes in Manitoba. The presentation reviewed the preliminary analysis of energy performance of 72 residential homes designed and built to LEED standards in 2013. These preliminary results will be used to develop a set of protocols to assess the functional, technical and financial performance of these units, identifying types and causes of variances between projected and actual performances and then recommending improvements to reconcile the variations.
Check out all Green Home Summit presentations.
Congratulations, Helen!

All Alberta Green Homes Summit attendees who completed an online Summit evaluation were entered to win a random prize draw — and Helen Wolfe's name was drawn. Helen won a complimentary registration to the 2016 Alberta Green Homes Summit. Nice going, Helen!
Montreal's living green map
Using an innovative interactive platform to pinpoint sustainable community services in the Montreal district around Concordia University, Concordia students have developed an exciting new way to highlight green.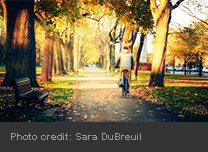 According to a Jan. 28 post by Sara DuBreuil, the living green map pinpoints featured locations such as bixi stands (public bike rentals), a fair-trade café and a collective composting site — allowing users to identify environmental, cultural and social resources in downtown Montreal in order to build a stronger neighbourhood identity. 
Two urban planning students developed the map tool, which includes icons that identify a location, activity or cultural resource. Each icon is clickable for more information.
LEED certifications
New Construction
The Badlands Community Facility achieved LEED Silver and meets high standards for storm water design, water efficiency, energy efficiency, indoor air quality and access to light and views.
A main feature of the energy reduction initiative involved optimizing the energy performance of all systems; this includes incorporating an energy efficient envelope and appropriate building systems. The building systems were also chosen to be durable to significantly reduce the likelihood of early replacement, therefore reducing life cycle costs. The facility uses highly reflective roofing material to reduce heat island effect, and has energy efficient windows to reduce heat/energy loss.
The landscape of the facility was designed so that a permanent irrigation system was not necessary, and native plants were incorporated to reduce the amount of watering required. A further water reduction component is the use of High-Efficiency, low-flow fixtures throughout the building.
In a multi-use facility where recreation is a major component, air quality was of particular importance. To increase the air quality and reduce the need for excessive ventilation, low emitting materials were used in all adhesives, paints and flooring systems. The facility does have a ventilation system that meets ASHRAE regulations.
To encourage alternative modes of transportation, the facility provides 62 bicycle stalls and shower/change rooms in the building for staff who cycle to work.  Additionally car-pool only parking spaces have been given a priority location near the front entrance to the community facility.
The project is within an urban setting and it was therefore essential for the building to co-exist sensitively and appropriately with nearby businesses and residences. To maximize the amount of green space surrounding the facility, parking spaces are shared with adjacent businesses. 
The building is set back as far as possible from residential development, minimizing visual impact.
Site and building lighting systems were carefully chosen as to not create any glare or light pollution. The project also maintains and enhances the existing regional pathway system.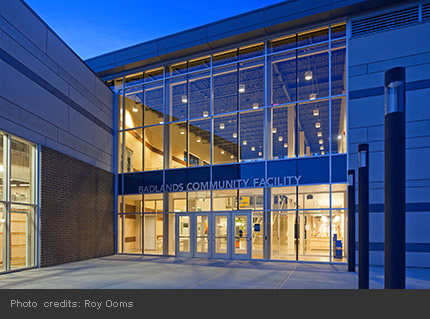 As a first step toward creating a single sustainable MacEwan University campus, the 5,00-square-metre MacEwan University Service Centre (USC) is underlining MacEwan's commitment to sustainability.
The USC used an innovative approach to expanding service by renovating existing infrastructure, optimizing land use to reduce the MacEwan footprint and improving the use of existing buildings. Following are the project's sustainable highlights.
Site design
The USC is situated on top of the City Centre Campus west parkade, alleviating the need to increase the physical footprint of the campus.  The campus is located downtown, providing ample access to transportation and amenities.
The USC established a sustainable transportation program to reduce the use of single occupancy vehicles travelling to campus. The program includes preferred carpool stalls, no new parking added to the project, secure bicycle storage and shower facilities at the USC.
To help reduce the urban heat island effect, the USC incorporated a high albedo roof, or "solar reflective roof," painted white to reflect solar radiation away from the urban area. The roof transfers less heat to the building, keeping it cooler. This reduces energy needed to cool the building and also helps with building-occupant comfort and health.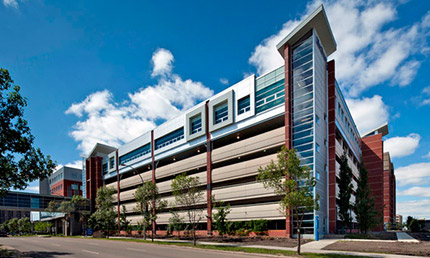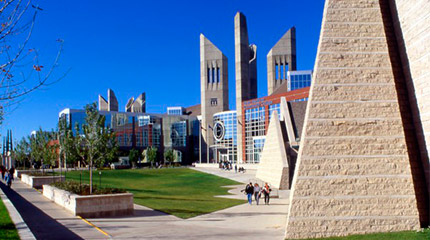 Water conservation
Conservation measures at the USC are saving 20 to 30% of water use compared to a conventional building through features including low-flush toilets, waterless urinals and low-flow faucets.
Indoor environmental quality
All materials, adhesives, sealants, paints, coatings and carpets are low in VOC (Volatile Organic Compounds) to reduce occupant exposure to toxins.  Carbon dioxide (CO2) and carbon monoxide (CO) monitoring is placed throughout office space.
As well, controllable lighting systems and thermal comfort for temperature and humidity are in place.  The open concept allows for equitable employee access to daylight and views. Operable windows allow occupants to control air and temperature exposure.
Energy efficiency
The USC reduces energy consumption by up to 40% through efficient electrical and mechanical systems and by purchasing Energy Star-certified appliances and equipment.
Occupancy sensors turn many lights off when not in use. Lighting is controlled for different sections of the building, allowing for only one area to be lit at a time if necessary. Energy-efficient windows are located along the envelope of the building, taking advantage of passive solar energy.
The USC also purchases Ecologo-certified renewable energy credits to offset over 80% of the energy demands for the building.
Materials and resources
The project diverted 75% of construction and demolition waste from disposal in the landfill.
10% of the building products incorporate recycled content.
At least 20% of the building materials and products were extracted, processed and manufactured within the region.
At least 50% of the wood-based materials are Forest Stewardship Council (FSC) certified.
Innovation and design process
The USC has pursued a number of innovation and design credits to recognize exemplary practices not included in other credits.
MacEwan operates a green housekeeping program in all facilities. All products are certified by the Environmental Choice Program or approved by the Green Seal. Hepa standard vacuums capture 96% of the particulates and all carpet tile is steam cleaned with a clear water application.
Other certifications
Town of Okotoks Southridge Emergency Services Building, Okotoks - LEED Gold
Canadian Tire Canmore, Canmore - LEED Silver
TELUS World of Science Edmonton - Feature Exhibit Gallery, Edmonton - LEED Silver
(Confidential Project) -  Edmonton - LEED Certified
Commercial Interiors
The CORE Shopping Centre, Calgary - LEED Gold, Calgary
Existing Buildings: Operations and Maintenance
Centennial Place, Calgary - LEED Platinum
800 5th Ave, Calgary - LEED Gold
Quarry Park Professional, Calgary - LEED Gold
Stampede Station, Calgary - LEED Gold
Core and Shell
Stoney Warehouse 6, Calgary - LEED Silver
Sherwood Centre - 1000 Alder Avenue, Sherwood Park - LEED Silver
Westmount Village - Rexall, Edmonton - LEED Certified
Headline highlights!
Following is a selection of recent media articles that feature a variety of topics of interest to Alberta's sustainable building community..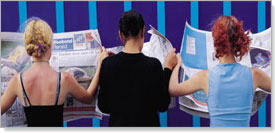 Built Green sees 'massive' growth in Calgary (Calgary Herald, Feb. 1) — A certification program for environmentally responsible homes saw soaring growth from Calgary and area builders last year. Built Green Canada is a national organization that offers voluntary third-party certification with ratings of bronze, silver, gold, and platinum. Certification is based on a checklist that includes factors such as the use of energy-efficient materials and construction methods, along with considerations around water conservation and waste management. The number of Built Green-certified single-family homes that completed construction in the Calgary area last year jumped 47 per cent, says executive director Jenifer Christenson.
Council approves green vision for Horse Hill development (Edmonton Journal, Jan. 27) — City council approved a plan Tuesday for a new neighbourhood in Horse Hill that would see up to 70 per cent of residents live within walking distance of shops and a town centre. It also calls for a new form of housing called "conservation cluster residential" that would create higher-density housing connected to shared garden or other green space.
Next-generation wood pushes to greater heights (The Globe and Mail, Jan. 26) — By design, a new mid-rise building in Prince George, B.C., breaks many conventions of commercial construction. At 29.5 metres, its height alone makes the Wood Innovation and Design Centre the highest contemporary wood structure of its type in North America – a record soon to be broken by others. The $25.1-million centre also stands out for its embrace of engineered wood: thick panels, columns and beams of so-called mass timber, sturdier and more fire-resistant than lightweight wood frame construction.
City hopes new energy plan will help environment while creating $2.5 billion in savings (Edmonton Journal, Jan. 27) — A new Edmonton energy plan calls for big reductions in fossil fuel consumption that would fight climate change and save billions of dollars.
By 2035, the proposed community energy transition strategy wants to cut local emissions of greenhouse gases linked to global warming by 35 per cent from 2005 levels.
Groundbreaking technology stores wind power in salt caverns (Calgary Herald, Dec. 6, 2014) — In the Lloydminster area, a Calgary company is ready to carve out large underground salt caverns to store excess wind energy — the first use of the technology in Canada.
Six-storey wood buildings 'a game-changer' (The Globe and Mail, Dec. 1, 2014) — From the outside, the four-storey apartment building clad in brick and vinyl looks like any other new mid-rise residential structure. What sets it apart – and signals a coming trend – is hidden from view: The building is framed in wood, not concrete or steel.
Sponsors