Message from the Executive Director
Time flies!  In Alberta's green building world, this is certainly true considering the activity in 2014.
The Chapter has been at the forefront of many advocacy initiatives in 2014, ensuring we are sharing the many benefits — beyond financial — of building green and ensuring those benefits become an integral component of green building policy.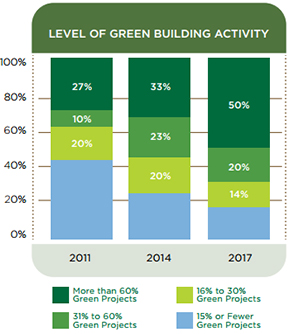 The McGraw Hill Canadian Green Building Trends report, commissioned by the CaGBC in the spring of 2014, concludes that the top trigger for increasing involvement in green building in Canada is that it is the right thing to do.  The second trigger is client demand.  I see a direct correlation between both motivators since clients both want to be seen to be doing the right thing and actually want to do it.

The Alberta Chapter in 2014 has driven toward the continuous improvement and market penetration of green building practices while strengthening the "business of building green" to maximize market growth and environmental, economic and health benefits for all Albertans.

We will continue to drive these fundamentally important practices and philosophies in the years to come. In fact, new and exciting Chapter activities for 2015 show the results of the Chapter's diligent support and promotion of our green building industry.

The 2015 Chapter efforts include:
The Sustainable Building Advisor Program, which focuses on practical, forward-thinking ways to design, construct and manage buildings that are resource efficient, environmentally responsible, cost effective and healthy for all occupants.
The first Green Homes Summit in Alberta, a one-day event with regionally focused education sessions for developers, builders, designers, architects and anyone involved in building 'better than code' housing. 
The 18th annual Alberta Sustainable Building Symposium, scheduled for Tuesday, May 5 in Edmonton, with its theme of Bolder. Better. Greener. Planning is well underway to again showcase another full slate of innovative, ground-breaking green building designs, concepts and projects at Alberta's premier green building event. 
With these exciting events and more on the horizon, the Chapter is hoping you are planning to go Bolder, Better and Greener with the CaGBC in Alberta in 2015. For our 2014 festive season, please take time to enjoy family, friends and colleagues and give thanks for all this wonderful season offers.
Alberta Sustainable Building Symposium Call for Presenters extended to Dec. 11
It's been a busy fall for Alberta's green building community, so busy that some of you have asked for more time to prepare your submissions.

Deadline for Call for Presenters submissions to the ASBS has been extended to Monday, Dec. 8 so sharpen your pencils and take advantage of the opportunity to showcase your bolder, better, greener projects, technologies and products.
Check out details about the Call for Presenters.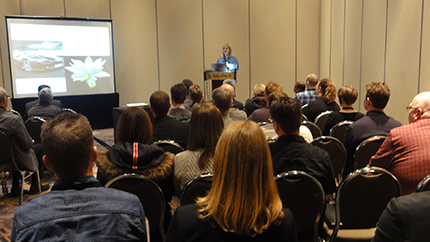 Alberta Sustainable Building Symposium registration open
The festive season is almost here. Give yourself an early gift and register now for the 18th annual ASBS, on Tuesday, May 5, 2015 in Edmonton.

Registration is only a click away. Take a few minutes now and then stay tuned for announcements regarding the keynote speaker and breakout sessions.
Green Homes Summit
You wanted an Alberta Green Homes Summit — and now you've got it! Register now for this first-ever Alberta Green Home Summit.
The Summit will focus on residential construction, covering both single-family homes (including townhomes and various attached styles) and multifamily projects up to the midrise level (up to 12 storeys). The day-long session will also include sessions on LEED Canada for Homes as well as many regional energy and green building standards.

Municipal Climate Change Action Centre (MCCAC) update
The Municipal Climate Change Action Centre (MCCAC) has received $2 million from the Alberta government so the organization can continue to support communities in minimizing their carbon footprint.

The $2 million grant came from the Climate Change and Emissions Management Fund and will be used for the operation of the Centre and to support implementing locally driven initiatives. The Alberta government also provided $2 million to help establish the Centre in 2009.

Established in 2009, the MCCAC has supported $4.2 million in municipal energy efficiency retrofit projects in 54 buildings throughout the province as part of its Taking Action to Manage Energy (TAME) Buildings Initiative. These projects have resulted in reductions of 2,500 tonnes greenhouse gas emissions per year and cost savings of $400,000 annually.

Kyle Fawcett, Minister of Environment and Sustainable Resource Development, made the funding announcement Nov. 19.

The Centre is a one-stop shop that provides tools and resources to help Alberta municipalities through education, technical assistance and expertise, best practices, policy review and rebates to help municipalities retrofit their buildings. Check out more information about MCCAC.
Congratulations to Alberta's most recent LEED Fellows
The Alberta Chapter - Canada Green Building Council offers warm congratulations to Braden Kurczak and Joanne Perdue, among the prestigious group of 2014 LEED Fellows announced in October.
Braden and Joanne, both long-time Alberta Chapter - CaGBC members, received the honour for their exceptional contributions to the green building movement in Canada as well as for their extensive advocacy.
Joanne is the first-ever Chief Sustainability Office (CSO) with the University of Calgary. Braden is Business Development Manager (Buildings) with MMM Group. Braden works out of Ontario but maintains his Alberta Chapter membership and is an active supporter of green building initiatives in Alberta.
They have also made significant contributions in teaching, mentoring or research with proven outcomes. LEED Fellows have a history of exemplary leadership, impactful commitment, service and advocacy in green building and sustainability.

In total, 48 professionals were named LEED Fellows by the U.S. Green Building Council (USGBC). Of that group, four Canadians were honoured: Braden and Joanne in Alberta, Alex Zimmerman in British Columbia and Jamie McKay in Ontario.
To be selected, LEED Fellows are nominated by their peers, undergo an extensive portfolio review, must have at least 10 years of experience in the green building industry and hold a LEED AP with specialty credential, among other requirements. The evaluation process is carried out by the LEED Fellow Evaluation Committee and supported by the Green Building Certification Institute (GBCI).
A complete list of 2014 LEED Fellows can be viewed at usgbc.org. Click here to view the CaGBC announcement.
Sustainable Building Advisor Program
Attention, experienced or novice green building professionals! The Sustainable Building Advisor (SBA) Program will open new opportunities for you.

The Canada Green Building Council is offering the four-month certification SBA program in Calgary beginning in January. The course doesn't require existing green building education or experience. It is focused on practical ways to design, construct and manage green buildings.
The program is ideal for working professionals since the schedule calls for two classes every other week. Check out the course schedule, broken into specific topic areas taught by expert guest instructors with local experience.
Alberta Chapter member Lindsay Kindrat is lead instructor. Lindsay is a recognized sustainability professional with more than 12 years' experience in public- and private-sector green building planning, design and construction.
Registration is open. Register before December 11 to take advantage of early bird pricing.
Mill Woods living wall
Which would you rather have to protect your neighbourhood from traffic noise: a traditional berm made of concrete and steel or a living wall? The City of Edmonton is testing a living wall in the city's southeast neighbourhood of Mill Woods.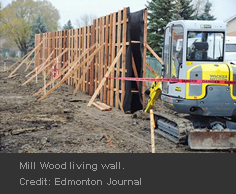 The innovative one-year demonstration project has replaced 100 metres of a traditional berm on 91 Street with a living wall composed of earth, wood and willow shrubs. Its advantages are several. The wall is low cost, graffiti free, environmentally friendly and aesthetically pleasing.

"This is a first for western Canada, so we want to observe and test the wall through four seasons to determine its effectiveness," says Drainage Services Project Manager Diane Wirtz. "In Europe and eastern Canada, living walls in cold climates have proven effective."

The one-year pilot is being done in conjunction with a flood mitigation project planned for Tweddle Place in Mill Woods.

A final decision about using the wall as a permanent replacement will be made in 2015. Read more on the City's website or in an Edmonton Journal article.
SAB Magazine - Alberta Focus
Did you know the Alberta Chapter - CaGBC works with SAB Magazine to produce a top-notch publication twice a year that features some key Alberta green building projects?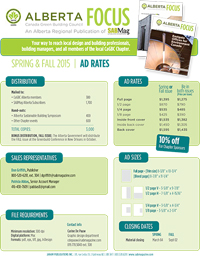 It's well worth your time to take a few minutes to browse the SAB Magazine website — and to read the fall 2014 Alberta Focus issue. And if you enjoy the read, share the link so your colleagues, clients and friends also know about this useful site.
The advertisers' rate card is now available for the spring 2015 SAB Alberta Focus issue, so think about this focused audience as a potential for leveraging your advertising dollars. As a reminder, sponsors of the Alberta Chapter - CaGBC are eligible for a discounted advertising rate. For a copy of this rate card, contact either the Alberta Chapter or Wendy Campbell, Perspectives editor.
LEED certifications
New Construction
Brooks Crop Diversification Centre South Greenhouse, Brooks - LEED Gold
Calgary Police Service Forensic Centre, Calgary - LEED Silver
Charles Clark Medical Centre, High River - LEED Certified
Science and Technology Wing Expansion, Calgary - LEED Silver
Commercial Interiors
Calgary's Nexen Wellness Centre, officially opened in September 2013, has earned LEED Silver for its many sustainable aspects.
When Quinn Wilson, Nexen Vice President, Human Resources and Corporate Services, cut the ribbon at the official opening of the 17,800-square-foot facility, he referenced the Wellness Centre's environmentally friendly attributes. "We've worked hard to make this a green facility through sustainable building and design practices in areas like energy and water efficiency, materials selection and indoor environmental quality."
And their hard work paid off. The Wellness Centre, located in the heart of Calgary's downtown, scored 27 LEED points:
| | |
| --- | --- |
| Sustainable sites | 3 |
| Water efficiency | 2 |
| Energy & atmosphere | 4 |
| Materials & resources | 6 |
| Indoor air quality | 8 |
| Innovation in design | 4 |
| Total | 27 |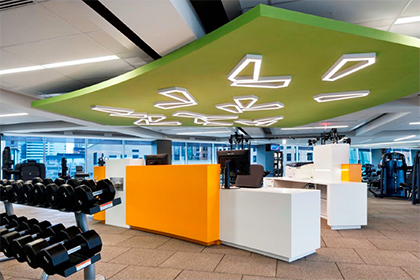 Following are the highlights of how those points were earned.
Site development
The location provides multiple amenities and services within walking distance. It also encourages walkability, cyclability and the use of public transit - cutting down the use of private vehicles. The base building provides nearly 90 bicycle storage spaces in its underground parkade.
Water efficiency
As a fitness centre, the plumbing design assumed 100% of users would shower. Despite this conservative assumption, along with low‐flow toilets, urinals and motion‐sensing lavatories, the design achieved water savings of 35% over conventional systems.
Energy and atmosphere
Unlike typical New Construction projects, interior fit‐ups do not undergo the traditional energy modeling process but rather are rewarded for energy efficient HVAC and lighting design performance over ASHRAE 90.1 baselines.
Heating, cooling & ventilation
The building's central variable air volume air handling units are capable of using free cooling when outdoor air temperatures permit. Separate fan systems provide cooling air to the Nexen Wellness space.
The Wellness Centre zones are controlled by separate wall‐mounted temperature sensors to properly condition each space based on activity level and skin losses and solar gain from the floor to ceiling glazing. Perimeter spaces are served by both the hot deck and cold deck fan systems.
Additional VAV boxes were added during the fit‐up to augment air supply; the system has the capacity to provide ventilation at a rate of 8.7 air changes per hour. A new exhaust fan was added to the floor to increase exhaust levels from the locker/change rooms.
Lighting
All lights are controlled with occupancy sensors that shut off lights when spaces are vacant. Daylight sensors at perimeter spaces dim lighting from a 300 lux level as needed. Both perimeter and core luminaires can be dimmed and controlled by a computer system that locks selected levels into place as needed.
Materials and resources
Construction waste diversion
In addition to the contractor's plan to reduce demolition and construction waste throughout the project, Nexen also has a responsible diversion policy in place that includes donating furniture and millwork to various charitable organizations in the Calgary area. A variety of millwork and doors were salvaged intact and repurposed; carpet tiles were also relocated to other floors in the building. Ceiling tiles were removed, stored and later used as acoustical wall insulation in the new fit-up space.
Throughout construction, contractors and trades carefully separated concrete, wood, cardboard, drywall, plastic and metal from non-salvageable landfill waste. Over 65% of total waste generated was diverted to proper facilities to be recycled or distributed for reuse.
Material selection
Where possible, furniture such as seating and desks were reused, resulting in a reuse rate of over 45%. More than 15% of the materials used to fit up the Wellness Centre are recycled from post‐consumer and post-industrial sources. Such products include the moveable acoustic insulation and ceiling tiles, carpet, rubber flooring, millwork and gypsum.
Importantly, more than 35% of all materials used were sourced from locations within 800 km of Calgary, reducing the overall carbon impact of transporting materials from long‐distance destinations and supporting local manufacturing economies. This level of regional sourcing earned the project an additional point for exceptional performance.
In addition, 100% of wood‐based materials such as millwork, door cores and the hardwood flooring found in the aerobic studios are sourced from Forest Stewardship Council (FSC) certified forests, manufacturers and vendors that maintain a chain of custody for the responsible harvesting of wood products. Complete use of FSC‐certified products earned Nexen Wellness an additional credit for exceptional performance.
Innovation in design
Delivering the results Nexen achieved requires strong integration and communication among designers, builders and project managers. A LEED® accredited professional was on hand throughout the project's design and construction to coordinate among disciplines, ensure credit requirements and documentation were met and guide the project to LEED® Silver certification.
Other certifications
Calgary Connect Shell Centre 31st Floor, Calgary - LEED Silver
Calgary Police Service - Westwinds Campus East Building, Calgary - LEED Silver
Core and Shell
Hopewell Airport Park Phase II, Building E, Calgary - LEED Certified
Stoney Warehouse 5, Calgary - LEED Silver
WestMount 4820, Calgary - LEED Silver
BD&C Retail
Target Store, Edmonton Kingsway, Edmonton - LEED Certified
ID&C: Retail Pilot
Starbucks Silverado Marketplace, Calgary - LEED Certified
Starbucks Terrace Road and 101 Avenue, Edmonton - LEED Certified
Starbucks Clearview SC, Red Deer - LEED Certified
Starbucks Emerald Hills, Sherwood Park - LEED Certified
Headline highlights!
Following is a selection of recent media articles that feature a variety of topics of interest to Alberta's sustainable building community.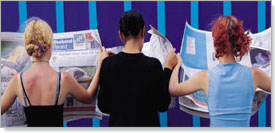 We can pay less for cleaner power (Edmonton Journal, Nov. 15) — There's a common misconception that increasing the supply of renewable energy to the electricity grid drives up power costs in Alberta. It's a myth perpetuated by those advocating for fossil fuel-powered electricity generation, despite the high social and environmental costs of those fuels. In fact, clean energy is lowering Albertans' electricity costs.
Solar power's contribution to Alberta grid tops 5,000 kilowatts for first time (Edmonton Journal, Nov. 13) — Alberta hit a milestone for solar power on its grid Thursday, and now has 5,001 kilowatts of generating capacity.
Eco-friendly home base (Edmonton Sun, Oct. 28) — There are many things that make the new Greenbury neighbourhood in Spruce Grove a unique place to live. Top among them is the dedication of developer Beaverbrook to creating an environmentally friendly community for its residents.
Edmonton proves hot spot for net zero homes in Canada (Edmonton Journal, Oct. 9) — What was once a niche environmental dream is edging toward the mainstream, and enthusiasts say Edmonton is a hot spot for net-zero technology in wintry Canada.
Ottawa drops the ball on clean energy, report finds (The Globe and Mail, Sept. 22) — The shift to clean energy is producing huge economic gains, but Canada risks being left behind if the federal government doesn't get on board, a new report warns.
Sponsors